Thinkspace Projects invites you to join them in celebration of Roby Dwi Antono, "Epos" and Edith Lebeau, "Certain Scars Can't Be Seen", opening this weekend! Honoring these two highly-anticipated exhibitions, let your imagination fall down the rabbit hole of immersive creativity… where anything is possible and no story is left untold. Taking note of artistic style, the visual anecdote resonates with poignant expression that is sure to impress upon your thoughts and needful inspiration.
Thinkspace Projects has a full schedule of online events for all exhibitions, including virtual tours, live streaming, interviews and much more… so be sure to follow their blog Sour Harvest to stay updated! If you're looking to add to your budding collection of art, take a moment and visit their store to view available inventory.
Thinkspace Projects // We will be having a public reception on Saturday, January 9 from noon to 6pm. Please make your appointment to visit via the below link. Please note that masks will be required at all times and social distancing enforced. Entry will be limited, as we will be sure to watch capacity and make sure no more than a dozen patrons are in the gallery at any given time. We want to assure the health and safety of our artists, staff and patrons.
We will also be offering timed visits each Saturday during the remaining run of both exhibitions. A link to our scheduling platform is shared below. Please let us know if you have any questions at all. Thank you for your continued support and we look forward to seeing some of you this Saturday at our new gallery location.
Exhibition Dates: February 6 – February 27, 2021
Thinkspace Projects
NEW LOCATION: 4217 W. Jefferson Blvd., Los Angeles, CA. 90016
#310.558.3375
Roby Dwi Antono,"Epos"
Enter the surreal world of Roby Dwi Antono's EPOS. Drawing on the title itself–which means an epic poem that ultimately recounts the extraordinary shaping of the mortal universe for generations to come in the hopes that both poet and audience will understand themselves better as people or nation–Antono paints starry-eyed children, mythological creatures and, for kicks, the occasional pop culture icons. True to EPOS, Antono always aims to convey a message within his paintings.
Roby Dwi Antono (b. 1990) is a surrealist painter based out of Yogyakarta, Indonesia. His visual language forms connections between classical renaissance paintings, futurism, and fantasy, and draws inspiration from science fiction and natural history.

I would often say that my works contain a set of idioms which have very personal meanings to me. I leave some visual cues in my works which act as a melancholic conundrum, for my audiences to set their eyes and mind upon. I love it when people try to guess the message behind my works and in the end each person will have their own interpretation, which is good because it opens the way for another enriching dialogue between us. The human experience affects both the idea and visual aspect of my works.

Roby Dwi Antono

Epos (from the Bahasa Language) / nounep·​os | \ ˈe-ˌpäsAn epic poem, or epope, is a lengthy narrative poem, ordinarily involving a time beyond living memory in which occurred the extraordinary doings of the extraordinary men and women who, in dealings with the gods or other superhuman forces, gave shape to the mortal universe for their descendants, the poet and his audience, to understand themselves as a people or nation.
Edith Lebeau is a Canadian artist based on the north shore of Montreal, Quebec. She lives in the countryside, surrounded by fields, forest and a distant horizon line.
Edith's work is focused on mental health awareness. She tells stories through the portraits that she creates.
Certain Scars Can't Be Seen is her debut solo exhibition with Thinkspace Projects, following numerous group show appearances over the last few years.
Lebeau is exploring through the eyes of different woman characters, the various fears and dark emotions that we have in the deepest recesses of our mind. She paints female figures who are facing their own insecurities. These women are left alone with these feelings and fears that we ourself try to forget and try to bury. Her work is about struggle, fear, insecurities but also about strength and hope. Edith wants to help break down the stigma surrounding mental illness and through her work she wants to help people who are dealing with mental illness know they are not alone.
Empathy is always the key. Don't judge, listen.
Thinkspace Projects also celebrates DULK's "Ephemeral Treasures" opening February 20th!
They are curating and co-hosting a special exhibition in NYC withe their friends at Spoke Art.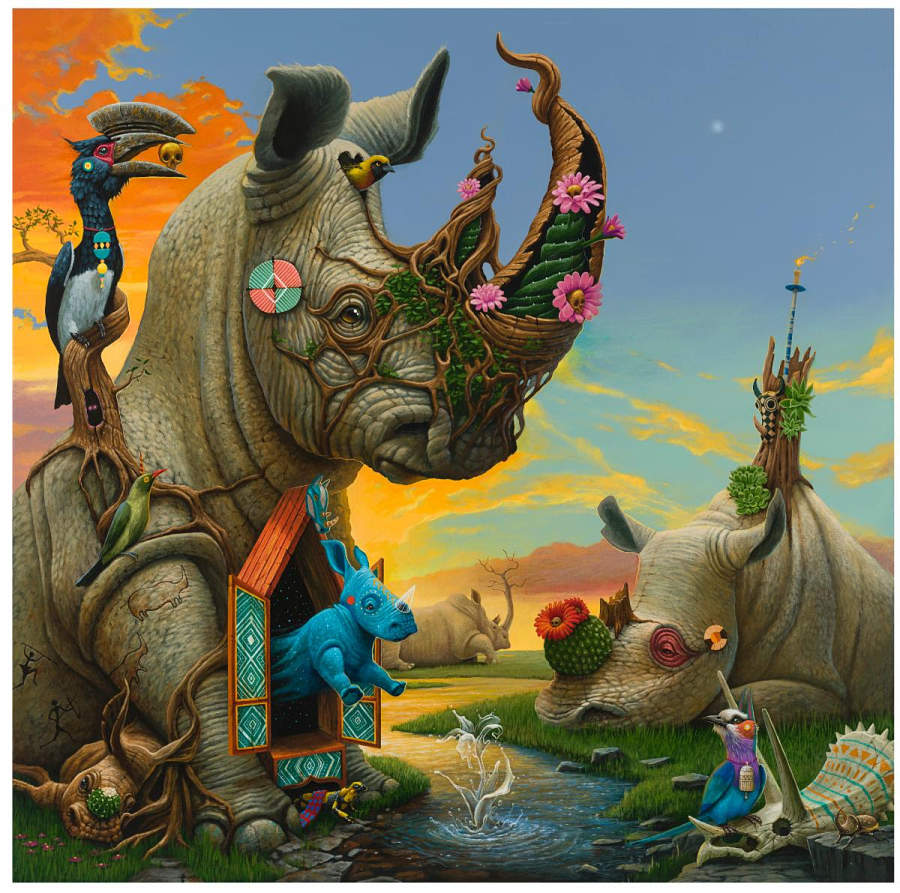 Exhibition Dates: February 20 – March 13, 2021
Spoke Art | 210 Rivington Street | New York, NY 10002
Thinkspace Projects // DULK's debut NYC solo exhibition with showcase new works on canvas. The debut of a new one of a kind sculpture alongside the debut of a new line of jewelry inspired by his work. Collector Preview will be shared on Monday, February 15 via our newsletter. Thinkspace has come together with Spoke Art in New York City to present DULK's Ephemeral Treasures. They are pleased to present new paintings and the debut of a new sculpture by the Spanish painter and muralist, in what will be DULK's fourth solo exhibition with Thinkspace, on view from February 20-March 13, 2021.
Antonio Segura Donat, known internationally by the pseudonym DULK, creates worlds of stylized Animalia and character creatures, striking an unlikely balance between the playful ease of children's make-believe and the prescient threat of ecological doomsday. As surreal as they are foreboding, DULK's works celebrate the beauty of nature's biodiversity while simultaneously mourning the imminence of its loss. Much in the same way that fantasy actively invites collusion with nightmare, DULK's extravagantly lush imagination, for all of its seductive warmth, is punctuated by premonitory distress, and poignantly aberrant, if not predictive, details.
Thinkspace Projects Social Media Accounts