The holidays are upon us and as we delve deeper into the imagination of the seasonal spirit, we often find ourselves searching for inspiration in quiet moments of reflection and self-nurture. Let the creative voice of art be your guide. Join Modern Eden Gallery in celebration of Amandalynn's highly anticipated "Full Circle" solo exhibition, opening December 12th.
Amandalynn has also co-curated a group exhibition with Modern Eden, featuring new works by Lady Mags, Gretta Grazier, Lara Dann, Lacey Bryant, Sergio Lopez, Askew One, Carly Ealey, John Walker, Stephanie Jucker, Martin Hsu, Robert Bowen, Alec Huxley, Carly Janine Mazur, Erica Calardo, Leon Loucheur, Matthew Robertson, Jacqueline Gallagher, Tracy Lewis, Olympia Altimir, Eli Lippert, Nunzio Paci, Primary Hughes, Lee Harvey Roswell, Kai Kaulukukui, Daryll Peirce, Jonny Alexander, Paola Delfin, Laura Buss, Calvin Ma, and George Rose.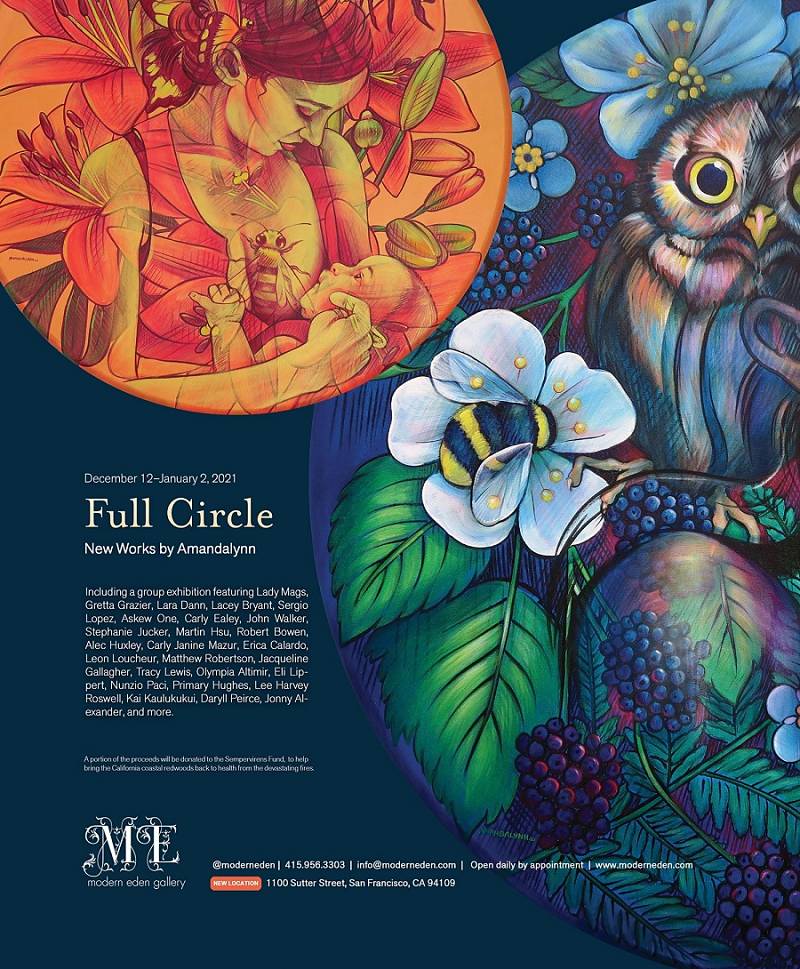 Socially-distanced Opening Reception: Saturday, December 12, 2020 | 12–5 pm and a live gallery tour and walkthrough with Amandalynn at 6 pm PT on IG Live @moderneden.
Exhibition Dates: December 12, 2020–January 2, 2021
Modern Eden Gallery
1100 Sutter Street | San Francisco, CA 94109
For press inquiries or sales, please contact Gallery Director Kim Larson at kim@moderneden.com
General Information, please email info@moderneden.com
Appointments are not required during the public reception, but capacity will be limited to 5 visitors at a time. Per the city and county of San Francisco, masks are required and guests must maintain 6 feet of distance while waiting for entry and during your visit.
Modern Eden Gallery Press // Join us as we present a new series of paintings by San Francisco artist and muralist, Amandalynn. 'Full Circle' is inspired by themes of nature, entropy, and the cycle of life. This past year has been a cycle of growing, changing, transforming, ending, and coming back again. In the spirit of the theme, we will be donating a portion of the proceeds to the Sempervirens Fund, to help bring the California coastal redwoods back to health from the devastating fires.
The exhibition will also mark the unveiling of a brand new mural by Amandalynn across the street from the gallery in San Francisco's Lower Polk.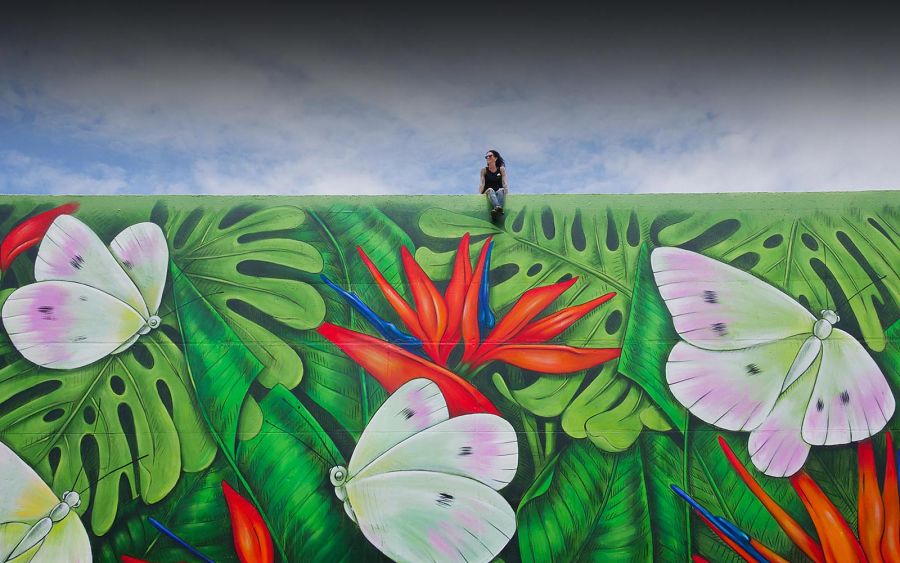 We are proud to present our neighborhood with this gift of beauty and inspiration during these difficult times. This will also mark our 1 year anniversary at our new gallery location on Sutter street (whew, what a year!) and we are excited for more inspiring projects to come.
About the Artist// Amandalynn is a Muralist, Fine Artist, Conservator, and Art Director based in Northern California. Inspired by the feminine in all things, Amandalynn depicts the subtle beauty of the natural world and humankind, through illustrated line work and decorative patterning. Her works can be found in Galleries and Streets all over the world. She began developing her distinct Street Art style mural work in 2001, painting alongside the graffiti community of San Francisco. Amandalynn is very passionate about her outdoor mural work and still enjoys collaborating with a variety of different artists, as well as creating large solo works. In recent years she has been art directing and curating for large music and art festivals. Amandalynn has always enjoyed curating and assisting other artists in their work, making art direction a natural path for her. Fine Art also plays a key role in Amandalynn's life, as she continues to develop her career as a Gallery artist. She has a Bachelor's Degree of Fine Art from the San Francisco Academy of Art, and has worked alongside several professional conservators within her career. Amandalynn believes that sharing the creative process with others is the key to living an inspired life.
Amandalynn "Full Circle" Solo Exhibition
"Full Circle" Group Exhibition
Modern Eden Gallery Social Media Accounts
Website | Facebook | Twitter | Instagram
Amandalynn Social Media Accounts