Be still in the moments when darkness and light serve one another as equal counterparts, and get ready for 'Angel Dust', the solo exhibitions of Iva Troj, Rachael Bridge, and Meagan "Magpie" Rodgers, opening this weekend at The Dark Art Emporium. Where creative sparks ignite, each beautifully-distinct collection opens a doorway to mystery and interpretation.
Join The Dark Art Emporium in celebration as they present 'Angel Dust'!
From The Gallery:
Angel Dust is a show about The Fantastic.
Three fantastic artists, each bringing a new selection of fantastic works, featuring fantastical creatures all dwelling within fantastic worlds. This is the looking glass. You are welcomed to play the part of Alice and step inside. The door you take could lead anywhere. To a lush environment filled with the swarming visages of anthropomorphic copulations, maidens and gods (Iva Troj), Or perhaps the eternal forest, existing in a blanket of everlasting night with demons and ghosts as your guides (Meagan "Magpie" Rodgers), or you may end up alone, confronted only by the mirrored image of yourself (But not) staring back at you with all of the fears and anxieties that live within you made flesh and beautiful (Rachael Bridge).
Each of these artists is a skyrocketing talent and once you see the work, you will quickly understand why.
So, come on, lets go play in their worlds….
-Jeremy Cross, Co-Conspirator – DAE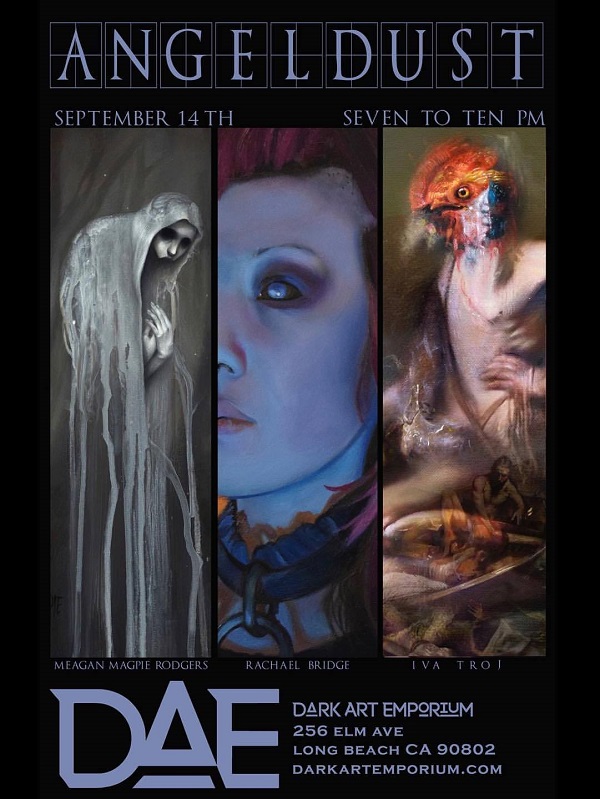 'Angel Dust'
Opening Reception:
Saturday, September 14, 2019 | 7-10 pm
Exhibition Dates: 
September 14- October 6, 2019
The Dark Art Emporium
256 Elm Ave Long Beach CA 90802
562-612-1118
For additional information and available artwork please contact:  Jeremy@darkartemporium.com
"The body of work I have created for this exhibit is very much representative of the type of work I have always wanted to do but didn't feel I could for a long time. I wasn't ready or even willing to discuss childhood trauma, loss of innocence, death, grief, and that emergency wiring that happens in distress when the world around you gives you violent contradictions rather than answers to the facts of life. It is that faulty wiring that makes you almost addicted to toxicity; like a moth drawn to a flame you seek it and explore it in search of those same answers" says Iva.
Troj states that this new body of work is a much more accurate representation of how she views the world differently from other people.
"Patterns that seem normal to most, seem distorted or out of order to me – it's the price I pay for growing up in a skewed society full of misogyny, discrimination and conventional truths that don't make any sense. But that same toll is also the price of admission to the realm of truth, in the sense that you have to go through the entire scale of human emotion and relive the trauma, death and grief in order to put it out there in its total nakedness," she said.
The stories narrated in the work started coming through in sketches Troj was working on for a graphic novel she started drafting earlier this year. The compositions "intensified and became expressive of more than one conflict, often very close to the breaking point where it's almost out of balance, or just too much going on", she states. "My previous work is more like a peaceful protest, with conflicts sub-serving the serenity and peace achieved in the resolution of them. This work doesn't prioritize between good and evil in the same way."
-Iva Troj
"I deal with anxiety daily, just like everyone else. We all have to put on a face each day in order to deal with our daily lives. It's as if this fear program is running constantly in the background and the noise is just getting louder and louder.
I feel better while I am painting. It helps quiet down the noise. My work has always been a projection of my anxiousness into the physical realm. These new paintings are about the stillness and paralysis from stress. It's almost like a temporary means of expelling all the bullshit and turning off my brain."
-Rachael Bridge
"For this show, I went with a looser style truer to some of my older work. It was refreshing to create a small body of work that was a little more organic and less meticulous. My work has become very tight lately and I'd like to try and loosen up my technique again going forward as I think it adds character."
-Meagan Magpie Rodgers
The Dark Art Emporium Social Media Accounts
Website | Facebook | Twitter | Instagram
Related Articles
Tiny Terrors 2- The New Batch Group Show @ The Dark Art Emporium
Primal Impulses & Curious Beauty: is 2019 the Year of the Dark Art Movement?