To both repulse and enchant, art can bind you within a paradoxical state of emotion. For some this uneasiness is preferably avoided, yet there are many instances over the centuries which example humanity's lust for the darker underbelly of reality. Religion, myths, exploring the human psyche… we've all experienced artwork triggering these paradoxical feelings, and the rise of this type of art – most often described as Dark Art – has only been growing.
At the heart of the expanding style, Alberto Sisi has been making his mark. Having spent the last ten years professionally involved in the art market, Alberto, also CEO & Founder of Macabre Gallery and Plague Doctor Masks, has most recently founded the Dark Art Movement. This nonprofit organization aims is an international membership community designed to support the artists and growth of the genre. "My experience in the art market has not only been with dark art, I've sold a lot of contemporary / figurative art too, participated in art fairs and worked for other gallerists, with whom I have learned a lot about the sector. Funnily though, I really did not know the Dark Art tag when I started." Alberto laughs, "I simply gathered works of art that I liked, and then I realised that they all had something in common, their dark environment / themes / colours / messages – so I started calling it Dark Art. Now many people talk about dark art, there are artists specialized in dark art, and galleries specializing in [it], so there has been a great evolution in these ten years."
I interviewed Alberto Sisi to find out more about the Dark Art Movement, discovering many new artists along the way. The growth of the dark art movement is absolute, inspired by the old masters yet evolving into a new era. 2019 is definitely a year in which to keep an eye on the Movement… so read, and enjoy.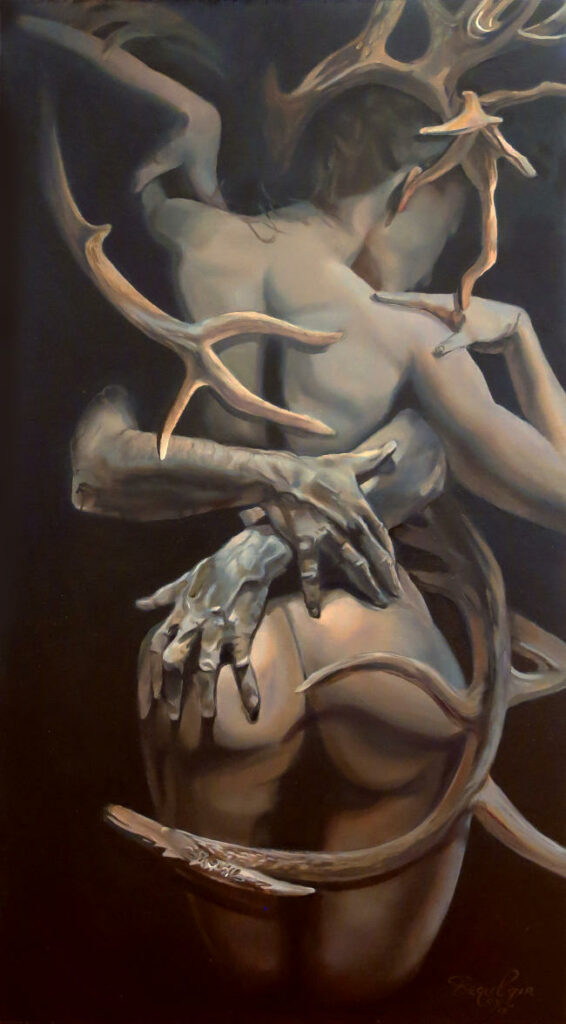 Hornèd by Patrick Beauclair
I have seen a lot of debates online as to what 'Dark Art' really is – can you explain, in your own opinion, the definition of this type of art?
Well, it's a question that's hard to answer since art is very subjective, but I will try to answer it to clarify the term.
In the dark art genre, the artist transmits his thoughts in a very mysterious way and, occasionally, combining surrealist elements. Horrible acts and macabre scenes make us stop and think about ourselves. Visually stunning scenes, where the black predominates over all colours. It is an attempt to understand more deeply the human nature, and this primal side of the human being we thought forgotten, but which still confuses us with its impulses.
Dark art is closely related to critical art or protest art, because each work of this movement differs from a particular cause or message. It's a movement to spread a message to the public declaring a complaint or criticism. For this reason, on many occasions dark art provokes controversy and dispute from viewers who don't know or don't understand the original message of the artwork.
Rui by Ed Schaap
Example (photo above):
In the artwork Rui by Ed Schaap, we see an animal that is skinned, frightened and in pain due to the torture to which it is subjected. With this sad image, the artist tries to represent the pain and cruelty to which humans subject other animals by skinning them, sometimes even when they are still alive. With this disturbing and shocking image, the artist tries to capture the attention of the viewer and make them think about the unnecessary damage we are doing today to animals with fur farming, simply to be able to have useless clothes and accessories; the immorality of materialism.
However, if we observe this image out of context, the viewer may think that it's an apology to fur farming, to the torture of animals, or that the artist (who in this case is vegan) enjoys painting these macabre scenes. For this reason, the dark art can provoke controversy or polemic, but if we know and understand the message, then the dark art is pure and wonderful.
I think that's a great explanation. Looking at your website, your mission is to "consolidate Dark Art as a recognised art movement". Why do you think Dark Art is currently overlooked and not recognised in general society?
Well, in my circle of artists and collectors everyone knows the dark art and they are talking about it, however, when I go out of my comfort zone I see that it is not like that. Because of my job I have been able to meet many gallerists and move around many art fairs, and nobody knows what I mean when I ask them about dark art. It seems that in the art market there is only contemporary, figurative, abstract art, and not much more. That's why wherever I go I talk about dark art and I try to introduce it to the market, so that the next time I ask a gallerist or collector about it, I get an answer like, "Of course, I know it!".
In fact, your first question has been about what dark art is, so we have a lot of work to do (laughs).
Mask by Nataša Vuković
There is a real mix of original artwork for sale on your website and I love how they are from artists all over the world! Since the Dark Art Movement went live, how have you found the response from artists and collectors? Was it hard to get artists on board, or easy?
I must say that I am very grateful in that matter, because the response we have received has been hugely positive, both by artists and by collectors. Much more than I could hope for! I've been selling dark art for ten years, in which I've met many artists, and they have known me, so when I proposed to work together they accepted immediately. I'm very grateful for this.
The response from collectors has also been very positive. As a collector too, I really enjoy not only being able to contemplate the work of art in my house, but also the purchasing process. [It's great to] talk to artists, satisfy my curiosity with personal questions and buy the work of art directly from them. Thinking about this, I thought it was sad that collectors did not enjoy this process, so I developed the idea of facilitating the connection between artists and buyers.
In Dark Art Movement, collectors can buy the artwork directly from the artists, share conversations about art and get to know the artist closely after the artwork they are buying. Buying art direct from the artists also has the added advantages of no commission prices or intermediaries. I think this point differentiates us from any other gallery or art platform, and buyers are very grateful.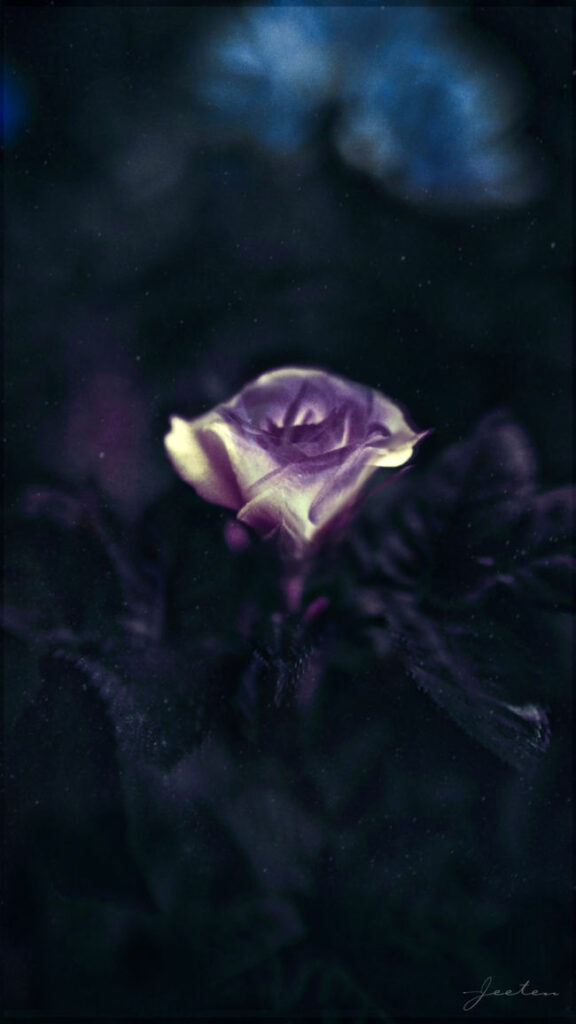 Immoral Rose by Jeeten Patel
I definitely agree; cultivating those connections between the collector and the artist is a fantastic way to support everyone involved in the art scene and really, the whole movement itself. Your own love for the genre is clear; what draws you personally to enjoy Dark Art?
Good question. I've asked myself the same thing many times and I think it's something that just happens. We can't choose our tastes, we just have them. I could say that I love the dark art for many reasons, and maybe the main one is because of the messages behind the artwork. I love the art that protests, that tells me something, and goes beyond being a simple decorative object. But the truth is that it is not a decision made after a process of meditation, I simply let myself go through life, and without realizing it I was seduced by dark art, spending hours and hours discovering new artwork, investigating the great artists of history with this style (like Goya or Bosch), and enjoying everything that surrounded me.
I can't tell you why you should like dark art, you just like it or you don't like it. But I can tell you why you should invest in dark art, because its popularity increases every day and there are opportunities that you will not find in other art styles, but this is another topic. (Laughs)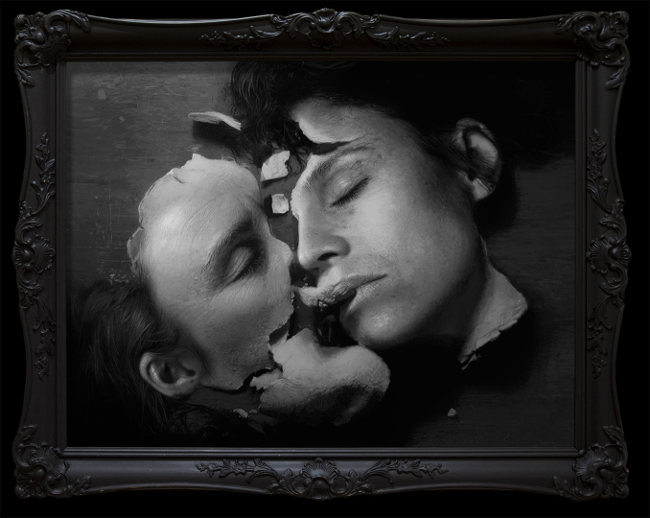 Shell by Ben Howe
No Title by Markus Arnold
Focusing more on the artists you promote, it's great to see that you cover so many different mediums! Tell me more about some of the artists you promote.
We have recently started working with fine art photography and digital art, at the request of our customers, so now we work with all categories of visual arts! [The Dark Art Movement consists of] around 60 artists, and I would like to talk about all of them! But I'll tell you some of the latest additions:
Christophe Prades: I met him for being the husband of Candice Angélini, a renowned artist with whom I have been working for a few years. When I saw the art of Christophe Prades I was amazed by his dark portraits made of inks and pigments. I can't help but be hypnotized by looking at their empty eyes. In real life I like to look at people's faces and discover the stories of their lives. With the portraits by Prades the same thing happens to me, and their stories are fascinating. The feelings they conveys are very difficult to achieve in art, and Prades gets it.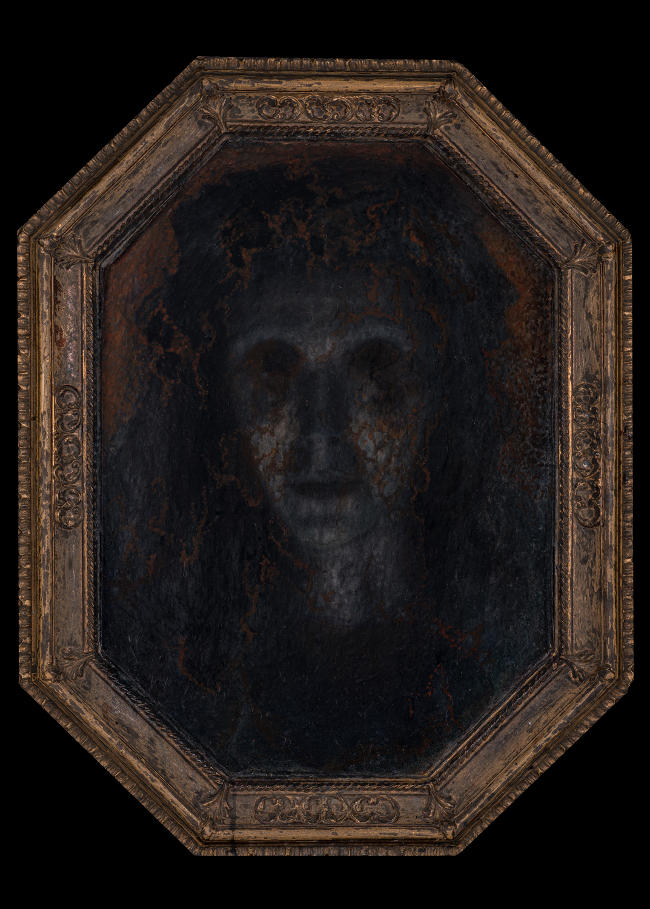 Dagon by Christophe Prades
Jason Guffey: I started working with artists photographers only a few months ago, just because I didn't previously have the structure to cover all the fine arts. And one of my great discoveries has been the Dry Plate Tin type photography by Jason Guffey. Exquisite compositions with great attention to detail, full of creativity, strong, powerful… they are simply perfect for me. Worlds of dark imagery that tell complex stories that are worth discovering. They are also very interesting for collectors because they are all Limited Editions of only 1-9 copies.
Fruit of the Goddess by Jason Guffey
José Hernández: Well, he has not joined recently. I have been working with him for many years, but he passed away in 2013, so I would like to take this interview to make a special mention. I had the pleasure of meeting him before he left us, and he was very excited about my projects. He was a renowned artist in Spain and worldwide, he worked hard since the 60's and won a lot of awards for his career. I think he would have liked to see how dark art continued to grow over the years, so I wanted to remind people of him here. There are only three of his latest paintings left and it's a bittersweet feeling whenever one of his paintings leaves us. I hope that with this mention the new generations can know him through his art.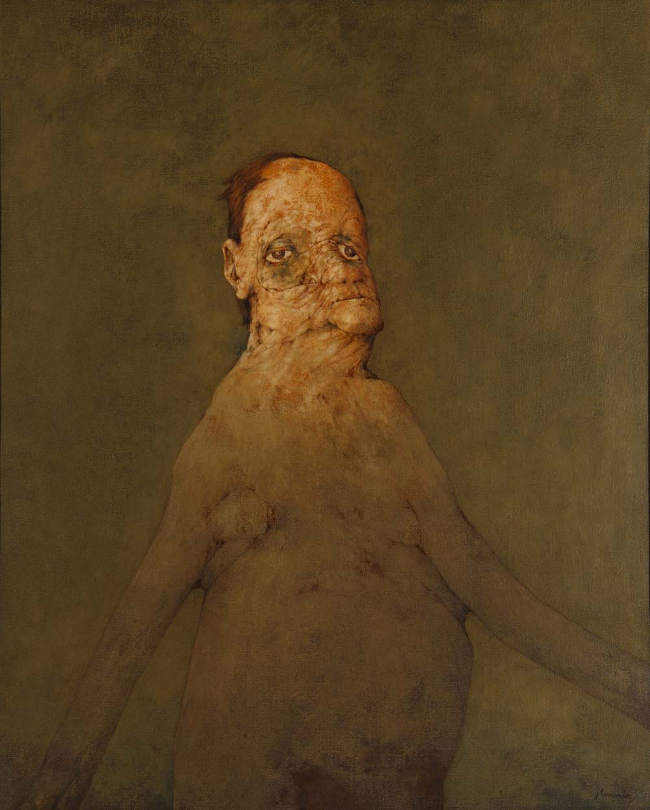 Arquetipo III by Jose Hernandez
Can you share with me any new or rising Dark Artists who you think will continue to grow?
Of course, I love seeing new artists emerge, follow their careers, support them and get infected with those young spirits. It's like living new sensations for the first time again. I'm not going to lie, I'm also interested as a collector (grins). From the Dark Art Movement, I work with many emerging artists, some of the latest additions are:
Pierre Santos: This young artist began in the art market just a couple of years ago, at an art fair in London, and sold everything he exhibited. He started with great success and continues to grow every day (and with him, his prices), so I recommend buying his spectacular sculptures ASAP! (laughs). Seriously, I predict a huge and long-lasting success.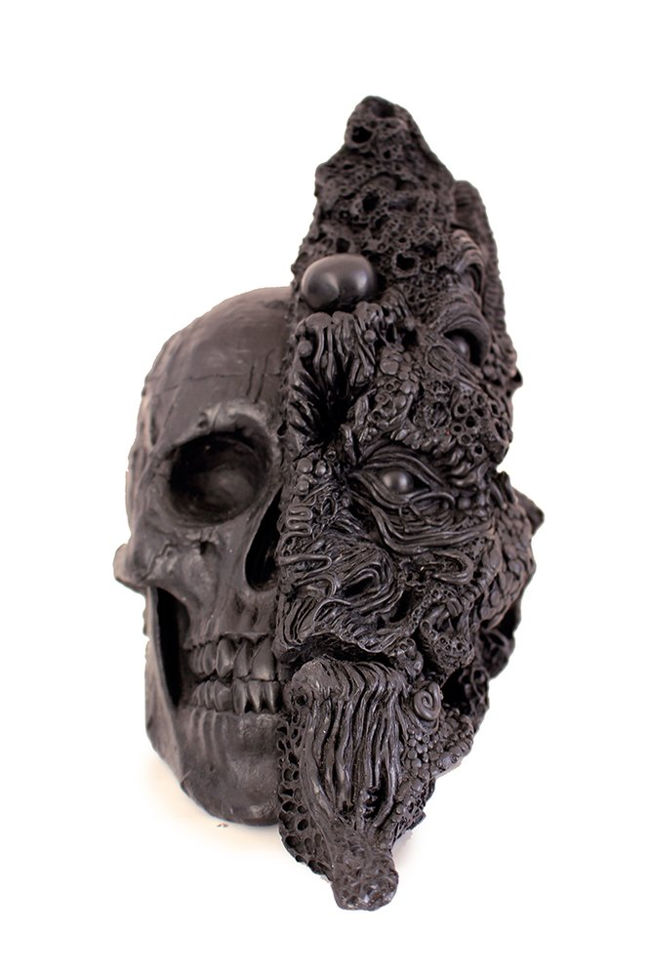 Simbi by Pierre Santos
Gonzalo Gerfloy: I fell in love with his sculptures the first time I saw them two years ago, and I immediately knew that I wanted to work with him; fortunately he accepted. Everyone who looks at his sculptures is impressed and they quickly start talking about him everywhere. I'm sure he's on his way to becoming one of the great artists of the genre.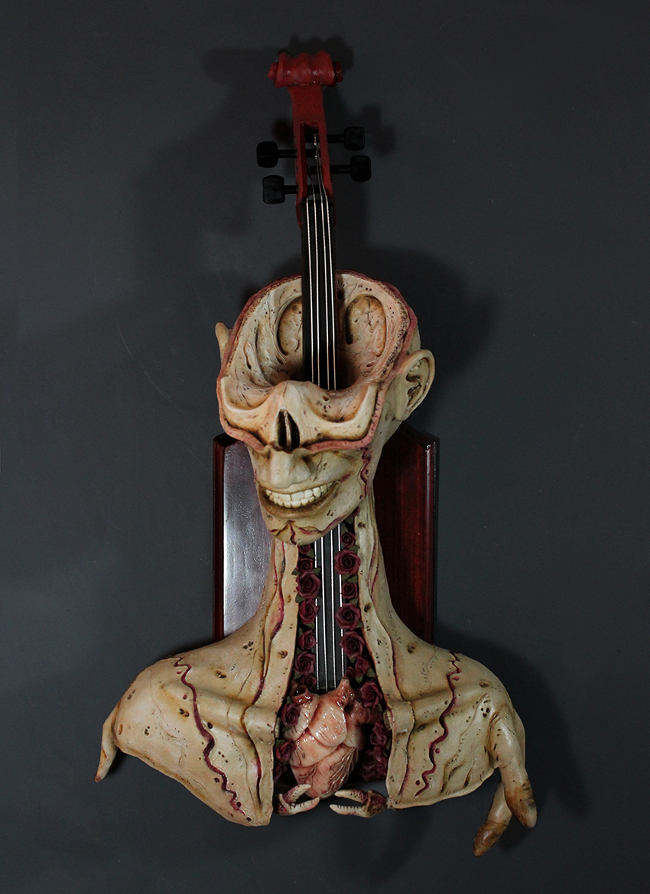 Symphony by Gonzalo Gerfloy
Hasan Hagverdiyev: Really he is not a new artist, however until now he has been focused on exhibiting in his country of origin, Azerbaijan, so the world has yet to discover him. The world NEEDS to discover him! In his original paintings, he tries to explore the darker emotions of our mental space through surreal characters from unimaginable universes. I love watching his paintings and I am always excited to see what new artwork is in process! I know that when the world discovers him, his career will receive a huge boost, and he is ready for it.
Unrest by Hasan Hagverdiyev
Are there any particular artworks or artists who speak to you personally?
Oh, I could list the 800 artwork that we have in Dark Art Movement, since they are all there for that reason. But mentioning only some of them, maybe I feel a special affinity with the art of artists like Ben Howe, Olivier de Sagazan, Michael Hutter, Saturno Buttò, Arturo Esparza, Jérôme Oudot Trëz, Paul Yunin, among many many many others.
Well that's plenty for me to be getting along with and it sounds like there's plenty more for me to discover over on the Dark Art Movement website! I really appreciate you taking the time out to speak with me, Alberto. One last question I have to ask: how do you hope that the Dark Art Movement will continue to expand in the future?
I hope it expands a lot and fast! (laughs). Well, we can't be still, we're always improving our services and thinking new improvements for the future, some of them are already in development and others are waiting their turn. Personally I'm focusing on the side of collectors, improving our services, infrastructure, and digital tools, to have a continuous and closer contact with them. And my colleagues continue to improve the promotion of artists, exposure, social media, etc. I can't give more details, but I think we will continue to grow and expand as we have up until now (I hope!).
I think the dark art will also continue to grow a lot in popularity. If you think about the recent history of art, this has only just begun!
Find out more about the Dark Art Movement by heading to their website, where you can discover more artworks, further information about the movement, and other relevant events/businesses in the field.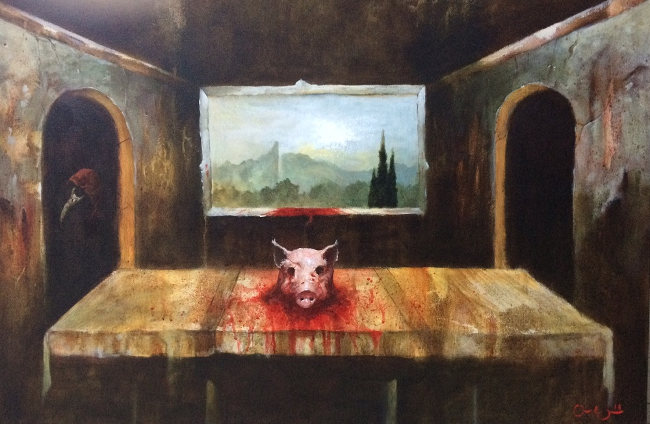 Sins of the father by Steve Otis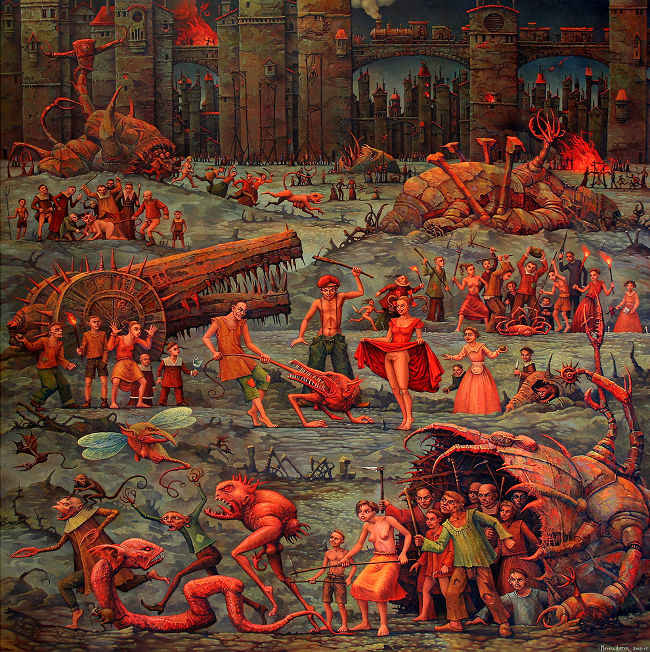 Close-up of Der Triumph des Fleisches by Michael Hutter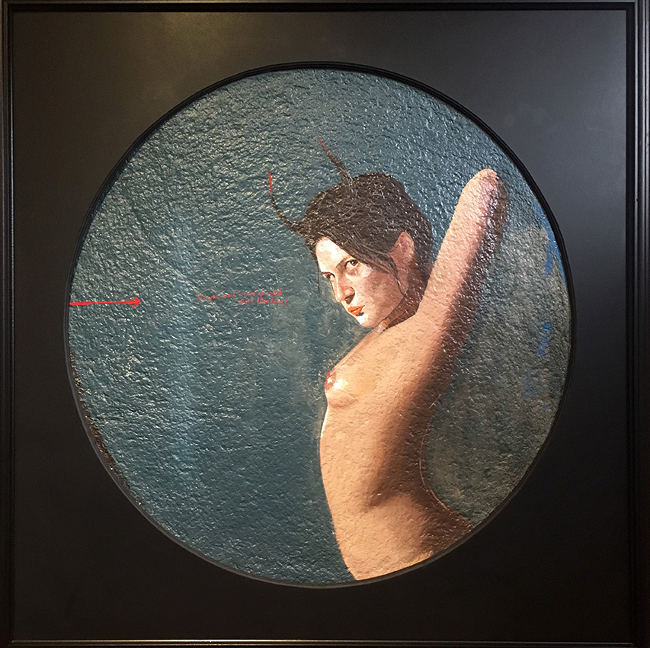 Evil by Marco Zamudio