We are beyond excited to connect again with painter Yulia Pustoshkina, who is currently working relentlessly on her upcoming solo exhibition at M2 Gallery in Sydney. Just imagine entering a room filled to the brim with her diverse characters, vibrant compositions and meaningful stories – we cannot wait!
This step in Yulia Pustoshkina's career is the perfect moment to hand over the mic and leave the stage for the artist, who will share her inspiration, thoughts and intentions with us. This article will allow you to slowly and consciously follow Yulia's journey from painting to painting and discover her process from ideation to final piece.
Inspirations and the path leading to Yulia Pustoshkina's solo "White Rabbit – Black Cat".
"Most of the artworks in my new collection for the upcoming solo show 'White Rabbit Black Cat' are inspired by my recent travels in Egypt. But not only that. The reason I finally went on this trip was due to my long-time longing to discover for myself and mostly see for myself all those mysteries, the Pyramids in the first place. Another reason for my new creations is my never stopping desire to learn and uncover more of the hidden history of our planet.
After having read books by Graham Hancock, watching numerous documentaries, and discovering the incredible work of Dolores Cannon, I just can not stop myself from wanting to know more and more about the new truth of the history of civilizations, new metaphysical views on reality and dimensions, the afterlife and the fascinating facts of extraterrestrial life.
Within the last couple of years, I have completely immersed myself in these studies that I comfortably combine while working by myself in my studio.

While I might sit and work all day within a small space of my studio, I nevertheless feel as if so much space is around me because of the knowledge I receive listening to audiobooks, lectures, interviews and videos while my mind travels all around the Earth, to other planets, to other dimensions, out into the Universe! I never feel confined within the walls of my studio.
Naturally, the new body of work is highly influenced by these subjects. As an artist, that is what I do, I put all these ideas that swing by in my head onto the new canvases. The meaning of Oneness and love to every living creature in this World highly resonates with me. As always, I strive to bring the best and most positive emotions of the viewers forward, to ignite that sparkle of light with eternal good energy and love through my work. I hope the viewers will enjoy it.
Follow Yulia Pustoshkina's journey and dive into her thoughts behind each piece.
TREE OF LIFE
I could have learnt the story behind the well-known image of the Tree of Life yet years ago, but I first heard it straight from an Egyptian man himself, our guide in Egypt. I was impressed by the visual concept and how it conveyed so much meaning that instantly, I decided right there and then during my travels in Egypt that I will create my own 'Tree of Life' painting, preserving the concept. As he told me, the five birds that you see perched on the tree's branches represent stages of human life. The smallest bird at the bottom right is the youngest, an infant, next one up is a child, then a teenager/young adult, then a grown adult is a bird with its wings spread up high to symbolize its full growth and achievements attained. All of the four birds mentioned are looking east.
In ancient Egypt, the direction of the East was considered to be the direction of life because this is where the Sun rose (and is still rising) from the East. The only bird that is in the bottom left corner, the fifth bird, is depicted as an older soul, looking to the West, ready to make its transition to the other side, the afterlife, where the Sun sets in the West. In my painting, the birds are various Australian honeyeater birds.
I tried to portray them as representing their age, so to speak. I even tried to go further and included all the different flowers to match each bird and each stage of life. The visual choice of the flowers is to reinforce the choice and meaning of the birds. The original papyrus of the Tree of Life has fruits on the tree. I have replaced them with these flowers with meanings as mentioned above so that the overall painting is somewhat looking surreal, colourful and majestic.
The tree itself has a face; it is a thoughtful character with a flair of wisdom or humour that adds more to the scene and is in line with my style of work. I am truly happy with the result of this painting; it is completed on a large size canvas that has allowed me to depict so many details. I believe this artwork radiates truth, wisdom, acceptance and, therefore, harmony.
DEFEAT OF APOPHIS
Staying in the centre of Luxor, right near the fully uncovered Sphinx Avenue, had the privilege of walking distance to many sights with an interesting market of handicrafts and souvenirs just behind my hotel. It is there on one evening that I have come across and purchased a small alabaster plaque depicting neither a rabbit nor a cat, but somewhat two in one, fighting a serpent near the Tree of Life.
This was a reproduction copy of a carved scene found at the tomb of Inerkhau at Deir el-Medina. I am not sure what got my attention more, the fact of a weird long-tailed rabbit (and I do love rabbits) or the story, once again, told by the merchant. I decided to investigate further.
As I found out, in ancient Egypt Apophis was the name of the evil serpent that tried to attack God Ra travelling on the Sun every day across the sky from East to West. The great cat Mau was considered a Devine cat, the greatest defender and protector of the god Ra, who also guarded the Tree of Life. It is depicted to cut the serpent's head off; in other images, the serpent is often depicted as being sliced into many pieces.
I loved the idea and the story once again and came up with my version, trying to show the courage of the rabbit cat, the mighty Sun, the Tree of Life that definitely needs protection, and the defeated serpent. This artwork is full of movement. The bigger meaning in this painting is that of where the Good is always prevailing. With such positive energy, may this painting always protect those in need!
ENLIGHTENED or TAPPING ON KNOWLEDGE
This painting has two titles, and I find it hard to choose between the two that I feel suit so equally perfectly. This painting is infused with my signature flair of humour while representing a larger meaning. It basically represents me as I find myself getting further on my way, restlessly uncovering the hidden and unknown knowledge of our Universe. More than a year ago, I became acquainted with the incredible work of Dolores Cannon. Her discoveries have blown me away. The more I discover and learn about history, metaphysics, and civilizations, the more fascinated I become. There is no way back, I feel the shift as I learn about myself as well along the way. 'Tapping on Knowledge' is a continuous process that never stops.
I have chosen a gang of cats here eager to become enlightened and a scarab beetle so famously sacred in ancient Egypt, symbolically representing the knowledge itself. Cats were no doubt considered sacred animals in ancient Egypt. They carry that mystery and nonchalance in character till the present time. This painting is, therefore, symbolic, with a touch of humour and, at the same time, so strong in my personal desire to learn more. I have depicted the pyramids of Giza far in the background since they are one of the biggest mysteries that have been capturing my mind for quite a while now. Actually, going inside one greatly affected me emotionally.
LOTUS
Wherever I would go in Egypt it is almost always I would see lotus flowers. They are so common in Egyptian hieroglyphs, drawings and carvings that it was hard for me to miss them and not to get inspired to create a painting celebrating a lotus flower. Ancient Egyptians used to assign lotus flowers various features and capabilities. The flower was commonly used as a perfume, in medicine and even as a stimulant in sexual attraction.
Therefore a lotus flower is highly regarded. Its meaning is creation and rebirth. I found out that being a symbol of the Sun it was said to rise every day and open up to the Sun, while as the night sets in, the lotus flower would go beneath the water for a sleep. I absolutely loved this story, and I have created this painting based on that. There is the Sun, and there is the Moon. There is a day, and there is a night.
The combination of the two symbols, Sun and Duck, is the most commonly seen in Egyptian hieroglyphs. The meaning is not that much connected with this painting, but it is my own reflection on yet another little something being learnt in hieroglyphs. All animals, birds and fish depicted here are common to Egyptian fauna. I believe this artwork radiates universal harmony and peace.
PARALLEL REALITIES
This painting is my attempt to hint at the existence of many parallel realities that we may or may not be aware of. We may occupy with someone the same exact space without realizing it. From another viewpoint: In our reality, we may actually see the opposing character and consciously try to avoid or ignore them, therefore slowly erasing the unwanted or negative from our personal reality so they stop existing and bothering us. The golden words from my research are 'We Create Our Reality'. I believe this artwork helps one to determine their position on their life path.
5 STAR HOTEL
This painting is a light-hearted and humorous reflection of my travelling arrangements. While always wanting good comfort during my trips, I nevertheless choose hotels that have that specific character and are connected to the place or country that I am staying in. I am always fascinated with the folkloric detailing of furniture, furnishings etc. therefore, there is seldom a chance I would stay in a boring hotel. Although the painting is called '5 Star Hotel', in fact, it is depicted as a simple one, a natural one, unique – just like the ones I like to stay in myself. The occupants of this hotel are happy being together, even with little space around. Happiness can be found just anywhere, it is a state of mind not necessarily dictated by our surroundings and physicality.
White Rabbit – Black Cat
Opening Reception: April 27, 2023 | 6- 9pm
Exhibition Dates: April 26 – May 2, 2023
450 Elizabeth Street, Surry Hills, Sydney Australia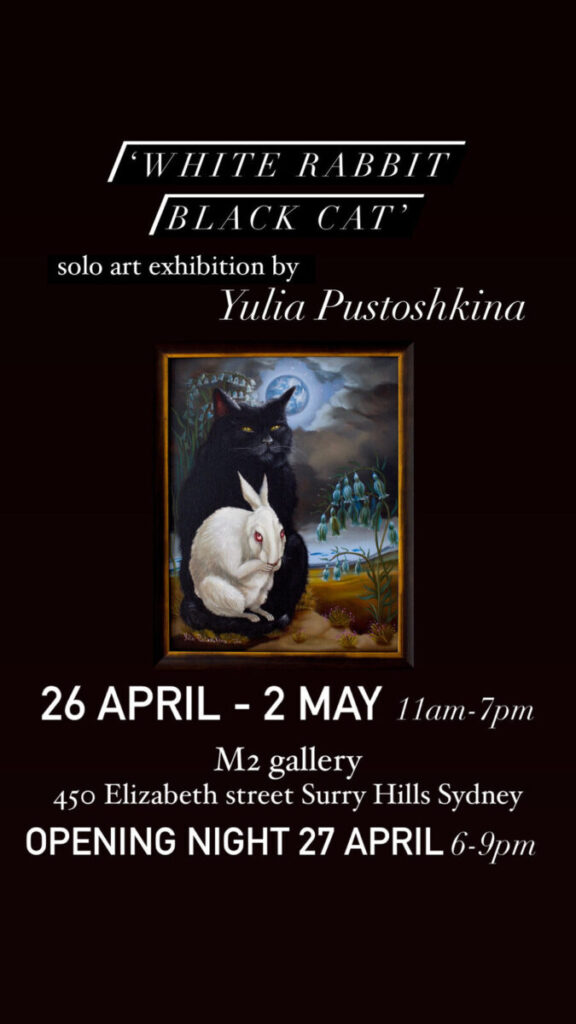 Yulia Pustoshkina Social Media Accounts