It's been a busy year for Copro Gallery and, with their most ambitious show transformation to date just around the corner, the fun is only just beginning. Chet Zar has been causing a stir across the Kickstarter ocean in preparation for his solo show at Copro – from the black masses of his very own dark universe, together they are transforming the gallery into a physical representation of Chet Zar's very own Dy5topia. It's an ambitious move. Not only will it be the official unveiling of a collection of paintings exploring Chet's inner world, but Copro Gallery itself will smoulder; prepare for a striking multi-sensory experience of industrial wall facades, smokestacks, leaking pipes, a mausoleum and many more surprises waiting to share their secrets…
At the same time, Damien Echols is bringing a special selection of his sigils and symbols to the other depths of Copro Gallery. In addition to his solo works, Copro Gallery are displaying a selection of collaborative pieces which Damien has created with other artists.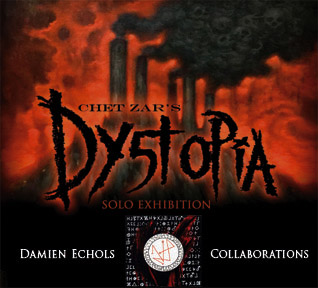 Opening Reception:
Saturday, October 15 , 2016 | 8-11:30PM

Exhibition Dates:
October 15 – November 5, 2016
Bergamot Station Arts Complex
2525 Michigan Ave , Unit T5 | Santa Monica , CA 90404
Dy5topia
[From the successfully funded
Kickstarter
press release by Mike Correll] "Chet Zar has been transporting most of us to other dimensions for many years, often without our knowledge. If you watched
The Blob
 back in '88,
Darkman
in '90,
Planet of the Apes
in '01,
Men in Black
in '02, or
Hellboy II – The Golden Army
in '08, then you too have been transported by Chet's artwork. Even if you missed his feature film work you may have seen his many contributions to Tool music videos, including but not limited to
Schism
and
Parabola.
 Many more go unmentioned, and so it is likely Chet has been taking you to other dimensions for many years! Now is your chance to be transported to Chet's very own dark universe: DY5TOPIA!"
Dy5stopia has been in the making for over a decade. As his imagination takes physical form this October at Copro Gallery, they have had the unparalelled support of host of fantastic artists and professionals at Figment Foundry, including Lee Shamel, James and Tayler Brown, Ben Schwenk, Stephanie Bartlowe and Hope Erickson. Cultivating his own artistic talents from a very early age, Chet's imagination soon merged his love of horror films into his creativity; as well as an acclaimed artist, Chet has worked as a special effects make up artist, designer and sculptor within the motion picture industry before settling into life as a painter. With distinctly memorable concepts and style, Chet Zar's pieces promise to emerge you fully into his own mastered realm in his latest solo show, Dy5stopia.
Collaborations
[From press release] "
The collaboration process is an exploration in combining the energy of Damien's approach to traditional ceremonial magick with the contemporary techniques of his fellow artists, friends, and loved ones. [Collaborating artists include] his wife Lorri Davis, Erica Flannes, David Stoupakis, Menton 3, Chet Zar, Craig Larotonda, Vincent Castiglia, Jessika Addams, Mike Bellamy, Adam Hays, Derek Martinez and Vinny Romanelli." 
An open practitioner of ceremonial magick for over twenty years, Damien's works echo the esoteric with bold and vibrant designs. He spent 18 years on death row for a crime he didn't commit, finally being released in 2011, and became a New York Times bestselling author and teacher on Magick and tarot readings. Damien Echols infuses his artwork with experiences and the occult to produce raw and intricate pieces consistently personal to himself, mixing his own alphabet/code within many of his paintings to break down abstract designs.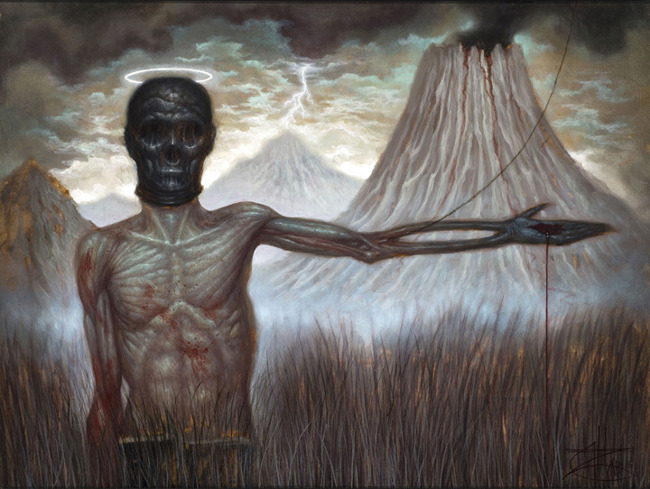 Junkie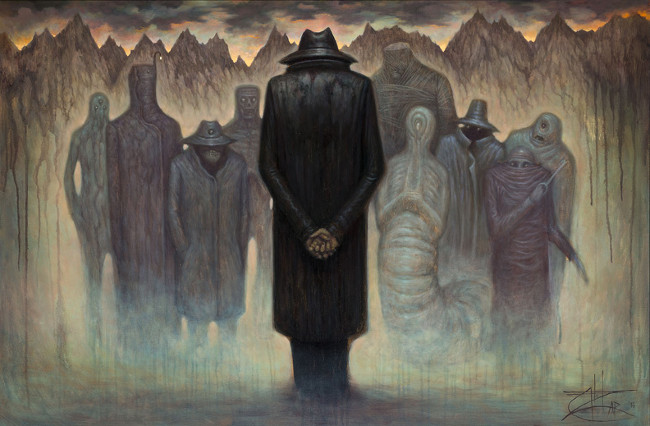 The Meeting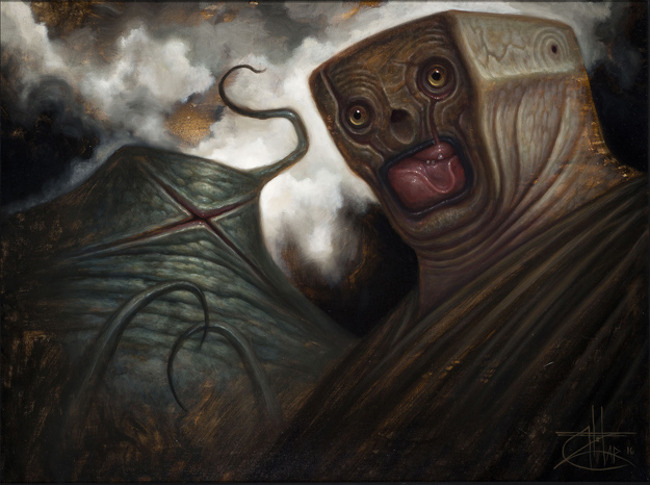 Paralyzed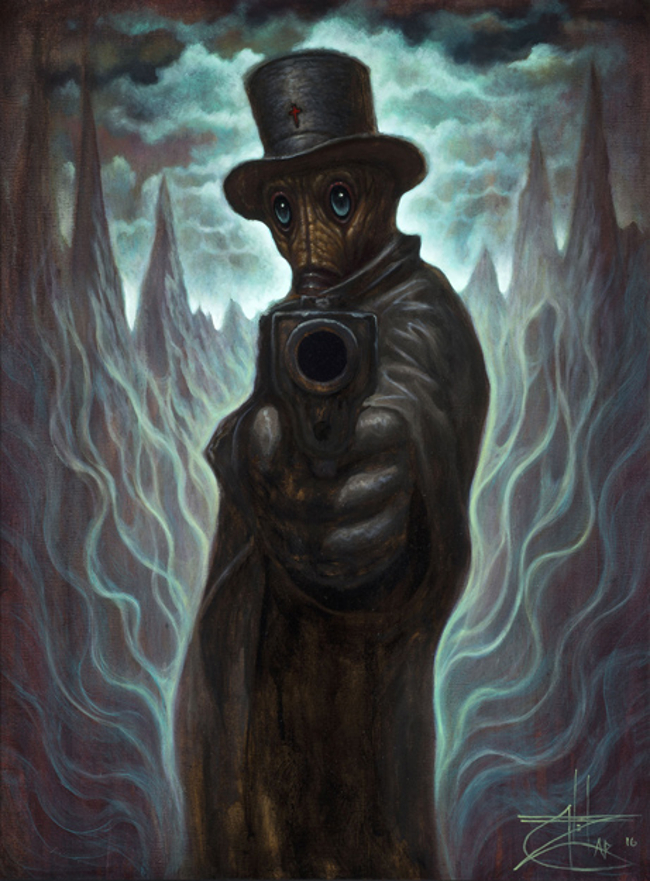 Gunpoint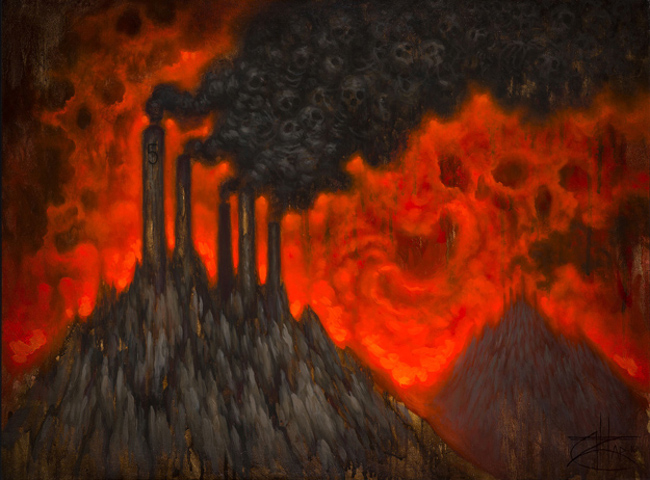 Dy5topia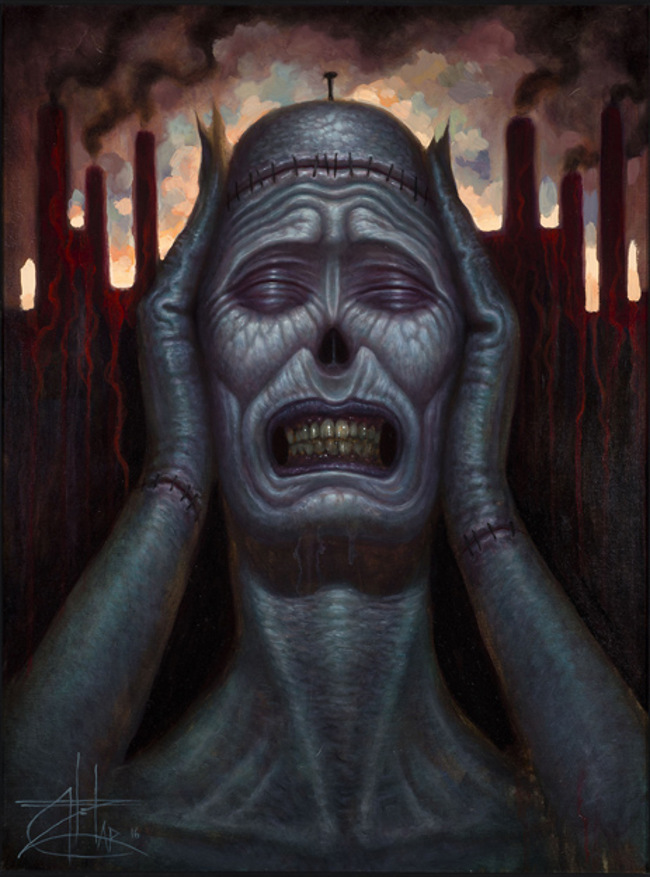 White Noise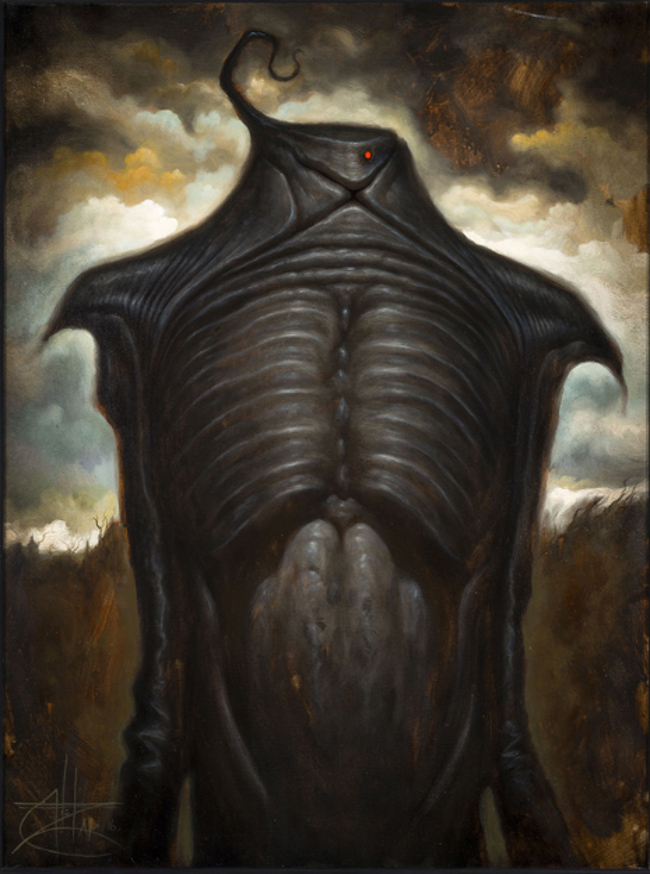 Drone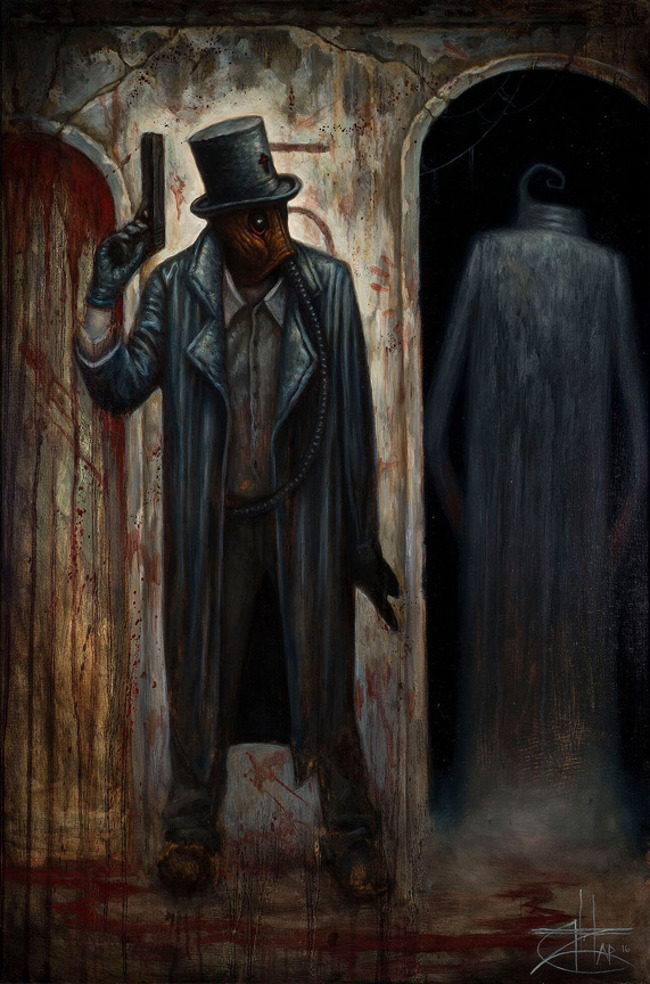 Stalker