As we gallop ever closer toward to the end of yet another 'memorable' year, we can't help but look toward 2022…hoping…anticipating…and (let's be honest) praying that the next twelve months will offer us many authentic reasons to exercise our smile muscles. Quite fittingly, Palette Gallery's final group exhibition of the year, "The City Rises" – which opens on November 12 – is inspired by the concept of…drumroll please…F U T U R I S M!!
Oooh...sure, sure...as in thinking ahead and having positive thoughts, right?? 
Um…not really.
Ohhh, then their show has GOT to be about laser guns and space helmets?! Woo-hoo - who doesn't heart space art?!!?
Bup-bup-buppp! That's not even REMOTELY what Futurism-themed art is all about! Read below for a handy-dandy summary, which will surely arm you with enough knowledge to dazzle your pub trivia teammates. It's actually kinda cool. Remember the days when you were sooo deeply inspired to make a radical change in the world that you scribbled a plethora of ah-mayyyyyzing ideas onto paper every chance that you got? And when you read your musings out loud to friends and family, they sprung up in rousing applause, insisting that your brilliance would forever alter the hands of time? Oh…no? Well, surely you can imagine what that vibe must be like. It is that very spirit – of dreaming the impossible dream – that ended up spawning the early twentieth century Futurism art movement.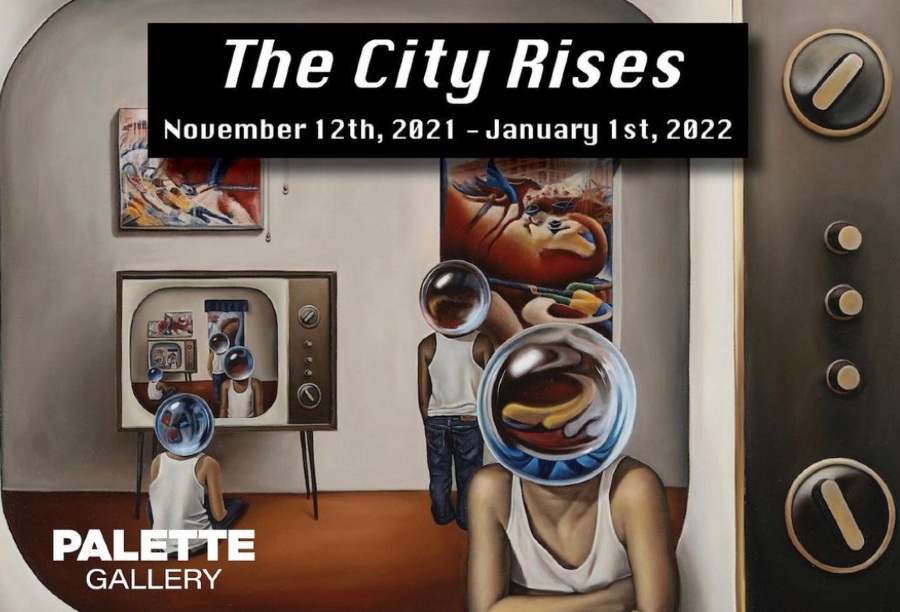 Palette Gallery Group Exhibition, "The City Rises"
Palette Gallery is proud to present "The City Rises" – a contemporary group show that explores the 20th century concept of Futurism in the new millennium.
Exhibition Dates: November 12, 2021 – January 1, 2022
Palette Gallery
816 Folsom Street | San Francisco, CA 94107
Phone Number: 415-865-0529
For availability and purchase inquiries, please contact the gallery directly at [email protected]
6 Exhibiting Artists:
Dilcia Giron, J.L. King, Mario Navasero, Lee Harvey Roswell, and Martin Stensaas and Sunny Strasburg.
About The Futurism Art Movement // Futurism, composed of the root word "future" (the period of time that will come after the present) and "ism" (a Greek suffix that indicates action or practice), probably just references future trends and events, right? Well, sometimes it does…but back in 1909, Filippo Tommasso Marinetti had something slightly different in mind – he wanted to announce the advent of a radical new form of creative expression. The Italian poet's short-lived literary and artistic movement was actually inspired by physical movement as well as the restlessness, speed, energy, dynamism, vitality, and industrialization of modern life. He also wanted to make it abundantly clear to Paris that their purported avant-garde artsy awesomeness wasn't really all that and a bagga chips.
On February 20, 1909, Marinetti unveiled the following revolutionary proclamation in his first Futurist Manifesto (which was published on the front page of Le Figaro, Paris' oldest daily morning newspaper):
It is from Italy that we now establish Futurism with this manifesto of overwhelming and burning violence, because we want to free this country from its fetid gangrene of professors, archaeologists, antiquarians and rhetoricians.
Along with fellow creatives Umberto Boccioni, Gino Severini, Carlo Carra and Luigi Russolo, the early twentieth century Futurism art movement – which was…believe it or not…tied to Italian Fascism – boasted of their "completely transformed sensibility" with respect to artistic innovation and the inclusion of painterly "lines of force" as well as sculptural bodies torn open. Filippo Tommasso Marinetti wrote at great length about embracing cultural and societal innovation through the revival of aesthetically adventurous art. One year later, he published a follow-up, entitled Futurist Painting: Technical Manifesto, which expanded on the risk-taking tenets of his creative undertaking while also championing youth, violence, and thinking outside of the box.
About The Exhibition // Born in the early 1900s in Italy, Futurism was an artistic and social movement characterized by a passion for technology, youth, and urban machination. Blending elements of Neo-Impressionism and Cubism, Futurism embodied the inherent chaos and marvel of industrialization, while rejecting the traditional institutions of the past. This self-proclaimed movement vowed to:
…fight with all our might the fanatical, senseless and snobbish religion of the past" and "elevate all attempts at originality, however daring, however violent…[to] support and glory in our day-to-day world, a world which is going to be continually and splendidly transformed by victorious science.

– Manifesto of Futurist Painters, 1910
In the hyper-technologized city of San Francisco, the frisson of modernity and the old order still persists. Titled after what is considered to be the first Futurist painting by Umberto Boccioni, this exhibition presents visions of Futurism by six Bay Area artists from their unique vantage point in 2021. By directly representing the clamor, discord, and energy of contemporary reality, the possibilities of what could be become clearer, instead of yearning for a more beautiful past that can no longer exist.
About the Gallery // Palette Gallery is a contemporary art gallery located in San Francisco's dynamic, art-oriented SoMa neighborhood. As part of the Palette restaurant concept, Chef/proprietor Pete Hemsley seeks to explore the unique relationship between food and art. Our rotating group and solo exhibitions showcase the abundant talent of the Bay Area and beyond, with a special focus on local artists. With new shows presented approximately every two months, we openly invite the community to visit the gallery, attend our events, and join the conversation.
Palette Gallery Social Media Accounts