Indeed, there is no shortage of creativity and inspiration when looking upon the mixed media portraiture of Natalia Berglund. There is intensity and empowerment, a pensive sight even while her subject's vision is often shielded, and a compositional elegance infusing femininity and symbolism that makes Natalia's heartened calling for art obvious. These compelling elements allow the viewer to linger and interpret each of her intriguing paintings.
I had the pleasure of interviewing Natalia to gain further insight into her work, narrative visions, and plans for the future. I hope you enjoy!
About the Artist:
Natalia Berglund is a multidisciplinary visual artist who works in a variety of different mediums, with a primary focus on portraiture. Her latest body of work is inspired by Orthodox iconography and fashion photography. Drawing parallels between the high drama of ancient Russian icons and contemporary representations of women in the media, Natalia's work explores the tension inherent in modern ideals of femininity.
At once both rejecting and embracing traditional religious portraiture, her current work is sensual, powerful and unafraid to challenge both Russian and American ideals of what it means to be a woman.Hailing from Minsk, Belarus, and educated in the United States (where she currently resides) Natalia is in a unique position to parse the differences between East and West. Her first solo exhibition, "Faces of Change" was recently on display at the Museum of Russian Art in Minneapolis, Minnesota.
Website | Instagram | Facebook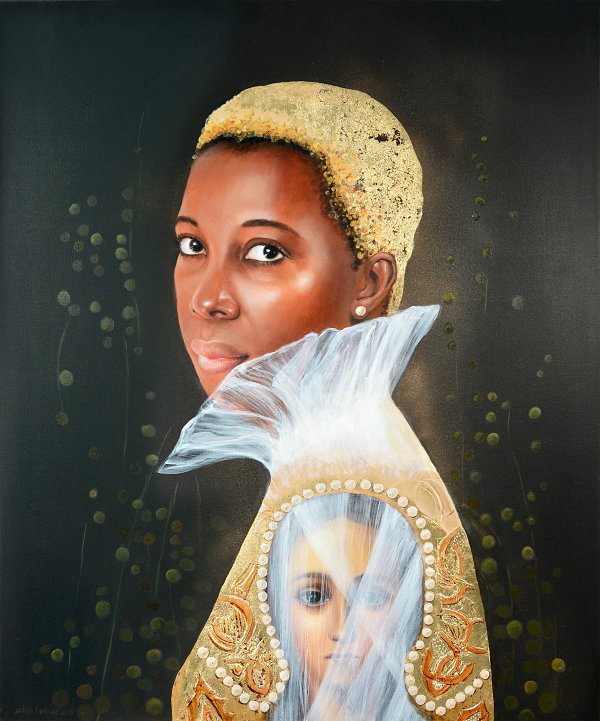 Natalia, they say the eyes are the windows to the soul. I feel your work conveys this belief as your paintings seem to gaze at the viewer, communicating their narrative. Is this your intent?
I do believe that eyes are the windows into the soul. I also feel that direct eye contact can be one of the most powerful forms of non-verbal communication. When you are walking past a group of people and you catch someone's gaze, it can be electrifying. When my portraits look directly at the viewer, I feel that they are trying to catch the viewer's gaze and share their story.  Many of my works, however, are blindfolded or have some of their senses blocked. I feel that these works, by 'hiding' their identity, are imploring the viewer to ask questions and come up with answers on their own in order to explain their mysterious state.
If you had to single out one painting that closely conveyed a sentiment within yourself, which would it be and why?
That's a difficult question. Each of my pieces has a big part of me in it. If I had to pick one, I would probably pick my painting titled Nina from my Shielded Warrior series. Nina is my daughter, and we look alike. I also see myself as a sort of warrior who tries to embrace the outside world and invite it in, but must also be defensive as I can only go so far without feeling self-conscious or exposed.
How has your creative vision changed and evolved over time?
I have always been focusing on portraiture, but my style and technique keep evolving and changing over time. I've spent the past few years experimenting with different styles and mediums, trying to find my voice as an artist. With my latest series I incorporate elements from ancient icons and combine them with fashion-inspired portraiture and graphic elements. I feel that this body of work unifies a lot of different aspects of my own individual identity; the artistic traditions of my Russian ancestral past, the constructivist elements of my Soviet childhood and the omnipresent fashion imagery of contemporary America. This work feels very natural to me.  I feel I have a unique perspective in working with and unifying these elements and am excited to see where it takes me.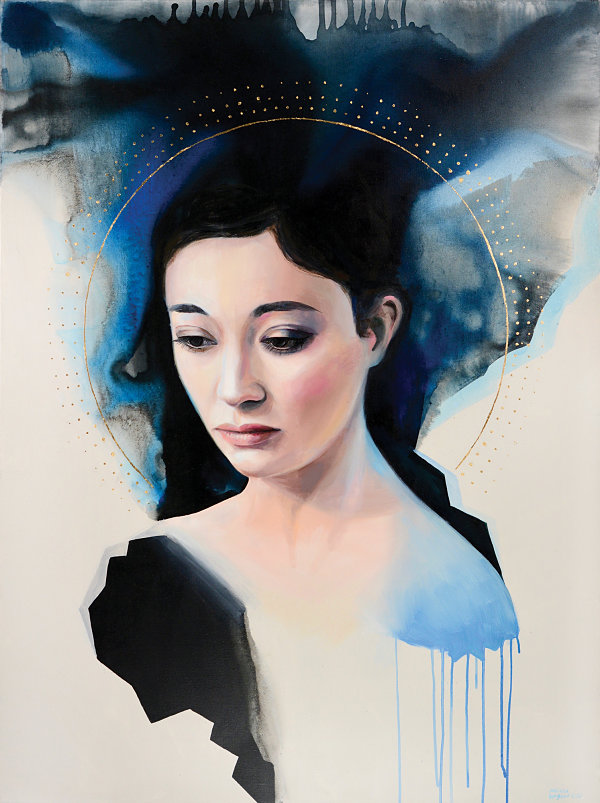 Describe a place that has become integral to the creation of your artwork.
I create all of my work in my home studio. I love working from home. Such a setup allows me to crate work any time of the day. Much of my inspiration strikes when I am doing ordinary things around the house or going for a walk.  Having my studio in my home allows me to capture my ideas as they come to me.  It is also very motivating to have all of my unfinished portraits looking at me as I wonder around the house procrastinating.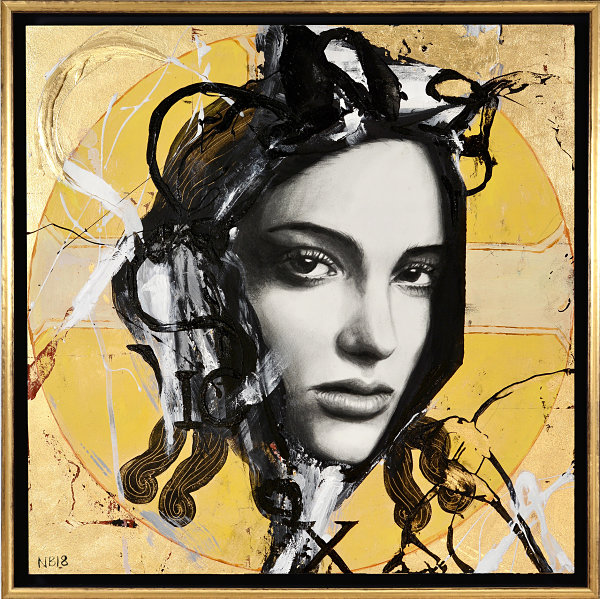 I really enjoy your incorporation of gold leaf, textures, application of paint vs pencil, and the way your portraits express mystery and emotion. Why do you work in portraiture and what elements of mixed media do you enjoy most?
I love working in portraiture as I feel that the human face is infinitely expressive. A glance can tell a million stories. Our survival as individuals and as a species has a lot to do with how well we can interpret emotions in the faces of our fellow humans. I feel that portraiture communicates on an artistic level, but also on a subconscious instinctual level that goes beyond what any other subject matter can communicate as it is wired into our brains at birth from millions of years of evolution. Few things are as personal and intimate than looking directly at the face of another person. I feel that the face I am painting tells part of the story, and the surrounding elements and background give it context and help tell the rest of the story.
As far as working with different mediums, I love experimenting and trying new things. Each new medium opens up worlds of creative possibilities and helps my artwork evolve.
Tell us about something in your studio that you can't live without.
As I mentioned earlier, I work with all sorts of different materials… but if I had to pick just one, it would be oils. I've just recently started painting with oils, and I really like it. I also use gold leaf in a lot of my works. I love how it absorbs and reflects light and how different it can look depending on lighting or viewing angle.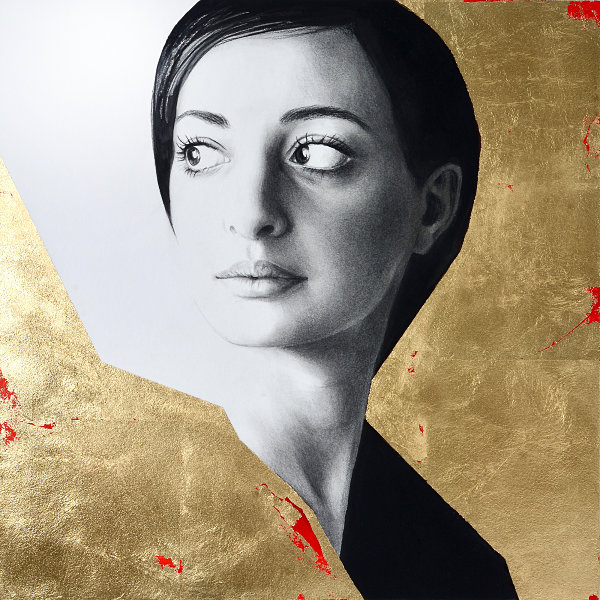 What events do you have coming up that readers should know about?
I have several things happening in the near future. My work is currently on display at The Hive in Minneapolis. It's a solo show, and it runs through the end of May. My painting "Vessel" is showcased at the El Paso Museum of History (through September). I'm excited to participate in a group show at the brand new The Art Collective Gallery in Rogers, AR. The grand opening is scheduled for April 20th. I will also be participating in the Saatchi Art "The Other Art Fair" in Chicago (May 16-19).
What is your hope for 2019? 
I hope for more growth. I hope to keep growing as an artist, keep advancing my skills and my artistic voice. I also hope to exhibit more, grow my audience and collector base.