**Article written by Julie Antolick Winters
The "beinArt Surreal Art Show 2016" is currently on view at Copro Gallery in Santa Monica, CA. True to the spirit of the collective, the show spotlights such luminaries in the new contemporary art movement as Greg "Craola" Simkins, Josh Keyes, Pamela Wilson, Martin Wittfooth, Jana Brike, Esao Andrews and Travis Louie as well as such up-and-comers as Maria Teichler, Hannah Faith Yata and Redd Walitzki. This is the fifth group show curated for the collective by Jon Beinart at Copro Gallery, which is owned by Greg Escalante (who has been referred to by the Los Angeles Times as "L.A.'s patron saint of underground art") and directed by Gary Pressman.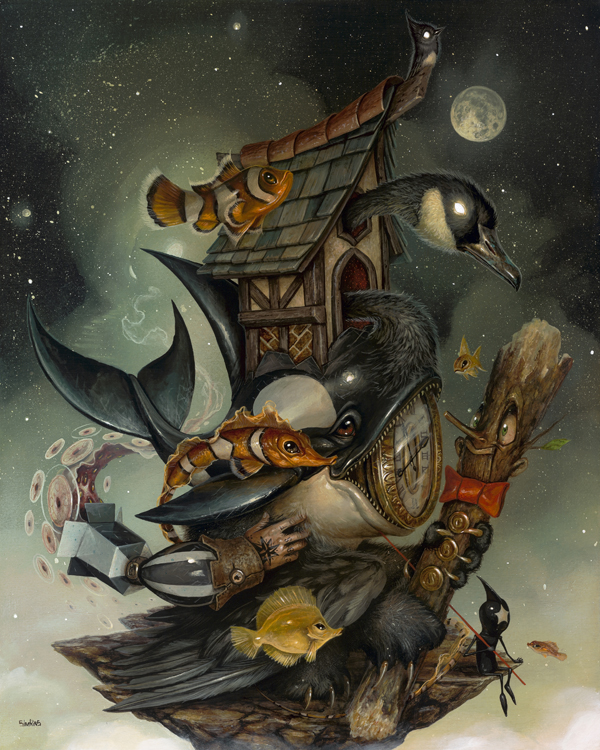 "Time Will Tell" by Greg "Craola" Simkins
Beinart curated the first show for the beinArt Collective at the gallery in 2010. He had long had an eye on the gallery as a place to show the artists in the collective, and serendipitously, Pressman got in touch with him. "I suspect someone put in a good word for me," Beinart says. But in fact, Pressman had recognized Beinart as an ideal resource for bringing what he wanted to Copro. "I like surrealism, and it's hard to get in contact with the international surreal artists. Jon has that."
The collective was started as an online community in 2003 by Beinart in an effort to bring together artists who are highly technically skilled but whose strange imagery put their work outside the mainstream. The membership eventually grew to be quite large, with over 600 featured artists at its peak, but recently, Beinart scaled the membership back as he relaunched the website. The new list is more reflective of Beinart's personal taste, which has evolved over the years.
"Sounding" by Josh Keyes
He looks for a number of qualities in prospective members. "I'm definitely obsessed with work that is impressive on a technical level, but beyond that, I like very imaginative stuff; I like artists who have found their own voice." He also acknowledges that he is particularly drawn to dark imagery that depicts the anomalous.
Maintaining the collective is no small task. Artist Robert Steven Connett says that others have tried over the years to do what Beinart has, only to flag when the effort and the need to secure funding became more than they could bear. Beinart is the only one he has seen success. "He's one of those rare people who likes to surround himself with art in every way," says Connett, "and he does the work. We need people like him."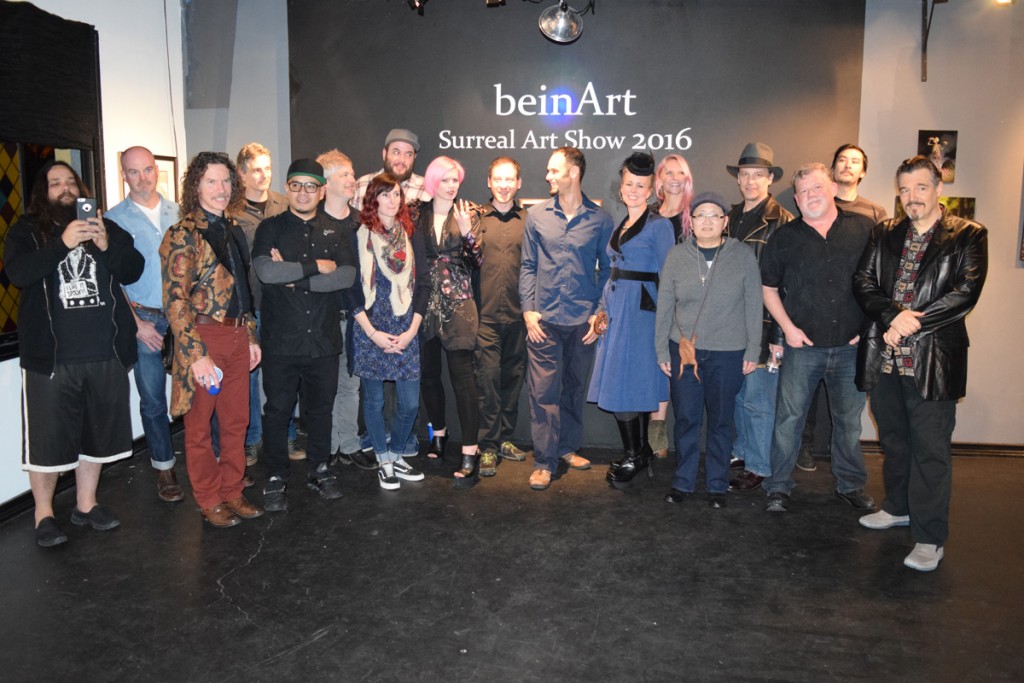 The beinArt Collective, Photo by Lee Shamel
Hard work carries one only so far, though: There has to be a vision behind the effort, and Beinart has that. Carrie Ann Baade calls Beinart a pioneer. A professor in the Department of Art at Florida State University as well as a member of the collective since 2006, Baade lectures about Beinart and the "internet frontier."
"Artists are willing to be in this group because of the exposure but also because it's taste-driven," states Baade, who also cites the level of technique as an important criterion for inclusion. Beinart levels the playing field by including emerging artists alongside those who are more established. "He took artists from different countercultures that had been marginalized and placed them side by side, which created a community where emerging artists were placed alongside the established. In doing so, he significantly strengthened the attention and awareness to professional artists of imagination." This not only helped bring attention to artists undiscovered by the world at large but also helped artists find each other. In an article she is writing for her university, she states that "Prior to this time, artists would have been reclusive and thought that they were the 'only person on Earth' doing what they do. This was a unique moment in history when these artists of imagination saw each other, like someone had turned on a single bulb in the dark."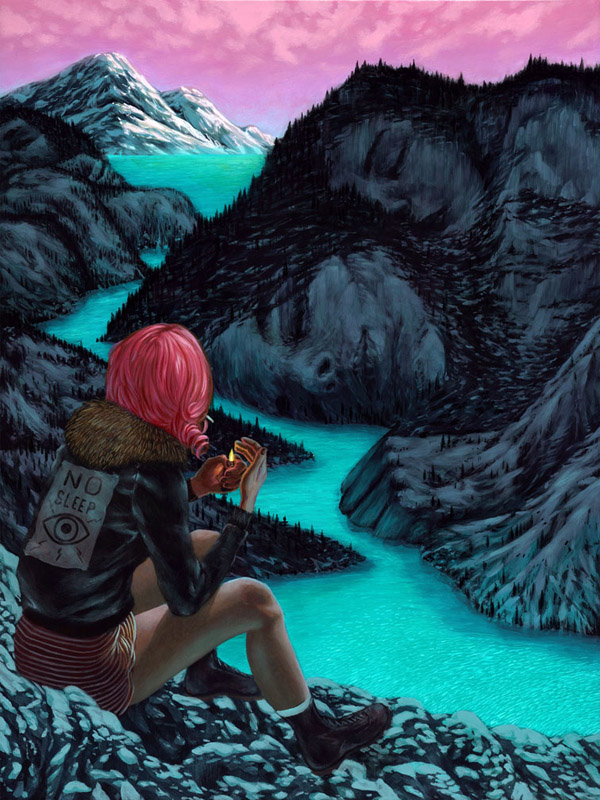 "Sleepy Valley" by Casey Weldon
The result is a fellowship of mutually supportive artists who find camaraderie with each other in an overall art world that still does not give surreal art its due. Says Jon Jaylo, "The good thing about the beinArt Collective is that we all have our own thing, but we become one family. It's always magical that even with our [different] styles of paintings, we are one through art."
This feeling of community was echoed by many artists at the show's opening on Saturday.
"I'm here for the love," said Pamela Wilson, who has been with the collective for several years. Chris Leib, who has been with the collective for about a year, said he appreciates the opportunity to be in a group of like-minded people.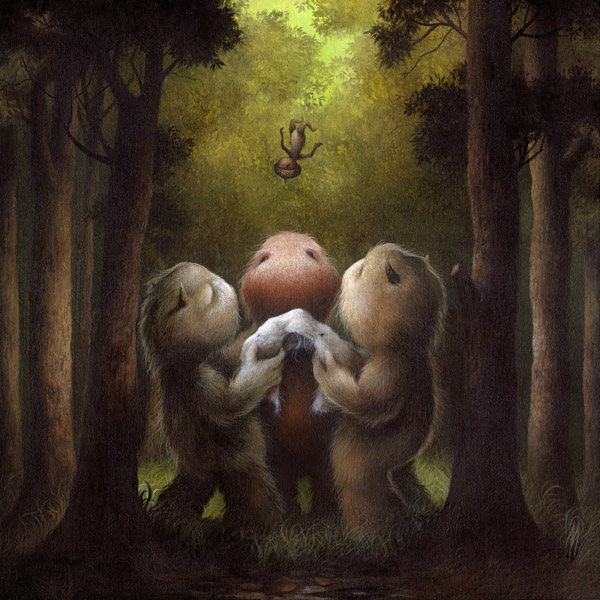 "In the Clearing" by Dan May
Of having a piece in a group show for the collective, John Brosio says, "You stand out for what you've accomplished, as opposed to standing out for being weird…There's safety in numbers." Many of the artists saw each other's work in person for the first time at the opening. "Seeing the quality of the work pushes you," says Leib. It can also be somewhat revelatory, suggests Steven Kenny. "Sometimes there are surprises in technique or scale" upon seeing a work in person, and he likes to see how his work stacks up against that of his contemporaries. But ultimately, "no matter what, you have to keep doing what you're doing."
Wilson says that being part of the collective has yielded general exposure as well as leads on interviews and other shows to participate in. Connett traces many of his sales to his involvement with the group.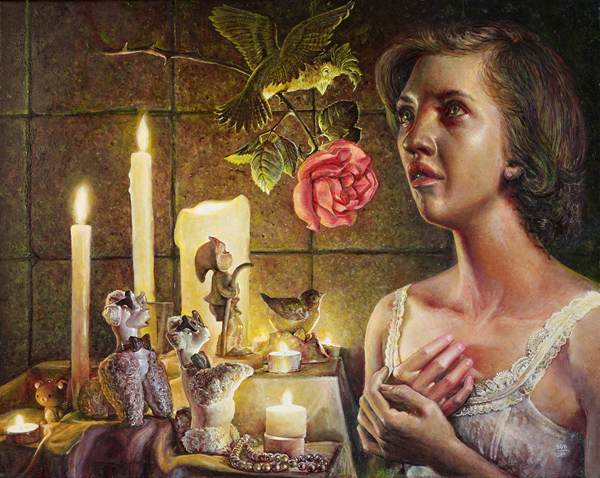 "Monument" by Scott G. Brooks
Chet Zar notes that people consistently tell him that they discovered his art through the collective.
Zar, who was broadcasting the opening through Periscope, believes that good things are ahead for the dark art movement. "I think this movement is going to be an accepted part of the mainstream. This is one of the best shows in the scene. It's important work, and as many people as possible should see it, because it's particularly relevant to the times we live in. The collective as well as Copro Gallery and maybe Last Rites [in New York City] are the few places trying to promote this artwork. They'll be part of the history of this movement."
"Siphonophore" by Robert Steven Connett
Jon Beinart is opening the beinArt Gallery, which is holding its inaugural show Saturday, March 12, in Melbourne, Australia. It has long been a dream of his to be able to feature highly imaginative figurative art in a brick-and-mortar space in his country, where he believes this will be the first gallery of this type. "I want people in Australia to have the opportunity to see this mind-blowing art," he says.
The gallery will showcase the international artists whose high-caliber work has been the mainstay of the collective, and he plans to feature many local artists, too. Even as he launches this new venture, his hopes for the artists in the collective remain the same: That they continue to support each other and share their resources as they create.
"I just want to be witness to their growth as they continue to produce amazing work."
The "beinArt Surreal Art Show 2016" at Copro Gallery runs through March 12, and the "beinArt Gallery Inaugural Group Show" opens March 12 in Melbourne, Australia at the beinArt Gallery.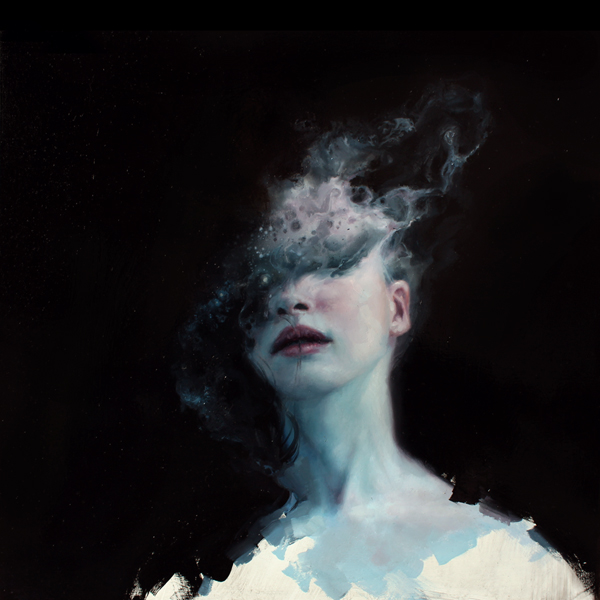 "Omit" by Henrik Uldalen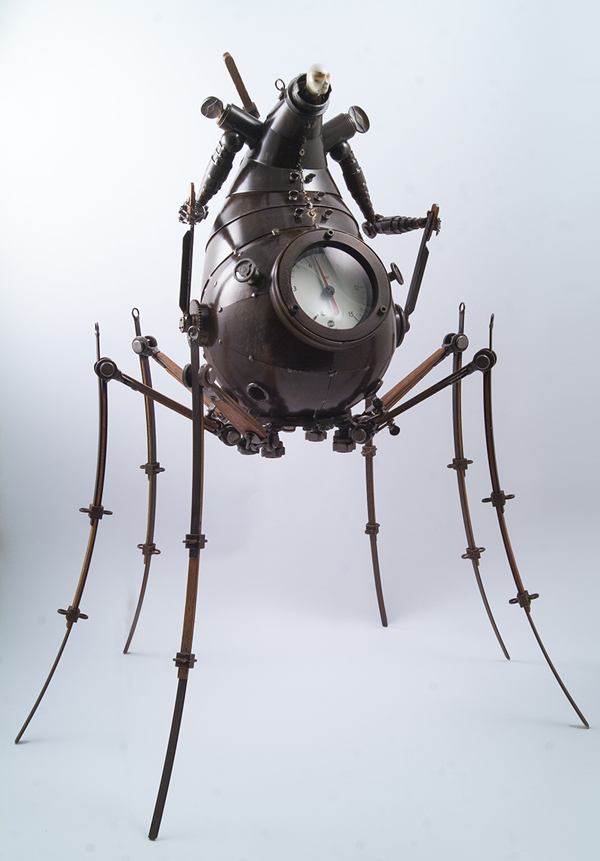 "Ronin" by Greg Brotherton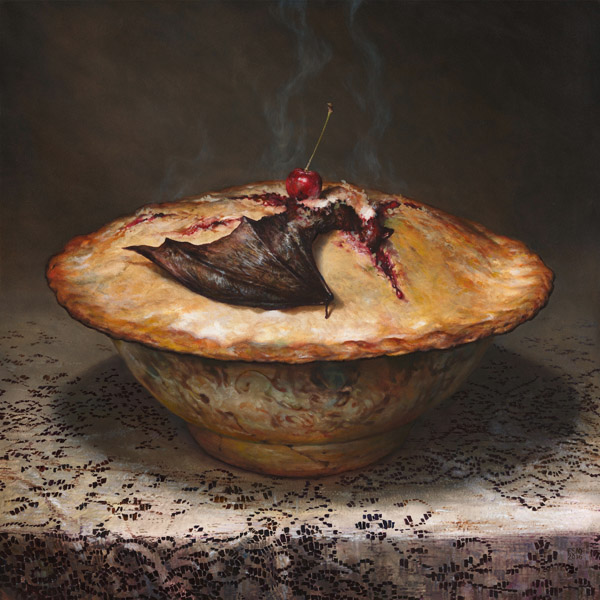 "Sweetie Pie" by Easo Andrews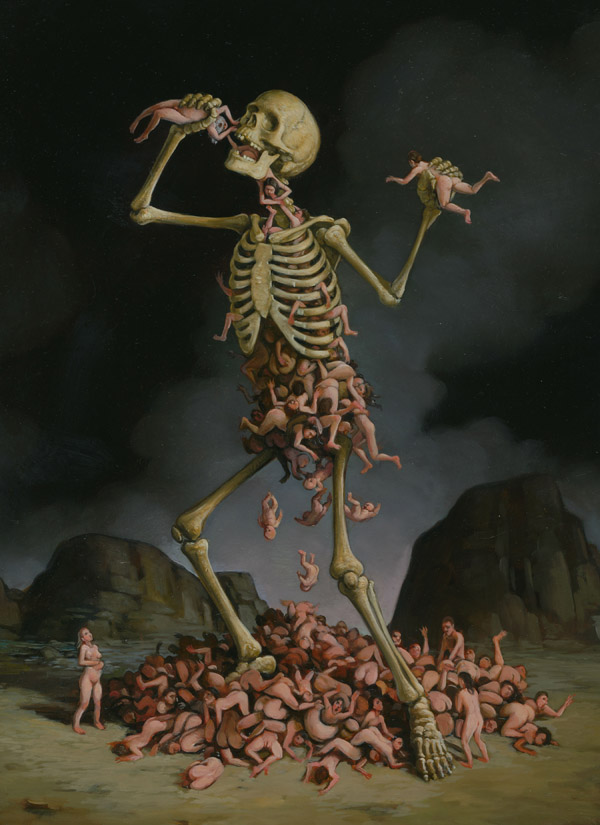 "Grounding" by Erik Thor Sandberg
"Chapter 31" by Chris Mars