Mark your calendars, because on March 12 and 13, Jasmine Becket-Griffith will be a guest artist at the Spring Avalon Faery Fayre in Glastonbury, England. Exuding boundless charm, this special event is sure to be nothing short of magical. Teaming up with her UK Distributor from StrangelingUK.com, she'll debut a new collection of Limited Edition figurines and merchandise from England's Nemesis Now.  Jasmine will also have an assortment of prints and miniature paintings available alongside the UK unveiling of the "Jasmine Becket-Griffith Coloring Book".
For those unfamiliar, the Avalon Spring Faery Fayre is a of celebration legendary creatures and the return of spring, and features the work of many artists and local vendors. With a "Faery Ball" scheduled in the evening as well as other special guests Brian Froud & Wendy Froud, whose presentation highlights include Labyrinth, David Bowie & The Dark Crystal, the Spring Avalon Faery Fayre will have something wonderful for everyone.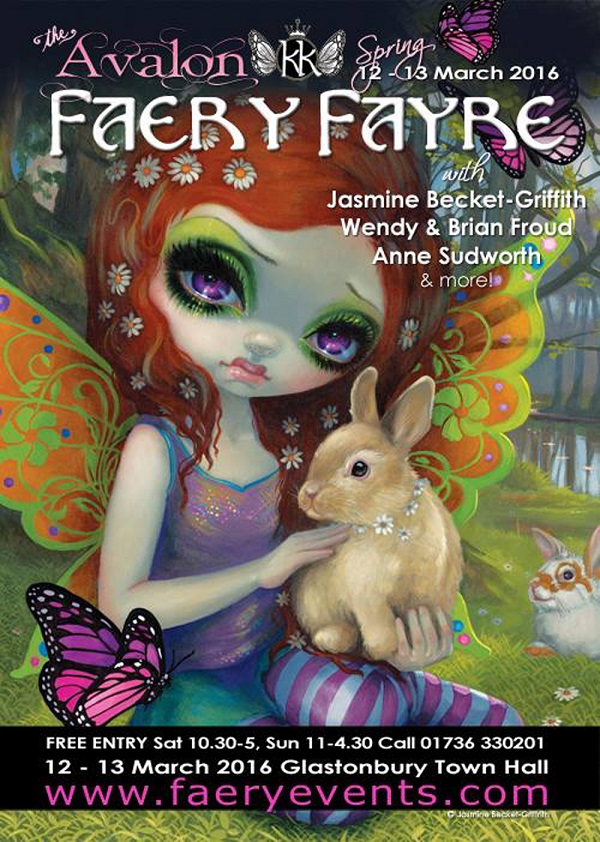 Glastonbury Town Hall is located at Magdalene St, Glastonbury, Somerset BA6 9EL, England
Exhibition Dates:
March 12-13, 2016
Times:
Saturday | 10:30am – 5:00pm
Sunday | 11:00am- 4:30pm
Special Guest Artists:
Jasmine Becket-Griffith, Brian Froud & Wendy Froud
Event Organizer:
Karen Kay's Faery Events
Musical Guests:
Barbarella's Bang Bang!, and Perkelt
Press Release: 
An artisan market featuring many prominent artists in the fairy and fantasy genres, held as part of the Semi-Annual Avalon Faery Fayre and Faery Ball held in the mystical town of Glastonbury, England.  Jasmine Becket-Griffith will be in attendance to display her artwork & merchandise, to sign autographs, and to enjoy the Faery atmosphere!