In its 14th event at the gallery, Copro Gallery unveils BLAB! 14th Group Exhibition this Saturday, 7th September. Curated by Monte Beauchamp, the group exhibition displays an eclectic mix of artists – "the brightest and the best of 2019 in the Fine Art and Illustration genre", explains Gary Pressman, Gallery Director at Copro Gallery.
With over 60 artists exhibiting and a highly successful history of past events, this is an exhibition not to be missed. The opening reception, this Saturday, will also include many of the artists in attendance, as well as a free raffle print for Jon Ching's 'Pyre' (feature image), live music from The Piano Truck, and many more surprises to add to your enjoyment. This is BLAB! at its best!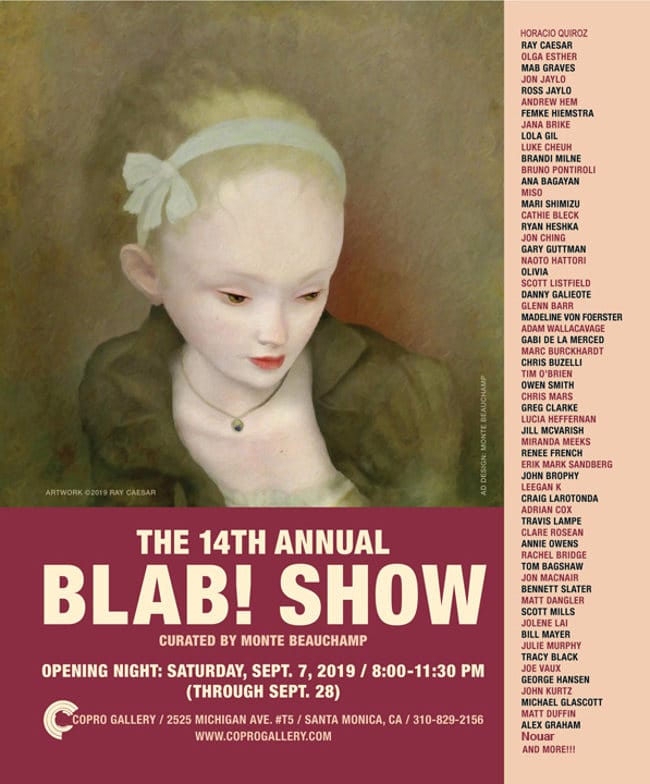 Exhibition Dates:
September 7 – September 28, 2019
Opening Reception:
Saturday, September 7 , 2019 | 6:00 – 10:00 p.m.
Many artists in attendance!
Copro Gallery
Bergamot Station Arts Complex, 2525 Michigan Ave, Unit T5, Santa Monica, CA 90404
Contact: Gary Pressman, Gallery Director Copro Gallery at CoproGallery@Live.com or tel: 310/829-2156.
OVER 60 EXHIBITING ARTISTS:
Ana Bagayan, Adrian Cox, Alex Graham, Andrew Hem, Annie Owens, Adam Wallacavage, Bennett Slater, Bill Mayer, Blair Dawson, Brandi Milne, Bruno Pontiroli, Buck Shanty, Cathie Bleck, Chris Mars, Christopher Buzelli, Clare Rosean, Craig LaRotonda, Danny Galieote, Deirdre Sullivan-Beeman, Erik Mark Sandberg, Femke Hiemstra, Gabi de la Merced, George Hansen, Greg Clarke, Jana Brike, Jill McVarish, John Brophy, John Kurtz, Jolene Lai, Jon Ching, Jon Jaylo, Jon MacNair, Julie Murphy, Leegan K, Lola Gil, Lucia Heffernan, Luke Cheuh, Mab Graves, Marc Burckhardt, Madeline von Foerster, Mari Shimizu, Matt Dangler, Matthew Schommer, Michael Glascott, Miranda Meeks, Miso, Naoto Hattori, Nouar, Olga Esther, Patricia Kirk, Rachael Bridge, Ray Caesar, Richard Adkins, Renee French, Ross Jaylo, Olivia, Ryan Heshka, Scott Listfield, Scott Mills, Tim O'Brien, Tom Bagshaw, Tracy Black, Travis Lampe, Thomas Han, Victor Castillo & more!
From the press release:
BLAB! 14th group exhibition curator Monte Beauchamp is an award-winning art director and graphic designer who has served as a juror for American Illustration, The Society of Illustrators, Communication Arts, and Lürzer's Archive. He is the founder and editor of the graphics-illustration-comics annuals BLAB! and BLAB WORLD. His books include A SIDECAR NAMED DESIRE: Great Writers and the Booze that Stirred Them (co-authored with Greg Clarke, Harper Collins-Dey Street), MASTERFUL MARKS: Cartoonists Who Changed the World (Simon & Schuster), and KRAMPUS: The Devil of Christmas (Last Gasp), among others, and have been featured in Entertainment Weekly, Buzz Feed, Vanity Fair, The Chicago Tribune, The Huffington Post, The Believer, Print Magazine, and Publishers Weekly. In 2012, Beauchamp was awarded the Society of Illustrators prestigious RICHARD GANGEL ART DIRECTORS AWARD (for outstanding contributions in promoting and advancing the art of illustration).
Check out some of this year's original artworks below! The show will run at Copro Gallery until September 28, 2019.
Andrew Hem – Blues (Acrylic on panel)
Mab Graves – The Annoying Haunting (Oil on hardboard)
Bill Mayer – El Ejecutador (The Executioner) (Gouache on paper)
Bruno Pontiroli – La Grande Tromperie (Oil on canvas)
Cathie Bleck – Intersection (Lacquer Inks, Handmade Kaolin Pigments
on clay board panel)
Gabi de la Merced – Cito Volat et Occidit (Acrylic on wood panel)
Jana Brike – Summer of a Young Freedom Fighter (Oil on canvas)
Joe Vaux – Soul Collector (Acrylic on wood panel)
Jolene Lai – Follow Me (Oil on wood panel)
Jon Ching – Pyre (Oil on aluminum)
Lola Gil – The Hero (Oil and acrylic on linen)
Madeline von Foerster – Mare Coacescens (Oil and egg tempera on panel)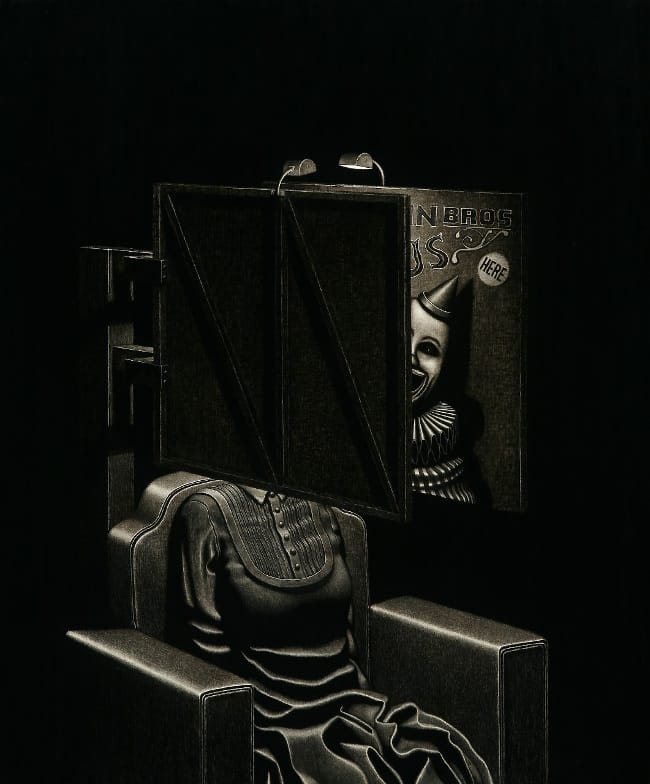 Matt Duffin – Billboard Blinders (Encaustic Black Wax painting on panel)
Rachael Bridge – Wasting (Oil on board)
Ray Caesar – Keepsake (20″ x 16" Digital Ultrachrome Archival Paper
Edition 12 of 50)
Tom Bagshaw – Together Alone (One-off digital painting on cotton rag stock
mounted on board, hand-embellished, varnished)
Copro Gallery Social Media Accounts
Website | Facebook | Instagram
Related Articles
Primal Impulses & Curious Beauty: is 2019 the Year of the Dark Art Movement?
The Artistic Menagerie @ Antler Gallery: An interview with Jon Ching, Chase Mullen & Lorien Stern