CAVE Gallery is presenting an unprecedented solo exhibition of urban artist Fin DAC who had created a unique collection of new canvases inspired by his most iconic and memorable large scale murals. For the very first time ever, art collectors will be able to take Fin DAC's exotic female muses away from their perches (in this case, from the gallery's walls). And, during the duration of the show, art enthusiasts will be able to feast their eyes on the artist's works without having to travel across many different cities.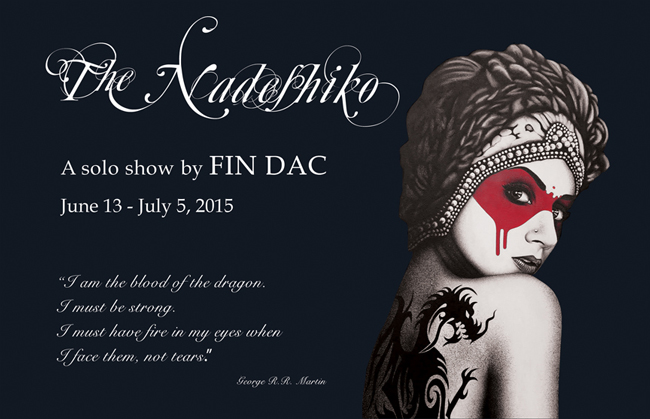 "The Nadeshiko" Solo Exhibition by Fin DAC
Opening Reception:
June 13, 2015 |  6:30 – 9:30PM
Exhibition Dates:
June 13 – July 5, 2015
1108 Abbot Kinney Blvd
Venice, CA 90291
(310) 450-6960
Hailing from Cork in Ireland, he lived most of his life in and around London. His distinctive aerosol/stencil style has brought a new dynamic to the visual language of street art. In recent years, the self-taught artist and originator of Urban Aesthetics (a modern-day take on the 'Aesthetic' movement of the 19th century) has been traveling extensively across the globe. Since then, many people can spot his highly stylized exotic beauties on numerous walls across different cities in Europe, North America, South America, and Asia. With numerous eager fans across the globe, many of his works have gone viral the moment he completed them.
If you happen to be around the area, don't miss the opportunity to be a part of this milestone exhibition and view some of Fin DAC's best works in one same place yet in wholly new proportions and viewpoints.