You may know Jay Weinberg for his fast, energetic musical performances, which caused world-renowned metal band Slipknot to take him into the fold as their drummer back in 2014. But what about his highly effectual life as a painter?
Earlier this year I had the opportunity to interview Jay about his series, 'A Hollow Realm'. The selection of oil paintings, featuring select works from 2014 – 2022, debuted in his solo exhibition at Rampart Studios Gallery in Los Angeles in July 2022. But the popular physical exhibition still wasn't enough for Jay Weinberg. Alongside this, Jay created "a wild, fantastical virtual gallery" to allow his (rather large) international audience a chance to be a part of the celebrations. And what a wild ride it is!
The virtual gallery is an online experience which encapsulates your digital essence into his very own curated world. Free from the restrictions of reality, the virtual gallery which exhibits his paintings is beautifully Weinberg-esque. Enter and manually navigate yourself around, exploring unique areas each designed to best complement the various paintings. Accompanied by music by – you guessed it – Jay Weinberg as well, you are encapsulated in a dark fairytale, a Hidden Realm, which feels like the perfect place to enjoy his paintings if you weren't lucky enough to see them in the flesh.
Read my exclusive conversation with Jay below to learn more about 'A Hollow Realm', the exhibition, and the transformative journey that this has been.
Interview with Jay Weinberg
The catalyst
Artists often encompass multiple creative outlets, and Jay Weinberg's lifelong love for visual art saw his childhood doodling soon connect with his journey into music. "I used to draw my own fantastical comic strips, and copycat art in museums with crayons." he shares. "[Then] in my teenage years, I applied my novice understanding of art and design to making show flyers and artwork for my high school bands. I had always admired artists whose work characterizes the musical intersection of punk rock, heavy metal, and similar subcultures that meant a lot to me."
Finding that spark which catalysts a whole new path can often start with a single element. In Jay's case it was, rather aptly, his drums. His earlier years supporting high school bands was enjoyable, but it wasn't until he began painting his own drum set in 2011 that painting truly caught his attention. Subsequently, the discovery of oil paints in 2012 finally ignited his passion to seriously pursue his "art education".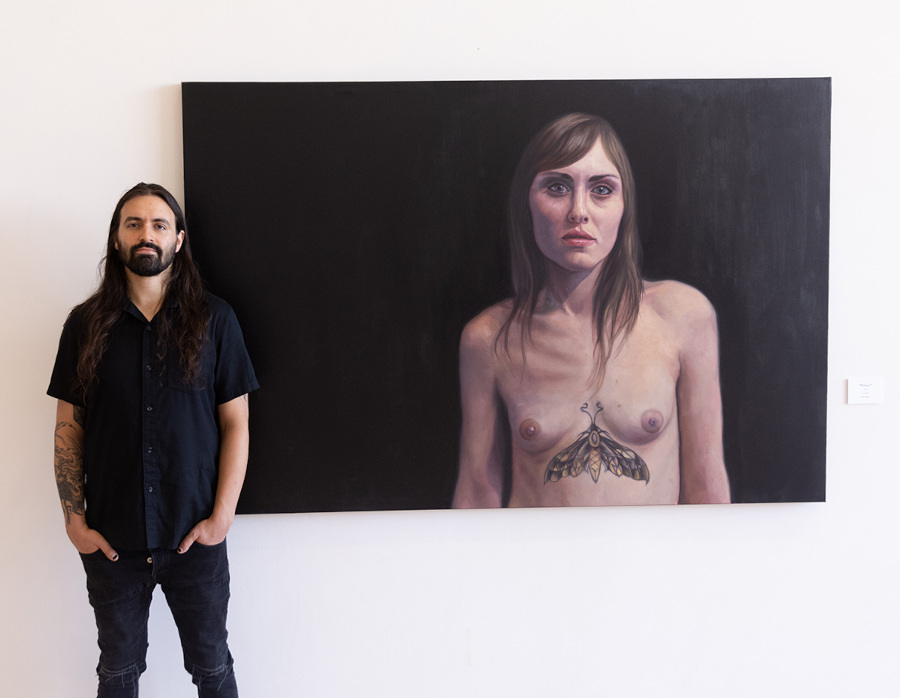 His journey into painting has been a playful mix. "For my projects that incorporate more abstract watercolour-and-ink paintings (e.g., artwork for drum shells), it's all been self-taught, experimentation, and observing the work of others who work with similar mediums. 'Monkey see, monkey do' has certainly been a huge part of my own creative education, and discovering what artistic practices resonate with me. But, for the more technical process of oil painting — though I never went to art school — I received formal training from an amazing artist named Michelle Doll."
Jay spent two years learning the basics of oil painting before he finally felt comfortable enough to start putting together the body of work that has become: 'A Hollow Realm'.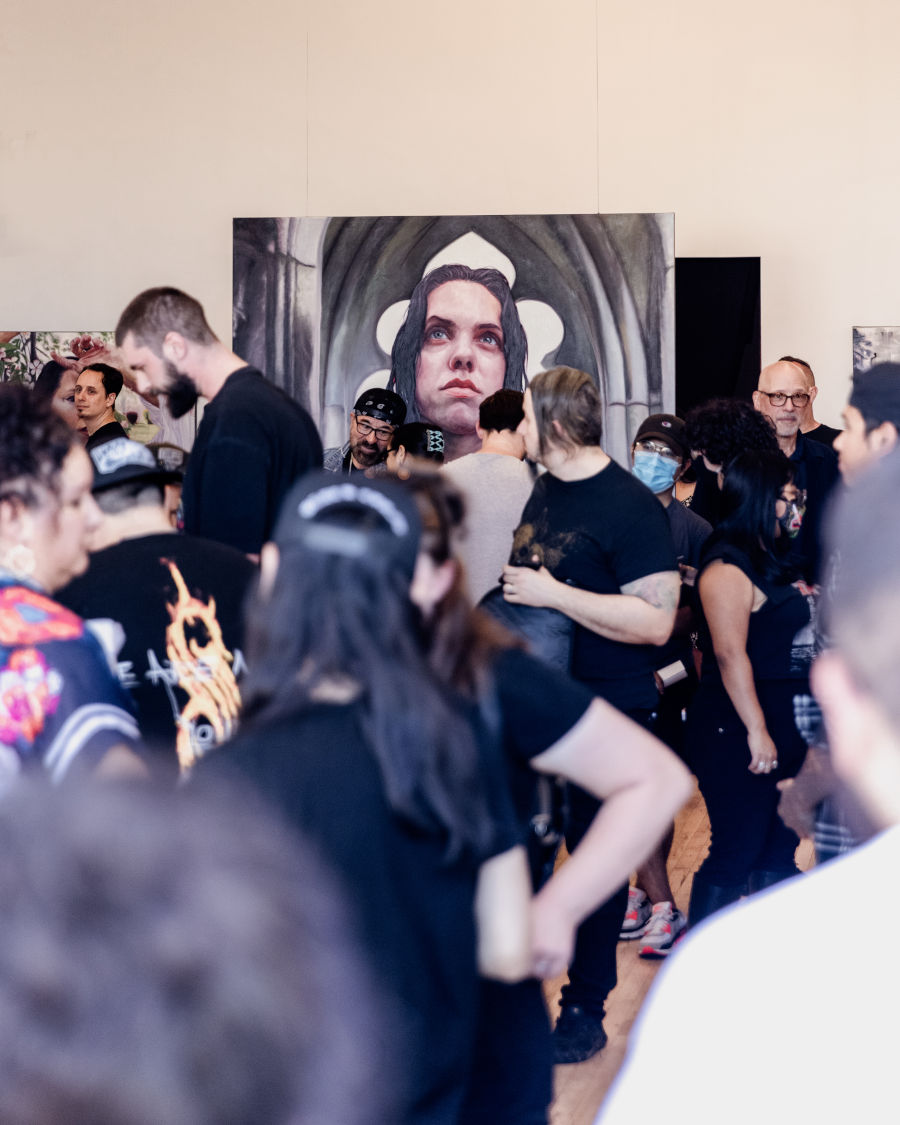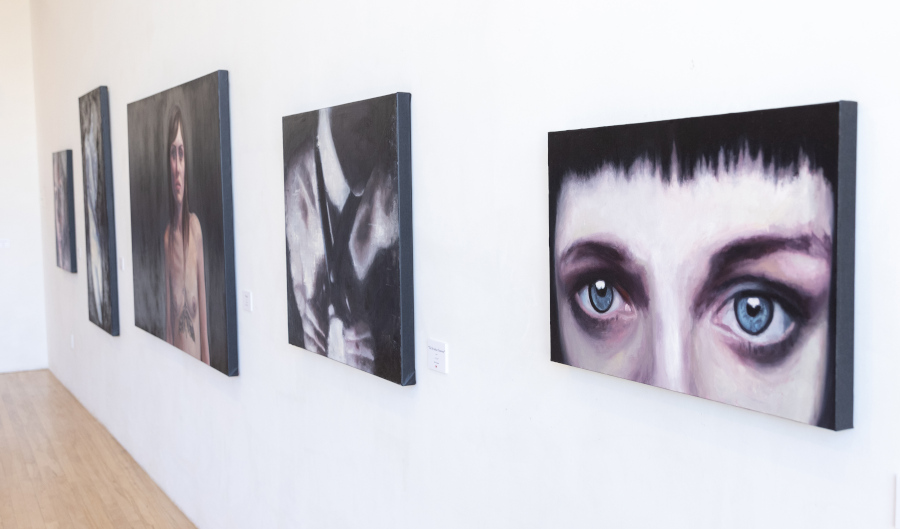 The birth of A Hollow Realm
"'A Hollow Realm' came about when I felt the need to creatively express myself in a way that wasn't writing or performing music — which has been my predominant form of expression since 2004. In 2011 or so, touring and performing loud, aggressive music for the majority of the year started to give me emotional diminishing returns, in a way. Even though performing has always been a great cathartic release for me, I'd come home from a few months of being on the road, and still feel like there were life experiences and emotional weight that I hadn't quite processed in any meaningful, artistic way."
Conceptualizing the metaphorical, personal narrative of 'A Hollow Realm' — and the slow, methodical exercise of creating the paintings, of course — allowed me to feel like I was finally letting go of a lot of those emotional events in my life. Bringing 'A Hollow Realm' to life, I felt like I was finally able to express things I that I couldn't by just bashing the hell out of the drums every night.
Finding solace in the private "solo" practice of painting became an integral part of Jay's life. "The acts of mixing paints, learning about anatomy, light sources, reference photography, and capturing expressive human figures and their surroundings. The nature of the practice takes so long (for me, at least), that I have no choice but to slow my life down and focus on placing little globs of oil on a canvas." He muses.
Equilibrium
Both cathartic forms of creative outlet, music and painting form two juxtaposing energies which feed Jay's soul and meet in a place of equilibrium. Jay smiles. "Besides the creative struggles and frustrations that come about when a piece isn't turning out the way I'd like it to, I find the practice a necessary balance to spending the rest of my time as a drummer in a heavy metal band. Performing and contributing to the creative process in the context of Slipknot has been, without a doubt, the most demanding, challenging, and rewarding experience of my artistic life. Just as importantly, though, I feel the solitary pursuit of visual art and design has allowed me to further express myself in ways that just aren't possible in a collaborative setting."
Oil painting has always given me a profound sense of calm and meditation — which is certainly a nice balance to my passion for playing loud, fast, aggressive music most of the time.
"Not only does it allow me to find that equilibrium, but I find each practice helps the other. After a prolonged period of activity with the band, I often feel inspired and motivated to pick up my brushes and create visual art. Conversely, after spending time in isolation working on a large-scale oil painting, I feel it opens those creative pathways to elevating my contribution to our group process. They're separate but reciprocal processes in that way, and I feel incredibly fortunate to have found a healthy balance between the two. I cherish both paths of musical and visual arts equally."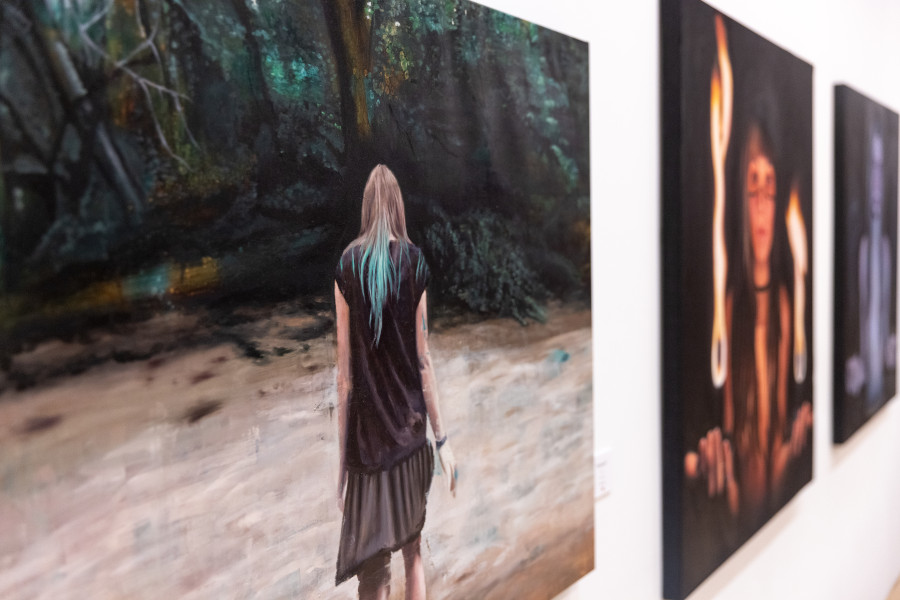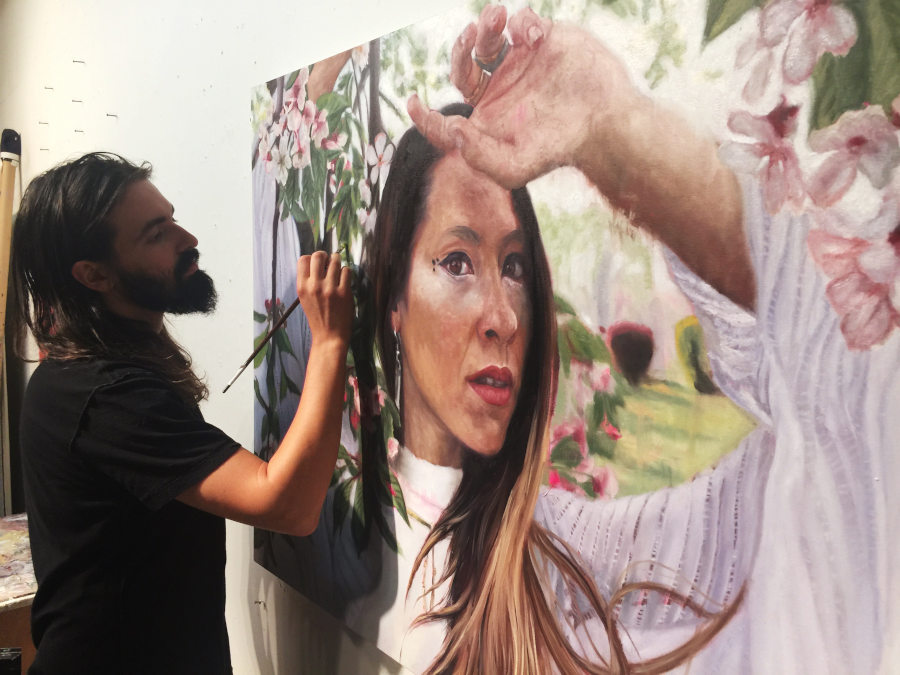 Delving deeper into the series
As we discussed the concept of hollowness, it was clear Jay's relationship with the noun was certainly complex. "The word "hollow" has an inherent duality to me." He explains. "It captures the emotions of feeling empty, drained, and burnt-out; like you have nothing inside, nothing to offer. Personally, feeling "hollow" is decidedly worse than feeling pissed-off or agitated in some way. Just a large, inescapable, internal nothingness — [my] origins for creating work that helped identify and express that part of myself. Alternatively, that "hollow" place is an empty space that I can fill with this new, creative energy I can find.
Additionally, it's a new psychological space I've found. When I tend to it, I feel I can better process and understand impactful life events in a healthy way. "A Hollow Realm" plays on that balance of positive and negative that emptiness plays in our lives. Sparking a flame in the middle of complete darkness, as the title piece might suggest.
Each artwork within 'A Hollow Realm' has been specially selected; every painting holds an equally significant meaning to him. His earliest painting in the series, "Wissahickon" (2014), captured a moment that seemed to embody a natural stillness and enchantment. "[It was] like thawing from a frozen, emotional emptiness." Jay describes.
"Completing it gave me the confidence and vision to create the next one, "Embracing Emptiness", which I felt confronted that psychological darkness and isolation more head-on. If I had to choose any paintings that hold more significance above any others, it would be those, as they led me to discover this long, meaningful creative path."
The debut exhibition at Rampart Studios
It is always a significant (and sometimes daunting) moment when an artist is ready to share their work with the world. Thankfully, Jay Weinberg has also relished the constant support of his wife, Chloe. An artist herself, she understood the importance of Jay's journey into painting – as well as providing hands-on support when it came to the physical show! Jay looks back over the whole experience: "When it was time to plan the physical exhibition, there's no way I would have been able to pull it off if it weren't for her and our partnership! Every step of the way, from finding a venue, to crating and shipping the artwork across the country, to helping me welcome and host an audience to 'A Hollow Realm' – it's been a joy to share in this process with her."
The show also couldn't have happened without the support of Howard, who runs Rampart Studios. Jay grins: "I feel he made a personal investment in making the premiere of this work truly special. I sincerely appreciate his efforts and generosity — even going so far as to drill holes in his own ceiling to suspend the largest piece (a six-foot-square canvas) in the middle of the room! The exhibition would not have been what it was if it weren't for Howard and Rampart."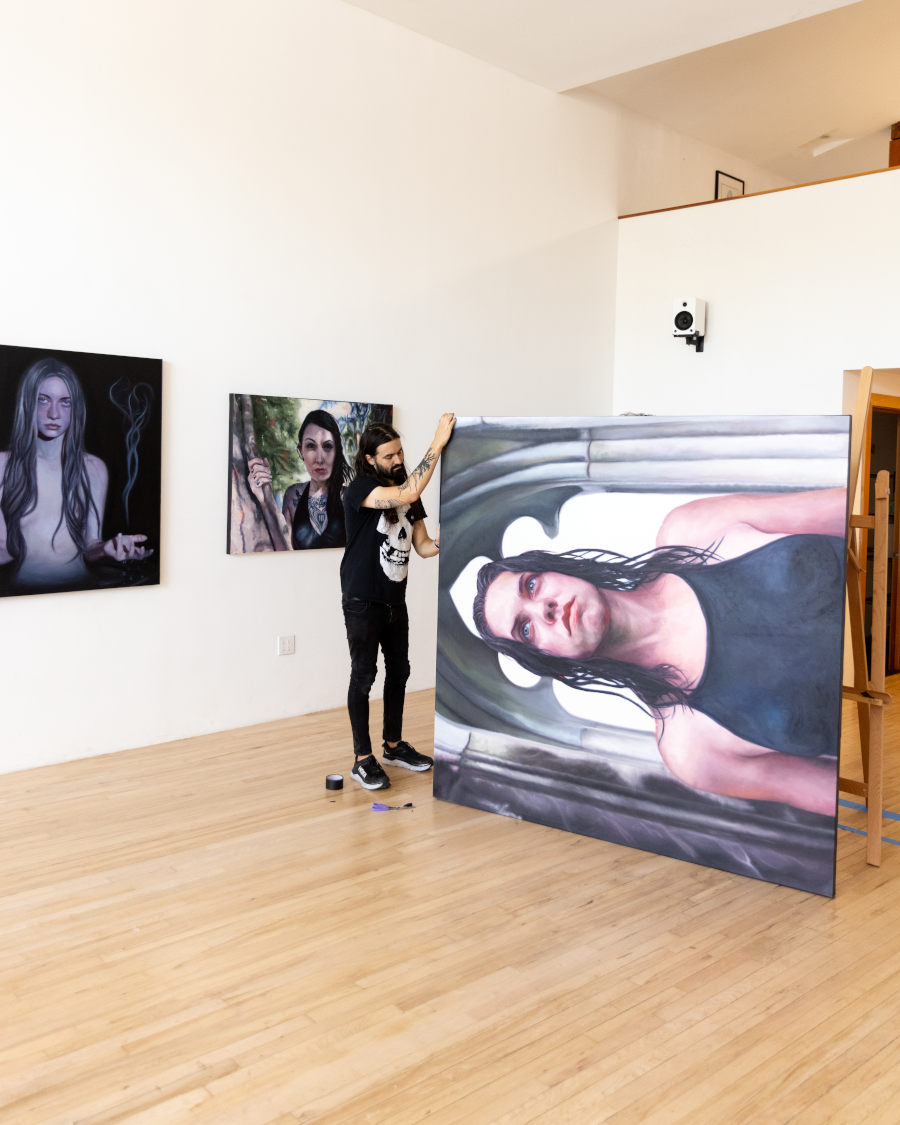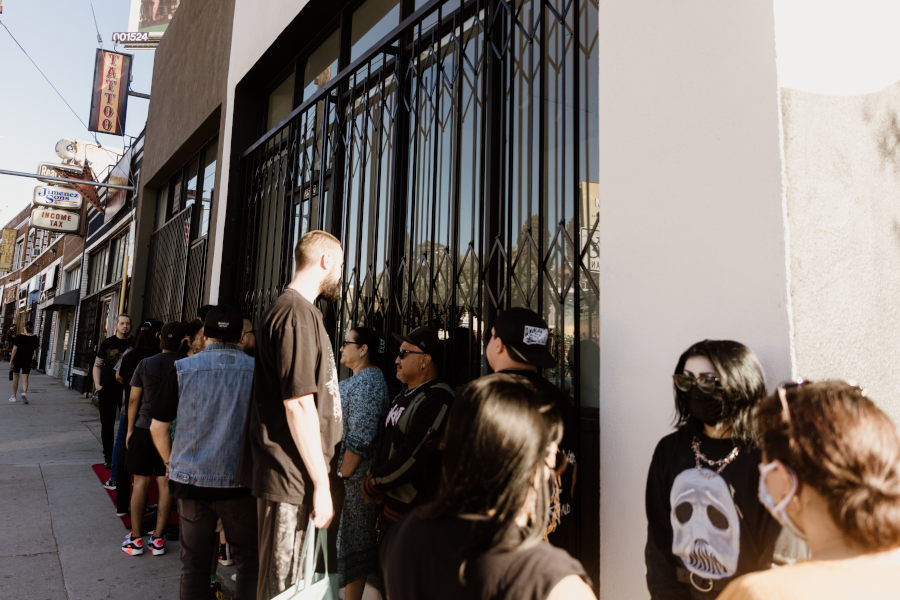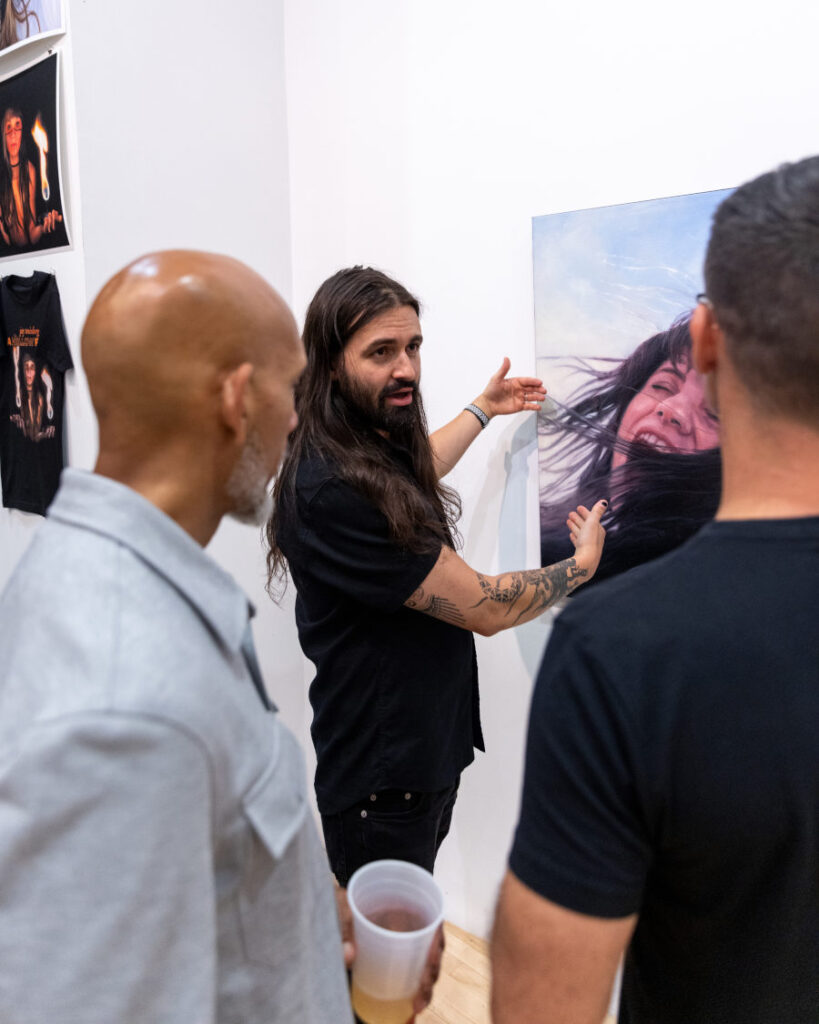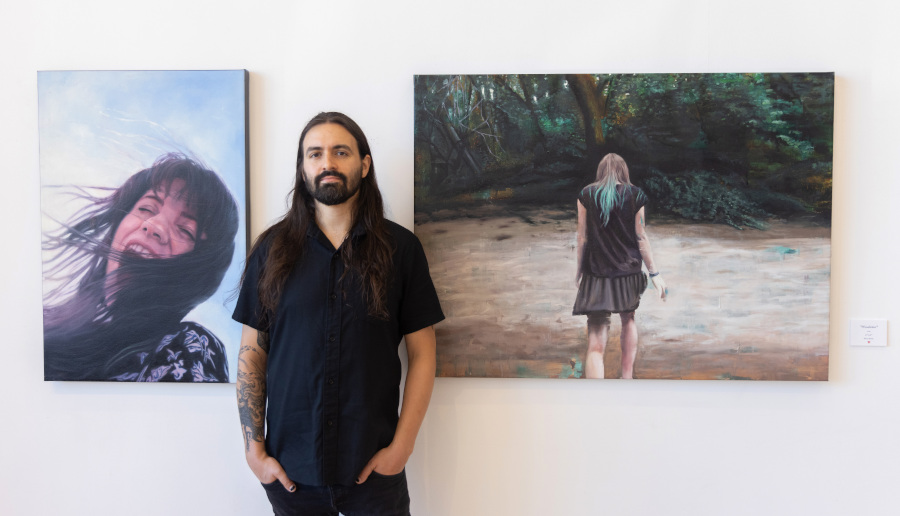 Overall, the exhibition was "an amazing experience". Though Jay wondered whether it may have been "a bit jarring" for visitors to establish a connection with what may have seemed to be a new creative output, the positive feedback and vibe spoke for itself. Jay Weinberg couldn't hide his appreciation for everyone who has spent time with his body of work. Though he may better known (for now!) for his dynamic on-stage performances, this series marks a fundamental step in Jay's life as a visual artist also.
The end of a chapter
'A Hollow Realm' celebrates eight long years of private painting. Not-so-jokingly, Jay shares that many of his music-based connections were largely unaware of his double life as an oil painting maestro! Perhaps it's not surprising given his humble, down to earth attitude when it comes to his painting practices: "It's been gratifying to share this work and feel like it's making a connection to the world out there. I'm proud of, and stoked about, the work itself — even just for the sake of having created it, not to be observed."
But, the fact that the collection of "A Hollow Realm" is out there puts a metaphorical period on the end of an eight-year sentence that was a hugely important chapter of my life. It feels good to get it all out there, and to now move onto whatever the next chapter might mean for me.
Some of Jay's pieces are still available for purchase, and all of his fourteen, large-scale paintings are now accessible to visitors within his virtual gallery created with Optic Nerve.
As for what comes next? Jay is once again touring in Slipknot, but his life as a painter is far from over. Follow Jay below to keep up to date on his upcoming adventures.
Jay Weinberg Social Media Accounts
A Hollow Realm Virtual Gallery | Instagram | Twitter | Facebook | Youtube