Antler Gallery in Portland, Oregon, has always managed to beautifully maintain a deep connection to nature since their opening in 2012. Co-owned by Susannah Kelly and Neil Perry, the two continue to share their enthusiasm for mother nature under the gallery's walls. "We grew up as part of a generation which has been made very aware of the plight of our environment and the impact of climate change" explain Neil and Susannah. "We believe this is why so many young artists are choosing to make work focusing on these issues. Our changing environment is a monumental, human-made problem, which affects us and the beautiful animals of this earth."
With a name like Antler Gallery, its connotations with both nature and the Pacific Northwest have helped the gallery to become a well-known art space within Portland. "The aesthetically appealing, natural form of the antler, makes it the perfect choice as a standard bearer for our gallery" the two owners explain, smiling. When asked if there have been any particular highlights during their time running the gallery so far, their smiles grow even wider: "We were so excited when we bought our first pair of antlers from a little thrift store for our initial location, the thrill of securing the lease to our stand alone location in 2013, the relationship we've built with the Audubon Society, the mind-blowing artists that make up our community and who we get to work with daily, the thrill of opening a new work when it arrives, seeing someone buy a piece of original artwork for the first time – and countless other tiny moments that constantly remind us of how lucky we are!"
In their latest showcase of artistic menagerie, Antler Gallery welcomes Jon Ching and Chase Mullen in their joint show, Specimen. Both first-time exhibitors at Antler Gallery, Jon and Chase bring their individual connections to wildlife into the limelight as they share with us their new body of works. Additionally, ceramic artist Lorien Stern unveils her special cast of animal characters in her latest solo show Everyone's Invited, where life, death, and diversity in the natural world is celebrated without judgement or fear.


2728 NE Alberta St. Portland, OR
Exhibitions Dates: Thursday, July 26 – August 25, 2018
To celebrate the three artists current exhibitions, I wanted to find out more about their influences and experiences. Read below to find out more in three exclusive mini interviews with Jon, Chase and Lorien:
Jon Ching
Jon Ching's curious oil paintings are technically playful and darkly poignant at the same time. Exploring similar patterns and textures to connect his characters with their surroundings, we find ourselves looking deeper into each animal's circumstances. "Jon Ching is a wonderful person with a strong connection to the wider world around him which he expresses through beautifully rendered oil paintings, conveying messages about our interactions with nature." Susannah explains. In his latest series Dual, Jon Ching breaks away from his usual tropical palette to explore more muted colours, examining the concept of actions and reactions within the natural world. His ability to imagine how these interactions might be seen through the eyes of his subjects encourages further thought into the current reality of the natural world around us.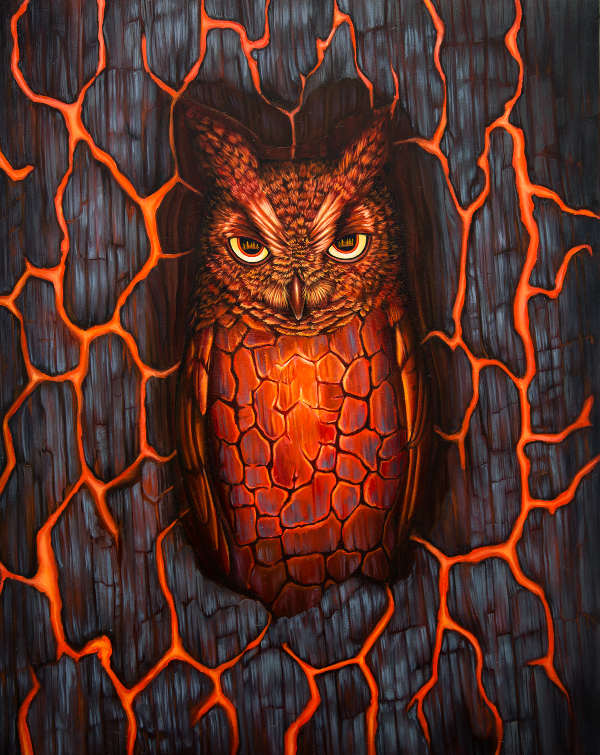 Jon Ching – Ember
Hi Jon! We are really digging the paintings in your exhibition. Can you share more about your current series showing at Antler Gallery?
The series of paintings started out as a response to current and ongoing events that I personally feel strongly about.  Broadly, the works speak about the effects of climate change, our consumption of resources, and human rights.  As I was making the works it became apparent that they were speaking to each other.  Making one piece sparked the idea for another.  I love symmetry, so I think this was a result of trying to have a balance between the negative and the positive, to show both sides of the picture.  As the series developed, I made a piece called "Pythia," which is my high priestess with prophetic powers.  From that piece, you can look at the other paintings as her visions of the future. Half of them represent a world continuing to ignore what we're doing to the planet and each other, maintaining a self-centeredness whether it be around nationality, race or species.  The other other half shows a future resulting from an acknowledgement of interconnectedness, empathy and responsibility.  It's an expression of my optimism.
As a self-taught artist, how have you found your journey as a painter so far? Can you share how you got to where you are today?
I love being a self-taught artist.  With every painting I complete, I'm constantly learning and figuring things out.  Being able to see myself improve regularly and get closer and closer to achieving what's in my head is so rewarding.  I think at some point, eventually we're all self-taught.  Over time, doing anything long enough, we all learn how we work best, how to problem solve in our own way and how to get to that next level.  An example is that fact that being an artist means being a small business, and think most of us are self-taught in that respect.
As far as how I got to today, it's just been perseverance and discipline. I've always loved to draw and make things, and when I found paint, that became my new hobby and artistic outlet.  I would paint in my time outside of work and eventually made enough paintings to show it in public.  I responded to the first craigslist ad I found calling for art and was able to put my work up at a gelato shop in San Francisco.  Within a couple weeks, I had sold three paintings and was ecstatic!  I used that money to buy more paint and brushes and just kept going like that, putting my work in cafes and bars until I got lucky and accidentally met the curator/owner of Wonderland SF. I showed her my work and she invited me to participate in a group show.  It happened to be two weeks from that meeting and the show had a theme and size requirement, but I was determined not to lose that opportunity. So I hauled ass, learned that I'm pretty good under pressure, and delivered my painting on time. Over the next couple years I kept showing in group shows and learned a lot about the art world. I saved up enough money to last a year, quit my job and started painting full time. It's now been three years and I've seen the quality of my work, technically and conceptually, improve so much and I just keep working at it as hard as I can.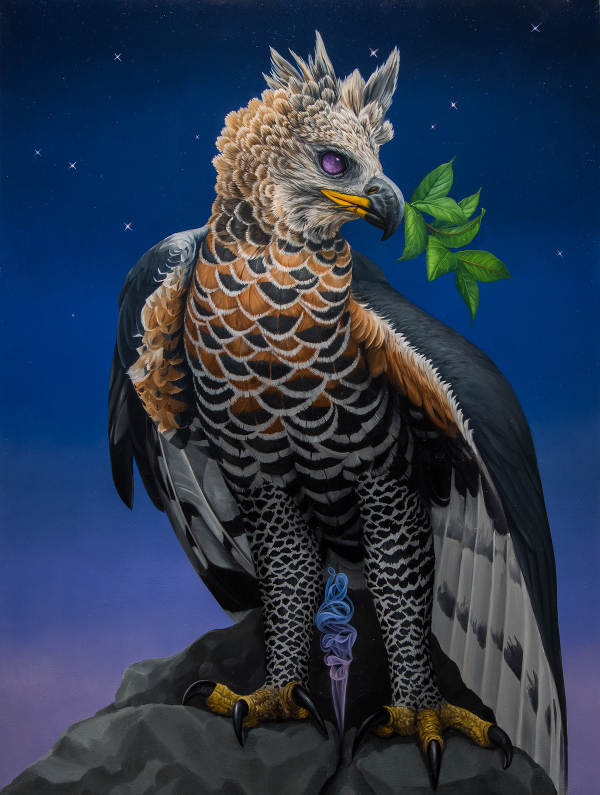 Jon Ching -Pythia
How long does it take on average to create a painting?
I've been hustling a lot this year and I've been really pleased to see my process get more efficient and streamlined.  With that said though, it still took me upwards of 40 hours of just painting for each of the larger 24″ x 18″ pieces I did for this show.  The preparatory time of thinking up the ideas, working on the compositions and finding reference images is a whole other story.  Sometimes things fall into place and it just takes a few hours until I'm ready to start painting, while other times things just don't want to fit and can take days or even weeks to work through.
You're known for being interested in symbiosis as both a metaphor and as a natural phenomenon. It's easier to see this connection at first glance through the similar patterns and textures that connect your characters with their surroundings, but are there any deeper symbiotic connections within your work? What are the stories behind your pieces?
Thanks for noticing that!  As a visual artist, I love finding those physical connections across the natural world and using them as visual cues to reminds us that we are all connected. That mimicry is so satisfying to observe, even if it's just purely as a design element.
Often when we hear the term symbiosis, we tend to think of it mainly as a mutualistic relation, where both organisms benefit from interacting with each other.  But parasitism, where one organism benefits at the cost of harming another organism, is also a symbiotic relationship. And when I think about how us humans interact with the natural world, it's often this type of symbiosis we implement.  An example of this in this series is a piece titled, "Insatiable."  Here, a lemur-like primate, our cousin, is devouring dead, bleached coral from a dried up reef.  It's a scene where the over consumption of the creature has resulted in the end of not just the coral, but of an entire ecosystem, and despite this it still keeps consuming.  It's an extreme scene of parasitic symbiosis, but also a behavior we're all guilty of.  On the flip side, "Healer" is an offering of mutualistic symbiosis.  Our primate cousin in this case is inviting us into a relationship where we can live in harmony with our surrounding organisms and can all benefit from each other.  It's a direct confrontation and choice of mutualism, of trust and cooperation.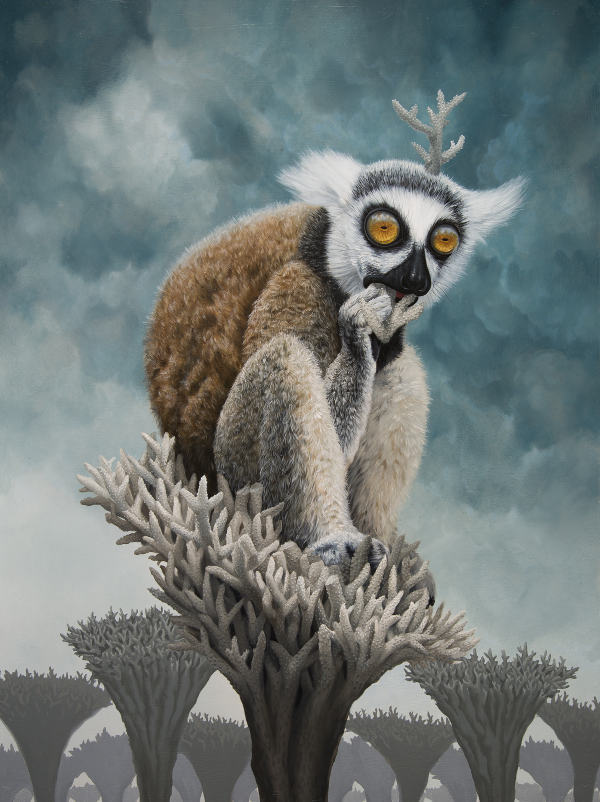 Jon Ching –  Insatiable
Are there any pieces in particular showing at Antler Gallery that have been born from a place of particularly deep or raw emotion?
"Sanctuary" is a piece I made in response to the child separation policies of my country's current administration.  When it started going down a couple months ago, I was filled with disbelief, anger, frustration and extreme sadness.  It was mind boggling to image how these people are being treated and the lifelong trauma that these children will have to heal from and carry with them.  At the same time, I watched the documentary, "Won't You Be My Neighbor," about Mr. Rogers.  It told the story of a man trying his hardest to teach children to be kind to one another, see everyone as part of the same family and know that we'll all be okay.  It was a message of neighborly love and empathy.  This is the complete opposite of the callous U.S. policies and it helped turn my outlook from the negative to the positive.  The painting is about caring for the other, especially the young and especially when they're in a hard place.  If you look carefully, you'll see how, even though they're different species, they show markings of being connected.  Unfortunately, these immoral activities still persist and I hope that the sympathetic and caring sides of us shine through this storm.
Another piece that comes to mind is "Melting Point." It's a pretty stark image of a melting polar bear, and while it came from a deep place in my soul (one that's about numb at this point), I made it to hopefully hit a raw emotion in others.  I think we need to face the things that make us uncomfortable or sad in order to ask ourselves, "What can I do to better this?" and act.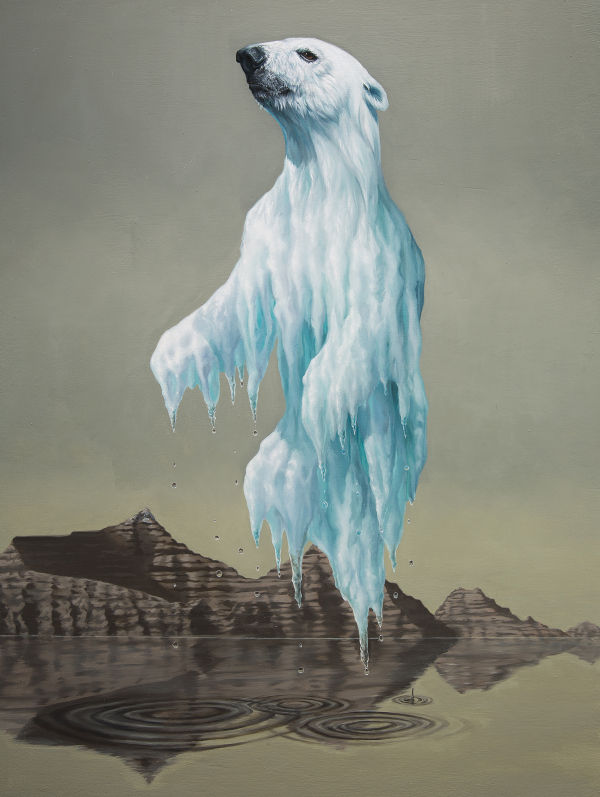 Jon Ching –  Melting Point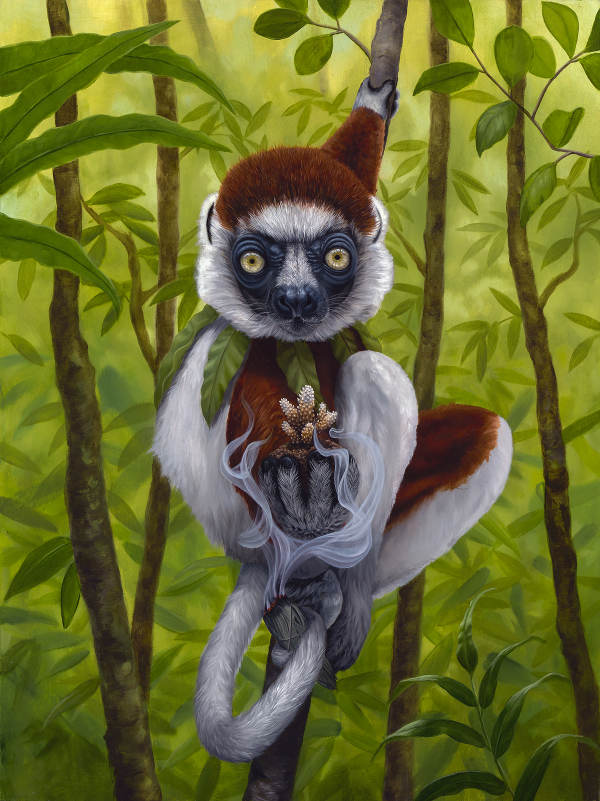 Jon Ching – Healer
Chase Mullen
Mixed media artist Chase Mullen shares the influences of his hometown Luisiana's wild creatures, combining acrylics, ink and watercolour on paper to create timeless illustrations of animals interacting with both the natural and man-made world. The series is a step further into Chase's exploration of blending the natural world and the man-made. "Chase Mullen turns this into a series of compartmentalized and expertly-composed paintings which are technically brilliant." Neil says enthusiastically.
Chase Mullen – Drifting
Hi Chase – wow, your paintings are beautiful! Your works remind me of the illustrations found in textbooks, producing a beautiful realism which shows these creatures off at their best. What or who have been your main influences as an artist?
I had a lot of nature books growing up. I was never an athlete or a very good student but I could spend an entire weekend reading through those Eyewitness nature books. I was heavily influenced by Audubon's Birds of America when I started developing a style, I really admired both his technical ability and dedication to the work. There was just something about studying the form or specific poses that I found really challenging in a good way. Now I'm more influenced by artists that have taken this field work method into the modern world such as Josh Keyes and Walton Ford.
How did you get into painting? Did you experiment much before settling on mixed media?
As a hobbyist, I've experimented with just about every medium. When I got serious about my art, I was using watercolours, much influenced by the style of Audubon. I found that I wanted the ability to work things a bit longer but really enjoy the drying time and finish of acrylic. Recently I've started painting on panel because I was fighting the texture of canvas to get more details into a piece.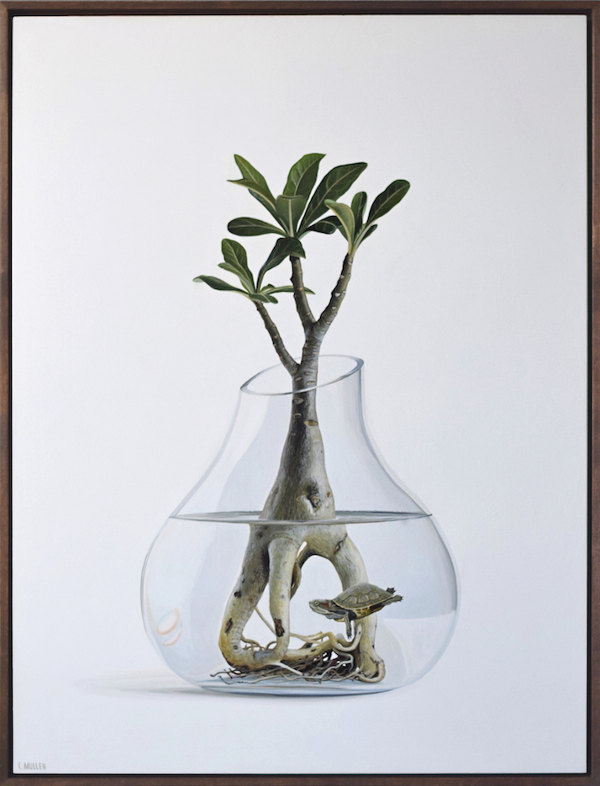 Chase Mullen – Bubble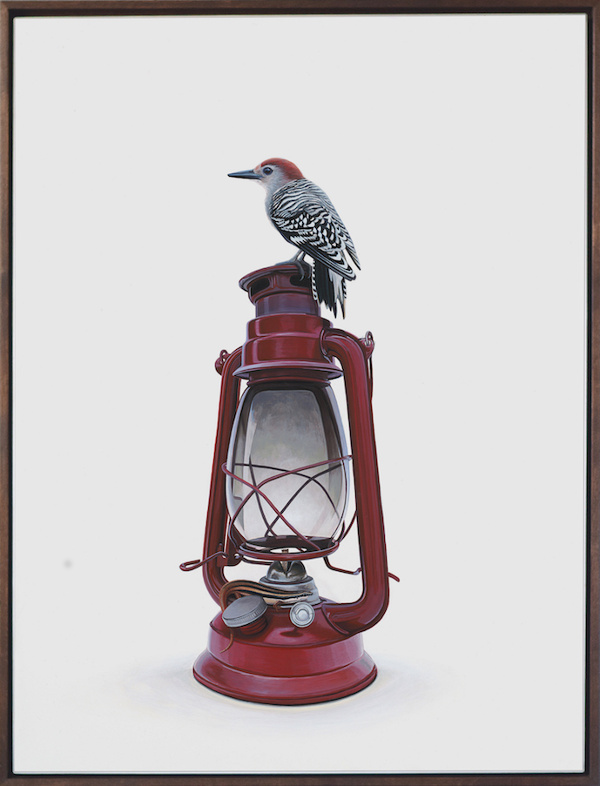 Chase Mullen – Glow
How do you come up with the ideas for a new painting?
I really enjoy juxtaposing things and working with negative space. Sometimes I'll come across an object or plant that just has an interesting texture or colour and try to find some creature that would make an interesting composition. I'm interested in isolating elements of nature or cross-sections of ecosystems and putting them on display devoid of context like living dioramas.
Can you share some insight into your process when creating a new piece to completing it?
I've got a few sketchbooks with little notes or ideas for pieces. If I don't have a burning idea, I'll flip through those. Once I know what elements I want to incorporate and have a general idea of composition and size, I'll try to stage a photo that can give me the best information I need in regard to light and shadow. I use a projector to get my rough proportions on the panel. When it comes to painting, its Golden acrylics to the end, then a prayer to the varnish gods!
Do you have any goals for the future?
I'm looking forward to a few group shows coming up, including Unnatural Histories with Antler in Portland and Scope Miami with Thinkspace. I'm just excited to have opportunities that keep me busy and as an artist – I've really never wanted more.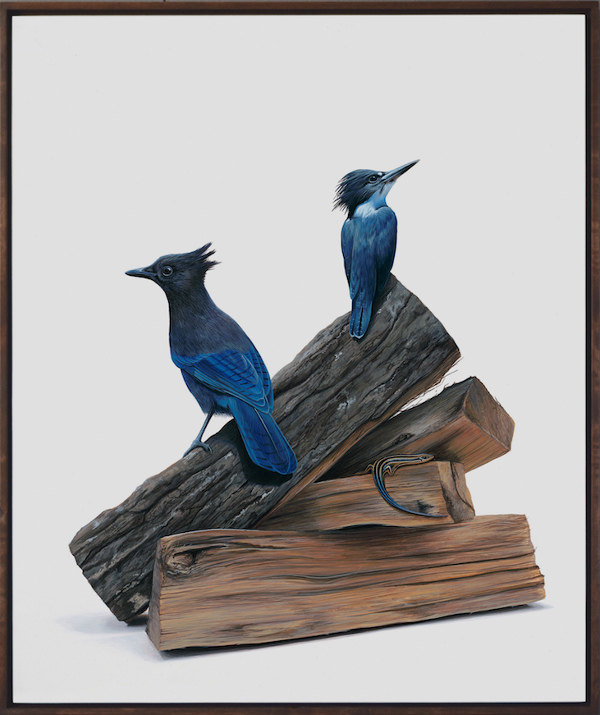 Chase Mullen – Stacks
Lorien Stern
"Lorien Stern has taken ceramic sculpture in a direction that approaches a traditional medium in a fresh way, embracing child-like enthusiasm and fun!" Susannah describes about her show Everyone's Invited. Living in midst of the tiny desert town of Inyokern, California, Lorien Stern has found herself immersed in a sea of raw colours unlike those that occur in the big city.  Primal sunsets and wild flowers frame the local wildlife which have influenced her sculptures in delightful, and sometimes surprising, ways. Complimenting her own positive attitude, Lorien's sculptures stir a gentle affection in the heart with their warmth and playfulness as even the (usually) most threatening of animals are portrayed with a fun and quirky vibe.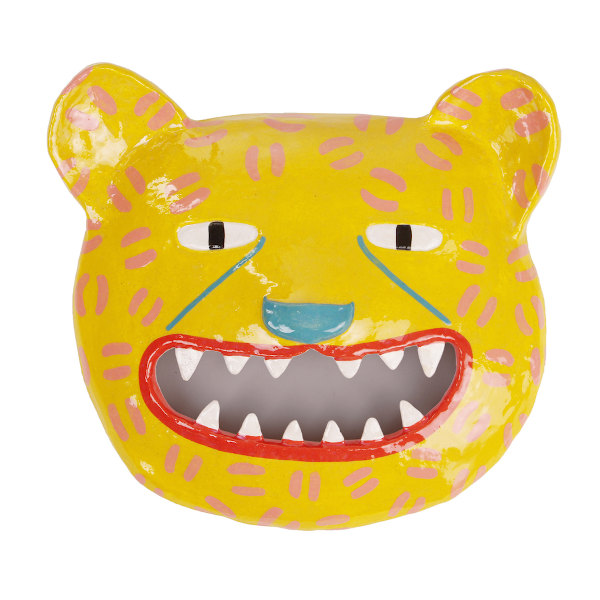 Lorien Stern – Happy Cheetah
Hi Lorien! Though you are still quite young it's great to see you already exhibiting in some pretty big galleries including Antler Gallery! How long have you been sculpting, and how did you get into this medium?
I went to California College of the Arts in Oakland, entering as a Painting Major in 2009. I had to take a prerequisite  3D class where we were assigned to make a reliquary. I made an urn for my father's ashes using a lathe to make a wooden base and ceramic clay to build a bull's head for a lid. From that experience something sparked in me that made me want to work with clay ever since.
Your artwork exists to make people feel happy – did it take a while to find the right way to express to others what you wanted to achieve?
The work definitely came before I figured out the meaning. Then I realized, the underlying theme is I wanted to make work that made me feel happy.  I wanted to smile when the piece was finished. A lot of my work involves animals and as simple as it is, the fact that animals exist, makes me really happy.
In the video in the About section on your website, you explain how your work has the "underlying theme of finding the harmony between sad and happy things and making scary things approachable". Why is this important to you?
I have a lot of fears and anxieties. Mainly stemming back from my childhood when my father passed away. Making art has been a really healing experience, by finding ways to celebrate and honour my dad, life, honour death and accept that it is a part of life that we all experience.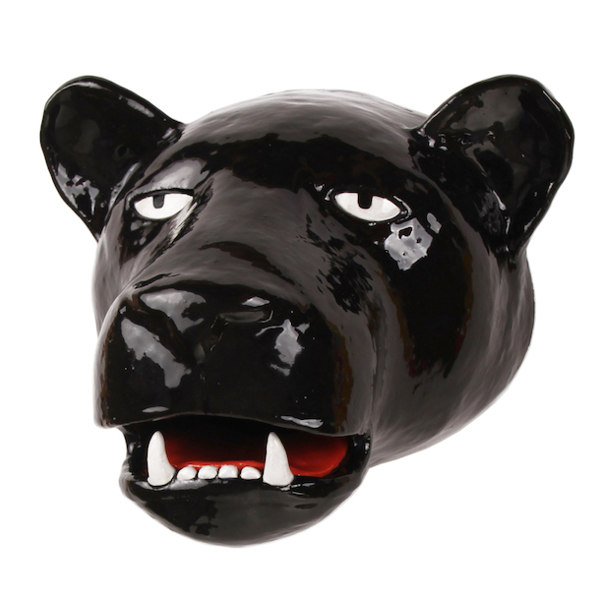 Lorien Stern – Panther
Can you explain your process from coming up with a new idea to the finished piece?
I usually make some loose, quick sketches to get my idea down. Then I do some image research after that on the internet and in books. I like to pull from multiple images at once to create what I have in mind. I might use an expression from one photo, colours from another, half the pose from another image. All of this to collage together what my original idea was.
I sculpt the piece over the next few days and let it dry for a few more days (depending on the weather) and then low fire it, usually to Cone 05 (1888° F). Once it's bisqued, I mostly paint it with low fire underglaze, re-fire it, then add clear glaze, re-fire it, and then I might do touch ups with coloured glazes on top of that. So each piece most likely goes through 3-4 firings before it's finished.
A lot of your sculptures are brightly coloured and decorated with shapes and patterns. Do you plan these designs first or start painting and see what happens?
I like to plan. With trying to get opaque colours using underglazes there is a fine line between too much or too little glaze. Too little, it will be streaky with brush strokes and too much, the glaze can crackle and try to separate itself from the clay. To avoid this, I have to be pretty calculated.
And lastly – what are your ambitions for the future?
I would love to expand my brand, keep creating ceramics, get back into painting, and save up enough money to build a dream house that has a slide from the top floor to the bottom floor!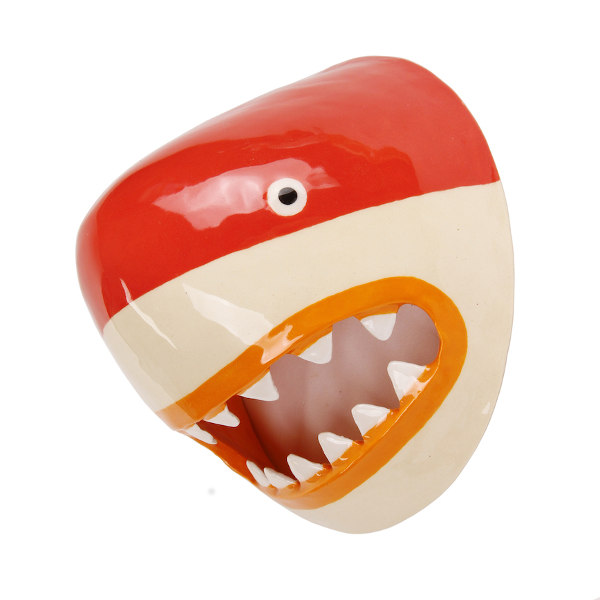 Lorien Stern – Hello Shark
Lorien Stern – Confetti Shark
To finish off, I asked all three artists if they had any advice to pass on to other artists growing their careers:
"Don't worry about what you don't have and get excited about what you do have. You can do so much with scrap paper and a pencil – baby steps are OK!" says Lorien. "It's good to be happy with what you have and use what you got. You can slowly accumulate supplies and expand. On another note… Utilize the internet! There is so much information out there it's amazing. Instagram is a real luxury for sharing your work and connecting with people. I don't know if I'd be where I am without it.  Lastly – don't copy someone else's work. It's already out there! Share something new and true to you with the world!"
"My advice at this stage in my career is to keep pushing yourself and work at the hard parts." explains Jon. "I heard a quote somewhere that's something like: "That which we fear doing the most is what we most need to do."  I think about it often, and though I'm not great at practicing it, I'm getting better.  And I'm a firm believer that anyone can get good at something they're passionate about, if they put in the time.  I'm also learning that finding a community of artists is so important.  It helps with everything, from alleviating self doubt, developing ideas, figuring out technical problems and just networking to get your work out there.  I haven't been the best at that, but I'm getting better and I'm starting to find and build my tribe.  I'm also thankful for social media for making it easier.  In a similar vein, I think it's great to help out other artists when you can.  It gets competitive sometimes, but it's good to remember we're all in it together and lifting someone else up doesn't mean pushing yourself down."
"The best advice I have is to work all the time." shares Chase Mullen. "That's not awesome advice for life, but the artists I most admire are also the most prolific. Any struggles I've had were resolved through intense weeks in the studio. Also, try to learn from as many people as you can, there's just so much advice out there and most people want to help."
For more information on both of the shows, contact Susannah or Neil at [email protected] or call (503) 284 – 6757.