Vincent Castiglia's highly anticipated exhibition "Autopsy of the Soul" opens this weekend at The Dark Art Emporium. Immersed in texture, symbolism and human blood, world-renowned artist Vincent Castiglia reflects upon the resilience of life, death, and the human condition. The nearly spiritual experience depicted in his ingenious expressions and narratives lends an air of mystery that is as unsettling as it is fascinating.
Perhaps like many of you, I wondered about the use of human blood as his preferred artistic medium. So I asked him few questions… and he was kind enough to share with all of you. We hope you enjoy this exclusive interview with Vincent Castiglia!
Vincent Castiglia
Facebook | Instagram | Twitter 
Press // Vincent Castiglia "Autopsy of the Soul": In addition to this epic conceptual series, we will be presenting a career retrospective of works spanning the renowned artists career. Vincent's work has been exhibited all over the world, from NY to Switzerland (where he showed at his mentor H.R. Gigers Museum). He has done personal commissions for the likes of Greg Allman, Margaret Cho, & Gary Holt (Slayer). In addition to all this, he is also an extremely sought after Tattooist.
Very limited edition prints will be available of selected works
Vincent Castiglia is a fine artist and tattooist from New York City, now living and working in Los Angeles. Exhibited and collected across the globe, Vincent's works have unsurprisingly garnered attention and praise from many facets of the fine art and dark art communities. His first major exhibition of works was in the Swiss museum of mentor and friend H.R. Giger. Commissions using the blood of his patrons include celebrity clients the likes of Greg Allman, Margaret Cho and Gary Holt (Slayer).
A Documentary film about Vincent's life and work "Bloodlines" was released in 2018.
" Vincent uses his own blood as the medium for his masterworks. But like his "paint", these pieces flow from deep beneath the skin, not relying on the shock and awe factor of his sanguine hues. Vincent's works are an expression of his evolving soul, of a tortured past struggling to be expressed and alleviated. They are in many ways Rites. Acts of intention. Rituals of exorcism and hope.

When viewed in person these compositions demand not only your attention but a sense of reverence. With intricately detailed lines, accosting and reverent imagery, we are pulled in to an inner sanctum. A chapel where art is the deity, a healing simulacrum, and Vincent Castiglia, its most devoted disciple. " – Jeremy Cross, Co-Curator – Director DAE Gallery

.
Vincent Castiglia "Autopsy of the Soul"
Opening Reception with Artist:
June 8, 2019 | 7-10 pm
256 Elm Ave Long Beach CA 90802
562-612-1118
Jeremy@darkartemporium.com
Exclusive Interview with Vincent Castiglia
Vincent, thank you so much for taking time to chat and engage our Beautiful Bizarre readers. I'm not going to ask quietly, and I'm sure you've been asked a dozen times, but what provoked the notion of expressing your artistic nature through the use of human blood? 
It started during an extraordinarily difficult period in my life under incommunicable duress, as an experiment to connect with the work on the deepest level from which it was coming inside of me. That's why I liken it to a hemorrhage; the pressure keeps building until the vessel cannot contain it anymore and results in rupture. That's how it started anyway, as recomposed biological material to find some peace and to attempt to' beautify' a horrifically un-beautiful reality. The work comes from a vastly different place these days, but not without pain. That is a constant in life. It doesn't have to be, it just is oftentimes a reality. Pain is a great motivator. It was extraordinary pain that inspired it, but not where I'm at today thankfully.
This literal release of blood… does it relieve something else "within" you? Is it healing? 
It's certainly a release and has healed various aspects of my being and past. But I've come to understand and view it more in a literal alchemical process. The progress from 'sulphur to gold' in ancient alchemical manuscripts was the shrouded way of communicating a spiritual / experiential process by which the individual 'ascends' the rungs (by trial, destruction / reconstitution) finally arriving at the point of balance, which is represented by the marriage of opposites, the "Marriage of The Sun and Moon' (2010)", and is nothing more than a state of being. I don't claim to have reached experiential or spiritual perfection, far from it, but rather have experienced growth and progress within the scope of my own world, my relation and perception of it. I'm posing questions to 'grand problems' and receiving 'answers' through the work, as a body. Because of that, it's a rather mystical process. Mystical in that I'm processing the ethereal in very concrete, specific forms, and 'solving' and reconfiguring (Solve et Coagula) it as to create an 'ethereal roadmap' of sorts, delineating my progress through this strange world.
Your paintings are the embodiment of many emotional and psychological interpretations… from birth and growth to decay and despair. What invokes these visions within you and into the art to form such a deeply personal connection?
My paintings are directly inspired by life and emotions, but are embellished with symbology and visual language not originating within the self. Birth, death, and this short space in between dominate the work themes as this is, I guess, I'd say how I relate to and understand mortality, as ever present with our time as finite. It's certainly existential, could almost be viewed as nihilistic. But it's not whatsoever. It's a 'call to action', to cherish the time we have, and to create and appreciate each day as if it's your last.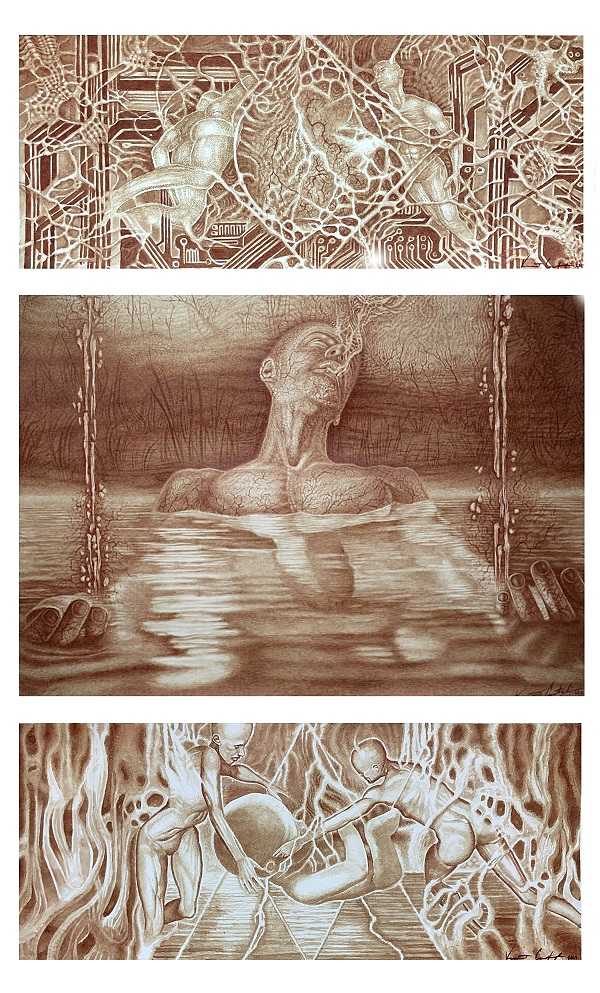 Do you experiment with any other mediums?
I've worked in just about every medium (oils, gouaches, tube iron oxide, and sculpture); you name it, I've at least experimented with it. Because I've connected so deeply with blood as a medium, it's been difficult to want to work in anything else (besides sculpture). It's captivated me and held my undivided attention since profoundly connecting with it. Certain schools of shout regard the blood as the 'highest vehicle of the spirit'. Following this train of thought, I'm working with raw spirit, charged with all the essences of life and containing all information for the physical and mental functioning of the individual. That's a profound notion with far reaching implications, again, along this train of thought. If nothing more than a notion, it's one I choose to entertain.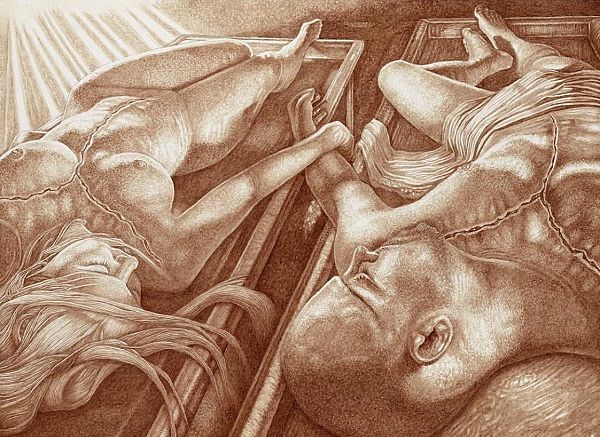 I've read that your work is considered "figurative with metaphysical and often nightmarish subject matters". Are they based on your own nightmares or those developed and burned into us through societal conflicts and our human condition?   
Although deeply personal, the work always tends towards overarching societal and human issues that I believe each of us experience as stations of human experience, more or less.
Will you talk to us about "Autopsy of the Soul" for The Dark Art Emporium? How did you prepare for this exhibition and what can we expect?
Autopsy of The Soul is a collection of brutally honest musings exploring life, death, dying, "karma", and the notion of the 'transmigration of consciousness'. It was partially inspired by a book by scientist and Doctor Robert Lanza, through which he scientifically postulates the continuance of human consciousness after death from an entirely empirical and scientific stance. It would be impossible to expand on this in passing, I'd suggest the book to anyone which is conscious and sentient, and it's a masterpiece of science and theoretical physics. But it strongly supports, in very specific and identical ways, many precepts contained within ancient philosophies that've interested me, so it's a really exciting collision, or at least parallelism of concepts. The title piece, "Autopsy of The Soul" depicts a figure that hangs in the balance between 2 scales, one phantasmagorically representing the 'soul', being collected as gas and transmuted into liquid, then weighed against a feather. This is an ancient Egyptian concept which suggests that if the 'heart' is weighed against the feather, and if its lighter, is granted admission into the underworld. I love this concept, obviously allegorically. I can sleep at night and know I've kept my slate clean and done my best in this life, for whatever that's worth. But ultimately the depiction calls one to question the weight of their own organs. How heavy is the heart? Does consciousness persist after death as the resonation of energy in the field, even in the most infinitesimally of ways? It's all in there.
What's on the horizon, Vincent?  
As long as I'm above ground I'll be making art, guided by circumstance and the sum total of my being at each given point in time. I trust that process, because it's true. Doesn't get any more from the heart. It's a remarkable experience to view an exhibition, fully comprehending that all of it literally and figuratively once pumped entirely through my heart, and am very much looking forward to Autopsy of the Soul, opening June 8th at Dark Art Emporium. After this, I'm going to keep creating and trusting this process.