Gormleys Fine Art is the next gallery to host an international exhibition in collaboration with PoetsArtists. "Go Wild", curated by Conor Walton, features work by Martin Wittfooth, Adam Miller, F Scott Hess, Pamela Wilson and others. The exhibition will take place in the Dublin Gallery from the 6th June – 27th June 2019. The PoetsArtists "Go Wild" exhibition will then move to the Belfast gallery from 21st July – 6th August 2019.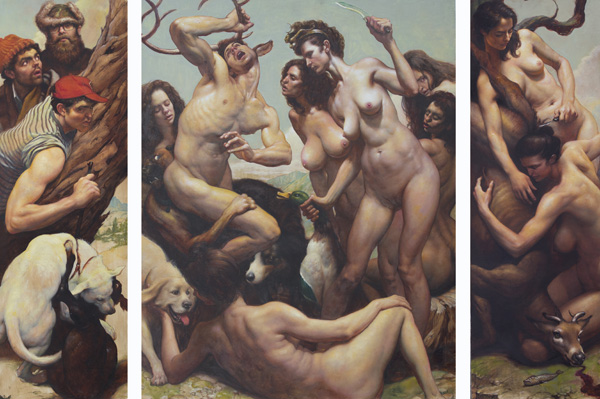 Adam Miller
POETSARTISTS "GO WILD"
Curated by Conor Walton
Exhibition Dates:
June 6 – August 6 2019
Opening Reception:
Thursday, June 6, 2019 | 6 pm
GORMLEYS BELFAST
471 Lisburn Road
Belfast BT9 7EZ
+44 (0)28 9066 3313
GORMLEYS DUBLIN
27 Frederick St. South
Dublin D02 EP03
+353 (0)1 6729031
Participating Artists:
Martin Wittfooth, Cynthia Sitton, Alex Callaway, Linda Brandon, Claudia Kaak, Daire Lynch, Dana Hawk, F. Scott Hess, Denise Fulton, Melissa Hefferlin, Adam Miller, Luke Hillestad, Molly Judd, Steven DaLuz, Susannah Martin, Mark Heine, John Hyland, Jon Johnson, Julyan Davis, Marc Scheff, Charlene Mosley, Nicole Alger, Rachel Linnemeier, Sarah Lacy, Serena Potter, Shawn Sullivan, Teresa Brutcher, Tina Garrett, Yana Beylinson, Peter Zokosky
Founded in 1990, Gormleys Fine Art specialises in International & Irish contemporary art, from established and emerging artists. While they are dedicated to promoting Irish art they showcase the work of important international contemporary artists including Andy Warhol, Banksy, Damian Hirst, Robert Indiana and Keith Haring. Their galleries in Belfast and Dublin have a busy exhibition program of events throughout the year and in addition to this they regularly attend major art fairs around the world.
Conor Walton is an award-winning painter. He was born in Dublin, Ireland and now lives in Wicklow, He holds a BA (Joint Honours Degree in the History of Art and Fine Art), NCAD, Dublin and an MA in Art History and Theory, University of Essex, UK (awarded with distinction). He studied painting and old-master techniques in Florence, Italy, with Charles H. Cecil.
I recently interviewed him about the upcoming exhibition and his experience of curating his first show.
What is your background, can you tell me a little about yourself?
I'm an Irish figurative painter, in the business for 25 years. For the last ten years, I've worked hard to break out of the Irish art scene, which is quite small, and build an international reputation. This is beginning to pay off. As a painter, I have tried to combine an old master-ish virtuoso technique with a contemporary sensibility to produce paintings that can tackle any issue: politics, philosophy, ecology, global warming. I think an artist's job is to give us images through which we can better understand ourselves and the world, and this is what, in my small way, I try to do. I think there's a huge appetite today, particularly among the young (and in the context of an often shallow, consumerist pop culture), for an art that isn't simply brash or slick or clever, but that speaks to their deepest desire and need, which is for meaning.
How did you become involved with PoetsArtists and curating a show for them?
I became involved first, I think, when John Seed and Didi picked one of my works for PoetsArtists' Ten Memorable Paintings of 2015, and by submitting a few pieces for open submissions over the years. I was invited by John to a show he curated for PoetsArtists and Arcadia Contemporary in LA, and shortly after that Didi asked me if I would curate a show. I had never curated before! I have no idea why she asked me! But I said yes. 'Yes' is a more interesting word than 'no'.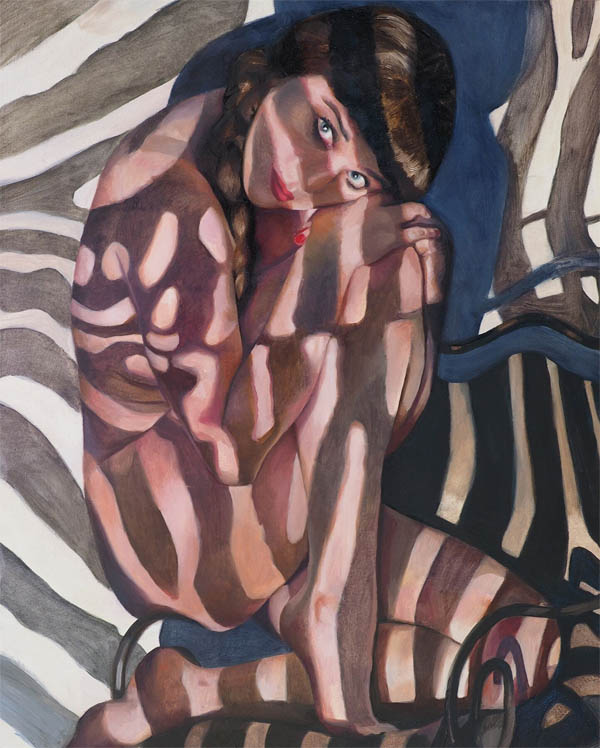 Denise Fulton
What has the experience brought to you?
Quite a bit! There's work involved, obviously, but selecting great artists for an exhibition is a bit like going Christmas shopping on someone else's expense account! What has been really gratifying is that so many painters I've admired for such a long time, and wanted in this show, said yes. Especially in the case of an international show, which involves a big commitment, the complexities and expense of shipping work etc. It's a great honour to work with these artists, I've got to know some of them through this, and some are travelling for the opening, so we'll have a party and I'll get to know them even better!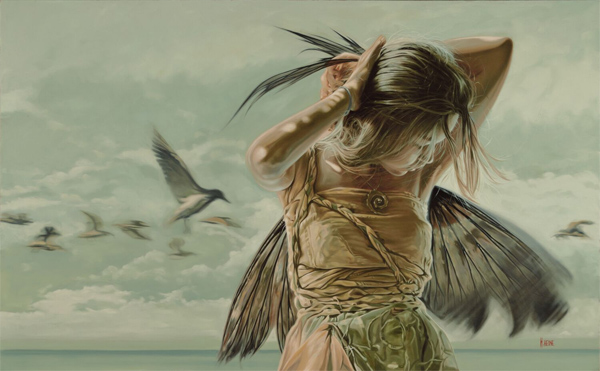 Mark Heine
How do you see your role as a curator for this show?
It's to provide a context that is tight enough to offer some coherence, yet loose enough to give the artists freedom to do what they do best. If the balance is OK, I think a bit of the zeitgeist will show through.
Did you generate the theme, and if so what was your rationale behind 'Go Wild?'
Straight after I said yes to Didi, I sat down to dinner with my children and asked if they could think of a good title for a curated exhibition. The first thing my son Daniel (13) suggested was 'Go Wild!' and I thought 'Great! That's it!' You could take the theme as Nature (and perhaps our vexed relationship with it) or simply as an exhortation to take a risk; to unleash one's talent, express the Dionysian aspect of our natures. Both of these themes (and many more) came through in the work I was offered, so I've been delighted. I've long been fascinated by Martin Wittfooth's depiction of a post-apocalyptic world in which a crazy, feral, mutant nature thrives among the detritus and ruins of our civilisation. Adam Miller's reworking of ancient mythological themes of violence and transgression, suffering and rapture, seem intent on reconnecting us with our deepest natures. Susannah Martin's provocative image is the quintessence of Dionysiac rapture. Molly Judd is a young Irish artist snapping at her elders' heels with whom I seem to have an unwitting relationship of common themes. When I first saw her Raskolnikov I was so happy she hadn't called it Flogging a Dead Horse, because I am working on a painting of this title, and close enough in theme to hers (which I take to be ecocidal guilt, shame at our criminal treatment of nature), in Molly's case raised to the level of sublime metaphor. Many of these paintings, however indirectly, seem inspired by the planetary catastrophe unfolding around us, and the need to recover a sense of human identity in which culture isn't opposed to nature, but unfolds within it. This is, I think, what gives some of the best contemporary figurative art – naturalistic in technique but using dream, fantasy, metaphor to plumb our psychic depths – it's current impetus and urgency.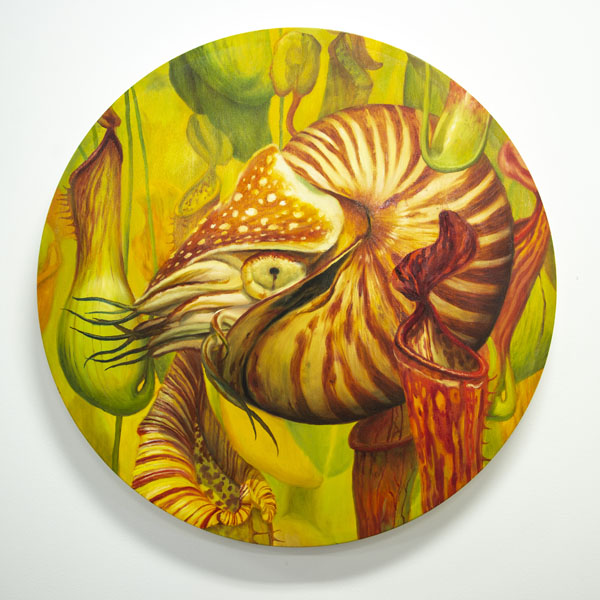 Martin Wittfooth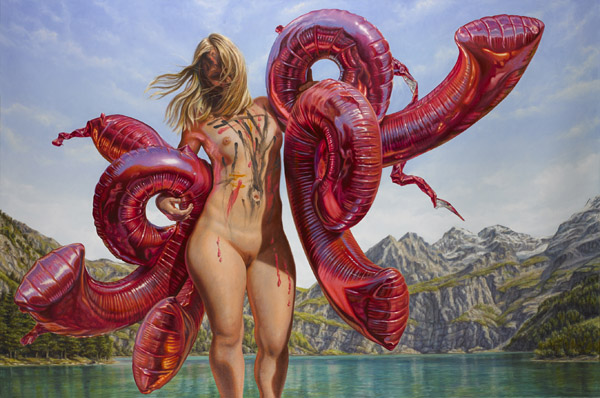 Susannah Martin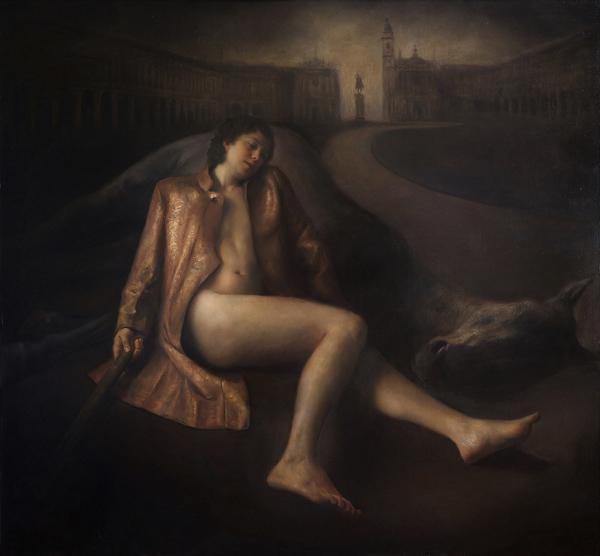 Molly Judd
How did you select the works for the show from those submitted? What were you looking for, or what qualities drew you to the works you chose?
I tried to be completely open-minded and available to all the forms of excellence I was offered, and probably failed at this, but my key questions were 'Is it good?' and 'Does this, in some way, represent the theme?' Selecting pieces is very hard, and ultimately it often comes down to one's gut-feeling about a picture. But there were also practicalities like the size of the works to consider, the practicalities of hanging and apportioning space, choosing which pictures were 'keystones', which were less important, and what the gallery thought (they had to be consulted).
Can you tell me about the gallery where the show is being held?
Gormleys are one of the top galleries in Ireland. The have gallery spaces in Dublin and Belfast, and the show will travel to both cities. Oliver Gormley, the gallery's owner, is another person who sometimes says 'yes' before he quite knows what he's agreed to. I think that was the case here! It's a bit of an adventure for both of us. But it's a great honour to bring so many of these artists to Ireland; to introduce them to a new audience, to catalyze new relationships and help make the European and American art worlds a little more interconnected.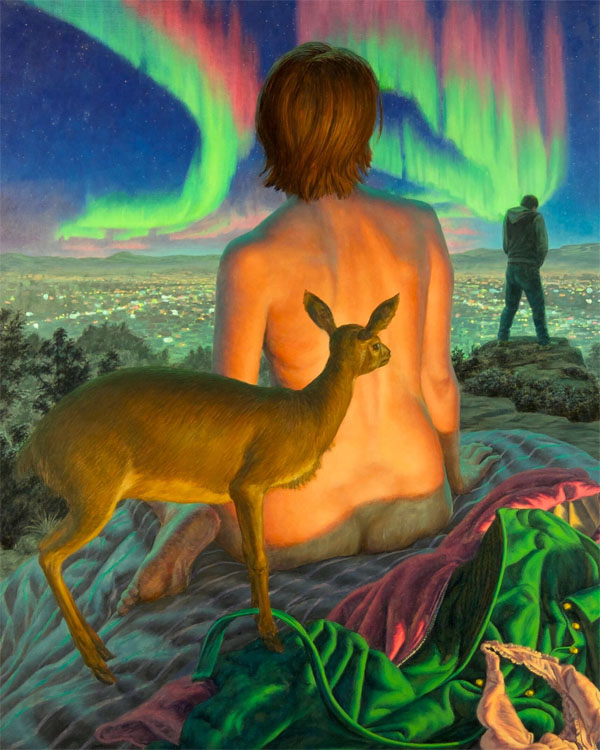 F Scott Hess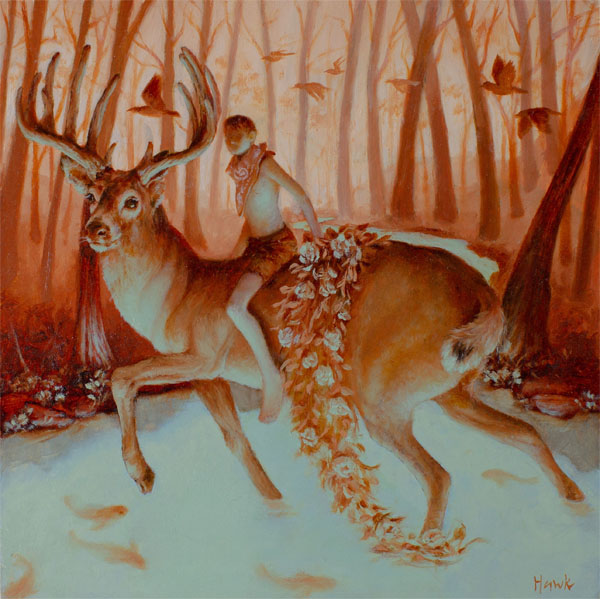 Dana Hawk