Hannah Faith Yata brilliantly draws parallels between beauty, the human condition and the exploitation of fauna, flora, and nature in general. Hannah explores these themes through the bright lens of her own experiences and how they relate to the delicate yet vicious balance of nature itself.
Yata utilises this surreal imagery and symbolism of female form, to portray provocative themes such as: mother nature, love, desire and sexuality through to darker themes such as oppression, destruction, greed and pain.
There is also a strong sense of urgency midst a scene of beauty in Yata's work; From dark clouds rising over a glacial cliff face stretching out to meet a beach awash with butterflies, flowers, and the final death-throws of inverted mermaids washed upon the shore, there are also the urgent gasps from the mouths of women with fish heads – heads craned toward a trickle of water as if it were their only source of oxygen. Yet despite this critical scenario, we find beauty in the struggle, as the subject of the artwork is adorned with flowers and butterflies, providing the viewer with an almost bitter-sweet romanticism for the fleetingness of beauty.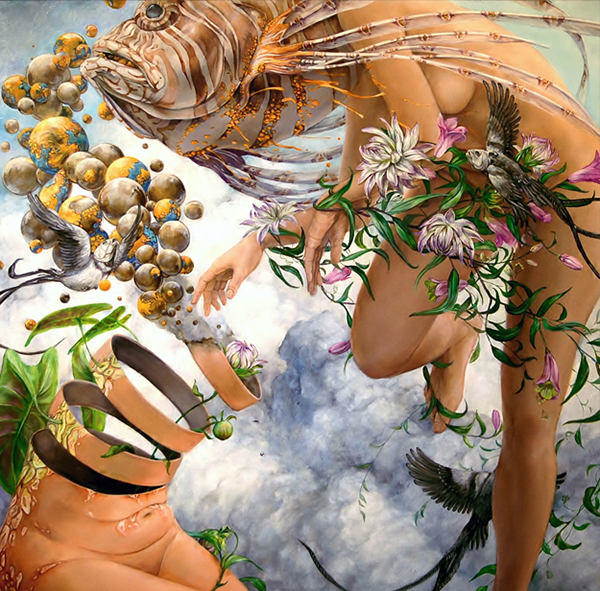 Yata says of her method,"The pictures forming in my head are ones of domination over nature, the struggle of animals in a changing world, and the effects of a changing world on the animals and humans. Women became the metaphor for mother nature as wild and sexual thing exploited and explored in my work, and animals became the subjects of examining abnormalities and evolution. Taking ideas that I had learned from ideas on feminism, I began to draw parallels in our ways of controlling and objectifying women to how we also think about the earth and it's resources therein."
For the latest insight into Hannah Yata's work, follow her on Facebook.