Patrice Hubert's enigmatic sculptures have been a fascination of mine since I first came across them on display at Naia Museum in Rochefort-en-Terre in Brittany, France. His spiraling, organic steel sculptures whisper of hidden realms, often moving in hypnotic rhythm via specially designed mechanical parts. Co-owner of this unique gallery and museum, Patrice's history as an artist and sculptor goes far beyond the five years of Naia Museum. It delves into the depths of Art Nouveau, sci-fi, metaphysical experimentation and his insights experienced as a visionary artist.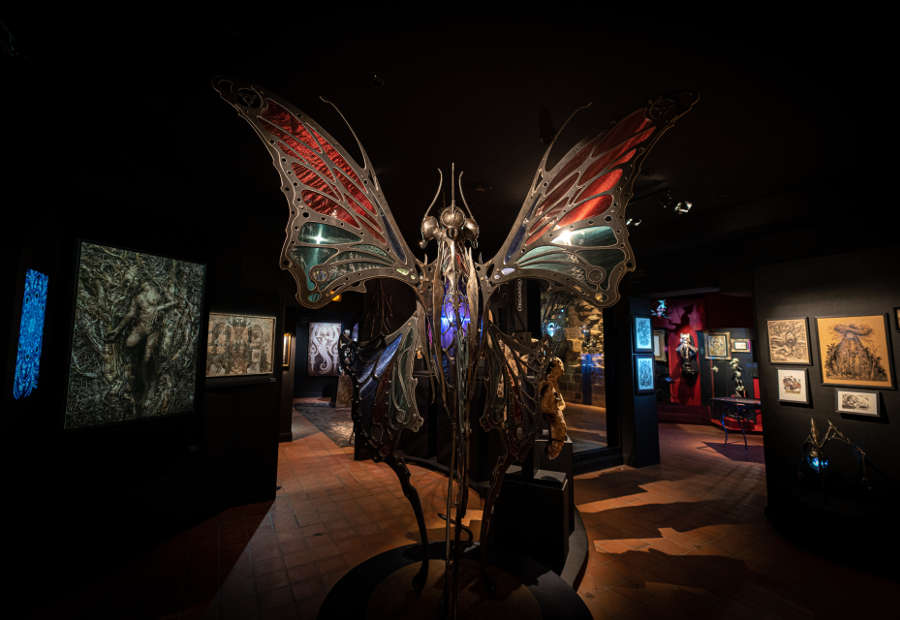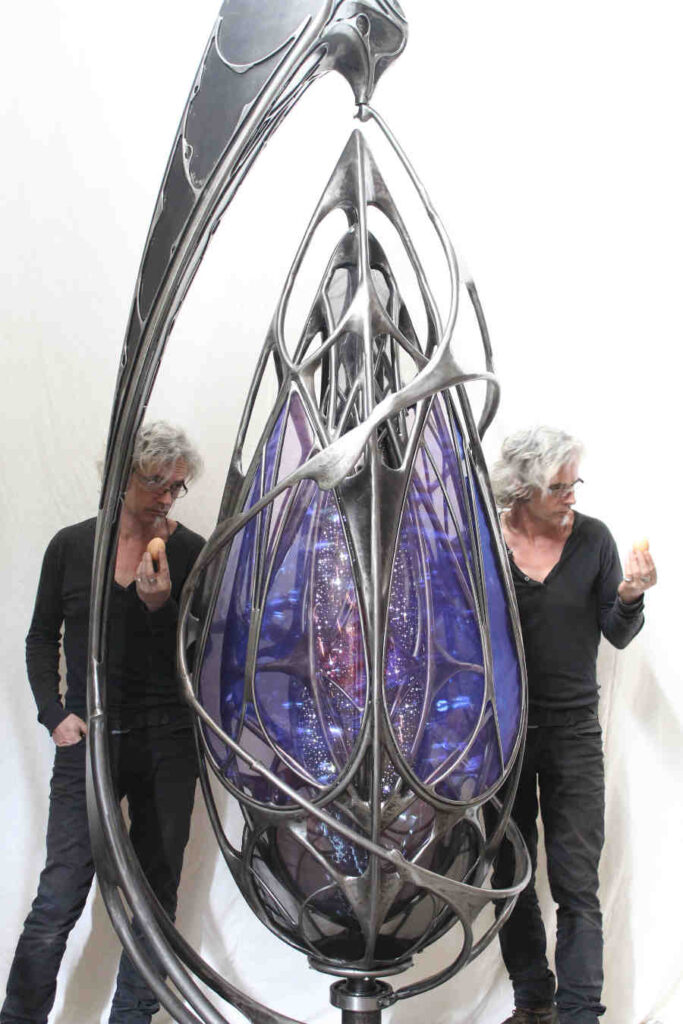 An unusual path
While researching for this article, I was surprised to learn that Patrice is a self-taught artist. "I had a pronounced aversion to traditional teaching" Patrice explains. "I started practising art at a very young age and it quickly became a necessity. First sculpture at the age of 12, then painting, [then] sculpted parts came out of my paintings. I thought I had to find within myself my own [artistic] components, my pictorial mediums, my alchemy. My life path had to be rich enough not to be bored sitting on school benches, and especially not to suffer any dictation towards my art. I was very attracted by nihilist concepts and the DIY mindset."
With a fire within, Patrice's rebellion against traditional teachings set him on a path of self-discovery. Undaunted by having no prior knowledge as an artist, he found ways to evolve his artistic practices throughout all his professional experiences. Working for a religious sculpture restoration workshop in the early 90's, Patrice learned about casting, printing and polychromy via traditional methods. The result was a series of 50 sculptures created in Patrice's own workshop, titled 'Freaks'. "It was a tribute to Tod Browning; at the time I loved poetry about monstrosity" Patrice shares.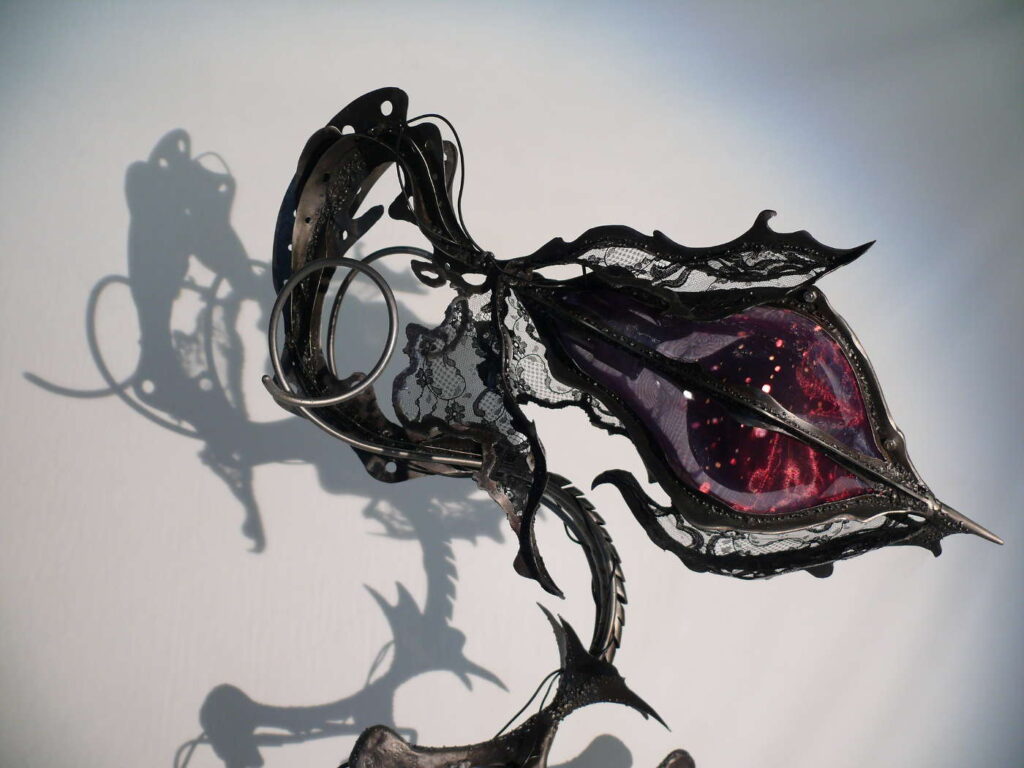 Monumental commissions
Patrice Hubert's unusual creations caught the eye of many large names, leading to multiple monumental commissions. These included a 40m high Fantasia bust for Disney, several works for Takashi Murakami, and works for Adel Abdessemed and Karl Largerfield, to name a few. For 18 years, Patrice was able to live outside of the mainstream, funded by his episodic commissions. This gave him the opportunity to establish his own creations alongside his commissions with total financial freedom.
After having drawn a lot and thought about how to reinvent myself artistically, it appeared that steel, textile, light and movement would be my mediums. In February 2003, I combined these components on a sculpture of 2m50, the first of the series.

I had never practised welding before, which allowed me to develop my own techniques.
The sculptures
Patrice Hubert's sculptures have become iconic, a signature style exploring the relationships between opposites and the balance in between. Growing from the ground like rare flora or alien insects, light and shadow dance together, changing shape through moving parts. Organic forms foster thoughts of the natural world; though made with inorganic materials such as steel and glass, these sculptures feel curiously alive.
Such juxtapositions push the viewer to think about the artworks, and indeed the world, in more connected ways. We are invited to break down labels intrinsically imprinted on us. Light and dark, male and female, natural and unnatural; what meanings do these words arise in you? Is there room to shift and merge these concepts, to play within the gap that exists between opposites? For Patrice, exploring these relationships is part of the journey.
This element of exploration, both internal and external, was a building block which moved Patrice to the sculpture style we recognise so well. "Between 1998-2003 I was in self-analysis of my own components, in search of a balance between my masculine and feminine parts, of fragility and robustness, anchored and airy, attraction and repulsion, the curve facing the straightness. Indeed, the shadow appears only if one looks for the light. It is a bit leitmotiv of my life."
In my visionary art at least two currents are represented: one by HR Giger and the other by Robert Venosa, two emblematic figures and friends in life. Their visions are opposed between life and death, so complementary. I alternate between the two and try to stay on the edge of this balance.

When I was way too young, I had strong (relatively happy) hallucinogenic experiences. My three different periods of creation have always been my way of transcending and expressing my visions since childhood."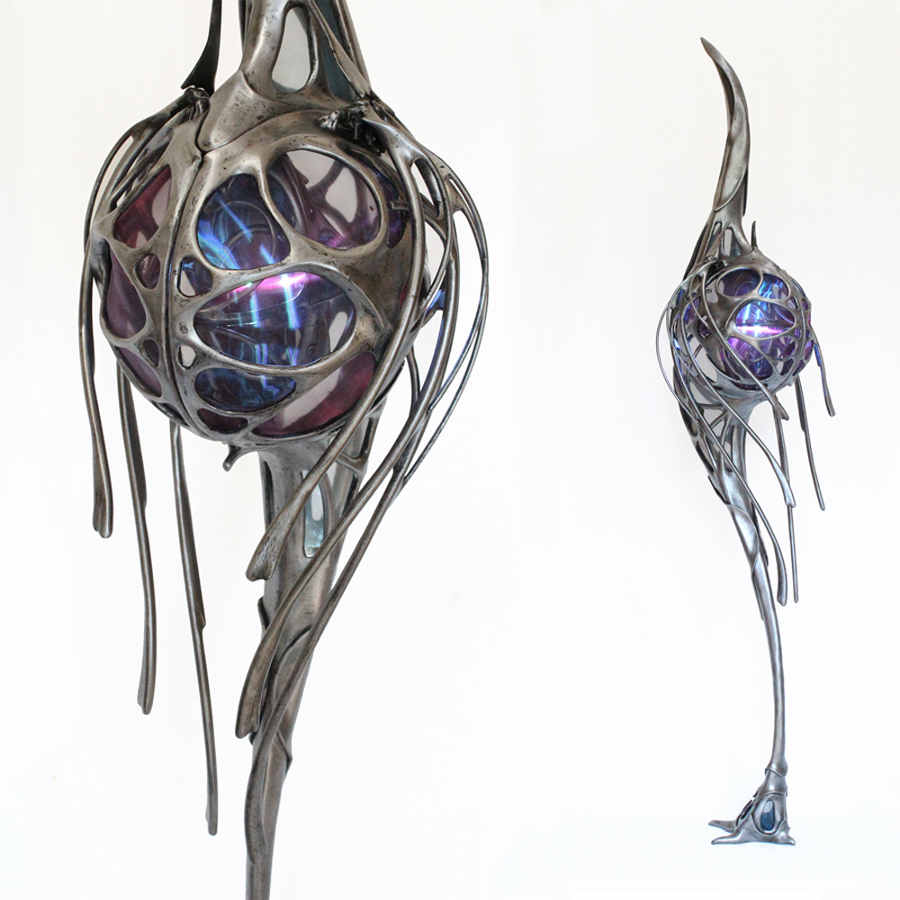 The process
When it comes to planning a new artwork, though inspiration can take many forms, it is always the sketch which comes first. With sculptures being between 65cm and 6m high, Patrice enlarges the drawing to have enough space in which to arrange the engines and lights. During the manufacturing process, the original sketch stays predominant in Patrice's mind. Moreover, he even developed specific wielding techniques to obtain the signature linear and organic forms we recognise so easily.
Interestingly, his creative process is once again shifting. "For the last 5 months I have been integrating the modelling that I haven't practised for more than 20 years." Patrice tell me "[It is] the fruit of several years of reflective thoughts and the desire to introduce the human into my series."
From galleries to Psytrance gatherings
As well as being on permanent display at Naia Museum, Patrice Hubert has built and displayed his sculptures at many outdoor events.
The distribution of my work is via galleries, but this became less and less common for small pieces. Additionally I had to find an economic outlet for the bigger pieces, because it was my primary desire to make only monumental works. As a result, I quickly focussed on the festivals mixing art and technology. The one that impressed me the most was the amazing Robodock in Amsterdam, where I exhibited 13 pieces in 2005.

The large Psytrance gatherings, which I have been involved with since 2010, are equipped with real art galleries. My immersive installations, which are operative day and night and allow you to fully experience art, offer a passive contemplation for a respectful and ultra-receptive audience.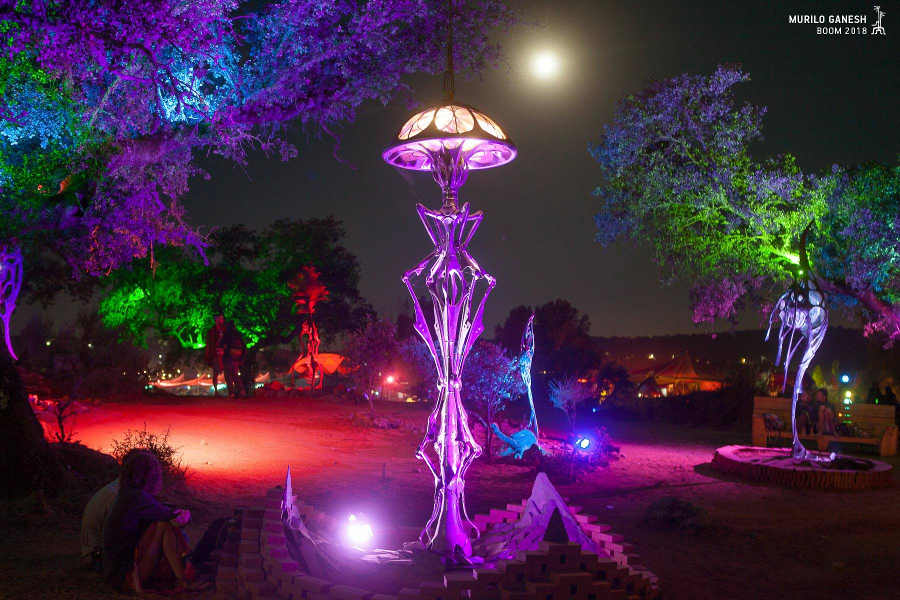 On average, Patrice exhibits at roughly 20 exhibitions per year, including a handful of festivals. "Between the management of my museum [Naia Museum], the production of about eight kinetic sculptures (three monumental ones plus the small non-kinetic ones) and the commissions… my time is well taken up by my work!" Patrice shares with a grin.
Naia Museum: visionary art and fantastical realism
Five years ago, Naia Museum was born, created by the visionary minds of Patrice Hubert and his partner and fellow artist, Manu Van H. Set in the medieval town of Rochefort-en-Terre, Naia Museum resides within the local ancient castle; I don't think a more atmospheric gallery exists! Impressively, the museum has become the only permanent place in France to offer visionary art and fantastical realism, representing more than 80 international artists.
As with many other galleries around the world, the Covid-19 pandemic affected Naia Museum. However, as of Monday May 11th, Naia was able to open again:
We were the first in France to close down. Our region, Brittany, was the first to be hit by Covid-19. Thankfully, now it is the least infected because the containment has been very well respected from the start. We are setting up basic regulations and limiting the number of visitors. We normally welcome between 200-300 people a day, so the number of visitors and sales will decrease drastically. The cultural offerings will be poor this year. But, we are happy to be able to open again and introduce this season with a batch of new works, after two months of installation.

We are setting up an online shop on our website for foreigners and people unable to travel. This year, 13 [visionary art] artists will be joining us at Naia. Among them are Peter Mohrbacher, Catherine Wilkening, Timea Tallian and Stan Manoukian. As we work with more than 80 artists, every year we swap works exhibited between them.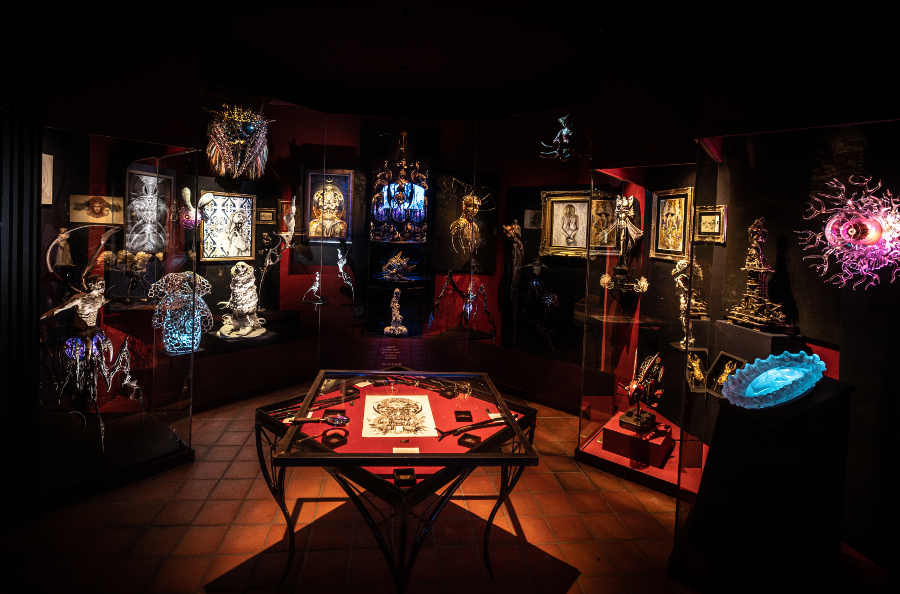 Naia Museum in 2020
Additionally to their own events at Naia Museum, Patrice and Manu exhibit a host of Naia artists at international festivals. Unfortunately, the current pandemic and closure of such large events this year has forced them to be more adaptive. In September, Patrice and Manu normally host the Cercle Cubik meetings, organised every two years in the park at Château de Rochefort-en-Terre. This event was supposed to gather 50 artists from the museum and outside contributors, publishers with dedications, live painting and sculptures.
"[As a result of the pandemic] the exhibitions, usually over three days, will be downsized to artists living and working in our region over one day. This is due to lack of budget, withdrawal of sponsors and too much uncertainty about the possibility to hold the event.
We are thinking of organising meetings every two weeks over summer, with three or four artists at the same time. We have big names around the museum, artists like Martina Hoffmann, Yoann Lossel, Olivier Ledroit, A. Andrew Gonzalez and Séverine Pineaux, who all wish to mobilize to make this scene live around the Naia Museum."
To keep up to date on Patrice Hubert's visionary art and Naia Museum's upcoming events, make sure to follow their social media channels below.
Patrice Hubert social media accounts
Website | Facebook | Instagram
Naia Museum social media accounts