MentorMe is a free resource for creatives who wish to learn from their peers. This Q&A resource provides insights into advice for the rise of social media and its impact on sales, the time for money ratio, and challenges in living off your art. In each guide a different group of artists and photographers will share their insights, personal experiences and advice with creatives that wish to grow and evolve in their artistic practice.
Beautiful Bizarre Magazine mentors encourage, guide and inspire emerging artists as they explore their creativity, develop their technical skills and find their personal style.
MentorMe Edition 6 Mentors:
Ryan Heshka, Kate Bergin, DULK, Kristen Liu-Wong, Victor Grasso, Adrienne Stein, Chris Guest, Rose Freymuth-Frazier, and Crystal Morey
In Edition 6 Beautiful Bizarre Magazine's Mentors respond to the following 3 questions:
Has the rise of social media and the internet affected your practice and sales for better or for worse? Please elaborate
Does the amount of time you spend on an artwork reflect in its price? Is there a good time for money ratio?
What are some of the greatest challenges you've encountered trying to make a living off your art?
Below 3 of the 9 mentors respond to the following question:
What are some of the greatest challenges you've encountered trying to make a living off your art?
What are some of the greatest challenges you've encountered trying to make a living off your art?
Ryan Heshka: Believing in myself for starters. I am very hard on myself and my art, and often feel my skills just don't reach the level I am striving for. Maybe this keeps the carrot dangling, and causes me to work harder. But it can also cause a shutdown. I also struggle with the balance of administration, emails, shipping, those sorts of tasks, versus the actual production of art. I LOVE, LOVE to make comics, but always find it tough to produce those and still make a living. As well, good old fashioned creative block looms quite often, when it does, that's when I usually clean/organize the studio, and catch up on the aforementioned menial jobs.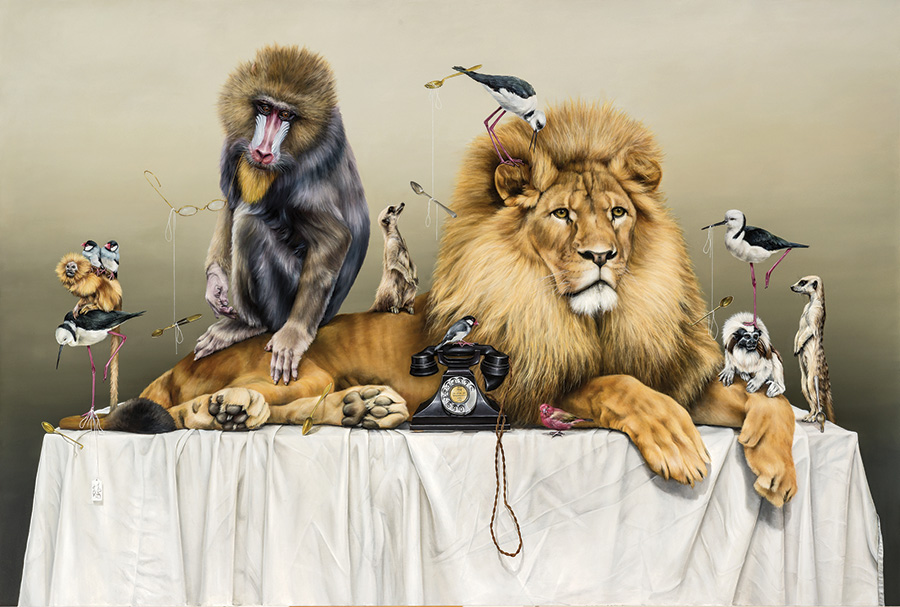 What are some of the greatest challenges you've encountered trying to make a living off your art?
Kate Bergin: When you're younger it's difficult watching family and friends moving at a much faster pace buying houses and having children. Mark, my husband who is also an artist, and I sometimes felt like we must be mad. We ended up moving from Melbourne to Cairns in far north Queensland and this gave us a way of breaking with those familiar patterns and trying to live a more alternative lifestyle that fitted better with what we were trying to achieve.
It was a great move for so many reasons but one of them was the discovery of the work of Ellis Rowan and her incredible butterfly paintings. Her intrepid sense of adventure travelling to remote parts of Australia and beyond searching for unique specimens to paint and draw instilled in me a sense of art and life being inseparable.
My part time job in Cairns was at an Environmental Education Centre and five years later when we returned to Melbourne, I worked in a university psychology department. It was important to me that if I couldn't make a living from my art at that time then the jobs I had would need to be interesting to me and in some way feed into my artwork.
Now that I'm a full time artist, I miss that interaction with work colleagues. Mark and I finally have children and a house; a life balanced with art and a life created through art. Every stage brings different challenges but if I can see them as somehow building a story within my paintings then no challenge is too difficult and hopefully something wonderful will come from it.
What are some of the greatest challenges you've encountered trying to make a living off your art?
Chris Guest: When I look back, I think the biggest challenge is getting the whole thing off the ground in the first place; to establish yourself as an artist (that is one who pays their bills by people buying their art!) The trick is, you just have to be really patient, and do it for the pure love of making art, and accept that for 5 years you probably won't make much money while you learn your craft.
My position was, I had a good job and I did art on the side on weekends/evenings in my old garage, so there wasn't any reliance on art to put food on the table. Once you accept you're making art because you love it, and you can't breathe without it, it takes the pressure out of trying to turn art into money.
A few smaller challenges that spring to mind are trying to predict how many prints to make of a certain painting. I can hold my hand up and say I have got it wrong a few times – it's then quite frustrating when you have a drawer full of prints, that no one is chomping at the bit to own! (It can work the other way also, when you make too small an edition, and you have people upset with you, that they couldn't get one, so its a fine balance; that is hard to call!
I know it sounds stupid, but the easiest way to struggle to make a living with art, is trying too hard to make money from art! What I mean by this is, when I started, I tried too hard to paint what I thought people would buy, and guess what? You have no idea what people will buy! Then a few times I'd paint something for the fun of it, and it sold, so it's pointless trying to second guess what will sell. You're better off just painting what makes you happy and see how it is received!
I find as soon as you go down the path of trying to paint for money, and don't try new things anymore, you risk becoming vanilla and instead not appealing to anyone!
To read the other Mentor's answers to this question or any other in Edition 6 please click here to download our FREE Artist Resource, MentorMe.