"I try to find the beauty in darkness and reflect that in my work" – V. Marcone
I wouldn't be able to tell you the first time that I came across Vincent Marcone's work, but I can explain the feelings it unleashed: it was as if I was remembering a long lost dream, a memory I had never quite understood. Canadian born Vincent Marcone, AKA My Pet Skeleton, has tapped into something that lies just underneath consciousness, merging darkened memories of ancient fairytales and human insecurities with simple beauty and delicate textures. Heavily influenced by his German Grandma, Vincent grew up on the old traditional tales from a long lost Europe as he breathed in each tale deep into his subconscious, guiding his future path. And so My Pet Skeleton was born.
His prints have become well known around the world under the alias My Pet Skeleton, but Vincent Marcone is more than just an Emmy and Juno award winning artist; film maker and musician, Vincent is internationally renowned. Since his grandmother's tales he has been attracted to the "dark art", stripping back the layers decade by decade, uncovering the heart of folklore and fairytales. Creating his own tales of playful woe and curious macabre, My Pet Skeleton seeks to bring to life worlds beyond the norm. In recent years, his short animation The Lady Paranorma which follows the life of a woman who can hear spirits but cannot see them, won Best Animated Short at New Orleans Film Festival 2011 as well as being recognised in 25 other film festivals around the world and is most definitely worth a watch. As if icing on the cake, all of his animations are complimented by music created by the band he is in, Johnny Hollow.
For those who are more interested in traditional art, My Pet Skeleton has respectfully adapted the art of printmaking. Moulding it into his own forte of creation MPS brings to life more of his characters, echoing folklore and reflecting the true faces of fairytales with their grim and gritty undertones. "My studies in intaglio print making really lead me to cultivate my own artistic style" explains Vincent, "Though I work digitally, I'm constantly importing textures that I created from dipping metal plates into acid when I was a print maker. It could be argued that 'print making' is really the first version of 'Photoshop'. Many of my digital pieces look as though they may have come out of a hand turned press."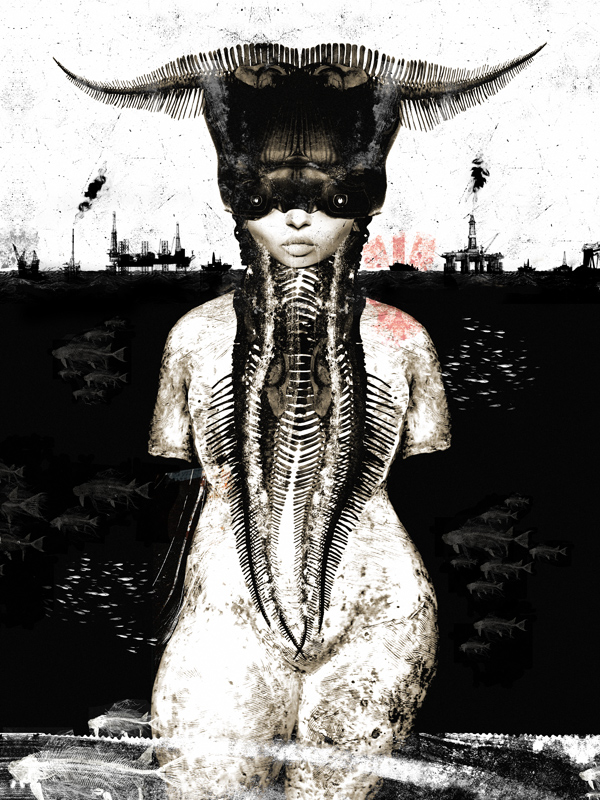 At a first glance at My Pet Skeleton's artwork it's clear to see the fine line between distinguishing digital and traditional printmaking productions, and it's this amalgamation of traditional and modern methods that has helped to gain him a significant fan base. It's hard not to find a multitude of emotions triggered in his work, connecting the viewer to childhood memories, absorbing the glamour and macabre, and constantly searching to understand the message behind each piece. My Pet Skeleton connects with aspects that have helped to make traditional fairytales continue to thrive throughout hundreds of years; Drawing you in with intrigue and beauty you connect with the characters, finding yourself encouraged towards an exploration into the darker side of fantasy. In that simple moment of equilibrium between beauty and darkness, My Pet Skeleton sits waiting for you.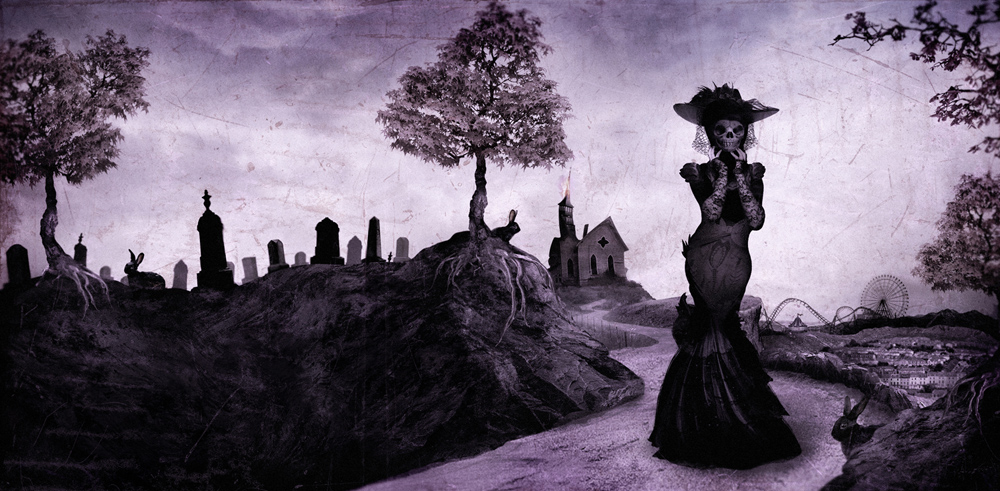 Designing a new piece of work can anywhere for a day to a month depending on the level of detail the environment needs. In my chat with Vincent he explained some of the method in his processes:
"I'm constantly writing out bits and pieces from what I can remember of my dreams. My dream journal acts as a kind of Jungian archive to inspire story lines, colour and compositions in my work. My pieces start as very loose concept and then I fill in the gaps with some surreal imagery that lingers in my journal. I will start out with a sketch, painting or a photograph as the subject which usually starts as the centre piece of my composition. I then paint the world around it bit by bit by bit. The composition of the image is constantly shifting and moving until I'm comfortable with the way it sits on the canvas…I feel really good when I'm creating something new. It kind of feels like casting a smoke signal into the sky."
Art prints – including limited edition and signed prints – can be bought from the My Pet Skeleton Etsy shop. Make sure to keep your eyes open on this website as stock being sold is constantly changing! His work can also be found at the online shop Prints on Wood who basically do what it says on the tin. Currently building up my own collection from My Pet Skeleton I can't wait to see what Vincent creates next, and with the rest of the world, I count down the days with baited breath.