This September, we celebrate two important exhibitions for mixed media artist and sculptor Kirsten Stingle.
Opening on 20th September, Kirsten unveils new works for the prestigious HEY! CERAMIQUE.S exhibition in Paris at Halle Saint Pierre, curated by HEY! modern art & pop culture. Focusing on ceramics, the group show reflects how this medium is becoming even more predominant on the international art scene. Better yet, in true HEY! style (and in-line with Kirsten's larger-than-life works), HEY! CERAMIQUE.S encompasses a variety of ceramic forms from pop culture to art brut. It celebrates a "cut away" from the norms and expectations of what ceramic art is.
As Anne Richard, founder of HEY! describes, the artists exhibiting "emancipate themselves in unexpected ways from all the dominant norms and discourses in order to tap into the vital forces of imagination and sensitivity. Whether they are wise or delirious, savage or sophisticated, expressionist or narrative, whether they wield humour or emotion, the ceramic sculptures here are superfluous while conveying poetry and innovation." Prepare for a ceramic exhibition like no other!
Opening Reception: September 20, 2023
Exhibitions Dates: September 20, 2023 to August 14, 2024
Halle Saint Pierre
2, rue Ronsard – 75018 Paris, France
https://www.hallesaintpierre.org
Visiting Hours: Weekdays from 11 a.m. to 6 p.m. Saturday from 11 a.m. to 7 p.m. / Sunday from 12 noon to 6 p.m.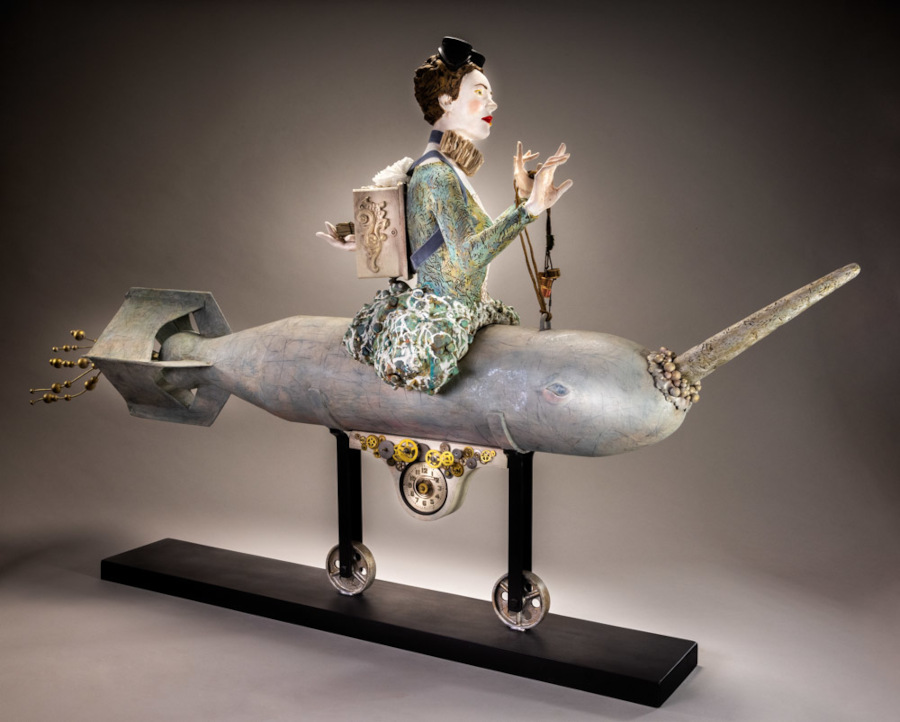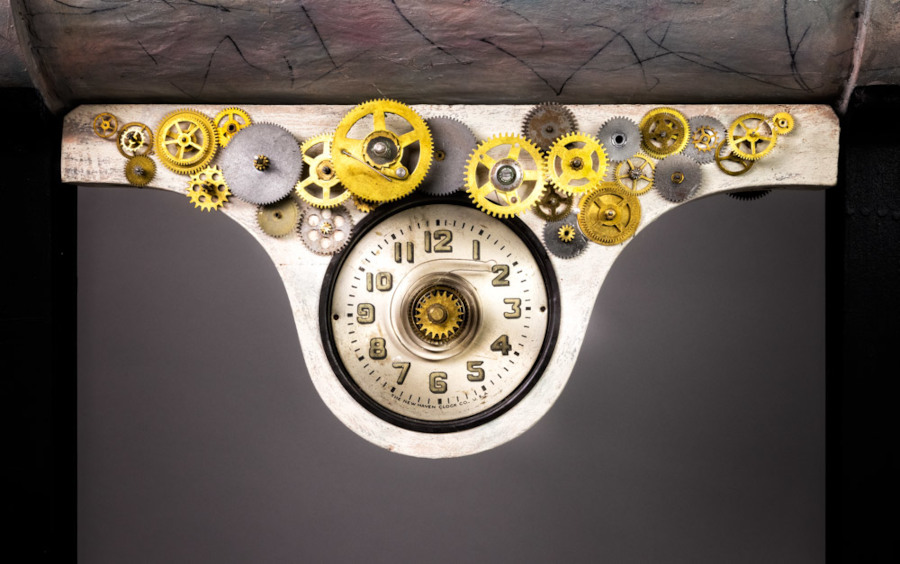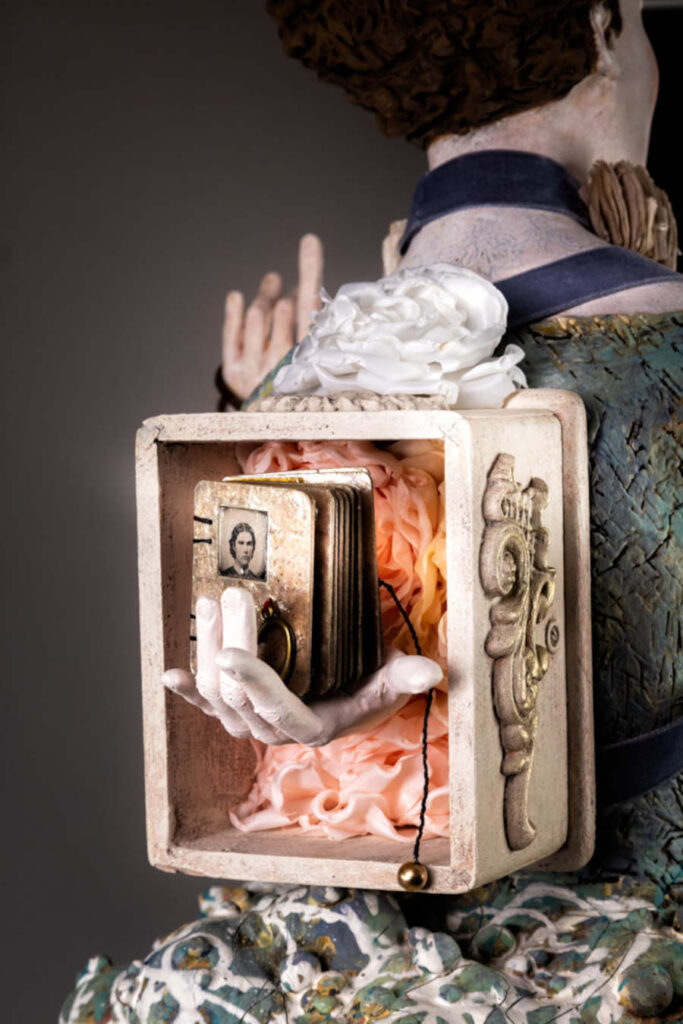 As well as exhibiting in HEY! CERAMIQUE.S, Kirsten is also finalising her upcoming curated show, In.Visible. Opening on September 30th in North Carolina, this show demonstrates the beauty of inviting different artists with very different aesthetics to exhibit; the show promises to expand your horizons as a viewer. Kirsten is no stranger to curating shows, yet the ones which have meant the most to her are those which have had a social focus. "I believe art should help us to open our eyes to a wider world." She shares. And indeed, In.Visible further pushes forward this philosophy. Featuring 22 unique exhibitors, In.Visible purposely highlights a broad range of issues and viewpoints.
It's worth noting that Kirsten has chosen to focus on ceramics for this US exhibition. Why? "There are so many powerful artists in contemporary ceramics," she explains, "and I want to demonstrate their well-deserved placement alongside traditional (F)ine (A)rt and bring attention to ceramic's unique and potent exploration of thematic concepts. Therefore, while this exhibition includes all types of mediums, it predominantly features narrative ceramics."
In.Visible, curated by Kirsten Stingle
Reception: A free public reception will be held Thursday, October 5 at 5pm at The Bascom to celebrate all of the Bascom's fall exhibitions.
Exhibitions Dates: September 30th, 2023 to December 30th, 2023
Thompson Gallery
The Bascom Center for Visual Arts, 323 Franklin Road
Highlands, NC 28741, USA
https://www.thebascom.org
Visiting Hours: Tuesday – Saturday; 10am – 5pm.
Exhibiting artists:
Carrie Anne Bade, Donna Bates, Andrea K Connell, Ilona Cutts, Natasha Dikareva, TJ Erdahl, Deborah Grayson, Amy Gross, Richard W. James, Christine Kosiba, Michelle Laxalt, Asia Mathis, Mac Star McCusker, Shannon Moore, Crystal Morey, Kyungmin Park, Hannah Pierce, Beau Raymond, David Robinson, Kirsten Stingle, Roxanne Swentzell.
In.Visible
"My work has always been about confronting the paradox of Modernity: a globally connected world that creates individual isolation." Explains Kirsten Stingle. "Storytelling is a uniquely human way to ameliorate this paradox and help us find a sense of belonging. If you look at our societal structures and beliefs, they can all be distilled into stories, true or not. From this viewpoint, you realize how tightly narratives are woven into who we are and what we do. Like the air we breathe, they are invisible but vital and intrinsic to our identity and motivations. With that in mind, the stories we share have enormous power to enlighten and persuade."
In recent years, Kirsten – like many of us – has felt overwhelmed by the challenges we face. This has led her to questioning how she could find a stronger connection to the world around her.
How do I make sense of news that seems so irrational and destructive? What can I do to make a positive impact? Again, I turn to the power of storytelling.

My recent work, my workshops, and "In.Visible" all explore these questions through a mythic lens. I find it helpful to examine issues that highlight humanity's endeavours to understand our place within, and value of, our ecosystem. Perhaps through this vantage point we can identify a sense of continuity that will help us discover who we might become and what the future could be.

KiRsten Stingle
A project of passion
Curating In.Visible has been a self-proclaimed "passion project" for Kirsten, and while the artworks for the show are still arriving, Kirsten can't hide her glee at the works received so far. She has shown full trust in the artists exhibiting, each creator having been given the freedom to interpret and "reweave" ideas, beliefs or stories, in order to create new works from a personal or larger societal perspective. Kirsten smiles: "Some artists examine specific archetypal themes, while others have literally reinterpreted a well-known narrative. The work I have received so far is incredibly intentional and powerful! I am absolutely thrilled with the narrative range."
I believe that everyone participating identifies a range of struggles we are facing and is searching for a way to be heard and to make a difference. In that way, I think this exhibition has fostered a sense of connection between the artists.

Kirsten Stingle
A sneak peek at some of the works
Richard W. James' work, "Portmanteau," rewilds the biblical epic tale that humans are unique creatures, completely separated from the rest of the natural world. "…My work is primarily about questioning the cultural lenses that were handed to me as a child of the rural and religious south, so biblical tales are often targets of interrogation within my studio practice…. Using them as the subject of my sculptures allows me to strip away any veil of civility that might cloak our more primal instincts and actions. In this instance, it also serves to "rewrite" the biblical narrative that we are unique amongst all other creatures."
Kyungmin Park's "Pfff….Get away from me! I won't turn into sea foam because of you!!!" Looks at the original classic Andersen fairy tale and humorously questions the relevancy of patriarchal concepts of feminine sacrifice. "…. Why does the little mermaid have to sacrifice herself for a love who couldn't even recognise her? […] I admire and can be connected with Ariel's adventurous spirit toward an unknown, unfamiliar world. But will I read Little Mermaid's story to my own children? I do not think so. 'Ariel, go live your own fantastic aqua life! You deserve far better.'"
Carrie Ann Baade's "Allegory of Good Government," harnesses symbols, myths, and gods from different cultures to explore the regenerative imperative of the collective. "…For what is good government? Is it an internal state that steers our mores and morals? While our inner world is changeable and regenerative, we must transform ourselves to change collectively."
Aisha Harrison's "Roots" expands the idea of belonging beyond the limits of surface cultural assimilation to incorporate deeper connections to our ecosystem and our history. "…[Belonging] is a deep feeling built on many things and is foundational for feeling whole and grounded. Growing up biracial and queer in a society that decides your identities based on your appearance was very difficult. […] I am working the idea of belonging through roots to the trees that grow where I live through hair/DNA, and imagining a space where the connections that exist between all living things is visible."
Andrea K. Connell's piece, "Hugs," examines the Tree of Life symbol as a bridge between birth, life, and death leading to continuity and belonging. "…(The Tree of Life) is a symbol that is connected to most cultures, and often symbolic of family, ancestors, and a bridge between birth, life, and death. It is also a symbol of resilience, growth, and interconnectedness… In a time of tremendous global pain and uncertainty, I found the tree of life to represent great certainty."
Deborah Grayson's "Ahoskie is on the Other Side of Harlem" is part of a personal examination of lost origin stories and the reclamation of buried traditions, stories, values from which we may learn. "… I wonder and wander through historical and cultural narratives and maps to visually re-present what AND WHO has been violently annotated or redacted from and therefore rendered In.Visible in historical archives. 'Ahoskie is on the Other Side of Harlem' is one part of the origin story of my family's beginnings on and in the soil of Bertie and Hereford County, North Carolina."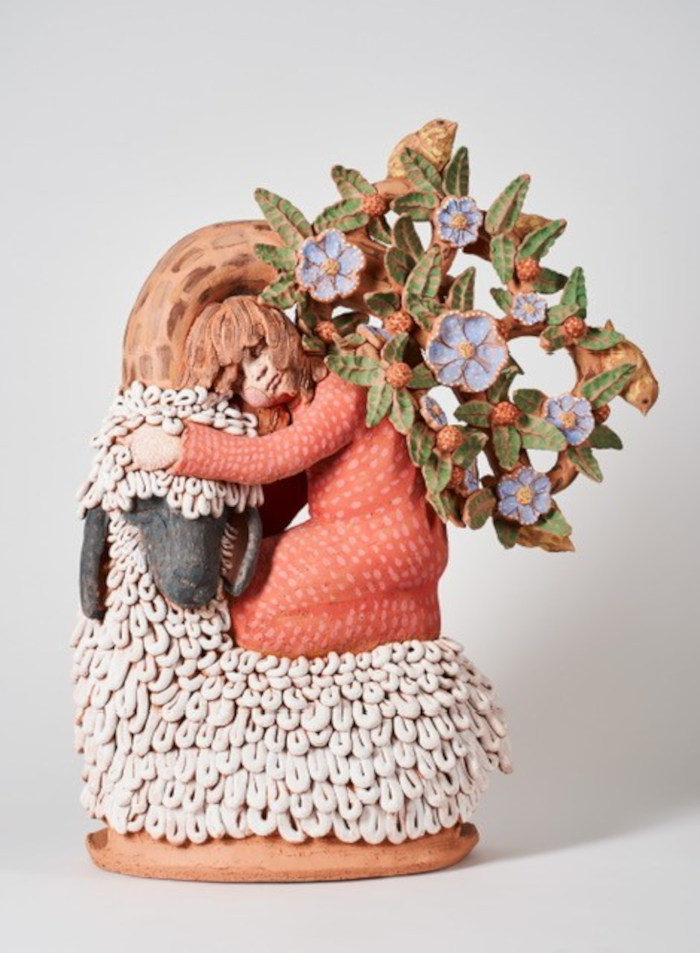 Thaddeus Erdahl's "Meat Monger" also confronts the Anthropocene and the myth of the supremacy of Man. This work takes a very literal and pointed look at the devastation to our planet through consumption and greed of a few. Like the dawn of agriculture, our need to control the land for greater external resources is ultimately our downfall. "…(Meat Monger) is constantly being fed by the daily worship of undereducated consumers and greedy mega corporations that have created a monopoly in the global food industry. His table is the unforeseen slaughtering block of our environment, propped up and supplemented by our most basic needs to consume.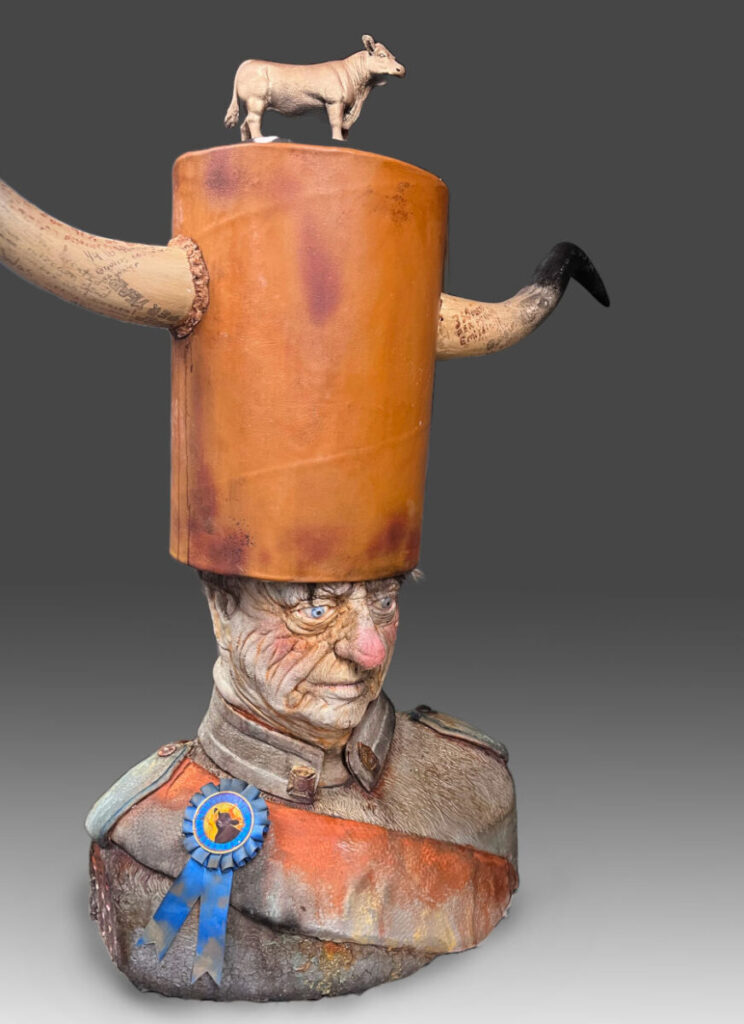 Odyssey of Belonging
Perhaps surprisingly, Kirsten herself has only one piece in the show: "Odyssey of Belonging". The piece, however, marks a significant challenge for Kirsten herself to overcome. "It is a literal revisioning of the Sisyphean myth to confront today's endless pursuit of achievement and productivity. I have had a very difficult time balancing the concept of slowing down and being more present with the idea that doing so may result in lost opportunities, unachieved goals, or irrelevancy."
I often hear people wanting to retreat into something similar to the hibernation experienced during the pandemic. We have just returned to the same grind, but with the dream-like awareness of what it is like to experience life without productivity being the overarching goal. At times this tug of war within me has been difficult to reconcile, especially as I am watching my parents' end of life. "Odyssey of Belonging" is my attempt to make sense of this contradictory struggle.
Overall, it feels that Kirsten is right where she should be. Pushing the limits of her own thought-provoking narratives whilst actively supporting the enrichment of an intellectually deeper artistic community, she is part of a well-needed movement reminding us of the true power of art. Post-pandemic, the world doesn't need more shallow, if not beautiful, art. It needs works which can help us to process, to think, and to find a new way forward in this somewhat different world we have found ourselves in. Don't miss your chance to see HEY! CERAMIQUE.S and In.Visible; they may change your perspective more than you imagined.
Want to learn more about her upcoming exhibitions or her works? Contact Kirsten directly for more information, or a sneak peek!
Kirsten Stingle Social Media Accounts