Kirsten Stingle's handmade porcelain stoneware sculptures are a force to be reckoned. With Kirsten's adept eye for seeing the consciousness of the world, she perfectly knits together a single, otherwise isolated character with moments and concepts that bring together the 'common threads of the human experience'. They are the Storytellers.
After a series of shows throughout the US in the past few years, Kirsten Stingle brings a new kind of exhibition to the table. The design grew from her experiences on the hardships that arose when attempting to create an immersive sculptural atmosphere that audiences could really lose themselves within. With a background in the performing arts, the ability to create all-encompassing experiences for the viewer is an integral element for this contemporary artist. In order to counteract the more usual, standard displays, Kirsten, with the support of Signature Contemporary Craft in Atlanta, is providing a space where three very different threads of installation are emerging. To make the event even more intriguing, Kirsten Stingle is collaborating with 20 supporting visual and performing artists throughout her solo exhibition. Sacred and Profane is a conceptual umbrella of which underneath, each supporting artist can bring their own responses to light to compliment Kirsten's overarching vision. It promises to be an exhibition unlike any other that has taken place within Signature Contemporary Craft.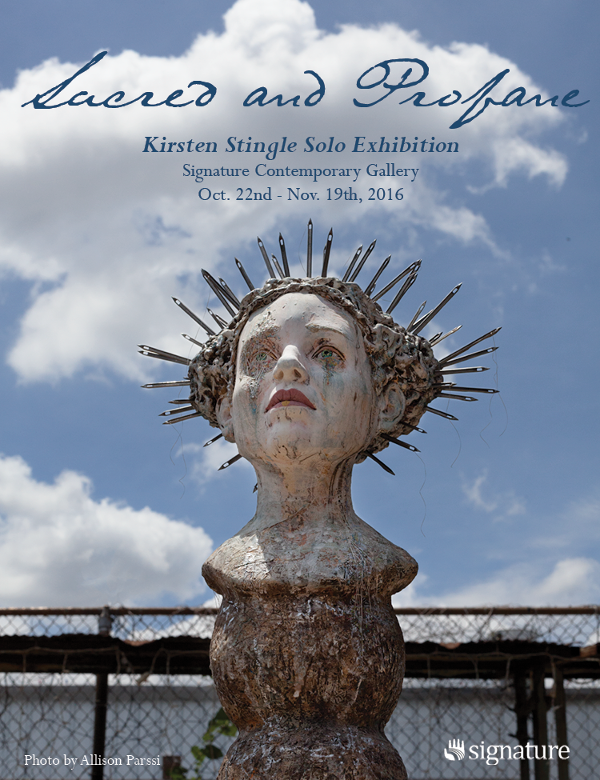 Exhibition Dates:
October 22 – November 26, 2016
Opening Reception:
October 22, 2016 | 6-8pm
Special dance performances responding to the solo show will be taking place throughout the night.
Contributing Artists:
Alessandra Mosca Amapola, Bambi Anderson, Donna Bates, Pam Bracci, Kathrine Allen Coleman, Lori Field, Deborah Grayson, Lorraine Glessner, Linda Hall, Teri Lamm, Christine Kosiba, Christina Martin, Lorie Hancock McCown, Gina Panorfi, Jeannette Parssi, Emma Parssi, Allison Parssi, Carrie Pearce, James Pearce, Peggy Petrey, Leisa Rich, Catherine Dansby Smith, Laurie Perry Vaughen and Rachel Zervakos.
3267 Roswell Road NE, Atlanta, GA 30305
For more information on Sacred and Profane or any of its particular installations, please call Gallery Owner Carr McCuiston on 404-237- 4426 or email [email protected].
Sacred and Profane overarches three collaborative installations: 'The Air We Breathe', 'But a Dream' and 'The Space of Isolation'. "I wanted to explore these [three] issues not tied to religious dogma, but what we, as humans, find essentially sacred and profane" explains Kirsten. "Of course, this is really my interpretation, but I hope I found threads of truth that run through the human condition. I found that the things we find sacred are often what ties us to each other and reminds us that we are part of a larger whole."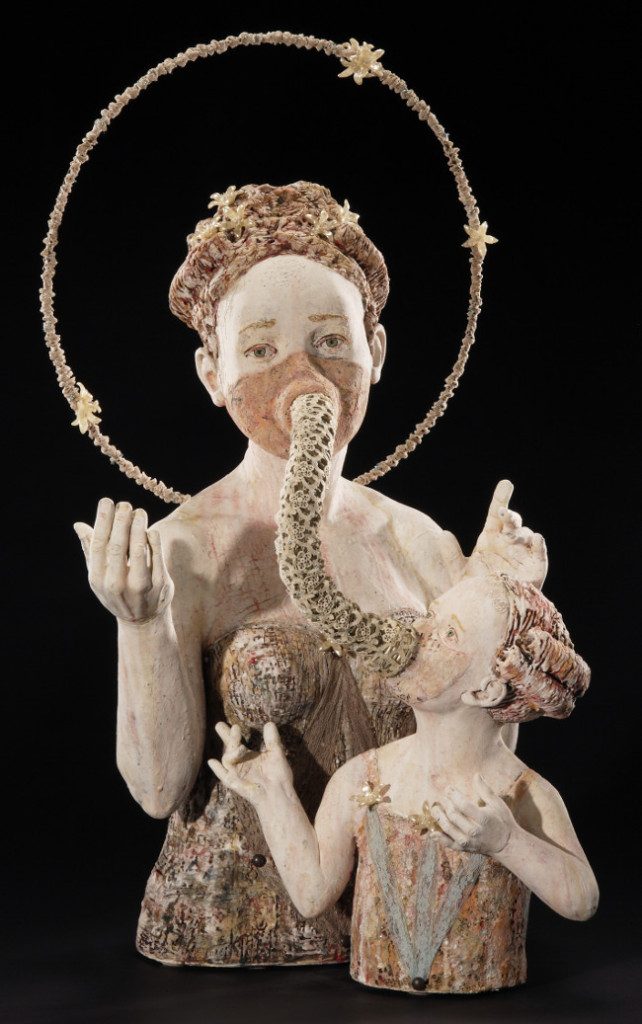 The Air We Breathe
'The Air We Breathe' is quintessentially an exploration of womanhood through the female lens. In this installation, Kirsten Stingle examines the mother-daughter relationship, supported by a special collaborative piece combining 20 female aritst's personal experiences of this bond. Alongside this, award-winning fibre artist Gina Pannorfi unveils her handmade silk and felt panels exploring the sacredness of the female body, and up and coming ceramic artist Christine Kosiba shares her thoughts on the importance of the smaller aspects within everyday life.
'But a Dream' has been inspired by the old children's rhyme 'Row, row, row your boat'; its impact focuses on the unavoidable and most ultimate end – death. Using concepts taken from the rhyme, Kirsten encourages the viewer to focus not on the elements of loss connected to death, but to remember our lives with a sense of wonder – to make the most of our time together. "What appears as the final chapter may be the beginning of a new adventure that we experience with a sense of freedom and fascination. In other words, as children again," This installation is being supported by master-furniture artist James Pearce and renowned oil painter Carrie Pearce, who will both be sharing influential works in the fantastical and imaginary surrealism.
'The Space of Isolation' provides a contrast to the other two installations, diving straight into the meaning of the title itself. Here, Kirsten has worked isolated and without collaboration to fulfill her desire to explore the freedom and fear that comes with being alone. The elements of connection that come with the opportunity to create a space for oneself show through her works; the sacredness of creating a personal space to better understand oneself, a space to better think about and connect to the wider world. It also touches on the dangers of disconnecting from human connection with a sensuous and thoughtful delicacy. 'The Space of Isolation' is set in the smallest spaces in the gallery, providing a particularly intimate setting to further compliment each sculpture.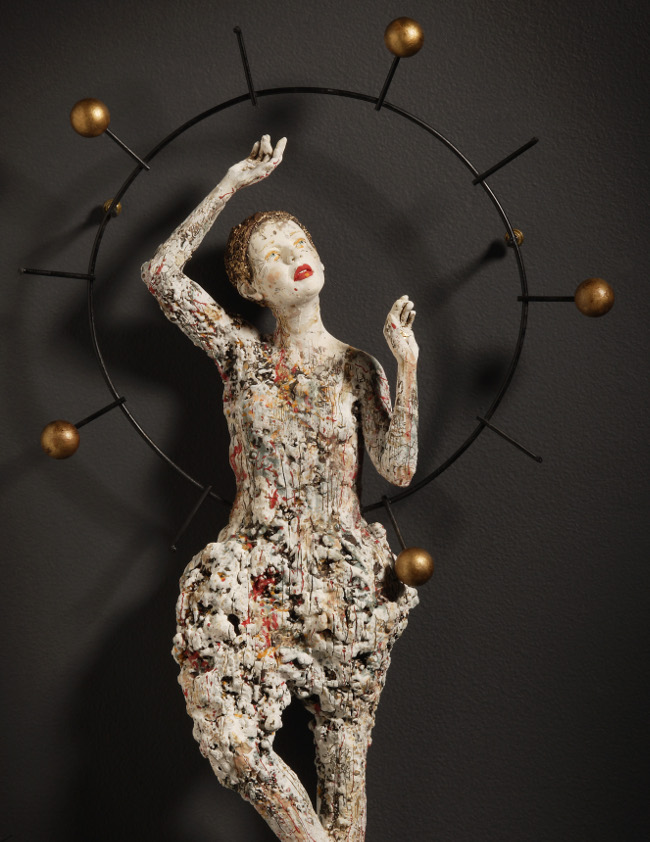 Redemption – close up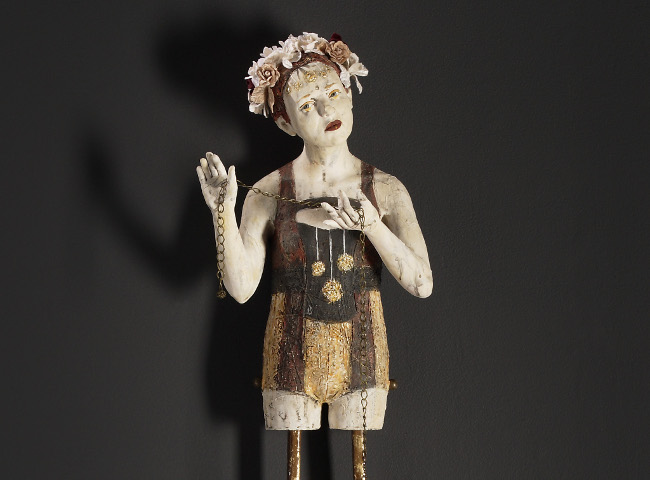 Invisible – close up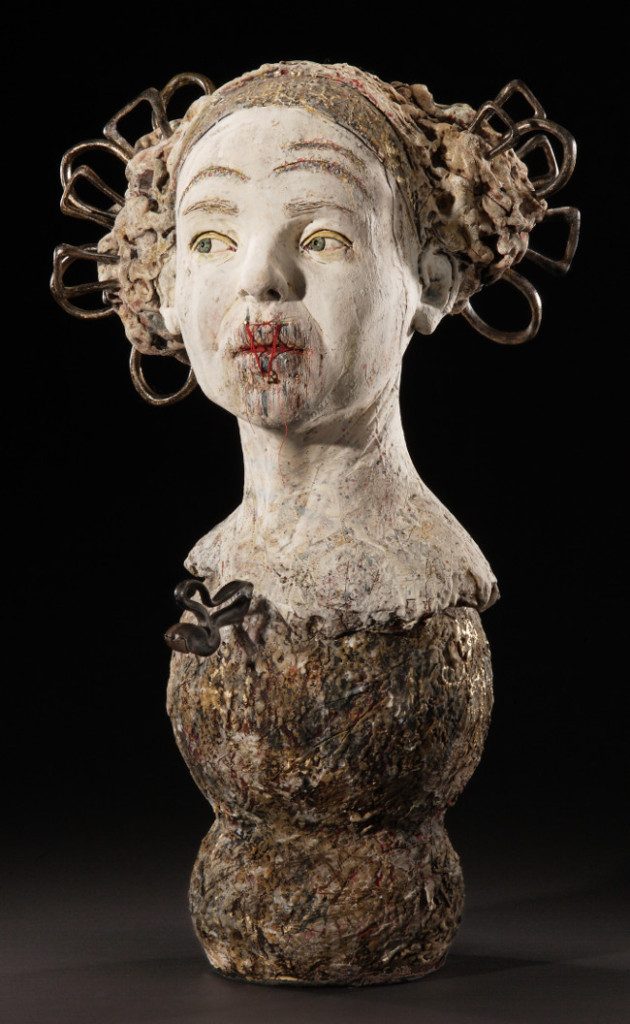 Unspoken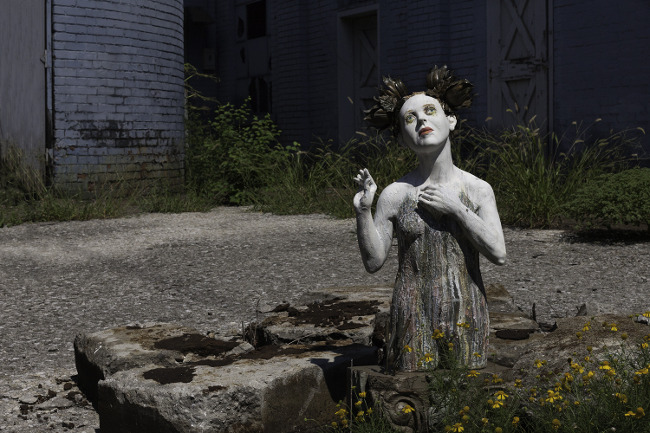 Allegiance – photo by Allison Parssi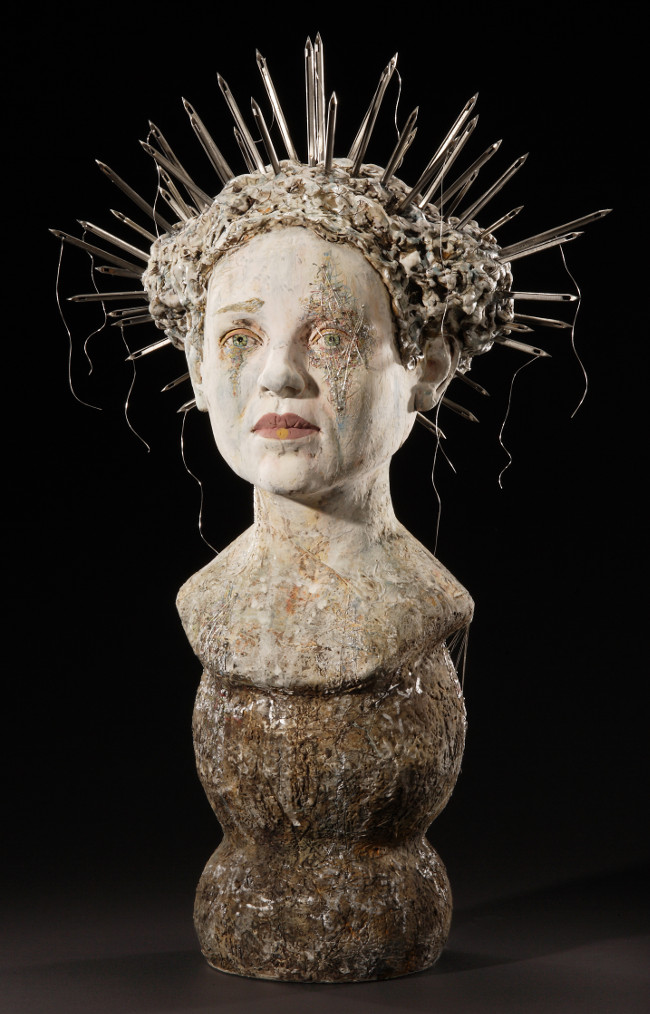 Threads of Truth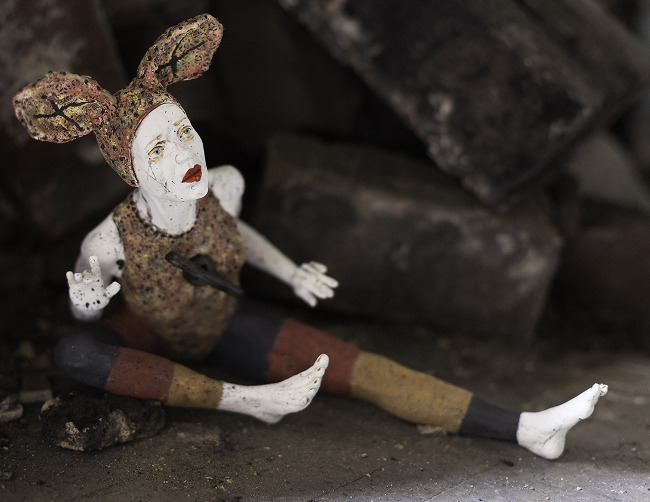 Emerging – photo by Allison Parssi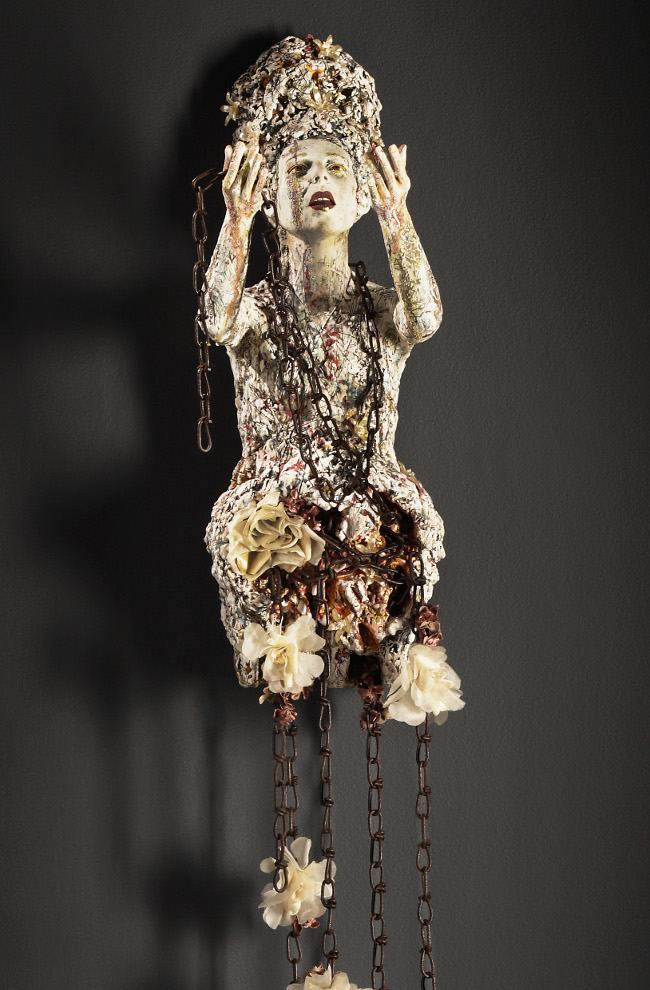 Release – close up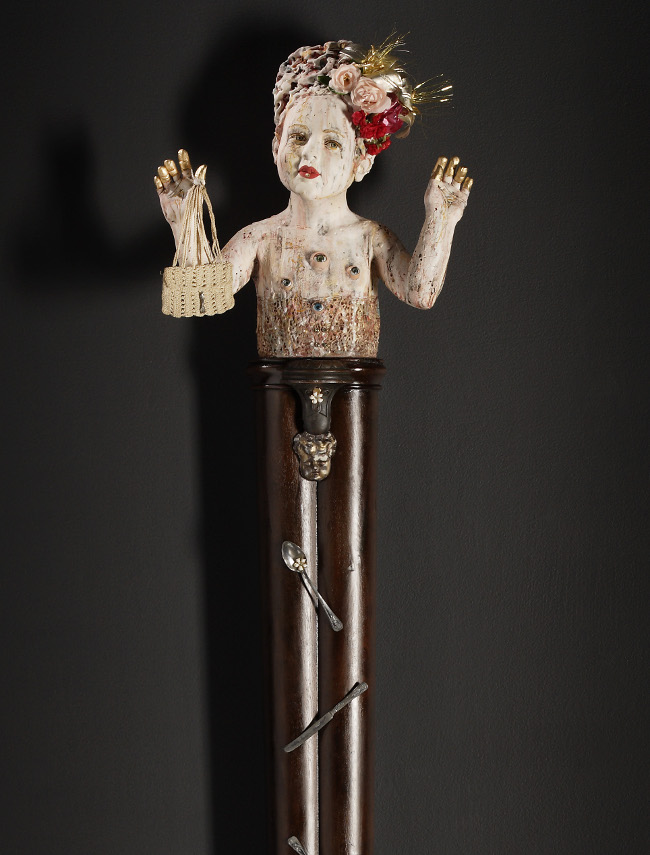 Tea Party – close up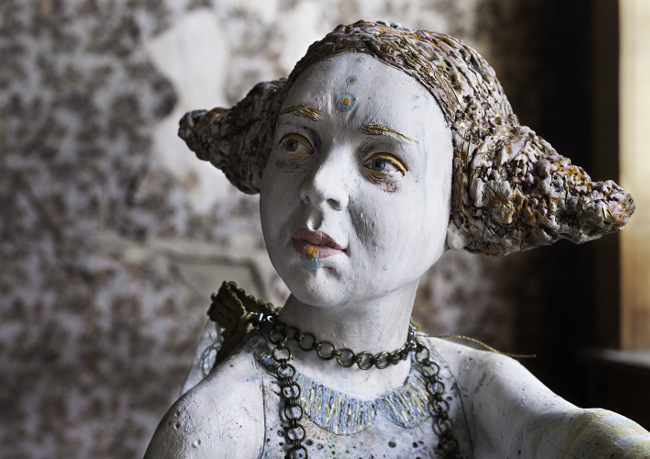 Cape Crusader – close up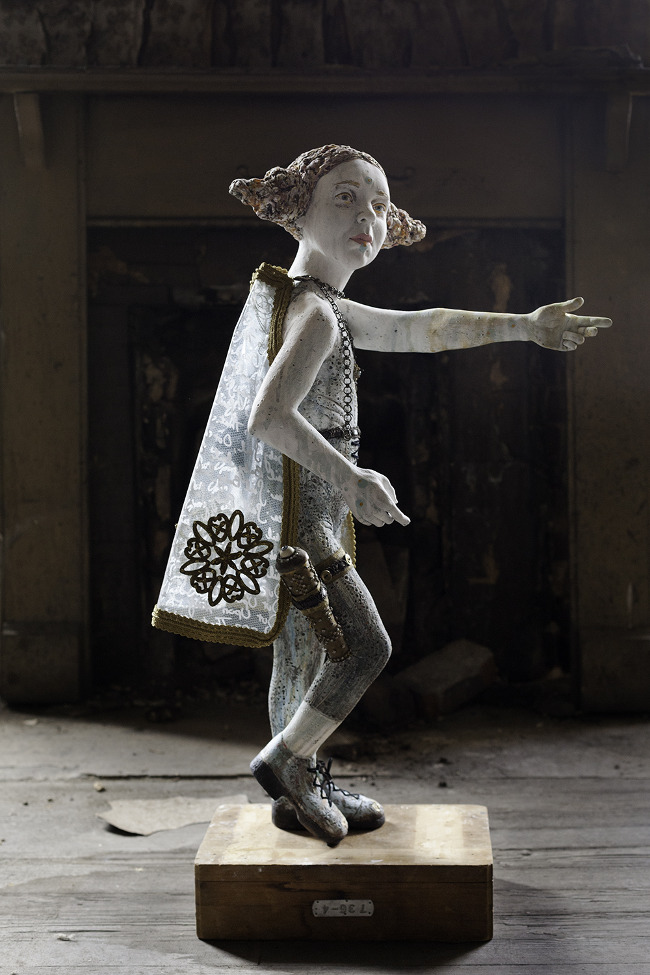 Cape Crusader – photo by Allison Parssi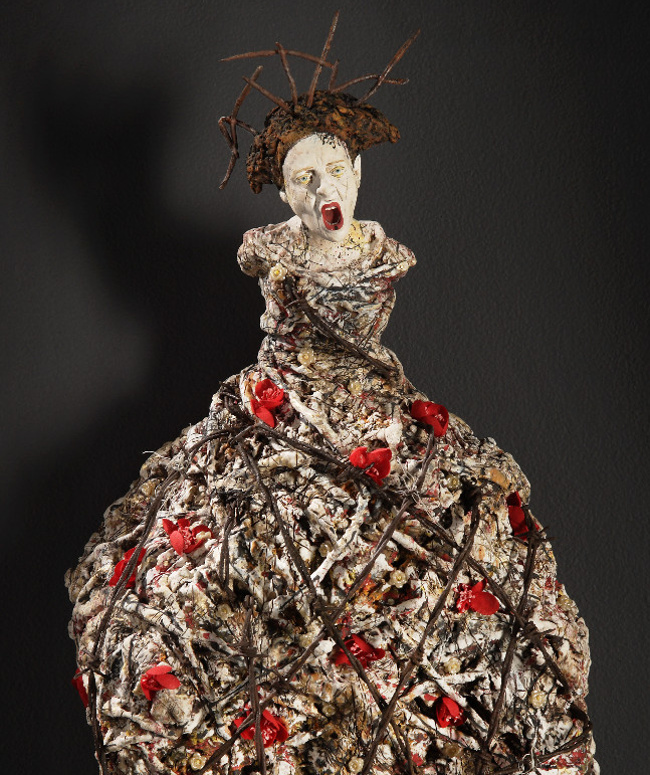 No Man's Land – close up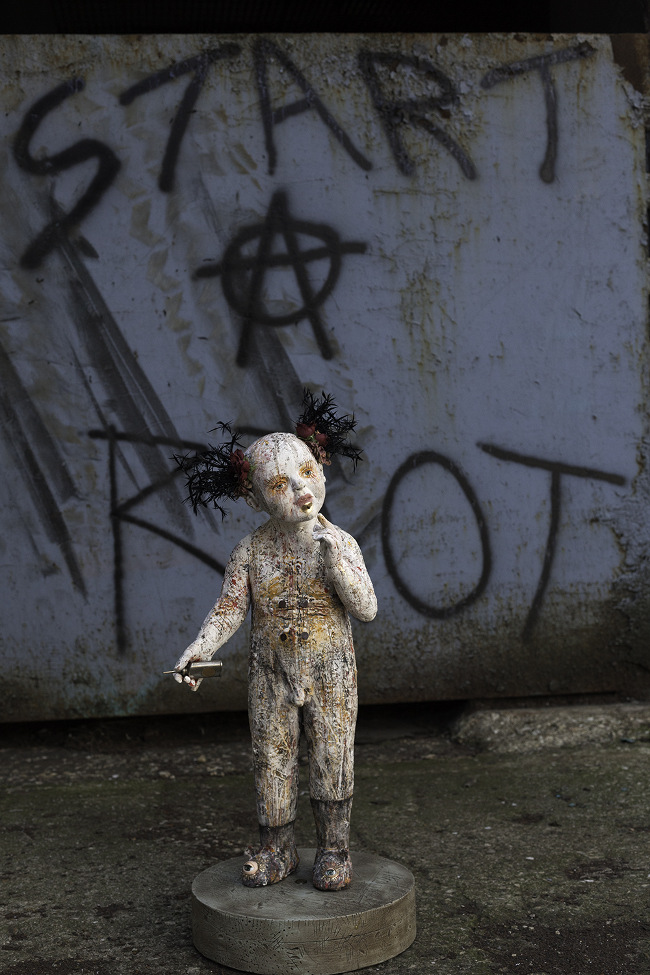 Feral Being – photo by Allison Parssi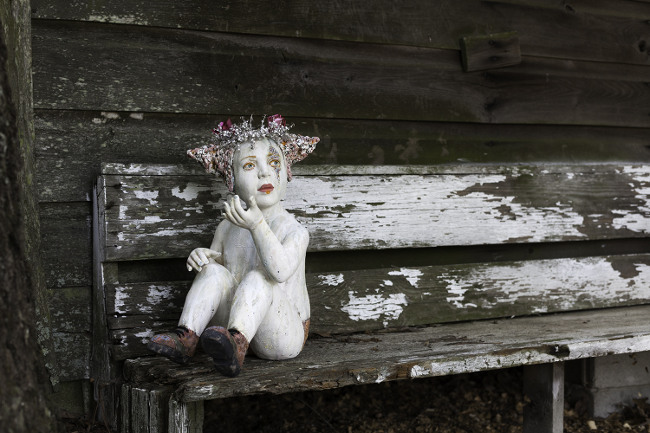 Oneself – photo by Allison Parssi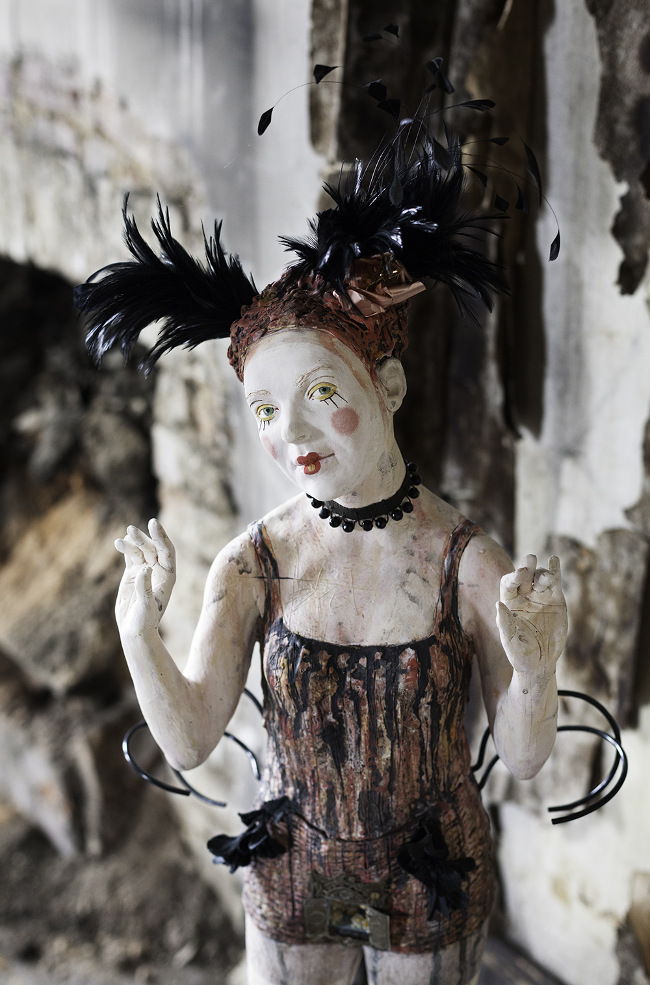 Showgirl – photo by Allison Parssi