Established and curated by Susannah Kelly and Neil Perry, Antler Gallery is an earthy gallery in the heart of Portland, Oregon. Nestled amid the bustling streets of a vibrant city, Antler emanates a deep and abiding love of the lush greenery that defines the Pacific Northwest. The gallery showcases both established artists and emerging talents with its focus on surreal and otherworldly art. September 29, 2016 marks Antler's fifth annual Unnatural Histories exhibit, where artists are encouraged to create mythical creatures in their preferred medium and write a descriptive blurb about their creation. We've taken the time to sit down with Susannah and Neil and ask them about the Unnatural Histories series, as well as the gallery itself.
Exhibition Dates:
September 29- October 24, 2016
Antler Gallery
2728 NE Alberta St.
Portland, Oregon. 97211
503-284-6757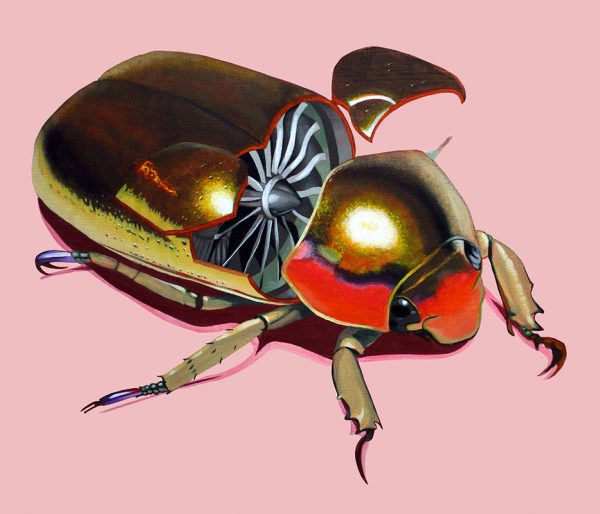 BB: What is Antler Gallery's aesthetic and main focus?

Antler: We are a nature-based art gallery with a strong focus on representational and narrative works. We love showing a mix of emerging and established artists alongside one another. The main quality we look for in our exhibiting artists is a strong technical skill set.

BB: When did you open Antler?
Antler: We opened Antler in January of 2012 in a tiny window box space, no larger than 100 square feet. Due in large part to the support of the Alberta Arts District, and dedicated collectors we were able to open in a larger stand alone space in 2013 where we still exist today.
BB: The two of you run the gallery together and recently got married. First of all, congratulations! And secondly, what made you decide to open a gallery?
Antler: Thank you! We got married at the beginning of 2016, but always joke we really got married when we opened the business together!
One day while on a break from our jobs at a local ice cream store where we were both working, we decided to head down Alberta Street to visit one of our favorite galleries, only to discover it had closed two weeks prior. After hours of lamenting the loss of yet another gallery from our arts district we decided to open a space of our own. A local non-profit that manages small businesses on the street had a cubical space that they had struggled to rent as an office. It had a huge bay window that looked out onto a busy retail street. We asked if we could build walls around the space to create the smallest gallery in Portland and they were thrilled with the idea. We remained in that space for a year and a half until we were able to follow the momentum to a space of our own!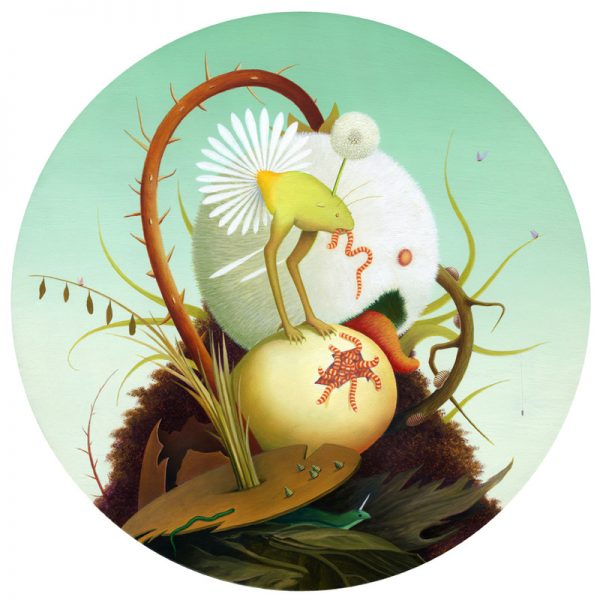 BB: You're both also artists yourselves with impressive bodies of work…did this inform your decision to open a gallery of your own?
Antler: When we met we were hard-working artists brimming with enthusiasm but lacking a clear path. Opening the gallery was borne out of preferring to fix problems than complain about them and we had no idea that it would grow into what it has become. We started it as a project, fully prepared to end it after 6 months if it wasn't working as a business. Thankfully the gallery has blossomed into its own entity and we are very fortunate to be part of it.
BB: Tell us about your annual Unnatural Histories show. This is the fifth year running…what does the theme encompass?
Antler: Unnatural Histories has been our flagship show since we opened. As a gallery with a strong surreal and natural focus it fits fluidly into our aesthetic. The theme of the show asks artists to create an unnatural being—either from an existing mythology or an imaginary one. We are continually impressed by the level of creativity expressed by the artists included in the show year after year. Many have told us it's their favorite group exhibit and look forward to it every September.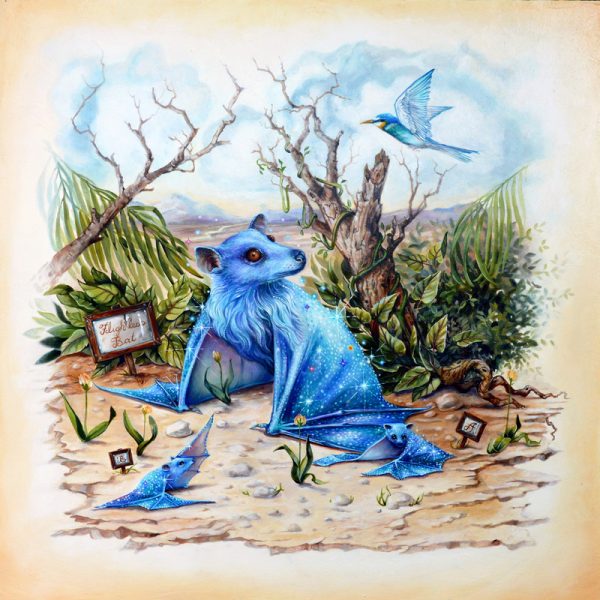 BB: So you're fusing a written component along with the chance for artists to create imaginary creatures—super awesome. What's your favorite creature that an artist has created in a past show?
Antler: Oh, too hard! We could spend hours discussing why almost every piece ever piece ever contributed to this show is our favorite. The written component often adds insight into a piece that you may not normally have that may otherwise go unnoticed.
Susannah: One of my favorites from the past Unnatural Histories has to be Brin Levinson's "The Rain Migration". There is an understated and quiet beauty to that piece that resonates with me every time I see it. I think with mythology in general there is a need to be over the top and I loved that Brin went in the opposite direction, making it seem almost normal
Neil: I have been a fan of Heiko Muller since long before we owned a gallery so it was a real treat to have him show with us for the first time in Unnatural Histories II. His piece "Girl with Mouse Head" was attached to such an amazing mythology which seemed to sincerely European. It's no surprise that someone from Germany has a really great understanding of folklore.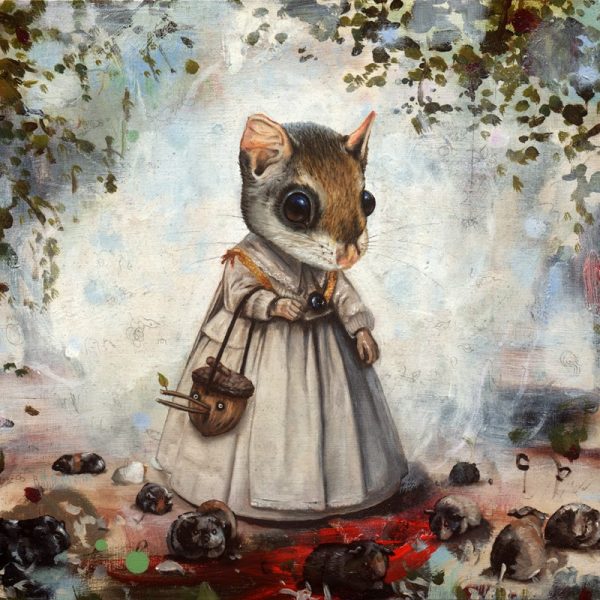 BB: Anything else you'd like to share with us?
Antler: We are so excited for this year's incarnation of "Unnatural Histories" and feel so lucky to have been able to facilitate this show for 5 years. The work we have seen so far is incredible and we can't wait to share it with the wider art community.
Unnatural Histories V opens on Thursday, September 29 at 6pm and is on view through Monday, October 24.
Unnatural Histories V artist lineup: Josh Keyes, Kevin Peterson, Miranda Meeks, Kate O'Hara , Casey Weldon, Lindsey Carr, Danny Samuels, Mandy Cao, Brin Levinson, Kindra Nikole, Dan Lydersen, Derek Nobbs, Jessica McCourt, Maj Askew, Robert Bowen, Jennifer Parks, Pam Cooke, Susanne Apgar, Jon MacNair, Frank Gonzales, Erich Moffit, Thomas Jackson , Amory Abbott, Adam Batchelor, Vanessa Foley, Neil Perry, Susannah Kelly, Keith Carter, Christina Mrozik