Exclusive Interview with Adrienne Stein, 3rd Prize Winner INPRNT Traditional Art Award, 2019 Beautiful Bizarre Art Prize
American Artist Adrienne Stein is a gifted painter, crafting enchanting fairy tales with the strokes of a brush. She is the recipient of the INPRNT Beautiful Bizarre 2019 Art Prize Award for her painting 'Persephone', which was awarded 3rd place in the Traditional Art category. It is very clear why Adrienne is so deserving of such accolades. Her muses are often women who utterly enrapture us with their mysterious, sensual aura. But Adrienne also makes the point of painting strong, powerful women aware of their own spellbinding gaze. And this is perhaps the most beautiful aspect of Adrienne's paintings: the regality of the female form brought to light from amidst the shadows. 
To enter the 2020 Beautiful Bizarre Art Prize in any of the four Award categories: INPRNT Traditional Art Award, Yasha Young Projects Sculpture Award, ZBrush Digital Art Award or iCanvas Photography Award, and for your chance to receive global exposure for your work + share in over US$35,000 in cash and prizes, click here.
Adrienne Stein is an established artist, currently residing in Pennsylvania, with her artistry being inspired by her travels and passion for the mystical elements of the natural world. Her paintings are almost magical realist in the way they touch aspects of the fantastical. The dreamy, almost spiritual, feminine characters that Adrienne paints seem conjured from a world of folklore and myth.
I wanted to have the experience of travelling into a new unique world with each painting. Each is a meditation on colour and nature.
The magic of her otherworldly paintings is only enhanced by her expressive use of colourful oil paint. From deep plums to fiery auburns, Adrienne is unafraid to experiment with different tones in her artworks. It is this dynamic vibrancy that lifts her characters off the canvas and gives them an ethereal glow. As an artist, she holds a very unique connection to colour and is especially attuned to the varied moods and emotions that each nuanced shade can evoke.
Adrienne Stein joins me in sharing more about her artistic philosophy, giving us an invitation into her painted world full of whimsy and bloom. Come and have a walk in the garden of delights!
Interview with Adrienne Stein
Why did you enter the Beautiful Bizarre Magazine Art Prize?
Entering the 2019 Art Prize was a leap of faith for me. I entered because I knew it would be a stretch and a challenge. Although my background is in the classical atelier/fine art realm, I have always been a fan of Pop Surrealism, Illustration, and Magical Realism. My work has been moving more into those genres in recent years, and I felt this would be a perfect way to "cross over".
What do you feel you have gained from this experience?
I have discovered so many amazing new artists, and other artists have discovered me! This competition builds community.
Would you recommend it and encourage others to enter? If so, why?
I would highly recommend it. It gave my work a whole new audience and provided the affirmation I needed to encourage me to move deeper into the imaginative aspect of my work.
Let's talk about your painting "Persephone" (first image below), which won 3rd prize in the INPRNT Traditional Art Award category of the 2019 Beautiful Bizarre Art Prize. What kind of woman do you envision the Greek goddess Persephone to be?
Persephone is both sensual and strong, masculine and feminine. She begins as a passive character, the abductee of Hades, but she is given responsibility and power as his wife, and becomes strong in her new role as Queen of the Underworld. Yet she still returns to her mother and the earth to be the tender bearer of Spring. I love the shape-shifting dual nature of Persephone as both authoritative and nurturing/life-giving. She straddles two worlds.
Who was your muse for this painting, who inspired the Persephone we see pictured?
My dear friend and muse, Sydney Zwicker is my Persephone. I met Sydney in 2016 and have painted her many times since. I consider her an avatar – a bold and sensuous personality that I love to channel in my paintings. She and I share the same 19th century aesthetic ideals and we understand each other, so we work well together.
Explain the types of florals you've used within the piece; do they have a special symbolism?
Though the florals in this piece don't have a specific symbolism to Persephone, they are personal to me in that they were gathered from specific places that hold memories – from Parisian graves at the iconic Père Lachaise cemetery to peonies from a friend's garden to flowers I photographed in an enchanting storefront window display in New York City walking down a quiet street at midnight. I pulled all of these floral sources together to create a bouquet of sensory memories, essentially.
On a technical note, how did you achieve the liquid darkness that pervades the painting and casts a dramatic gloom over the entire work?
That's a beautiful observation, thank you. It was intentional – I used linseed oil to create thin glazes by mixing it with Phthalo turquoise, which I applied in successive layers in the shadows to create rich, moody darks. Glazes create an optical effect where light passes down from the surface through the translucent layers, hits the opaque ground, and reflects back up through the layers, creating a vibrating glow.
You recently opened your solo show called "Elementals", congratulations! What is the story behind the title of this exhibition?
The title is derived from the Renaissance concept of the four elements being embodied in mythic beings known as Elementals. The paintings in this show depict figures that correspond with the elements of Earth, Fire, Water, and Air. The colour and emotional tenor of each painting is distinct, and I wanted to have the experience of travelling into a new unique world with each painting. Each is a meditation on colour and nature.
Can you share a few further words on how the experience of opening this show has felt?
This show taught me so much! I had a tight deadline, so I worked small in order to complete enough work and also to work through colour and composition ideas more quickly. There were about 20 works in the show. Each painting felt distinctive in its emotional tenor and vibration. I learned something new with each one. I am a different artist now than I was going into it.
There is so much energy and potential in the dreaming and scheming! I live for that initial spark of inspiration.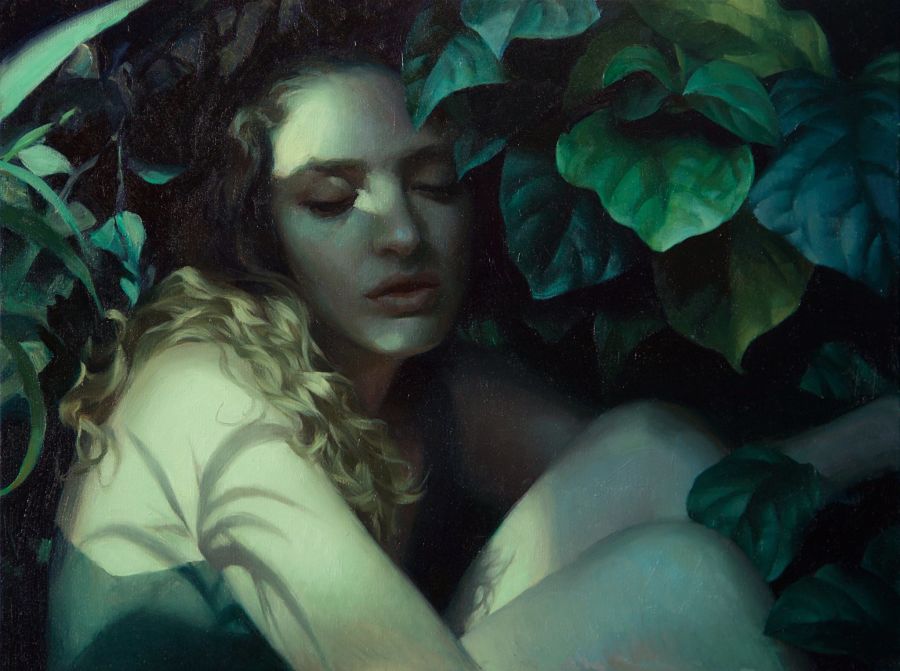 Please describe your studio style. Where do you work and how do you get into the mood for painting?
In 2017, my fiancé (the artist Quang Ho) and I bought a historic home in rural Pennsylvania in the U.S. It is a stone house built in 1764, and it sits on 3 acres of beautifully planted and gardened land. The former owner had been a master gardener. We built our studios on the far end of the property, adjacent to the woods. It is in this botanical setting, surrounded by nature where I feel the most inspired and blissful (we will also be married there in June!).
What do you find is the most exciting part of the creative process?
The most exciting part is the conceptualizing, before the first stroke of paint is laid down; making drawings, gathering reference photos. There is so much energy and potential in the dreaming and scheming! I live for that initial spark of inspiration.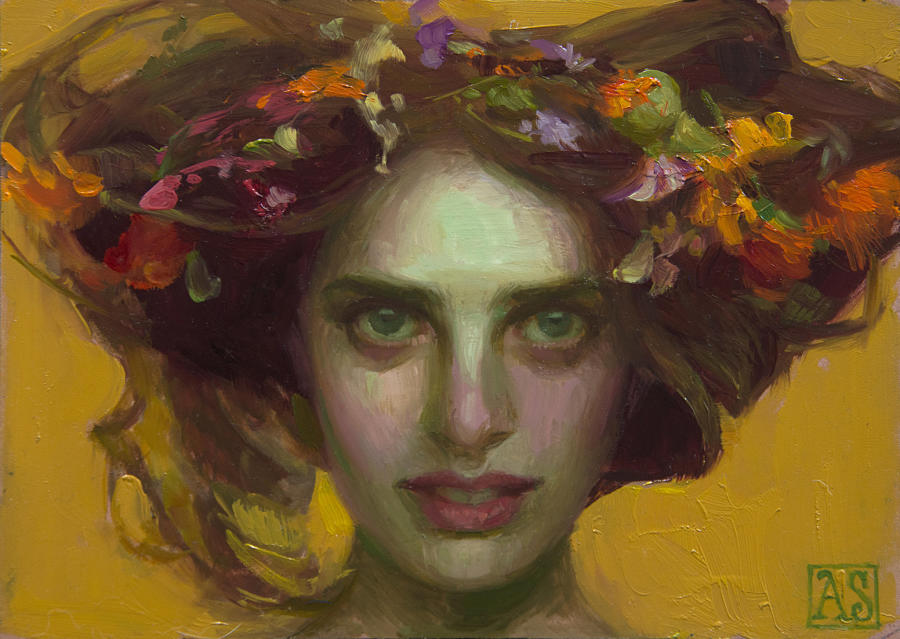 Your colour palette is incredibly vibrant and varied, how does colour influence your creativity?
Colour has always been the most evocative visual element, to me. It creates the strongest emotional resonance and is deeply connected with memory. I've always appreciated paintings and films that use colour to evoke a specific response in the viewer. I experience colours as distinct sounds, like musical notes. Some colours "sound" like the cello to me whereas other colours sound like the flute or the piccolo.
Colours also correspond with specific hours of the day and seasons too. I remember reading a passage in Vincent Van Gogh's letters to Theo, where he referred to an Autumn landscape "a symphony in yellow". That really lingered with me. I always love artists who made surprising expressive choices with colour, such as Maurice Denis and the Nabis. These days, I try to resist the temptation to use predictable colour. I try to make as many poetic colour choices as possible.
If there could be one character from your paintings that you could bring to life and have a conversation with, who would it be?
This may be the coolest question anyone has ever asked about my art! "Rain Dove" is a character I would like to give the breath of life! She looks gentle and empathetic, as though she converses with the birds. I would tell my troubles to her.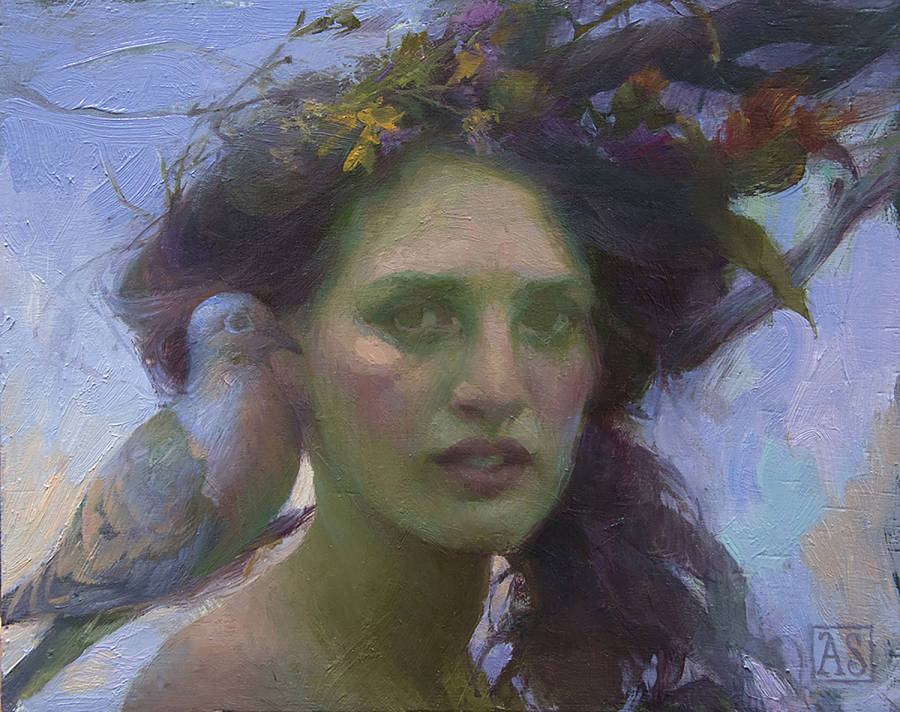 Can you give a cheeky spoiler on what's coming next for Adrienne Stein?
I am planning a series of paintings with no figures in them. They will be still life explorations of bones and other natural elements. I've always loved how Georgia O'Keefe painted skulls as sacred icons against vast desert backdrops. These paintings will be inspired by the American West and the time I've spent in Colorado.
Adrienne Stein's Social Media Accounts