This Thursday, October 26, Antler Gallery (Portland, OR) proudly presents Ersatz: Matt Hall, Nocturnes: Vanessa Foley, and New Symbiosis: Crystal Morey. I had the pleasure of speaking with Matt to delve deeper into the strata of his solo exhibition. Discover his fascinating creative process, the natural ephemera that embodies his work alongside the many counterparts of his imagination… and an alarming addiction to coffee that he claims he can "quit anytime".
Through a symbiotic relationship that couples his assemblage sculptures with a true sense of wonder, Matt Hall utilizes his keen preservation of found objects while unifying the beautiful decay of death, memory, and loss.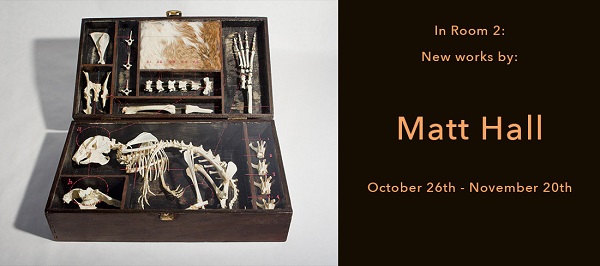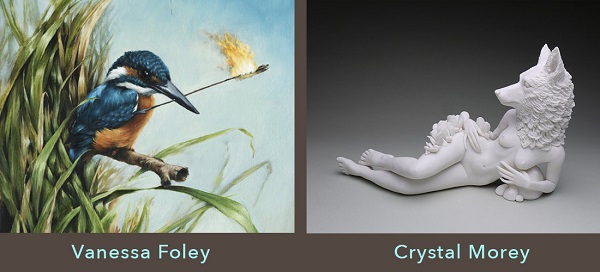 Opening Reception: 
Thursday, October 26, 2017 | 6 – 9pm
Exhibition Dates:
October 26 – November 20, 2017
2728 NE Alberta Street | Portland OR 97211

Hours of Operation:
Open 12pm – 6pm daily, closed Wednesdays
For all artwork and purchase inquiries, please email [email protected]
​Antler offers a payment plan on all original works, please feel free to inquire.​
About the Gallery:
Antler is an art gallery in Portland, Oregon founded by Susannah Kelly and Neil Perry. In nature an antler is the perfect blend of form and function, used simultaneously for display and task. As a reflection of this we showcase both the highest caliber contemporary art and innovative handmade craft from the Pacific Northwest and beyond.
Press Release:
Please join us this coming Thursday for the opening reception of our new shows! We will be exhibiting a show of new works by Vanessa Foley and Crystal Morey as well as "Ersatz", a solo show by Matt Hall, in Room 2.
Vanessa Foley is an artist from Newcastle, England who is known for her intensely detailed graphite drawings and emotionally rich oil paintings. She has become a long-standing member of the Antler Gallery roster since we first exhibited her work four years ago. Vanessa has embraced the stylistic beauty that oil painting offers an artist representing subjects accurately. The density and delicacy of the feathers in her paintings of birds of prey is stunning. In this series she has chosen to focus on the nocturnal, incoporating owls and moths.
Foley recently became a permanent member of renowned illustration collective, The Vacvvm which is based in Minneapolis.
As a visual artist, Crystal Morey takes inspirations from an alternative upbringing where she closely connected with the natural landscape around her. Living in rural Northern California shaped her perspective on nature and how humans interact with land, animals and each other. Now living in an urban environment, Morey aims to show our relationship to the world around us through the fragile medium of porcelain.
Morey investigates ideas of contemporary environmental issues and how humankind is impacting the natural world. Through "New Symbiosis", Morey uses the delicacy of porcelain, to explore these fragile connections and intricate dependencies, creating hybrid creatures of plant, animal and human components. In these imagined beings we are reminded of our interwoven ecosystems and that all living things are reliant on each other for the long-term health of the world.
"Ersatz" is the latest body of work from Portland artist Matt Hall. The artist describes his output by saying it "deals with the intersection of death, memory, loss, and wonder." Hall uses found objects and ephemera to make his works. This new series focuses on the fragmentation and reassembly of beings such as moles, porcupines and deer.
ERSATZ (Artist Statement)
Here are stand-ins, placeholders, totems of absentia.
What's missing is the curve of the road.
The whisper in the ear.
That slumped dog in the ditch,
blacker now than ever.
A crooked smile.
A firework dance.
Ankles too thin to support the weight of expectation.
What's missing is the willow and the caterpillars.
The autumn light.
A key that floats.
Boots that will never fit.
A sailboat and a name.
This is none of that.
Just a facsimile.
Not exactly false,
but a different kind of true.
Something like a time capsule.
A place to compile what's left.
Dig a hole.
Throw it in.
Forget where you buried it.
A reminder:
To not confuse the aspartame of the past,
for the sugar of the present.
Matt, I'm looking at your pieces "Digger" and "Facade" and honestly my first thought is… how does he do this? What can you tell me about your creative process?
My creative process starts with the animal. They tend to be found objects like roadkill or natural death, occasionally friends or acquaintances will gift me deceased pets or farm animals. It's really important for me that the animals have died in a natural way. By that, I mean, that I have zero interest in killing animals to make art. If you're going to use natural ephemera in your work, I think you have an obligation to consider the ethical implications of that. Because of this, I process all of the material myself. It limits me in a lot of ways, as far as time, studio resources, and species type, but controlling how this is done seems to be the only way to be cognizant of the real ramifications of the material. The condition of the corpse really informs the first part of the work. I always try to save as much of the animal as possible. Organs, skin, hair, feathers. So while I'm working to process the bones, I'm also trying to consider what's left that's potentially usable qualities for a future piece. Over a few months, I'll work to break down the body into a usable pile of clean and degreased bones.
During the interim, I spend a lot of time drawing and writing. Thinking about what I want to convey in a general sense. I'll work on the outside elements of the piece: tanning skin, drying plants, mummifying bodies, plastination of organs. I'll also begin building or modifying the boxes, domes or bases. Once the bones are clean, I create an armature within the skeleton to reconstruct it in a living pose. This involves drilling the individual pieces, and fitting them back together with the metal frame inside. Often times the armature is integrated into the base or the box to give the support necessary for a movement or balance effect.   A lot of time is spent reconstructing cartilaginous elements lost in the cleaning process, such as the costal frame and the pads between vertebras.  It's tedious and time consuming work, which is probably why I can never seem to make more than seven or eight pieces for a show.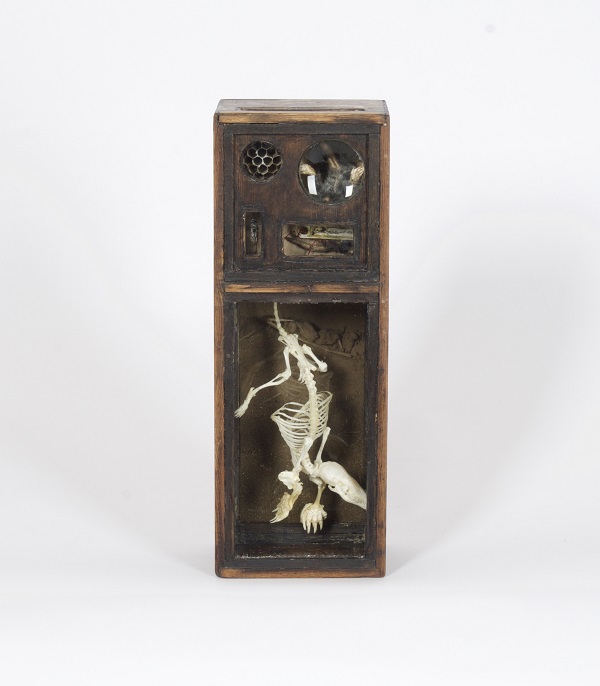 Digger
Media: Mole skeleton, mummified mole, wasp, wasp nest, mixed media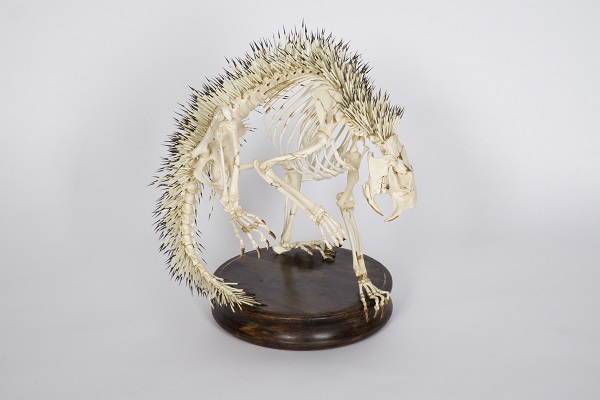 Facade
Media: Porcupine skeleton, porcupine Quills, Mixed media
This is your first time working with Antler. That's quite the milestone. Will you describe a real-life situation that perhaps inspired you for this solo exhibition ERSATZ?
My work mostly deals with memory. How it unravels and fades with time. I'm not only interested in the actual animal's real existence (and the hidden memories of that wildness) but the collective memory of that type of creature. Also, how it stands in as a surrogate for my own experience and memories. We live in a very disconnected age. There's something really powerful in the tangible quality of taxidermy, an articulated skeleton, a preserved heart.
It's not a manufactured thing. It exists entirely because a greater thing (life) existed beforehand. In that way, it's very similar to memory. We want it to be a living breathing thing, but mostly it's just a poor facsimile of the thing before. I'm interested in the building of totems, golems or magical spaces to solidify the narrative of memory. To define and clarify. To make a road map of meaning.
How did you prepare for it?
It's taken a little over a year to put this show together. There were many moments when I wasn't sure it was gonna happen. My process is so laborious and time-consuming, that for long periods of time it feels like nothing is getting finished. I just have to remind myself to keep working until I pop out the other side. That, and constant pep talks from my partner. (Thanks Mads!)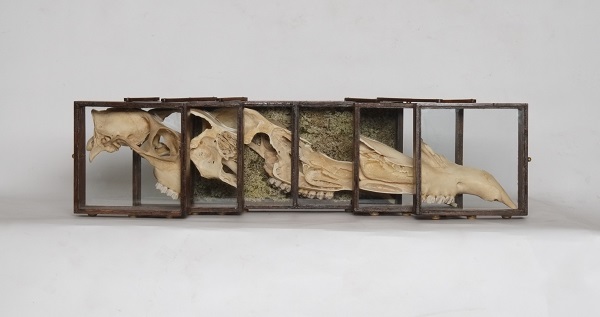 The cracks are there to let the light in
Media: Sliced elk skull, mixed media
How has your artistic practice changed over time?
I was a painting major in school, but I never was able to fully embrace it. I couldn't figure out how to tell my story with painting. Academic painting history didn't seem to have any connection with my life. I grew up on a small farm in rural Oregon, it involved a lot of death, and the sort of visceral savagery inherent in raising and slaughtering animals. It was full of the sadness of poverty and the ennui of isolation.  I was looking for a medium that articulated that feeling in a more specific way. For whatever reason the use of animal ephemera in a sculptural practice makes sense to me.
Over the past seven years or so, it's evolved into it's current form.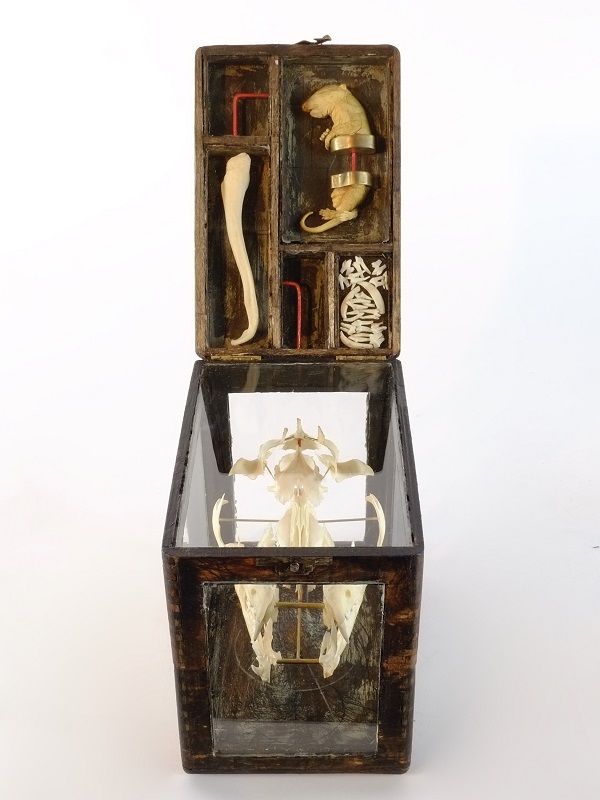 The proximity of like things
Media: Beauchene possum skull, plastinated possum infant, possum baculum, possum teeth, mixed media
 Portal
Media: Deer skeleton, plastinated deer heart, dried flowers, mixed media
What styles of art do you most identify with?
I love all kinds of art, and I'm very interested in art history, but I would say that my biggest inspiration for the work I do is science. Particularly Victorian, early 17th century, nature and anatomical science. It was such a weird period of discovery and halfway understanding. The sort of groping in the dark that really defines most art practice. I love the idea of having only little bits of knowledge. Having to fill in the blanks creates such weird juxtapositions and makes you see things in new and exciting ways. I'm not a scientist, I just pretend to be one in the studio. It's great.
Professionally, what's your goal? And what's next for you?
I'm always trying to make the work of creating art more sustainable, grow and expand my audience and refine my narrative. I'd love to participate in more group shows and show work outside of Portland.
To add a few "lighthearted' questions…
What superpower would you have and why? 
"Thumbstraction" which is the ability to shoot espresso from your thumbs would be really great… for obvious reasons.
Name something you love, and why.
I'm not a big "thing" person. But I really love people. Particularly my partner Madeline. She's my biggest cheerleader and inspiration. Her feedback, support and insight really make a lot of what I do possible. I also love our cat Wookie. He's a real cutie-pie.
Name something you don't love, and why.
Decaf coffee. It's an abomination.
What is your dream project?
I don't really have dream projects, mostly I'm just interested in making my current work the best it can be.
What wouldn't you do without?
Mornings don't start without coffee. I would give up a lot of things before I stopped drinking coffee, but I'm not addict. I can quit anytime I want. Haha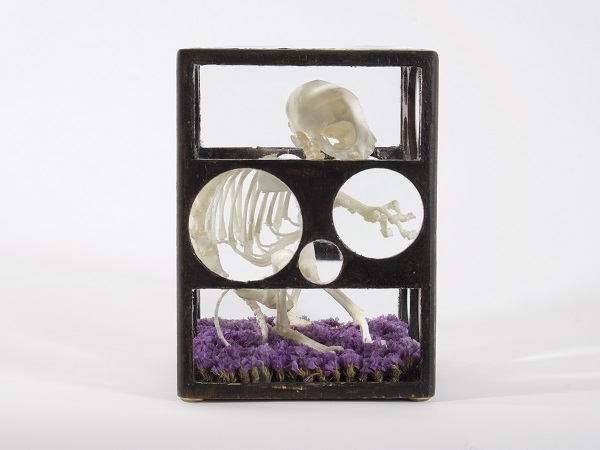 The way we remember the things we lost
Media: Kitten skeleton, mixed media
Hostage
Media: Fawn skeleton, paper mache', mixed media