Happy New Year! As we all look to the horizon of imagined possibility and new expectations of what lies ahead, welcomed are the sprawling days filled with inspiration and creativity bursting at the seams. To kick off the year, Thinkspace Projects is celebrating new solo exhibitions by RYOL (aka Ryo Laksamana), Shinnosuke Hariya, Michael Polakowski and Abi Castillo. Join them as they honor each memorable collection.
In case you didn't know, Thinkspace Projects also offers a full schedule of events, interviews, and much more to keep your creative needs satisfied – so be sure to follow their blog Sour Harvest to stay updated on all the artsy things you love! If you're looking to add to your collection of art, take a moment and visit their online store to view all available inventory.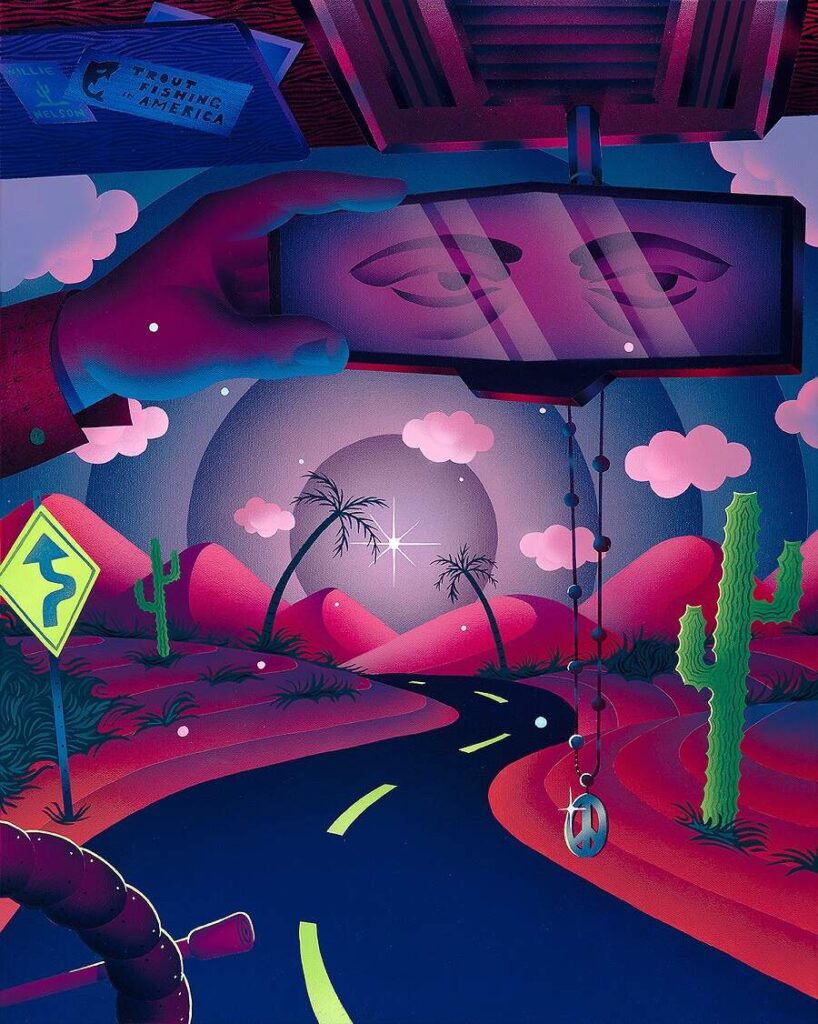 ---
RYOL | Shinnosuke Hariya | Michael Polakowski | Abi Castillo
Opening Reception: Saturday, January 7, 2023 | 6-10pm
Exhibition Dates: January 7, 2023 – January 28, 2023
Opening party featuring DJs Venice Beats, an open bar, free drinks from Liquid Death, Live Painting from Jacqueline Valenzuela as part of our 'Courtyard Sessions' curated by GoopMassta, grub from The Roll 'N Bun crew, and Video Projections from the Digital Debris team.
Thinkspace Projects
4217 W. Jefferson Blvd. | Los Angeles, CA 90016
#310.558.3375 | Tues. – Sat. Noon to 6PM
thinkspaceprojects.com
For all inquiries please contact the gallery via email at [email protected]
Search their hashtags: #thinkspaceprojects #thinkspacegallery #thinkspacefamily
About the Gallery //
Thinkspace Projects was founded in 2005; now in LA's burgeoning West Adams District, the gallery has garnered an international reputation as one of the most active and productive exponents of the New Contemporary Art Movement. Maintaining its founding commitment to the promotion and support of its artists, Thinkspace has steadily expanded its roster and diversified its projects, creating collaborative and institutional opportunities all over the world. Founded in the spirit of forging recognition for young, emerging, and lesser-known talents, the gallery is now home to artists from all over the world, ranging from the emerging, mid-career, and established.
The New Contemporary Art Movement, not unlike its earlier 20th Century counterparts like Surrealism, Dada, or Fauvism, ultimately materialized in search of new forms, content, and expressions that cited rather than disavowed the individual and the social. The earliest incarnations of the Movement, refusing the paradigmatic disinterest of "Art" as an inaccessible garrison of 'high culture', championed figuration, surrealism, representation, pop culture, and the subcultural. By incorporating the 'lowbrow,' accessible, and even profane, an exciting and irreverent art movement grew in defiance of the mandated renunciations of "high" art. Emerging on the West Coast in the 90's partly as a response to the rabid 'conceptual-turn' then championed on the East Coasts, the Movement steadily created its own platforms, publications, and spaces for the dissemination of its imagery and ideas.
---
Visual artist RYOL's (aka RYO LAKSAMANA) new body of work, 'Caught in the Art'' fills the space with paintings that showcase how light is the most fundamental element in the visual arts. A work can become more dramatic with the use of light. Light becomes the experimental medium in Ryo's new series of oil paintings.
When we look at Rembrandt's work, we can see that the light captured in the painting is the light that is surrounding the object or model that has been set, producing a dramatic visual that is caught by the eye and transferred into the painting. 'Caught In The Art' is a play on the phrase "caught in the act," and refers to the play of light that appears to focus directly on the objects in the painting that appear to be cornered.
Artist Bio //
Originally from Banyuwangi in East Java, Ryo Laksamana is a recent graduate of the prestigious Institut Seni Indonesia in Yogyakarta. This young artist's career, however, began much earlier while he was still a student, and in the past few years his artworks have been exhibited quite extensively within and beyond the borders of Indonesia.
At a glance, Ryo's paintings are charmingly whimsical; pop surrealist artworks skillfully done in an illustrative style reminiscent of the world of anime. The visual veneer of his artworks camouflages the fact the artist broaches subjects that are in contrast quite contemporary.
Upon closer examination the subjects this young artist's works address are far from frivolous. Among them, critiques of traditional patriarchal society, social behavior that is quick to judge others, as well as the fluidity of modern day gender and gender roles, to name a few.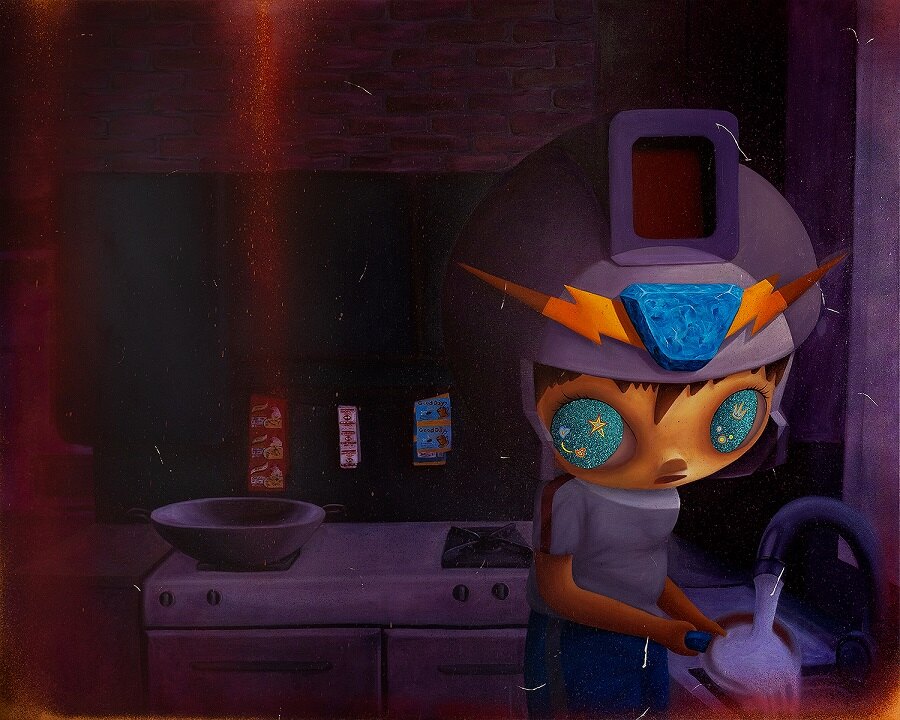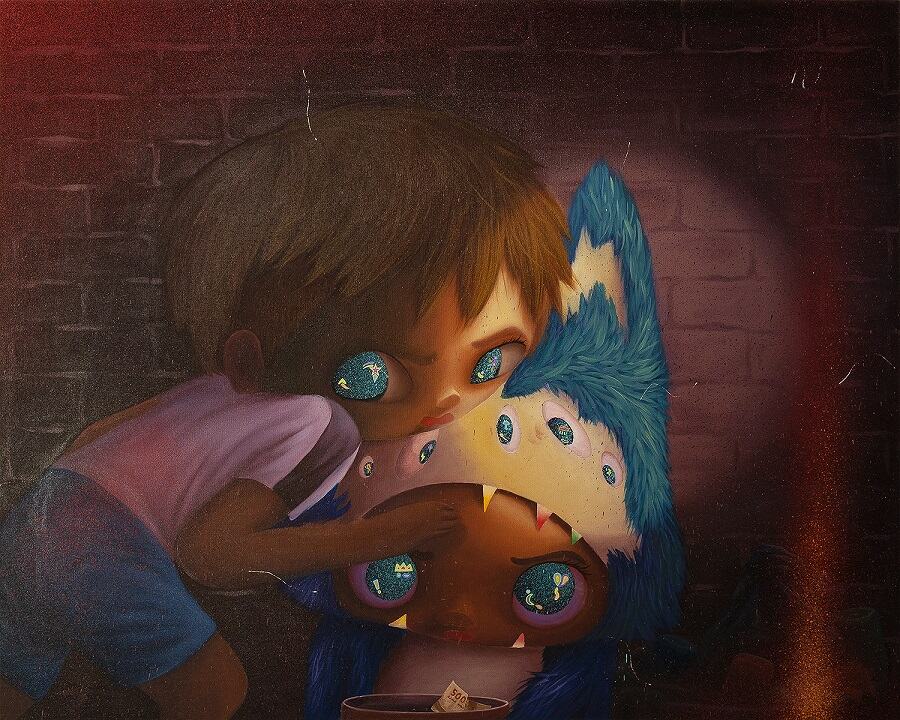 Power Up' presents a new series of 14 graphite works on illustration board from the Japanese drawing monster Shinnosuke Hariya and is the artist's debut North American solo exhibition. With the 'Power Up' series, he has chosen to highlight his favorite robots from the movies and television. From C3PO to Robocop to Astroboy, so many childhood memories will be evoked with this show.
Artist Bio //
Shinnosuke Hariya is a Japanese artist that reworks cartoon iconography in vividly detailed pencil drawings. Known for drawings of three-eyed creatures and single arms reaching upwards. He playfully reinterprets 2D cartoon iconography with a sense of three-dimensional realism. Inspired by Japanese and Western Pop-culture he brings characters from video games and classic movies to life in a new light.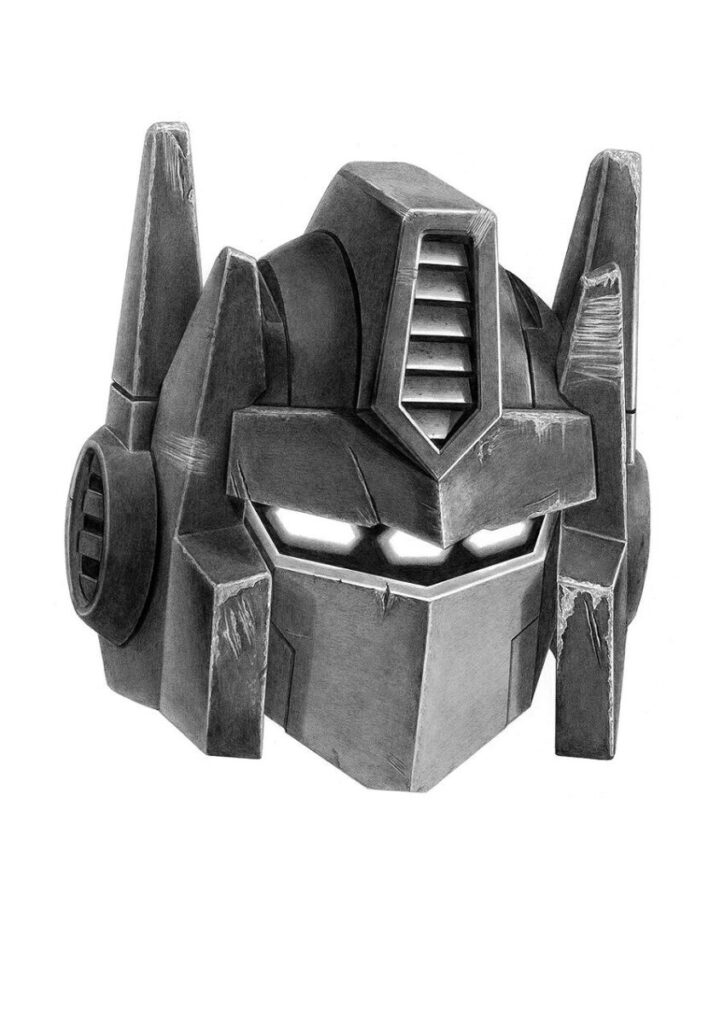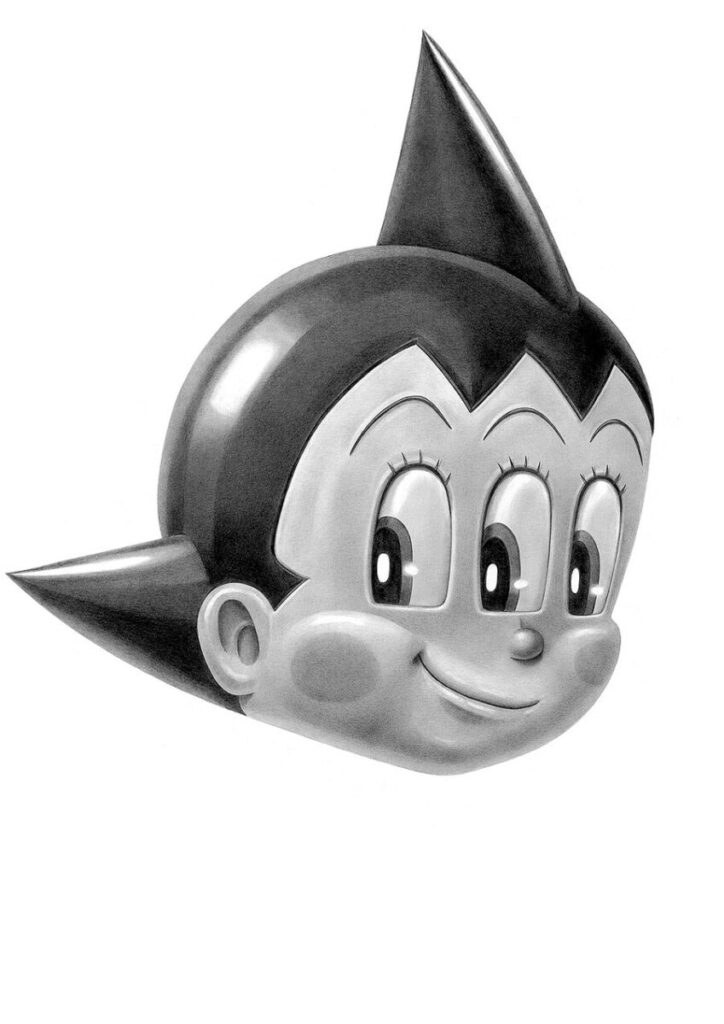 'Anywhere & Here' presents a series of paintings that depict a shifting cast of protagonists from Detroit based artist Michael Polakowski. Each character is shown grappling with the reality of the here and now, while dreaming of the potential of anywhere. Familiar motifs, such as watermelons and pool halls ground this body of work in the American Midwest, where I was raised and currently work. These images are contrasted with depictions of dunes, Palm trees, and winding roads that infringe upon this familiar space and entice the protagonists with the potential of what lies beyond.
The shows references the narrative structures of absurdist novels, like Franz Kafka's "The Castle" and Dino Buzzati's "The Tartar Steppe." Both novels feature protagonists trapped in their position in life, yearning to either escape a place or achieve acceptance within it. Using both these texts as a jumping off point, the paintings within this show expand upon my life in the Midwest elaborating on how it can be both comforting and insulating. Within the narrative of the show, a shifting set of often unseen protagonists are shown grappling with the idea of a far off and unreachable castle. These lyrically idealized structures are seen as vague objects on a horizon line, acting more as a fixed point of navigation and less as a goal that can be realistically achieved. "Anywhere and Here" is a reference to our own sense of presence. It acts as a response to the question asked by each painting in this series "where can we find clarity in our day to day lives?"
Artist Bio //
Michael Polakowski began his studio practice in 2016 in Detroit, MI. In the first few years of his career, and throughout his upbringing in the Midwestern United States, he often felt like he was missing out on a sense of clarity that only existed somewhere else. His work came to focus on how mental health frames and contextualizes our view of the world, often using windows or other visual portals to represent the boundary between our present lives, and the seemingly far-off idealized world. Polakowski thinks of each painting as an opportunity to expand upon an ongoing narrative within his work, a narrative where the protagonist is grappling with finding a sense of self, maintaining presence in their environment, and connecting to the world around them. However, these abstract ideas are usually depicted in scenes like stolen cars abandoned in a river-bed, or harrowing tales of a lone explorer lost in a metaphysical desert. With his work, Polakowski is always trying to strike a balance between "heaviness" and "lightness." That's why, at first glance, his work is vividly colored and populated with inviting imagery. It's only through further investigating the connection between the images that the deeper narrative surfaces.
Detroit offered Polakowski a lot of unique opportunities as an emerging artist, whether that be his first residency with Red Bull House of Art or his most recent mural completed in collaboration with the Detroit Institute of Arts. His work has been recently included in group shows in London, New York, Los Angeles, and Hong Kong.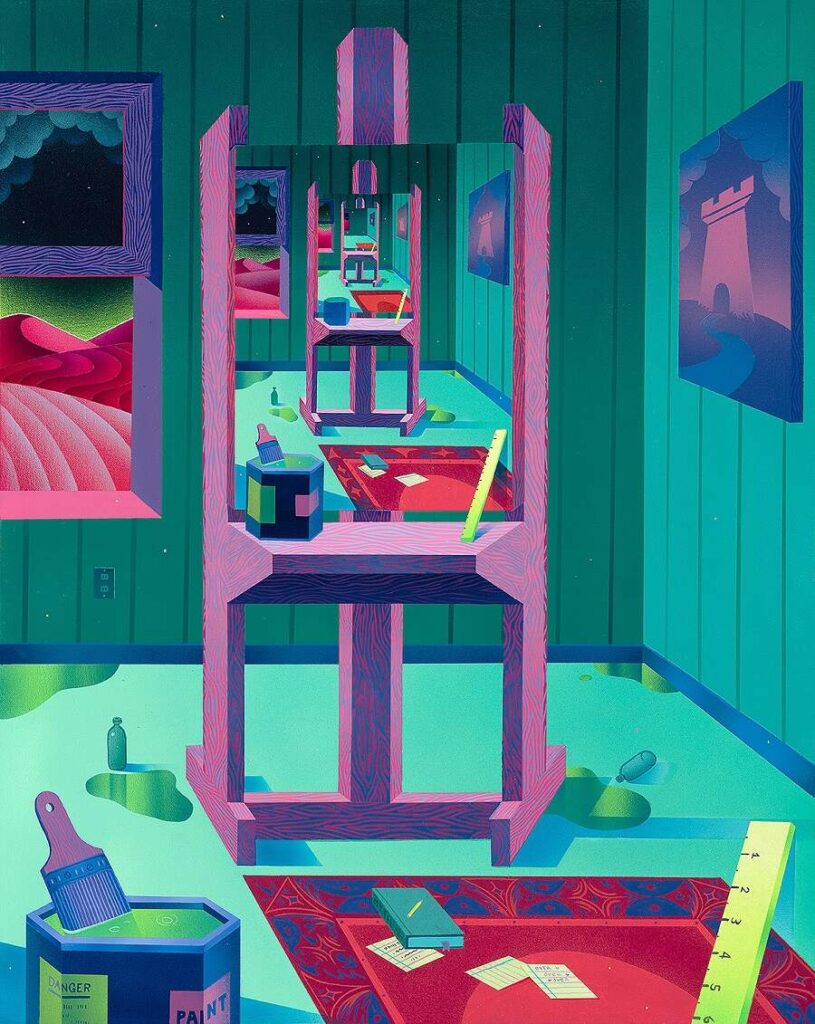 'Allergic Party' showcases 30 incredible new ceramic works from Spanish artist Abi Castillo in her debut North American solo exhibition. Following her introduction in our 'Growth' group show in July of 2022, we are thrilled to welcome Abi back and provide her the platform for her first solo showing in America.
Artist Bio //
Discovering ceramics introduced me to a world off aesthetic and creative possibilities that allow me to give shape to my creatures and characters. In both lines, I strive to maintain a romantic ideal with a natural world which is fantastic, as though it were my own garden; but, at the same time, it plays with ambiguity and conceals something.
Each of these pieces or illustrations preserve the essence of my own self-portrait in which I am represented as a sweet, animated natural being, surrounded by elements that wrap themselves around me to protect me. This ambivalence between mysticism and drama, between monstrosity and beauty, is all very present in my personal project. As though all of this cover, every element that surrounds each being, were part of a shell protecting a flesh, juicy and soft inside. And these days, I work in a small workshop in a small rural town in Galicia, Spain.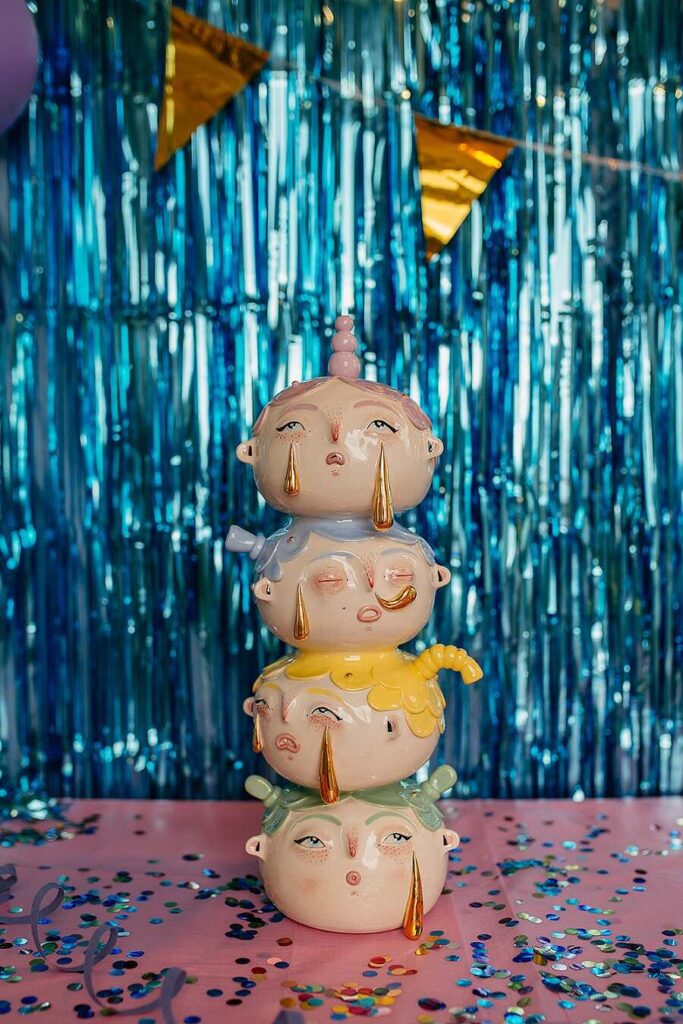 Thinkspace Projects Social Media Accounts