It won't come as a surprise to learn that here at Beautiful Bizarre Magazine, we LOVE wearable art! Just peruse our website or social media for more than five minutes. You'll soon be sucked into a world of unusual visuals, mixed media, and 2D and 3D wearable creations which will rally even the most temperate of hearts to thump boldly in excitement. Moreover, discovering new creatives is a steadfast ethos for us (and a never-ending wellspring of glee!). This is why I was particularly intrigued to learn more about the winner of World of WearableArt's 2022 Student Innovation Award, Agnes Olah. From the moment I saw her winning attire 'Beneath', I fell in love with its quirky reappropriation of typical undergarment fastenings.
'Beneath' was created by student designer Agnes (Agi) Olah from University of Wales Trinity Saint David, United Kingdom. It was described by World of WearableArt (WOW) judges as "exceptionally constructed and a perfect fit on the body, with a superb use of found materials by the designer,". This high praise came from a judging panel which included an international array of industry professionals, including Academy Award winning judges: Costume Designer, Alexandra Byrne (Elizabeth – The Golden Age), and Sir Richard Taylor from Wētā Workshop (Lord of the Rings trilogy, King Kong).
A global competition
The annual World of WearableArt event is a global competition, which attracts outfit designers for the likes of Beyoncé, Lizzo, Lady Gaga, and Madonna (to name but a few), so winning an award is a significant achievement.
Agnes' striking garment is a symbol for a more ecological future in fashion. Fascinatingly, it was created from upcycled materials and unused fashion industry stock. This included hook and eye joiners, suspender clips, and elastic destined for landfill.

Applying judicious and sustainable design practices, Agi constructed 'Beneath' using her materials to convey contrasting ideas of strength and soft, lingerie and armour, where she invited people to question the notion of perception, saying – 'looks can be deceiving!'
Naturally, I wanted to find out more – and I was in luck. WOW sat down with Agi to dive into her design practice and get her advice for anyone thinking of entering this prestigious wearable art competition in the future.
Interview with Agnes Olah, winner of the Student Innovation Award 2022
Enchantingly, your materials for Beneath were upcycled; how did this guide your design process?
Using the upcycled materials changed the way I was required to approach the design as there were a few extra processes which I had to complete before moving forward in creating my design.
Firstly, I had to breakdown all of the original material. I organised all the individual bits to see how much fabric and other items I had to work with overall. There is a certain limitation to it when you are using vintage deadstock or other upcycled fabric as you can't just pop down to the shop to buy an extra piece. When your stock is gone, it's gone. It requires some extra planning and can provide unforeseen challenges. But using unconventional material, or using materials in an unconventional way, push you out of your comfort zone. It's an amazing way to experiment and create beautiful pieces.
What drew you to first enter a garment into WOW?
WOW is such a unique and incredible spectacle, it's extremely inspiring! Once I saw some of the previous shows' images and video footage, I just wanted to create something to be part of World of WearableArt.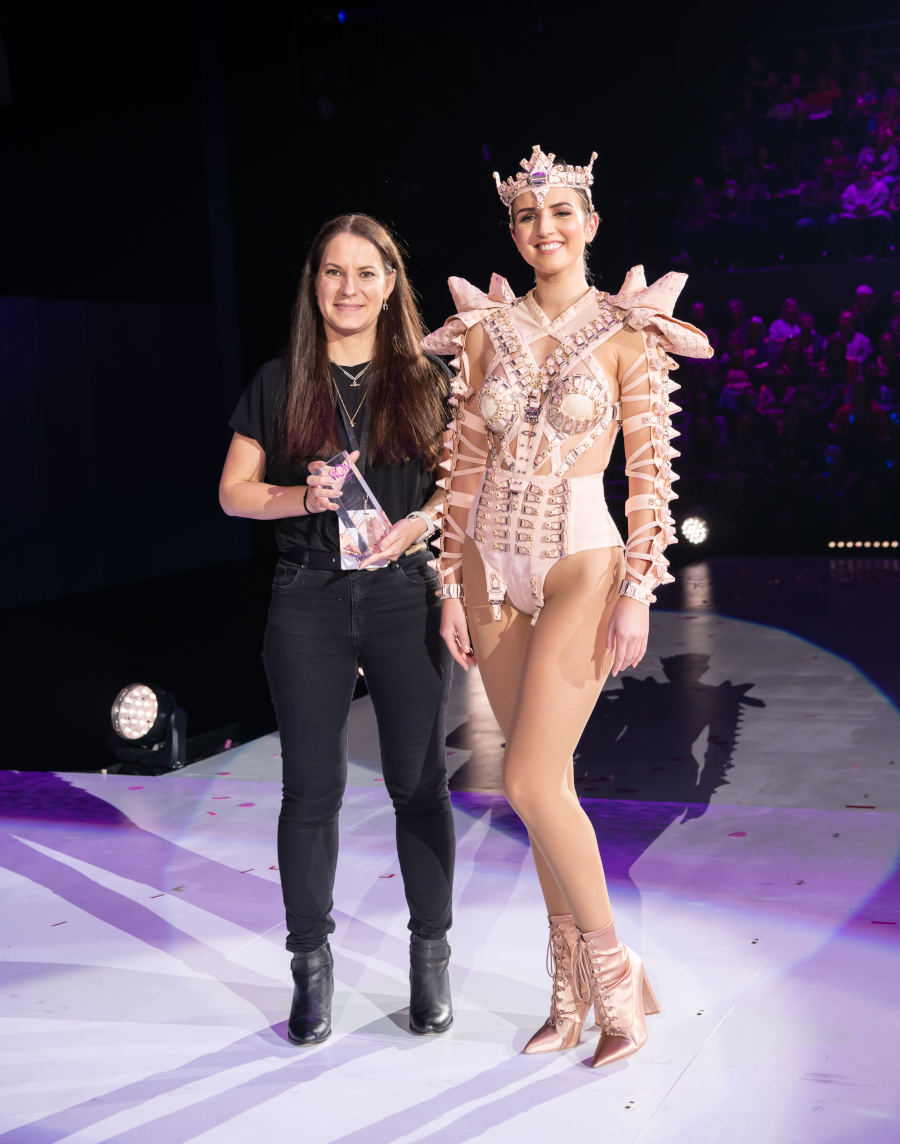 A magical experience
What was it like seeing your garment on the WOW stage?
It was an incredible, exhilarating explosion of emotions. After the long wait due to the unfortunate Covid-19 cancellation in 2021, first it seemed like a reunion with a long-lost treasured item. Then, to see the way it came alive by the performer's movement and by the incredible WOW Show created around it, it felt like I had only just really seen it for the very first time. It was magical. I am still pinching myself in awe.

What is your 'secret weapon' when it comes to your design process?
My army of tailor dummies. I love pinning different versions of my idea on them just to be able to compare them, to see which idea stands out more. They give me so much more flexibility especially when working with recycled materials.
Innovative Spirit
What are you working on now?
At the moment, I'm working on my dissertation for my final year of my Graphic Design degree. Although it's really exciting, I cannot wait to have enough free time again to start to experiment with new materials and start creating new wearable art pieces.
What is your advice for anyone thinking to enter WOW for the first time?
Keep in mind that your design has to look great closeup and from a far distance as well. Make it very sturdy, as the designs have to perform day after day.
Additionally, keep the performers in mind as their movement and performance will transfer your design to another level, so you wouldn't want to restrict them in their movement capabilities. Most importantly, love what you make, as your passion will shine through your design.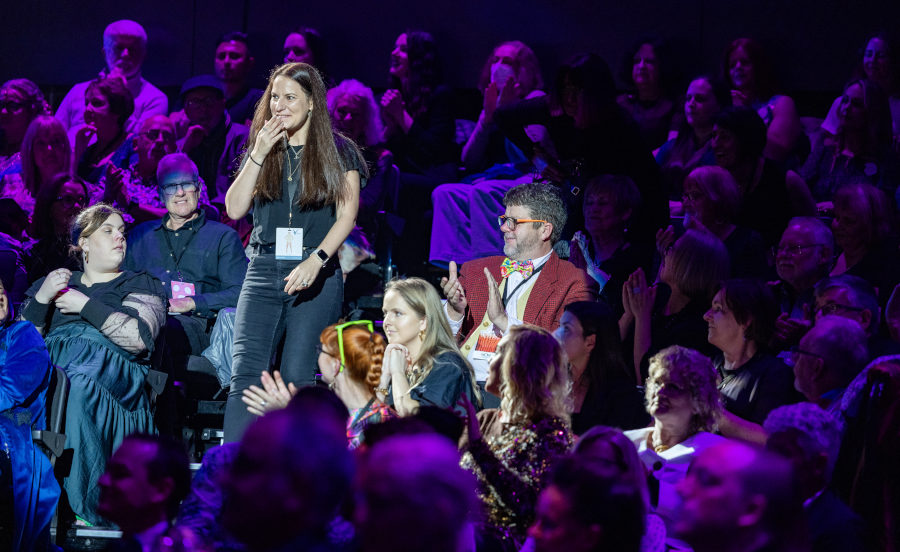 Congratulations again Agi!
Entries for the World of WearableArt Awards Competition are open now until 2 March, 2023. For more details go to www.worldofwearableart.com/competition.
World of WearableArt Social Media Accounts
Website | Instagram | Facebook | Youtube
Agnes Olah Social Media Accounts