You're in store for a real treat because this weekend The Dark Art Emporium presents the highly anticipated solo exhibition of Jeremy Cross: 'Speaking In Ghosts' alongside the debut DAE exhibition of Teodor Dumitrescu: 'Threshold'. Looking at the work of both artists evokes a heightened sense of mystery and darkness to their distinguishing aesthetics. Whether created through vibrant highlights or shadowed hues, the moody duality of storytelling leaves you wanting more.
For available artwork, visit The Dark Art Emporium website… or if you're in the area, stop by and see them in person!
Jeremy Cross & Teodor Dumitrescu
Opening Reception:
 April 6, 2019 | 7 – 10 pm
Afterparty at The 4th Horseman
The Dark Art Emporium
256 Elm Avenue
Long Beach, CA 90802
Website | Facebook | Instagram
Jeremy Cross: Speaking In Ghosts
Press: Consisting of 18 new paintings and, for the first time, a series of 7 sculptures, this showing takes the viewer on an autobiographical journey into the artists past.
"When I started this series 2 years ago, I set out with a simple mission. To tell a story of my life using one character. The Ghost Skull. I wondered if I could take this simple figurative design and keep it interesting, dynamic and diverse enough while still infusing them with an emotional resonance that the viewer can relate to. I also created a sculpture series to accompany the paintings. With one "Hero Ghost" and his six solid resin cast and hand painted sisters, these pieces stand alone from the paintings series. Sort of like gargoyles or golems. Each has been modified from the original cast with added elements like horns, wings, halos and even mouse ears. "

– Jeremy Cross
Jesus Was On Some Good Shit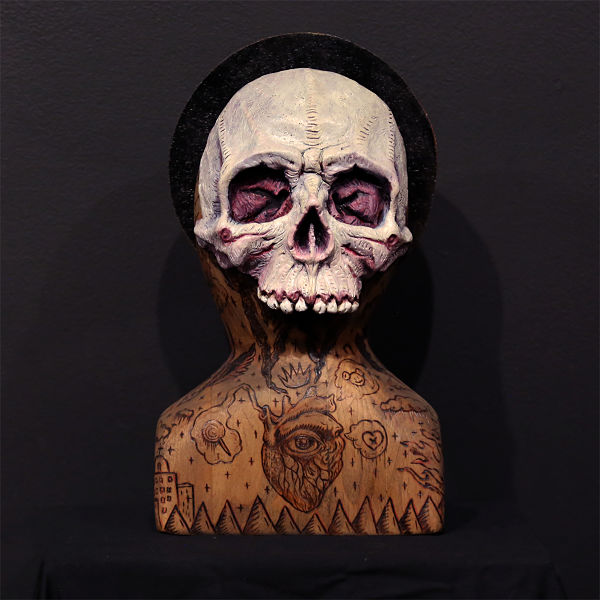 The Tattooed Man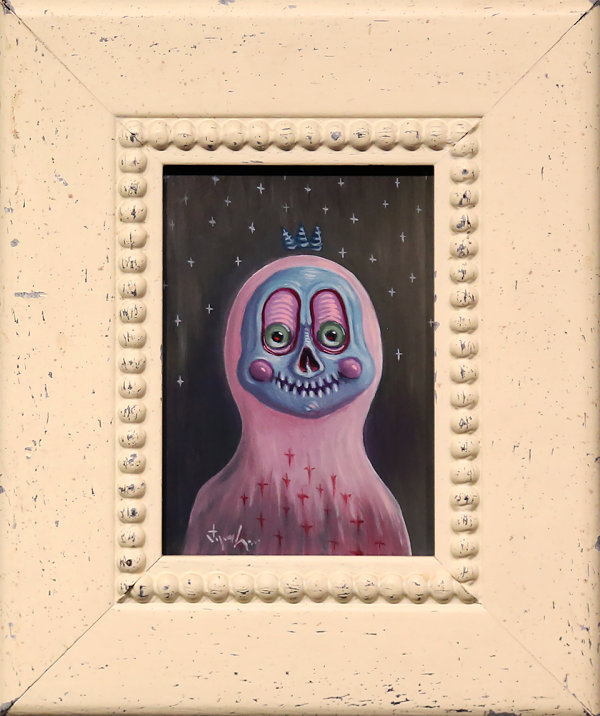 A Fresh Start In A New Hell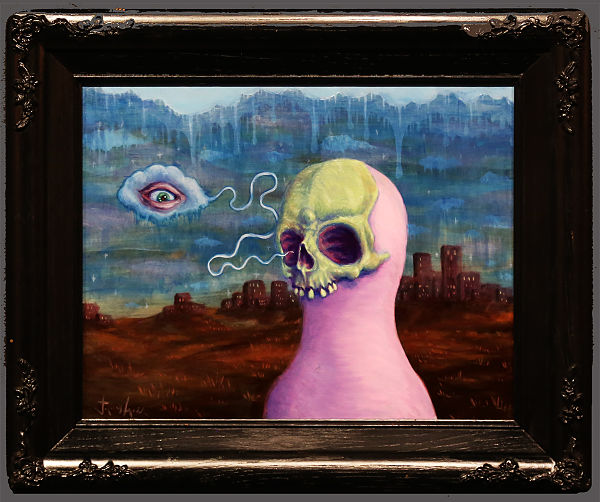 The Escape Artist
Teodor Dumitrescu: Threshold
Press: One of our absolute favorite artists presents his first ever feature exhibition here at The DAE with Threshold.  A series that is small only in number with 5 new works in watercolor and oils in custom made frames.
"When we are confronted with barriers and doorways, a multitude of emotions become mingled with the anxiety of moving forward. The fear, or anticipation of joy that lays beyond the threshold is often greater than the experience itself. In this work, I use the idea of a threshold as both a physical line and a metaphysical exploration of overcoming fear. The greatest unknown in existence is also the most ironic, in that death in some sense is the opposite of existence, or the existence of matter. We continually stand on the threshold of death, and are left to wonder what is beyond our physical reality. Does the energy that powers our dreams and abstract ideas continue beyond that final door, or is it merely an eternal, all consuming void? Perhaps there are other terrors, or joys that are beyond our comprehension waiting for us."

– Teodor Dumitrescu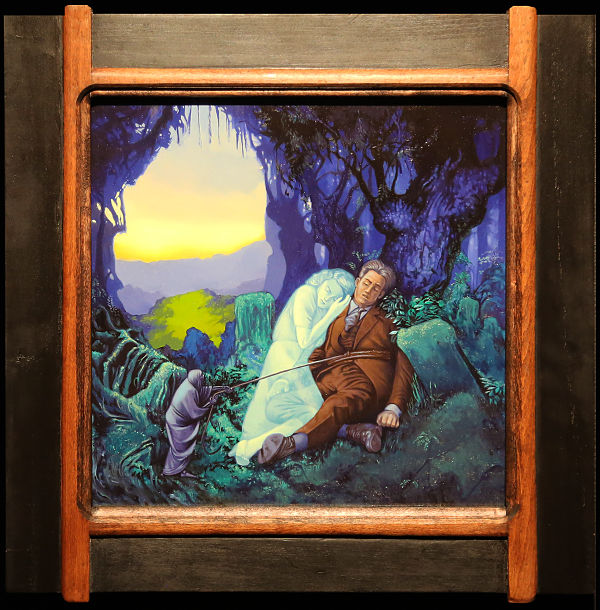 Terminal Pull
 Last Leg