Reading just a few lines of thoughtfully composed poetry can touch a deeper part of our soul, as can being enraptured with a melody or dissolving into a sea of boisterous summertime blooms. The spiritually elevating 'common denominator' – whether manifested through Mother Nature's paintbrush or the creative efforts of human beings – is art. Tracie MacVean's eco-celestial oil paintings serve the beholder a heaping dose of aesthetic inspiration, but at the same time, they also trigger a lingering sense of bittersweet melancholy. After all, it's nearly impossible to gaze at her darkly surreal images without being reminded of humanity's impermanence and, perhaps even more soberingly, how effective we've become at systematically undoing the place that we call home.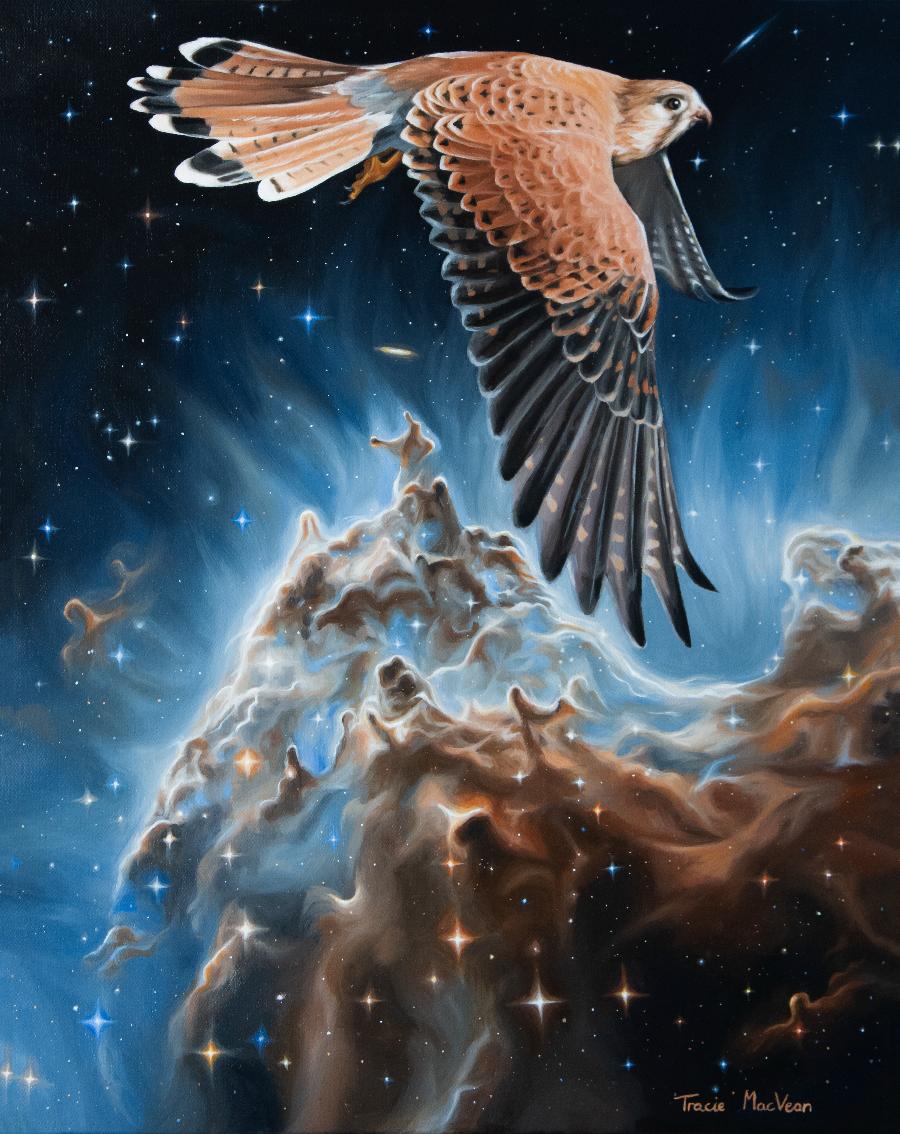 This is indeed the type of existential sandwich that is best washed down with a quadruple shot of espresso, or even better, 196 proof moonshine. Tracie MacVean's motivation for painting is, without question, firmly rooted in purpose and the hope that the beholder will feel compelled to become a part of the collective solution since the negative effects of climate change are becoming increasingly more palpable. As of May 2022, the average surface temperature of our planet was the ninth highest that it's ever been since we began keeping records in 1880. Persistent drought conditions around the globe have led to some of planet Earth's most devastating blazes in recent history, including Australia's 2019 to 2020 "Black Summer" fires, last year's second worst forest fire season on record in the European Union, and the 34,008 U.S.-based wildfires which – in just the first half of 2022 – charred an astonishing 4,122,574 acres of land.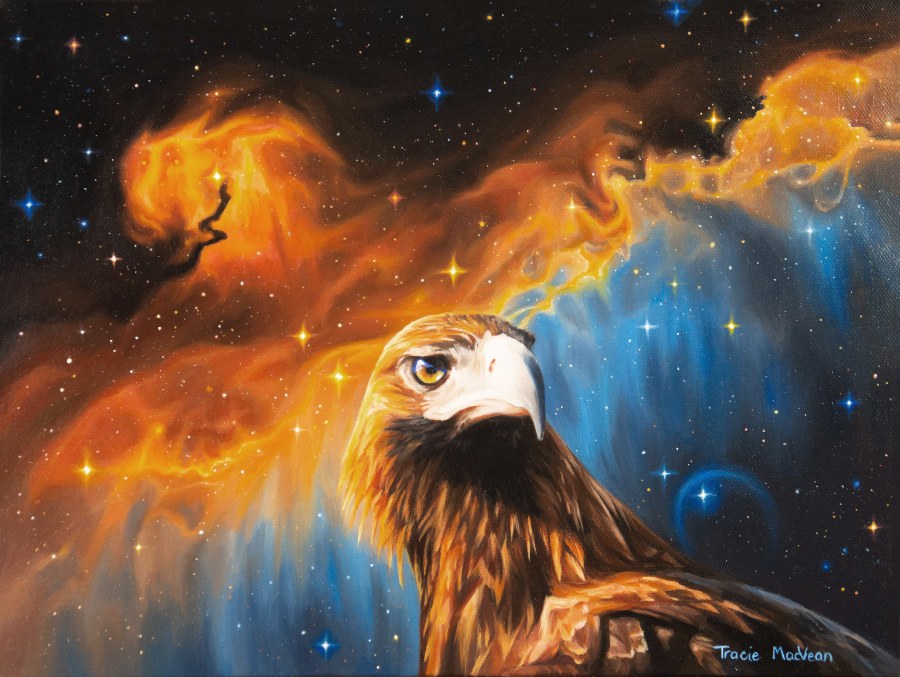 The environmentalist in me wants to preach and raise awareness about the truths in my paintings, which I believe need to be seen and understood.
At this point, we've seen enough real-world evidence to understand that climate change isn't just a Chicken Little concept, so the fact that humanity continues to take a 'business as usual' approach is undoubtedly head scratching. Tracie MacVean surmises that our disconnection from the natural world – partially driven by our widespread technological addiction – could be the reason why we far too often turn a blind eye to "the consequences of our habits, routines and actions".
Notoriously lagging pro-climate laws – especially among the top global emitters of carbon dioxide such as China, the United States, and Russia – certainly haven't helped. In early 2022, U.N. Secretary-General António Guterres lamented that "a litany of broken climate promises" have propelled us "perilously close to tipping points that could lead to cascading and irreversible climate impacts". This notion becomes alarmingly feasible upon learning that many of our global nations aren't even remotely close to meeting their 2021 Glasgow Climate Pact net-zero greenhouse gas emissions goals.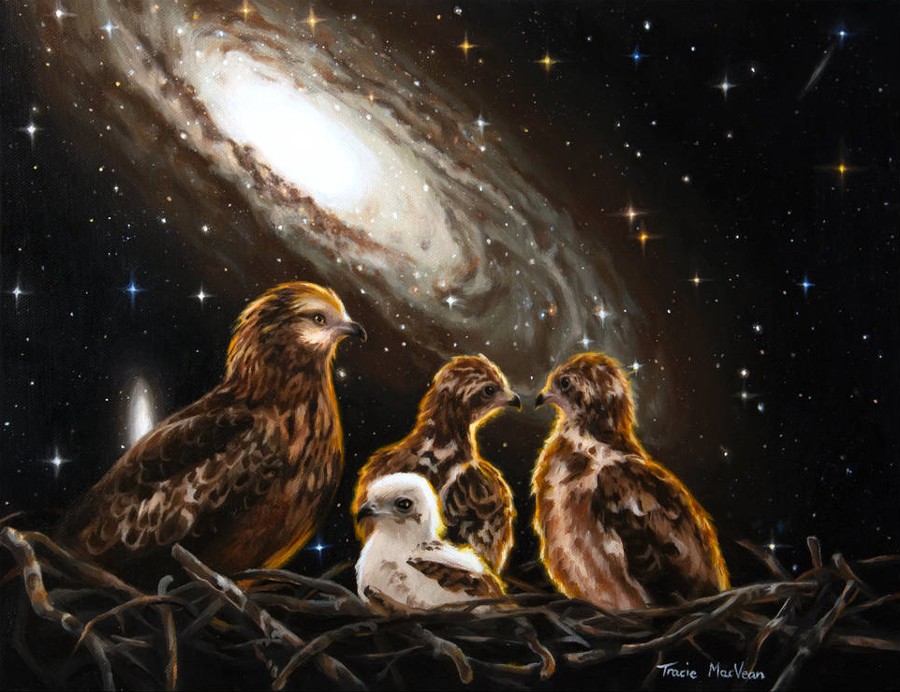 I have very high expectations of myself. No matter what I'm doing, the sense that it's never quite enough always lingers.
The primary driver of global climate change is in fact greenhouse gas emissions, which are commonly generated via industry, forestry, agriculture, transportation, and energy production. On an individual level, it's hard for us to comprehend how reducing our personal carbon footprint can possibly offset such monumental pollution. That's why many of us quite understandably go about our daily lives just hoping for the best. We rationalize that dutifully recycling, intentionally eschewing plastic, or exclusively wearing 100% organic cotton clothing won't matter in the grand scheme of things. Tracie isn't from a family of tree huggers, but she's always taken solace in the natural world and believes that we really have to step up to the plate in whatever way we can…while there's still time. It occurred to her that activating environmental empathy within the viewer would be a noble way to make her brushstrokes really count.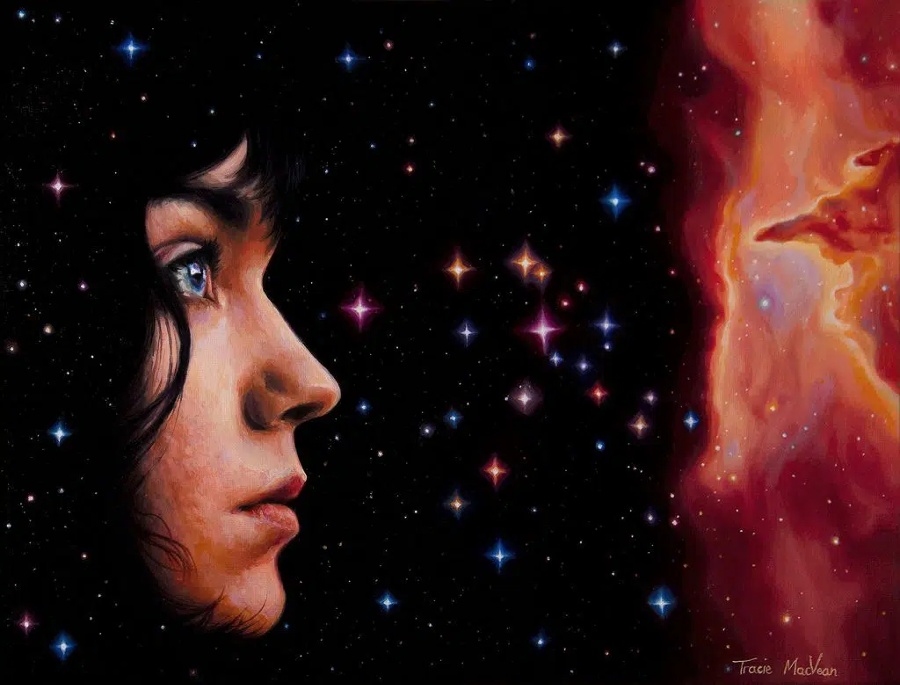 Ever since her teenage years, Tracie has had a special affinity for artistic expression, engaging in diverse disciplines such as drawing, music, and even traditional corsetry design. Creative output was consistently encouraged by her grandmother and mother, both of whom are artists, but Tracie recalls one particular incident that was "a real turning point" for her future path as an artist. While she was in her very early teens, she secretly admired one of the large oil pastel drawings that an older sister proudly showed to everyone. Upon learning that her sibling was going to pursue a chef's apprenticeship rather than visual art, Tracie realized that she could claim that discipline as her own personal domain.
I don't believe any die-hard naysayers would change their view on climate change unless they were to experience its consequences firsthand.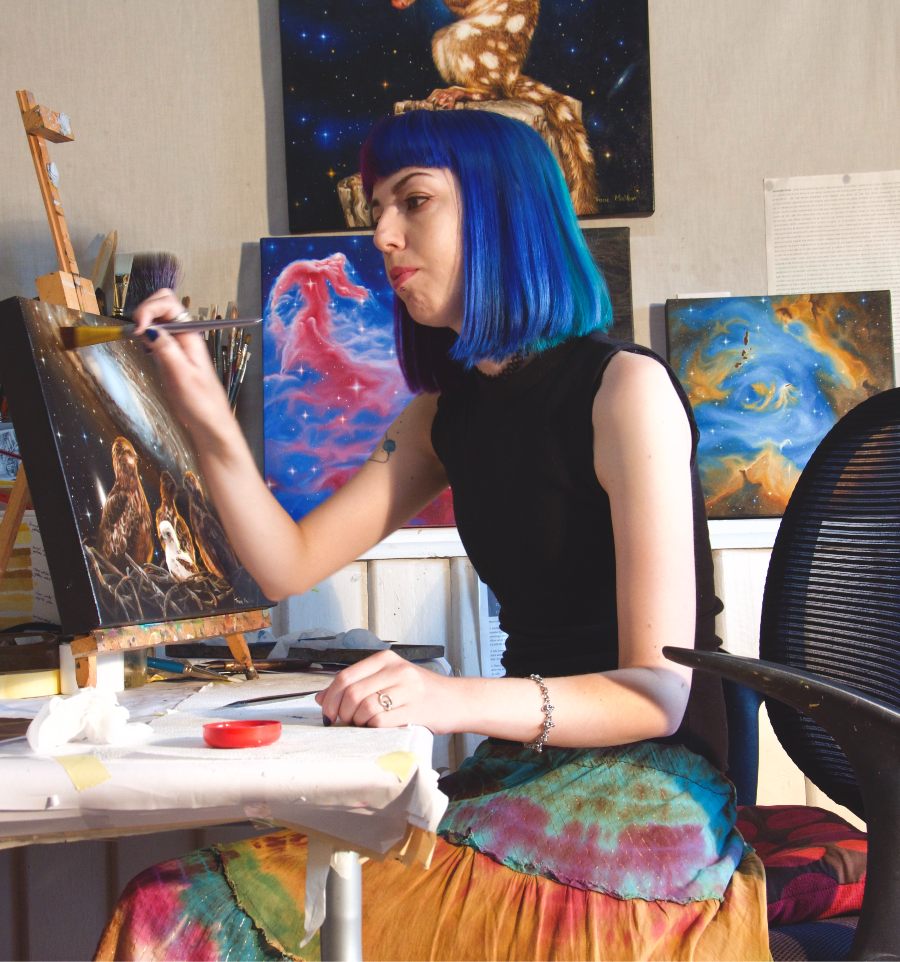 Fresh out of Tafe NSW Riverina Institute – where she obtained part of her formal art training – Tracie became Gateway Island Gallery and Studios' coordinator/resident artist, a dream opportunity for any young creative that a full decade later, she's still making the most of. While she went on to earn a Bachelor of Fine Arts at Charles Sturt University, the daily responsibilities of her full-time job made a marked difference in her artistic ability. Tracie's unwavering dedication to her craft has enabled her to considerably level up her skills. "Seeing how far I can push a painting is really fulfilling" she affirms, which is why – within the past five years – she's finally reached the point where she proudly owns the title of working artist.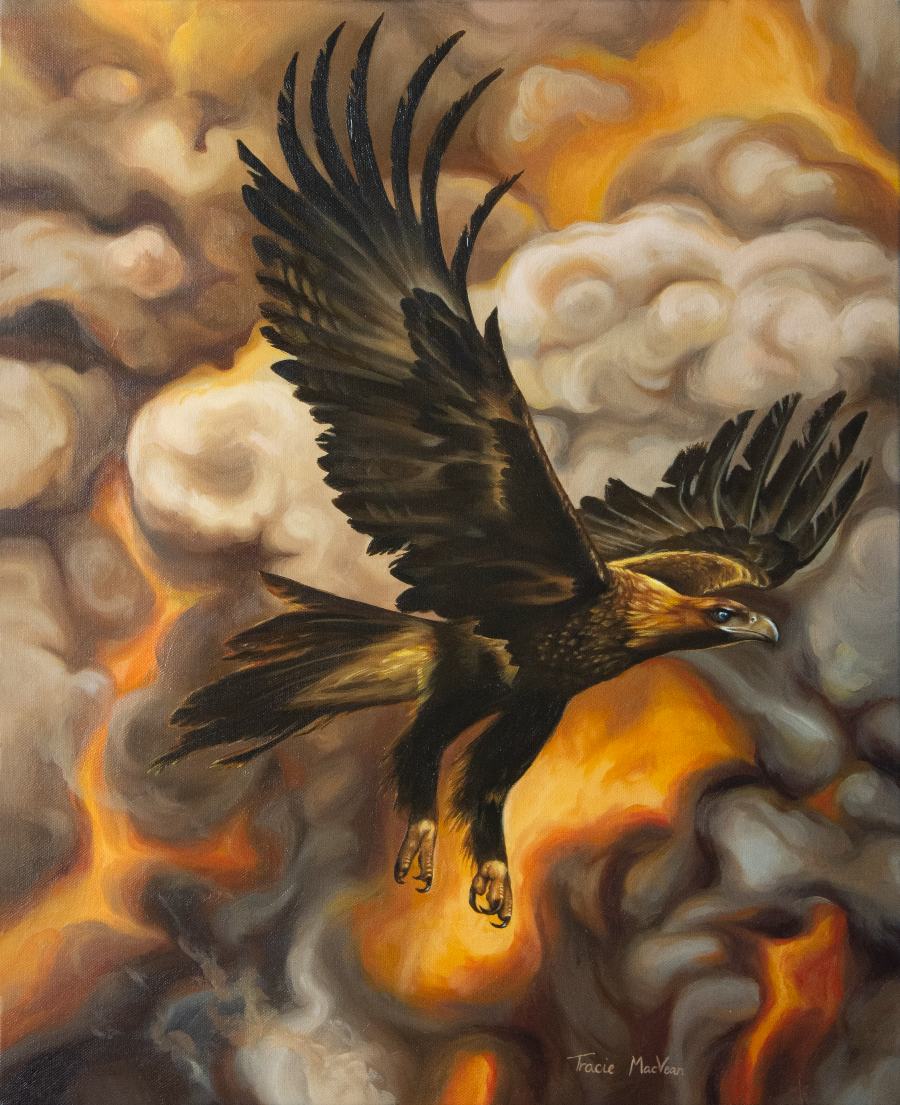 I am definitely passionate about environmentalism. I love learning about new species and all aspects of the environment.
Given that the Australian native lives in a region that is especially vulnerable to climate change tragedies, it makes sense that environmental themes really resonate with her. "I don't believe any die-hard naysayers would change their view on climate change," she remarks, "unless they were to experience its consequences firsthand." Since 1910, her country's atmosphere has warmed by 2.6 degrees (1.5 Celsius), which may not seem like a big deal, however extreme weather events, historic fires and prolonged droughts have been among the most notable consequences. In early July 2022, Sydney was hit with yet another record-breaking flood – partially triggered by the extreme precipitation brought on by recurring La Niña conditions – which was the fourth such incident in an 18-month period. The Great Barrier Reef suffered its sixth mass bleaching event this year, one of four instances since 2016, due to heat stress trigged by water temperatures that – in some sections of the 2,300 km ecosystem – registered 4 degrees Celsius above average.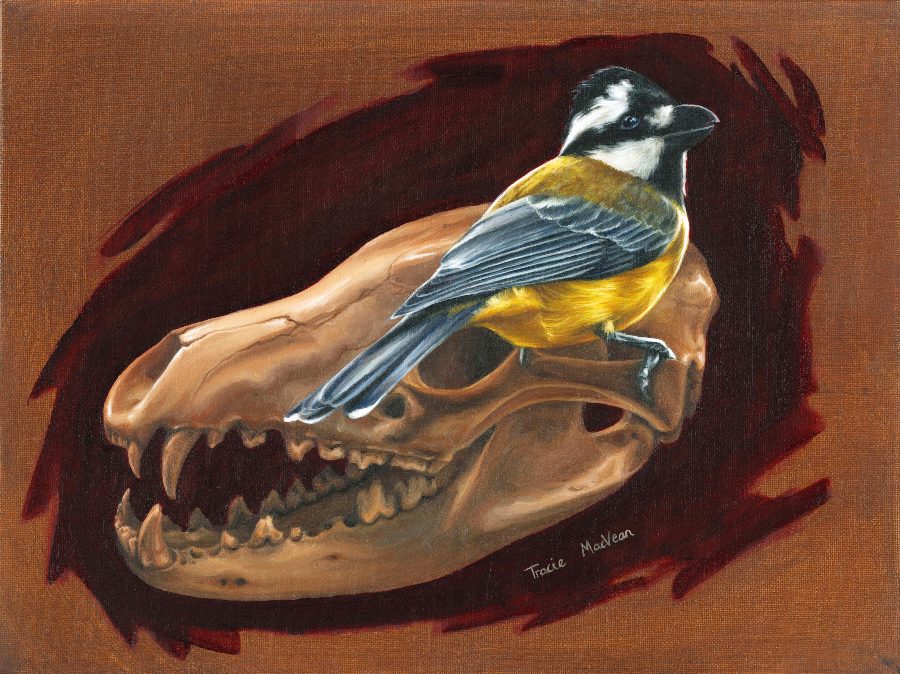 Based on everyday observations of environmental disrespect, humanity has become quite disconnected from nature.
It's evident that Tracie has multiple 'close to home' reasons why she's compelled to use her art as a tool for enlightenment as well as a force for change. As hard as it is to accept, the future of our planet and its many species – human beings, included – is at stake. What may have previously seemed like a preposterous sci-fi concept continues playing out in real time, which really should make each and every one of us come to a screeching halt, if only just to earnestly ask 'what can I personally do to become part of the solution?' As such, helping her audience to step outside of their normal comfort zone so they can embrace more of a we (rather than a me) attitude continues to motivate her painterly endeavors.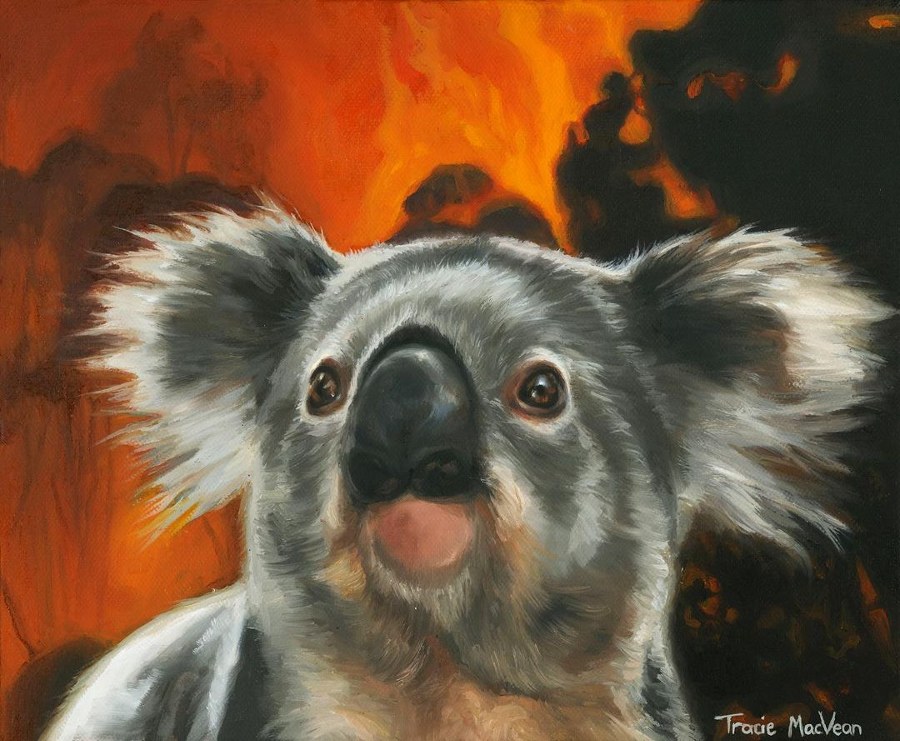 She's the kind of person who backs up her openly avowed "eco-nerd" leanings with various carbon neutral lifestyle actions – including gardening, recycling, and investing in renewable energy – yet still feels that "there's so much more that I could do". She's even worked on pro-environmental commissions – including a mural of an alpine ecosystem and a separate piece devoted to the critically endangered Stocky Galaxias fish – yet that old nagging feeling remains: "No matter what I'm doing, the sense that it's never quite enough always lingers."
Seeing how far I can push a painting is really fulfilling.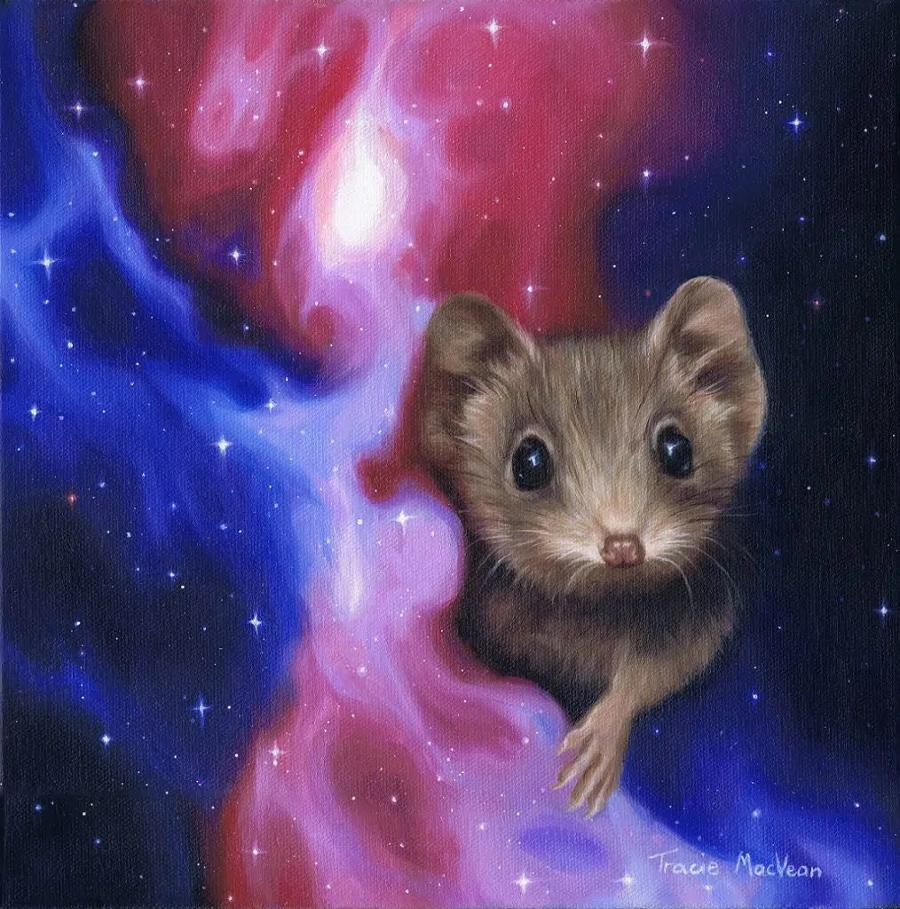 Tracie would be delighted if her work inspires real world action, but doesn't feel that just instilling hope in others is enough to "make a measurable impact on the natural world". Since her inner eco-champion "wants to preach and raise awareness" in a more constructive way, she pairs her animal imagery with thoroughly researched biographical details (which can be seen on her social media accounts). It's easy to be dazzled by the painterly TLC that her subjects receive, but those who take the time to read about each creature will quickly realize that they aren't just an aesthetic fancy. They are residents of planet earth living in habitats that are far too often under siege. Anyone interested in advocating on their behalf?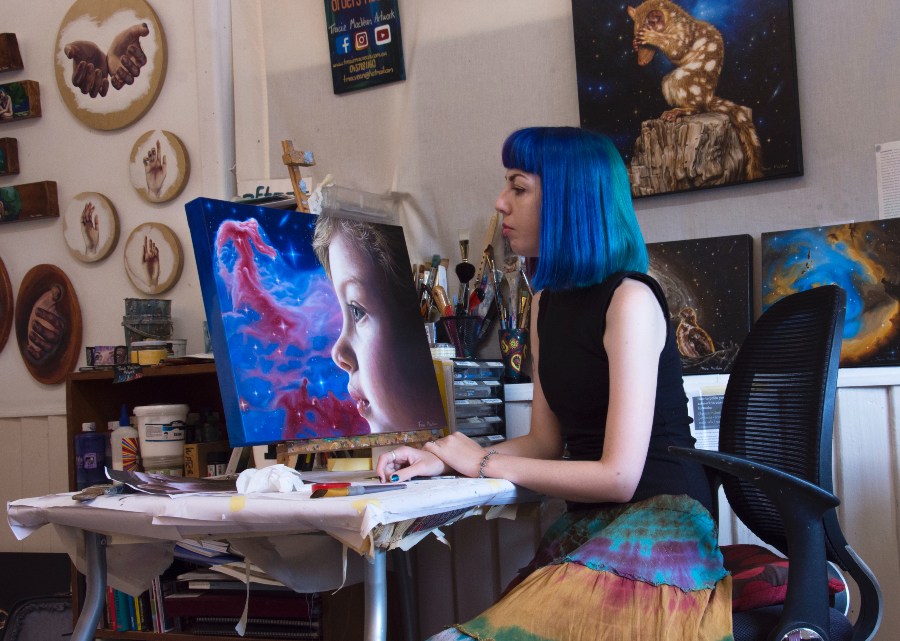 Tracie's galactic, fish out of water scenarios are conjured in an effort to give rise to a deeper understanding of the connection between human actions and the survival of all creatures great and small. If – upon getting lost in the "awe and wonder of the universe" – her viewers feel compelled to make personal lifestyle alterations that may potentially take some of the heat off our environment, wonderful! That would certainly be the glistening cherry perched on top of her life's work, which – for the past ten years – has been as spiritually nurturing as it has been necessary for her personal fulfillment. For Tracie MacVean, who acknowledges having very high expectations of herself, leveraging her twin passions to help the beholder gain a greater perspective of the precious nature of our planet and its biodiverse species doesn't just make sense. It's simply what she must do to ensure that her time in this plane of existence makes a meaningful and lasting impact.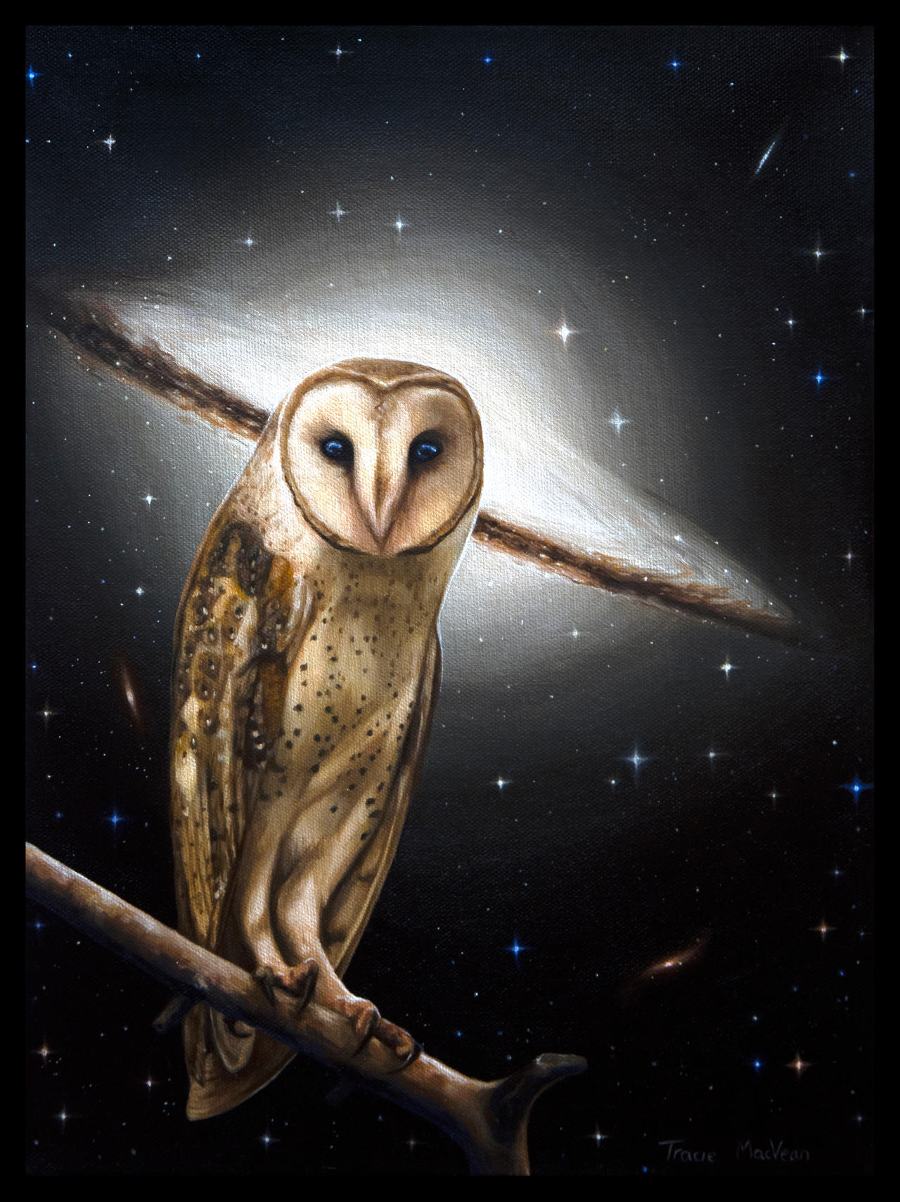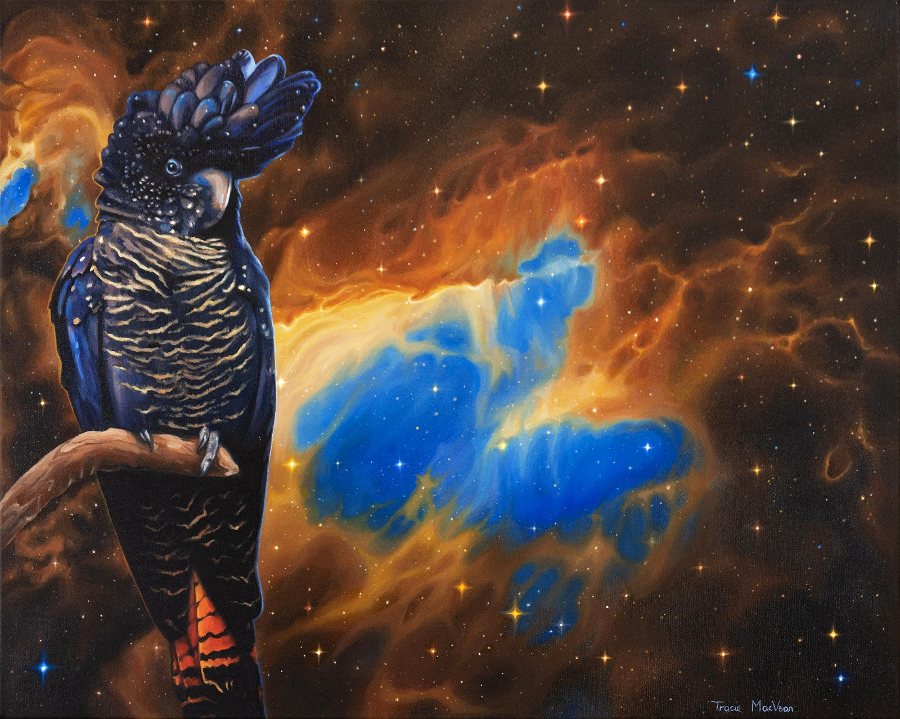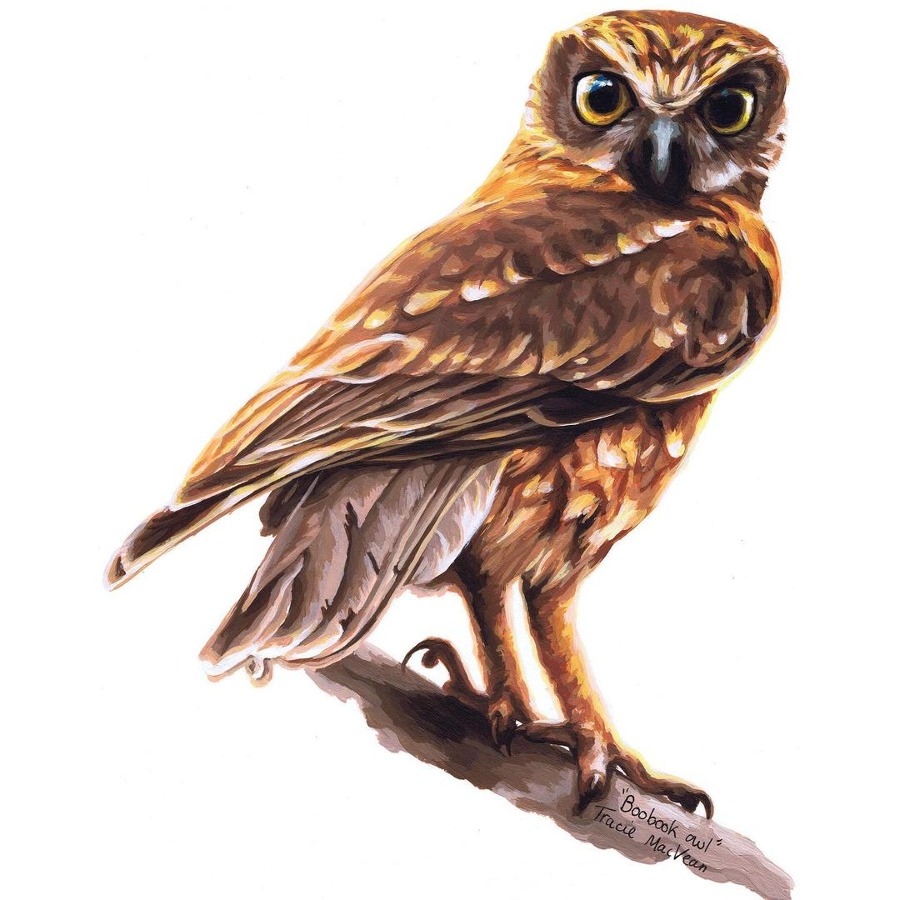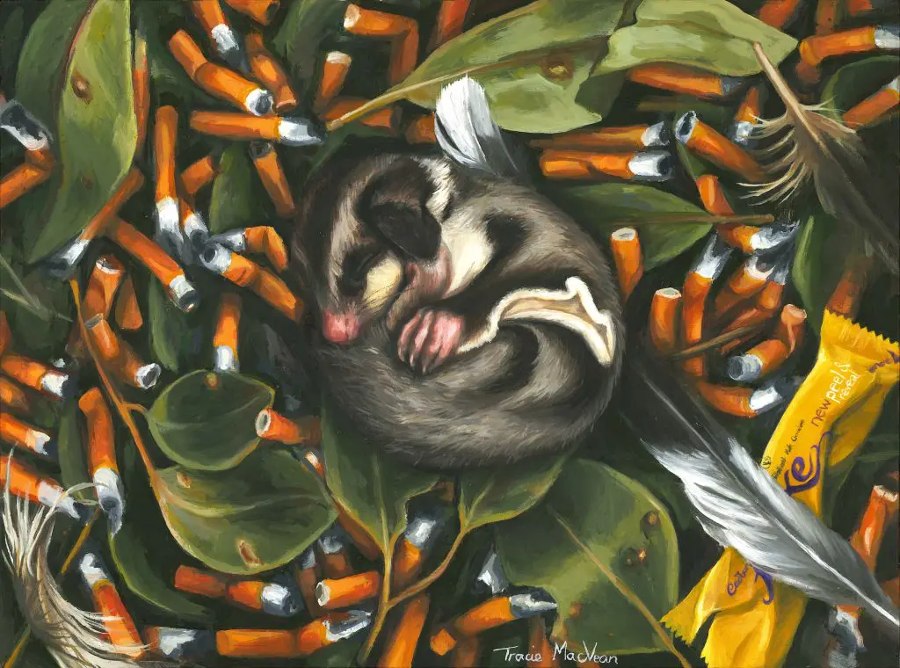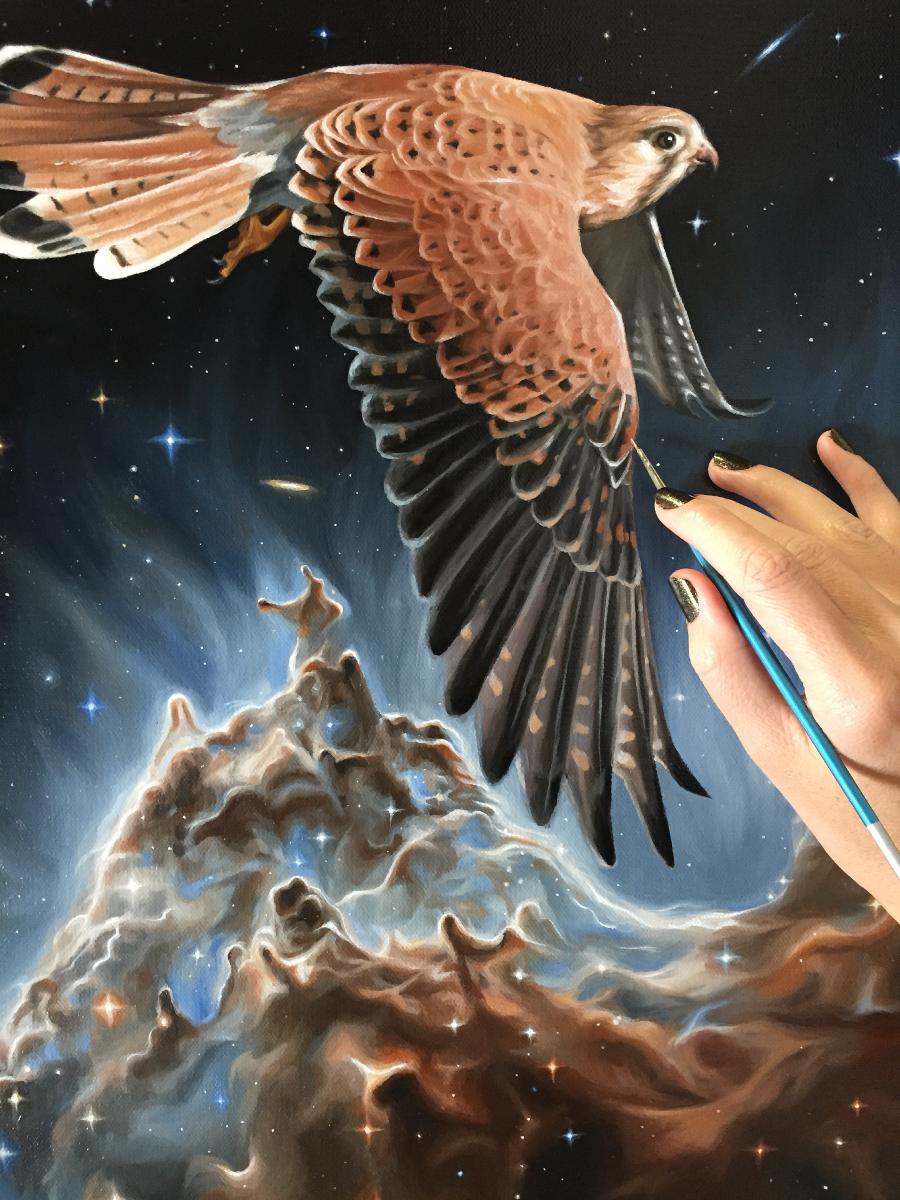 Tracie MacVean Social Media Accounts