Issue 36 of Beautiful Bizarre Magazine, with Mary Jane Ansell's exquisite painting, "Floralia II" on the cover, is on sale now! Contact one of our Stockists or Shop Online, but don't miss this special issue.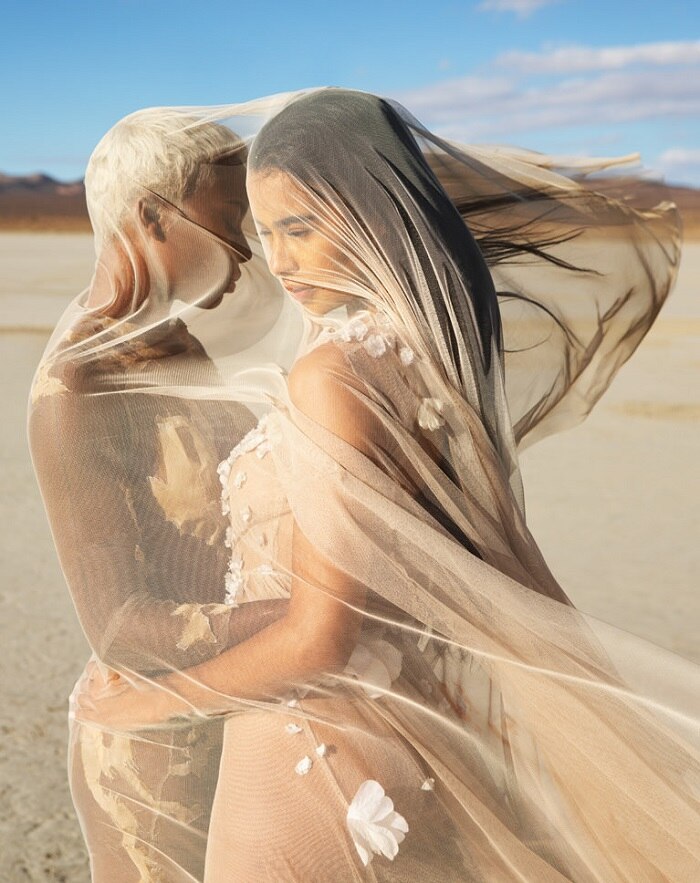 Inside this issue we dive into the work of Rob Woodcox, whose creative eye moves beyond that initial visual impact to a deeper consideration of works that carry a message within their very essence. It would be a big enough task for any artist to take on the prejudices that are still so rife in modern society, but Rob has his sights set higher still. To use his art as a platform to help steer us in a direction whereby the "us" also includes the way that we treat our planet and all of the flora and fauna we share it with. To foster love, acceptance, and appreciation for nature in all of its myriad forms as well as humanity in all of its diversity.
We also learn about the muted palettes of Ron Hicks, who does not rely on colour to tell the stories within his works, rather, the focus of the viewer is always drawn to the figures themselves. Ron's ability to convey a sense of time, of place, and, most importantly, of emotion, expertly captures a moment that adds life and depth far beyond the simple two-dimensional scene.
We take a look at Lo Chan Peng, whose muses seem no longer capable of weathering the slings and arrows of their corporeal existence and have transitioned to Lo Chan's sacred painterly sovereignty. The Taiwanese oil painter – who counts purity, truth, and passion among his guiding tenets – regards his creative journey as "pathfinding in an inhuman land".
Cover artist, Mary Jane Ansell, an oil painter known for her female portraiture that evokes sentimentalities of peace and power, but also loss and surrender. This conflict becomes most perceptible in her paintings that display women dressed in military regalia, covered in medieval armour, or swathed in the royal blue, red and white of the British flag. The images seem to ask, "Are we victorious?" Perhaps not when the battles rage on and on.
When you live and work together, certain boundaries disappear, and relationships must adapt – especially when a baby enters the mix! In this issues Artist + Artist conversation, artist couple Elizabeth Winnel-Wittfooth and Martin Wittfooth share with us not only an insight into their working practices, but how they have found that notion of balance in all elements of their lives. Perhaps most interestingly, it shows how finding that balance can become the fertile soil for ideas and design.
In our Collector's Profile editorial, we step inside the home of Erica Berkowitz and Joseph Weinreb and speak to them about their passion for the arts, which is infused in every aspect of their lives, not only as collectors and champions for the arts, but also as co-owners of Haven Gallery in Northport, New York. We learn about their extensive collection, where they started, and what they hope to see in the future.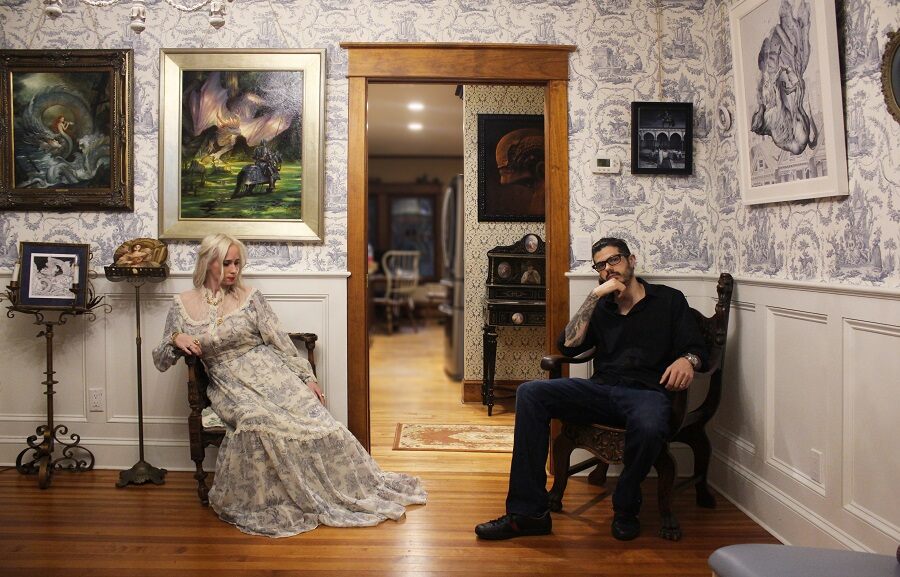 People's Choice Award Winner, 2021 Beautiful Bizarre Art Prize, Stephanie Rew's gold leaf oil-painted portraits are often of solo women, alone in an art space playing host to the magnificent textiles worn about their bodies. In her multiple figure paintings, she seeks to convey the empathy, support, and love that can be shown by gesture alone – the silent conversations many women have with mothers, friends, sisters, and daughters.
Next we delve deep into the ethereal pale glow of Juli About's fascinating sculptures. An Honourable Mention in the 2021 Beautiful Bizarre Art Prize, Young Projects Sculpture Award Category, she describes how the link between the inside and the outside has always been there in her mind, but it has manifested itself in different ways throughout her life. Juli's work invites us into an emblematic world where symbols such as hearts and needles forge new meanings.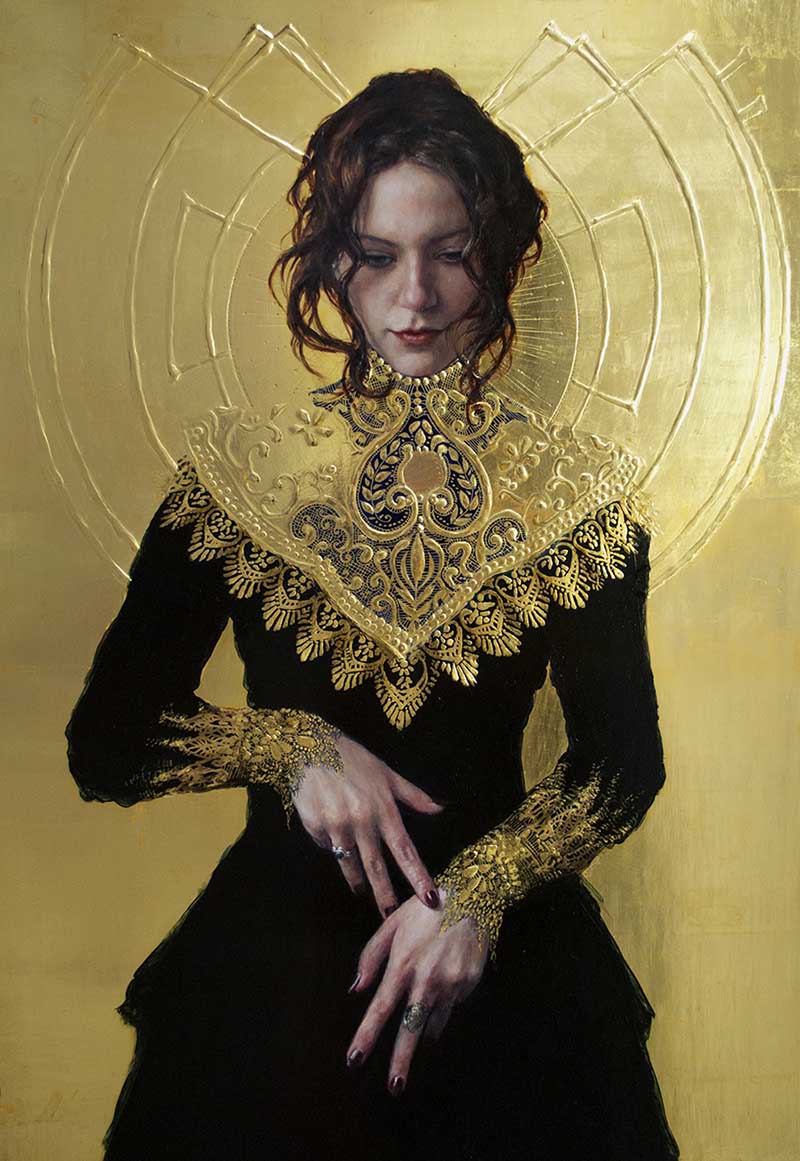 Plus we also learn what Jennifer Rizzo, Curator of Hashimoto Contemporary and Spoke Art, would like to add to her personal collection, in this issue's Curators Wishlist.
You can also immerse yourself in the world of SilllDA, whose sad girl ecstasy and unique melancholic work denotes visceral feelings of anxiety, unhappiness, and fear; the worldly terrors of the known and the unknown that constantly pressure the human psyche into submission. By talking with SilllDA, we get to know a little bit more about the method behind the madness and understand why her drawings inspire that uncontrollable sensation of butterflies fluttering around in our tummies.
Travel deeper as we explore the creative mind of Japan-born artist Sui Yumeshima, who weaves that very same purity of spirit – hearkening back to the days of shadow puppets and dancing like no one is watching – into her blissfully logic-defying delights. What a joy it is to set rules, regulations, and expectations completely aside in order to rekindle our romance with the unbridled possibilities of the creative mind.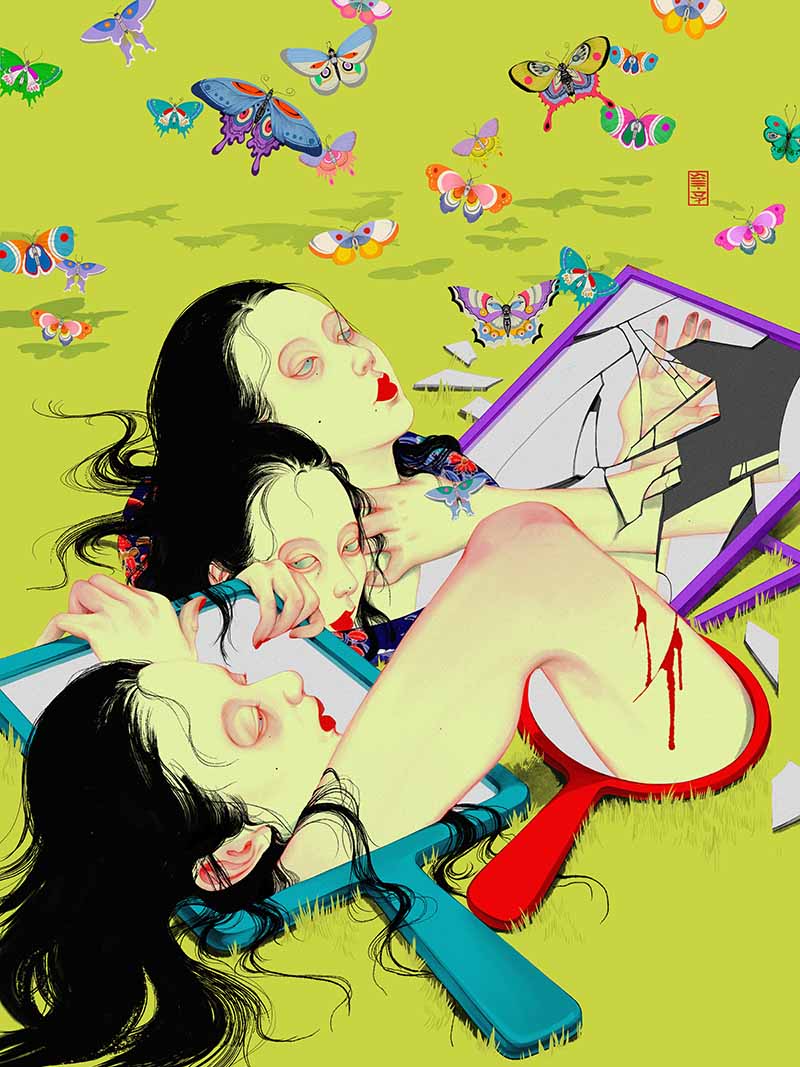 As well in Issue 36 of Beautiful Bizarre Magazine, we take a look at Australian Artist Judith Nangala Crispin. Her work asks us, what does nature mean to you? For some, nature is a connection to the very heart of the land and those that came before us, along with their values, stories, and cultural commitments of a place. For Dr Judith Nangala Crispin, and many people of Australia, this connection and acknowledgement of traditional owners and ancestral territories of the land is summarised as Country. With such a colossal notion behind this one word comes a vast array of ideas and stories that fascinate, soothe, embolden, and frighten those who would seek to listen and learn.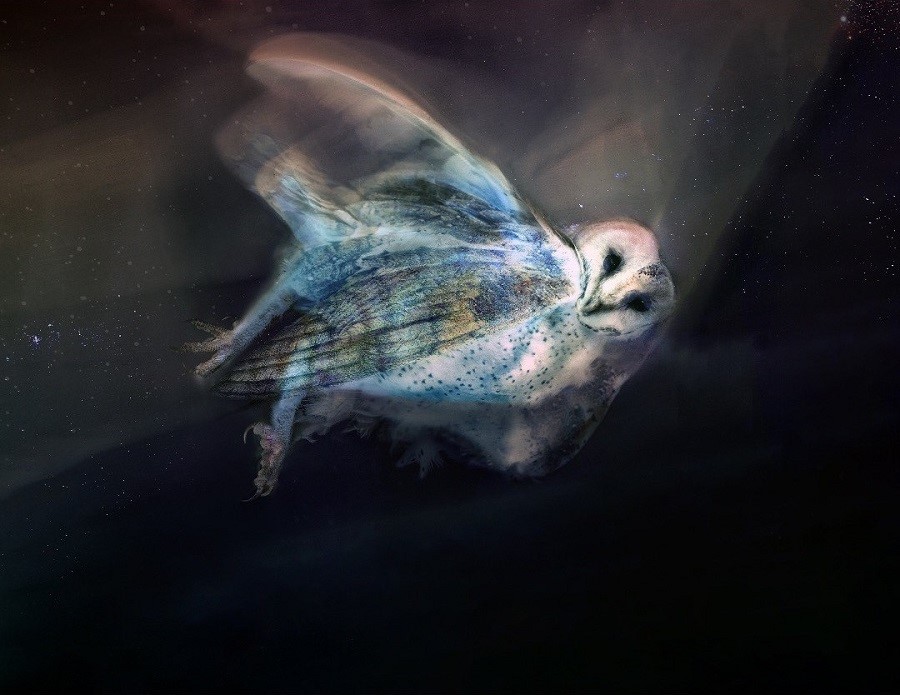 We also delve into the imagination of Fumi Mini Nakamura who uses gouache, colour pencils, and graphite, to hook her viewers into her portrayal of nature, infused with her advocacy and personal experiences.
We enjoy the magically-surreal paintings of Peca in this issue's Lookbook editorial. Plus discover the fascinating paintings of Eva Gamayun as she ruminates about the source of her passion for art and pursuing a professional career as an artist, among other things.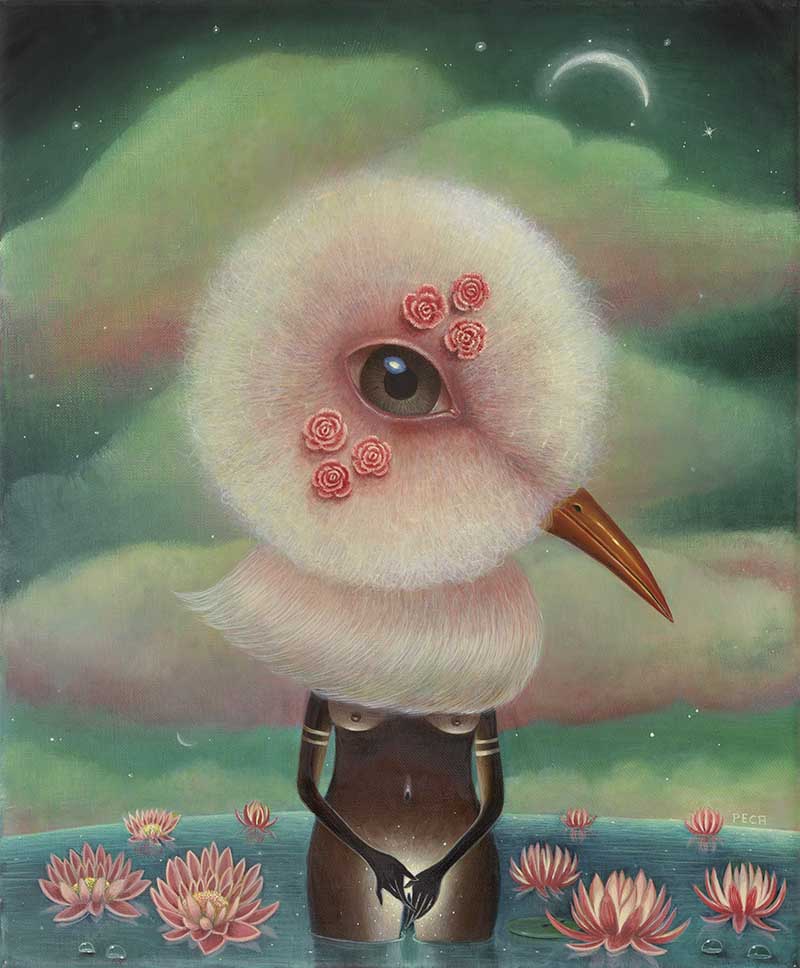 In our Snapshot series, we ask six artists: Colleen Southwell, øjeRum, Kim Slate, Lexi Laine, Jenny Orchard, and Jisu (1st Prize Winner of the iCanvas Digital Art Award, Beautiful Bizarre Art Prize 2021) the same quick questions:
How do you respond to criticism, and does it influence your future work?
With the move to more online exhibitions, what role do physical galleries have in the arts going forward?
If you had unlimited resources, what would you do what would you do to further your art career?
How does your work reflect you as an individual?
In her inspiring Letter from the Editor, our Editor-in-Chief, Danijela Krha Purssey shares her thoughts and reflects on exciting millstones despite the pandemic and its many challenges.
We also highlight more of the wearable art designers that have caught the eye of our Deputy Editor and Editor-in-Chief, in this Issue's Some of our Favourite Things editorial.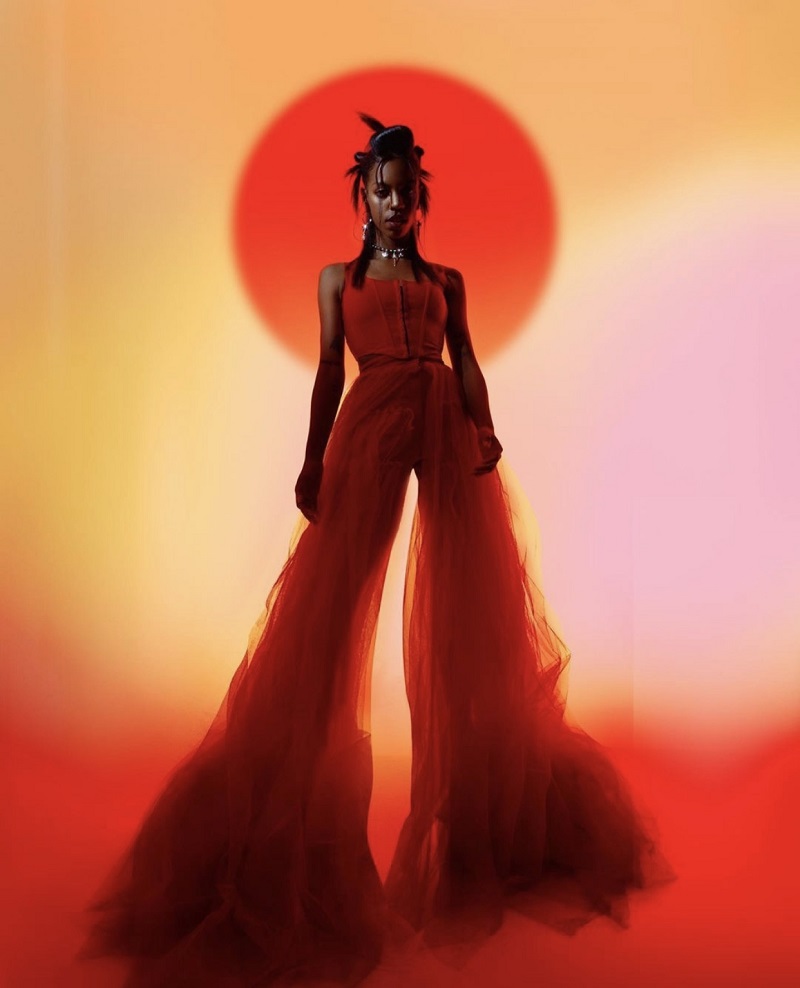 And last but not least, enjoy a collection of the amazing hash tagged #beautifulbizarre artwork from our social media community of over 1 million followers!
All this inside Issue 36 // March 2022, which showcases some of the best and most inspiring emerging and mid-career artists of our time.
Visit our online store and enjoy Beautiful Bizarre Magazine Issue 36.