If you enjoy art which revels in that playful space of juxtaposition, look no further than Corey Helford's opening reception this Saturday, November 6. Celebrating two solo exhibition openings, Corey Helford Gallery will be giving their first peek at Hera of HERAKUT's new works alongside the paintings of Bennett Slater.
In her first major solo show at Corey Helford Gallery, Hera (Jasmin Siddiqui) of renowned artist duo HERAKUT shares her new body of work in Hera We Go Again. The exhibition has everything and more that has gained her fans and collectors around the world. Each artwork hums with energy, layers of chaotic brushstrokes and lines harmonizing with softly blended colours and graceful characters. Her skills as a graffiti artist, illustrator, poet, and storyteller are all shown with perfection in this latest show.
Additionally in Room 2, Canadian artist Bennett Slater unveils his latest series of paintings in Giving up the Ghost. Bennett utilises traditional oil painting techniques on wood panels to create a versatile array of creations. His influences range from the rich depth of the Dutch masters to gaudy flash of B-movies, and with whimsical yet incredibly thought-out narratives, Bennet's work often explores dualities between classic and contemporary symbology. His latest series does not disappoint!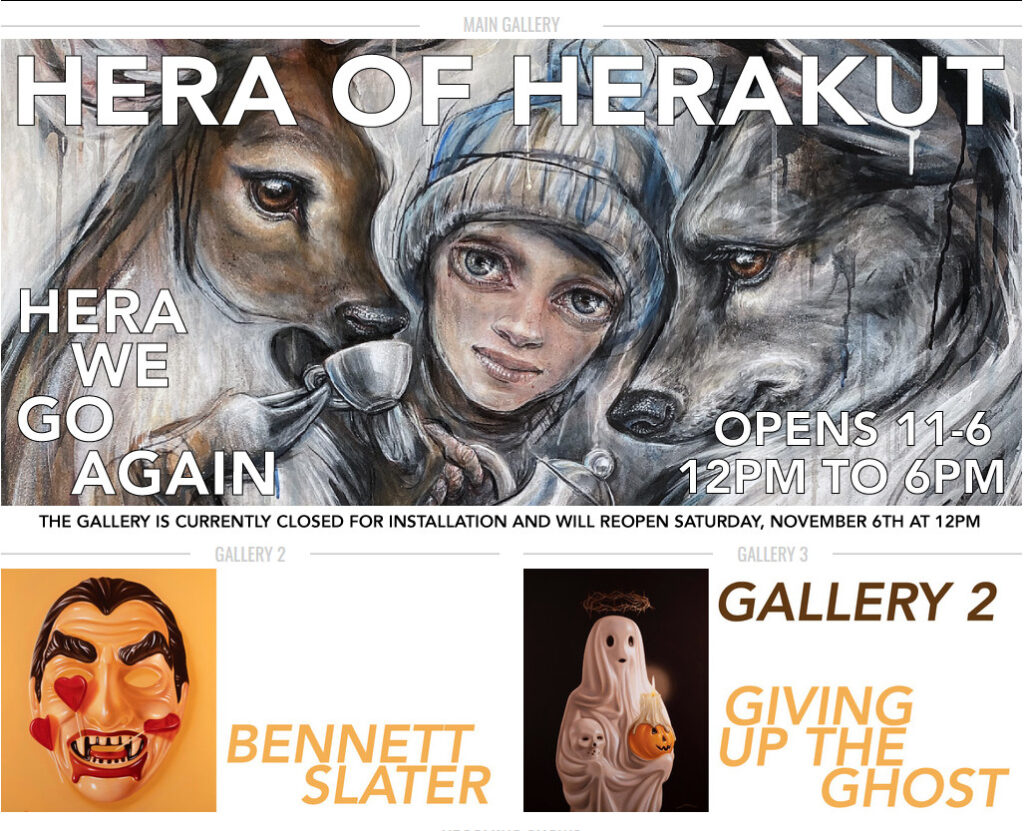 Exhibition Dates: November 6 – December 11, 2021
Opening Reception: Saturday November 6, 2021 | 7:00 pm – 10:00 pm
Corey Helford Gallery
571 S Anderson St (Enter on Willow St), Los Angeles, CA, 90033.
Visiting hours: Thursday – Saturday, 12:00 pm – 6:00 pm.
For press inquiries or sales, please contact jch@coreyhelfordgallery.com or call (310) 287-2340
Please note: As coronavirus cases continuing to rise, CHG will be requiring vaccination as a condition of entry into the gallery, plus guest temperatures will be checked and masks will be required. 200 people at a time will be allowed into the gallery's 12,000 square foot space, which will be monitored by CHG's staff. After opening night, CHG returns to their regular visiting hours (Thursday through Saturday from 12:00 pm – 6:00 pm).
Hera: Hera We Go Again (main room)
From press release:
My affiliation is always with those who create beauty in the darkest of places. Because the gutter feels closer to my creative home than the artist studio.

I come from graffiti culture. I used to be the vulture, the raccoon, the street rat, that rummaged through leftover paint buckets left on the curbs of home renovations, treasuring other people's trash.
Jasmin Siddiqui was born in Frankfurt, Germany in 1981. Starting at the age of eight, she has a classic art education and later studied Visual Communication and Graphic Design at the University of Applied Sciences in Wiesbaden. Hera combines her skills as a graffiti artist, illustrator, poet, and storyteller to create fluid figures with simultaneously elegant and chaotic line and brushstrokes. Her work is often a statement on the human condition and experiences of childhood.
Jasmin became internationally known after joining forces with Falk Lehmann in 2004, merging their names and styles to collaborate as HERAKUT ─ HERA (Jasmin) and AKUT (Falk). Widely considered the leading German street artist duo, having exhibited in galleries and art fairs worldwide creating over 100 public murals. They have published two successful books (2009's The Perfect Merge and 2011's After the Laughter), and having their work in major collections around the world.
Bennett Slater: Giving up the Ghost (Room 2)
This new series is a wonderful juxtaposition of two popular streams of interest within modern culture. On the one hand, a renewal of interest in ancient folklore and myth has naturally occurred. In the age of neo paganism, myth and historical folklore has also found itself in the limelight through numerous re-interpretations in modern media. Additionally, many have turned back to nature as a healing balm in response to our fast-paced living, taking inspiration from the old ways which we once lived with nature.
Conversely, corporate culture has had its hand in warping many of these traditions for its own commercial gain as the new generations have revived them, and modern generations put their own spin on them as well. Case point, as Bennett Slater explores: our beloved Halloween.
In his latest series, idols and symbols from ancient folklore and myth are portrayed, clashing against the "kitschy hollow plastic and colourful candy shell" coating of modern culture's twisted version of this pagan event. We are invited to revel in the modern version and explore how we have evolved folklore and traditions to fit the modern age.
From press release:

Regarding his new series Giving up the Ghost, Slater shares,
From the time people worshiped in the sun, there have been those who linger in its shadows. The dark holds many secrets, and throughout time, there have always been those attempting to unlock them.

Pagan omens, superstitions, and rituals remain woven in the fabric our world- simply adapted with the time. The iron of the cauldron is now blow-mold plastic… but our dark curiosity remains.
This is my largest solo body of work to-date and was a thrilling challenge to create. The collection is subdivided into three smaller series: five pieces dedicated to folklore and myth, five pieces exploring the many incarnations of Lucifer, and the final ten pieces are an exploration of our contemporary, candy-coated experience. I am fascinated by the journey these creatures and symbols have gone on, from darker, more sinister roots, to an accepted celebration of creatures and candy.
Studying through ancient symbology and mystic folklore has long been of deep interest to me, matched only by my deep love for the tradition of Halloween and the plastic flashiness of kitsch culture from the 60s and 70s."
Hera Social Media Accounts
Bennett Slater Social Media Accounts
Corey Helford Social Media Accounts