During these unprecedented times, it's important to cultivate positivity and find encouragement in moments that uplift your spirit. If you're looking for inspiration, let art be your remedy. Join Distinction Gallery as they present "Awkward", the solo exhibition of Jamie Kanes.
Through a range of color palettes and technique, Jamie Kanes captures the distinct personality of each of her expressive subjects. Show your support and help celebrate these fascinating human-animal portraits that arouse the senses and stir your emotional waters.
This is an online only exhibition. However, a selection of the artwork will be viewable in the front window display at Distinction Gallery.
About the Artist // Jamie Kanes has been a creative professional in the skateboarding, surfing, and snowboarding industries since the 80's. With jobs ranging from marketing, and graphic and product design, to being art director for Transworld Snowboarding Magazine, she has spent years creating commercially appealing imagery.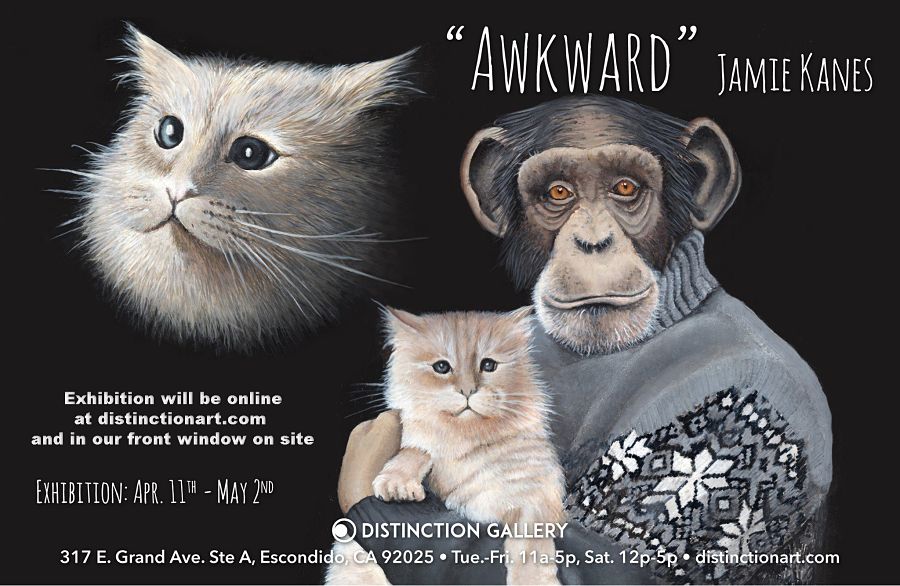 Jamie Kanes "Awkward"
Exhibition Dates: April 11 – May 2, 2020
Distinction Gallery
317 E Grand Ave Escondido | CA 92025
Distinction Gallery was created in 2004 to give beginning and established collectors a venue to purchase high-quality, cutting edge artwork. Distinction has hosted over 160 exhibitions since its inception featuring emerging, mid-career and veteran professional artists. Distinction's artwork is available for purchase online to clients around the world, and most of our artists are available for commissions. In order to further expand offerings to the community, Distinction converted part of their location to ArtHatch, a non profit organization.

ArtHatch is a 7,000 square foot building which houses the front gallery: exhibitions changing monthly, "The Alley", featuring over a dozen local artists, "Micro Gallery" – a mini gallery featuring 8 x 8 inch and smaller artworks, the teen studio featuring artwork by 15+ teen artists, 17 artist studios, ranging in size from 150 to 800 square feet, featuring the work of over 20 local artists, ArtHatch Escape Rooms, and "The Last Spot" – a Wine, Kombucha, Craft Beer, Mocktail Art Lounge.

The Last Spot was created in the last possible spot to fit another business inside of Distinction Gallery/ArtHatch. The Owner always loves the bustling activity inside the space and felt the only thing truly missing was an Art Bar. Last Spot is a creative space designed with visual art at its core including sculpture, 2D wall art, and a large scale media wall/lighting display designed to serve as a visual feast during your visit. Last Spot is proud to feature local wineries, local craft brews, hard kombucha, and custom mocktails created to satisfy both non drinkers and designated drivers.While we do not serve food on site you are welcome to bring your own or order from one of our many neighbors.
Distinction Gallery Social Media Accounts
Website | Facebook | Twitter | Instagram
Jamie Kanes Social MEdia Accounts