To dive into Beth Mitchell's contemporary photographic art is to be immersed in an underwater world of female figures suspended in mindful and surreal constructs. With a fierce commitment to celebrating the female form, Beth's work has evolved and matured in response to internal and external narratives, and in becoming a full-time artist in 2019. Her recent exhibition 'Firewater' at Lethbridge Gallery in Brisbane, explores connections to culture, nature, and social issues, creating impact with intimate and emotive stories, and a skillful mastery of technical challenges.
Beth Mitchell was the 3rd Prize Winner of the Stocksy United Photography Award in the 2019 Beautiful Bizarre Art Prize… read last year's exclusive interview!
Exploring 'Black Summer'
The title piece 'Firewater', and 'Embers', emerged in a reaction to the 'Black Summer' of 2020, a disastrous season of intense bushfires. Across the scorched Australian landscape, questions emerged regarding land mismanagement and there were calls for a greater understanding and restoration of the indigenous ways of mitigating fire risk. At the same time, there were renewed demands for truth and equality in our society. Beth's subject Kirrily Phillips is a Gumbaynggirr, Bundalong, and Dunghutti woman, who proudly embodies contemporary womanhood and embraces the wisdom and healing practices passed down through generations. In a celebration of strength of identity, 'Firewater' contrasts the burning environment with a quiet ritual of cleansing and regeneration, in a meticulously layered and detailed digital fusion of native flora, water, flesh and fire.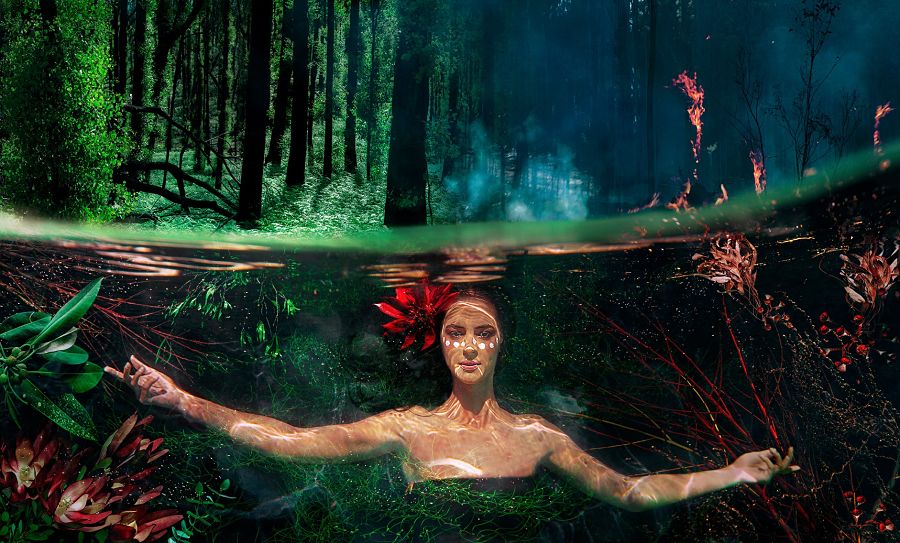 We [Beth and Kirrily] wanted to create 'Embers' and 'Firewater' to highlight an overarching theme of rejuvenation and healing after the devastation of the bushfires in 2020.
The Force of Women
A continuing focus in Beth's work is the understanding of identity and how women are represented and valued in society, as well as their connection to the environment. 'Lumina', 'Amphitrite', and 'Andromeda' adhere to themes surrounding the vulnerability and force of femininity, representations of Mother Nature, the tides of social acceptance and feelings of self-worth. They allude to the true value that extends beyond the surface to greater depths. In a departure from her frequently kaleidoscopic palette, Beth has chosen a captivating and contemplative presentation in black and white. The deceptively simple underwater works possess a freedom of spirit and movement, each illuminated figure inhabits the haunting silence of a dark space.
Resurfacing From Isolation
The impact of isolation during 2020 is referred to in several new works. Addressing the shared grief as a society and global community, the 'Moon Shadow' series manifests the heaviness of the forced solitude and the surfacing of a hopefulness that followed the easing of tight restrictions. Often to be found submerged in a pool, Beth took her subject to the ocean and made use of the beautiful glowing natural light.
'Moon Shadow' was an example of working with a muse who inspires me creatively (Paris is an exceptionally marvellous jewellery designer) but someone who could embody my own connection with the earth as well as self-contemplation, and our contemplation as a society during 2020.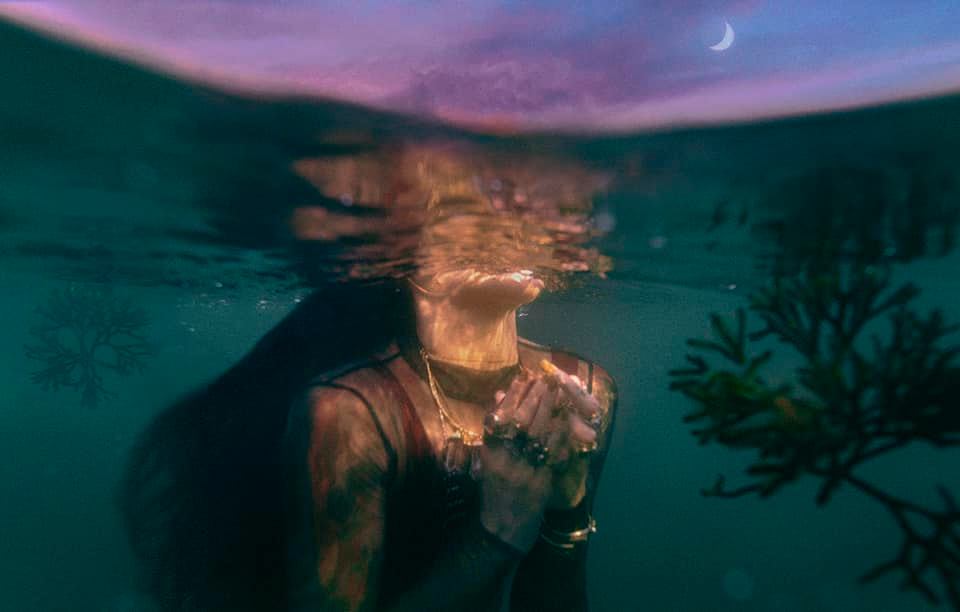 A Hope for Survival
It follows that 'Rising Sun' continues the feeling of rebirth, and floats a message for peace, hope, and a reconnection to our Natural world. This is a tribute to survival and strength despite the challenges of 2020. In speaking of her process, Beth revealed that her initial concept for this shoot underwent a metamorphosis as she worked to adapt to an unexpected weather change. A cover of clouds provided a natural soft filter, the resulting visual is of an ethereal figure that characterizes an inner calm, and an intentional leaning into the future.
I work with women who I could learn from, or women who inspire me and I hope will inspire other women. Sometimes it may be to document who they are in a new magical light, or other times I work with women to embody something I am wanting express.
Beth Mitchell's photographic art is an observance of diversity and femininity. With her medium of choice, a fierce determination and her equipment that includes an underwater camera and a wetsuit, Beth plunges into the depths of her imagination to provide an understanding of her reality. She hopes to encourage an awareness of mental health issues, contribute to a current conversation about womanhood and identity, and highlight relationships to the natural world – fire and water, land, and sky.
Beth Mitchell Social Media Accounts