Immersed in undeniable whimsicality, the hybrid creations of Valency Genis have an obvious way of making you smile. Each quirky character, seemingly more than just a sculpture, ignites curiosity for every animal lover and art collector alike. Join Distinction Gallery as they proudly present Valency Genis' solo exhibition, "Mental Menagerie", and watch as these unique works of art fill your heart with joy.
The opening reception with Valency includes live music, ArtHatch open studios, Laganitas beer, and BK Cellars wine. Distinction Gallery was created in 2004 to give beginning and established collectors a venue to purchase high-quality, cutting edge artwork. Distinction has hosted over 160 exhibitions since its inception featuring emerging, mid-career and veteran professional artists. Distinction's artwork is available for purchase online to clients around the world, and most of our artists are available for commissions. In order to further expand offerings to the community, Distinction converted part of their location to ArtHatch, a non profit organization.
ArtHatch is a 7,000 square foot building which houses the front gallery: exhibitions changing monthly, "The Alley", featuring over a dozen local artists, "Micro Gallery" – a mini gallery featuring 8 x 8 inch and smaller artworks, the teen studio featuring artwork by 15+ teen artists, 17 artist studios, ranging in size from 150 to 800 square feet, featuring the work of over 20 local artists, ArtHatch Escape Rooms, and coming soon – "The Last Spot" – a Wine, Kombucha, Craft Beer, Mocktail Art Lounge coming soon.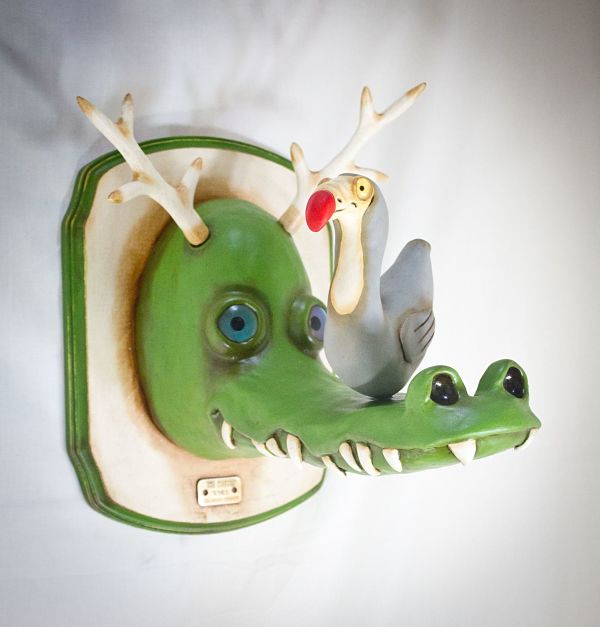 Valency Genis: "Mental Menagerie"
Opening Reception:
December 14, 2019
Exhibition Dates:
December 14, 2019 – January 7, 2020
317 E Grand Ave Escondido, CA 92025
About the Artist:
Valency Genis is and amazing sculpture artist that creates hybrid creatures of fancy. She hails from the Republic of Cascadia; she entered the world as a 12-pound baby born in Portland, Oregon, and was then raised in Seattle, Washington.  She was utterly obsessed with television and video games for most of her life, so it is ironic that a summer spent on Flathead Lake, Montana in an electronics-free log cabin when she was 10 years old would change her life forever. Searching for diversions to alleviate her interminable boredom, she happened upon an old taxidermy shop. A dusty pair of "unborn beavers" caught her eye in the window display, and it forever imprinted on her naive adolescent mind. The stunning array of animals presented in the rustic store drew her in with their beauty, but she was bereaved by their demise…
While studying for her BFA at the University of New Mexico, Valency discovered that she had the power to create creatures and control their aesthetics, while minimizing the tragedy associated with taxidermied animals. She takes an almost Dr. Frankenstein-like glee in crafting her unique animals, drawing on influences ranging from Dr. Seuss to Natural History Museum dioramas. Her first solo show, Heterodoxy, was at the John Sommers Gallery (UNM) in November 2011, and it garnered Ms. Genis summa cum laude honors from The UNM Department of Art and Art History (which she proudly added to her summa cum laude baccalaureate honors). She describes her current living situation as "life in a farmhouse" as she raises her 2 teenage sons alongside her husband of 20+ years, Shane, who is a CV-22 Osprey flight engineer in the U.S. Air Force.