I am a huge fan of these two wonderful artists, so hearing they were coming together for a show at Distinction Gallery had me a tad over excited! Creature Comforts bring together 20-30 new sculptures from Denise Bledsoe and Valency Genis, created specifically for this exhibition.
These incredible little beings don't disappoint and will appeal to all your sensibilities. Underwater creatures, forest folk, yawning babies, it's a little world of adorable faces created in the surreal style these artist always impress us with. Let you imagination run wild, get your huge grin ready and spend the night getting completely comforted by these creatures!
Saturday, December 9 | 6-10pm
Exhibition Dates:
December 9, 2017 – January 5, 2018
 317 E Grand Ave
Escondido CA 92025
(760) 707-2770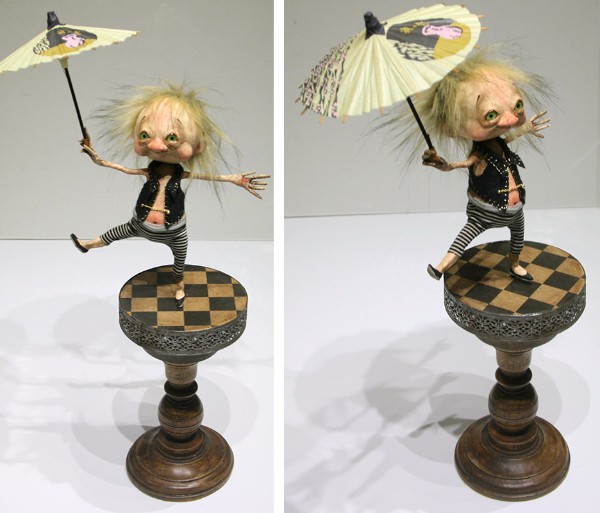 Distinction Gallery is proud to present two of our most loveable artists: Denise Bledsoe and Valency Genis. Comfort Creatures. The opening reception will be held on Saturday December 9, from 6-10pm. Both artists will be present for the reception and we will also have live music, ArtHatch open studios, BK Cellars Wine, and Stone Beer.
"I've been involved in art with one media or another since I was a child. Although I spent many hours sketching, drawing with pen and ink, and painting with acrylics and oils, my first love has always been sculpting and mixed media. I currently use both ceramic and oil based clays. It is the three-dimensional and textural qualities achievable through sculpture that satisfies me creatively. I feel that being able to experience a piece by holding it in one's hand is more fulfilling. In the case of my figurative pieces, it becomes an interaction with "eye contact". My work can be found in galleries both internationally and across the US and has been shown in art publications and was the cover feature for the arts and entertainment magazine Pasatiempo. It is also in the private collections of several notable celebrities." –Denise Bledsoe
Valency Genis is an amazing sculpture artist that creates hybrid creatures of fancy. Valency Genis hails from the Republic of Cascadia; she entered the world as a 12-pound baby born in Portland, Oregon, and was then raised in Seattle, Washington. She was utterly obsessed with television and video games for most of her life, so it is ironic that a summer spent on Flathead Lake, Montana in an electronics-free log cabin when she was 10 years old would change her life forever. Searching for diversions to alleviate her interminable boredom, she happened upon an old taxidermy shop. A dusty pair of "unborn beavers" caught her eye in the window display, and it forever imprinted on her naive adolescent mind. The stunning array of animals presented in the rustic store drew her in with their beauty, but she was bereaved by their demise… While studying for her BFA at the University of New Mexico, Valency discovered that she had the power to create creatures and control their aesthetics, while minimizing the tragedy associated with taxidermied animals. She takes an almost Dr. Frankenstein-like glee in crafting her unique animals, drawing on influences ranging from Dr. Seuss to Natural History Museum dioramas. Her first solo show, Heterodoxy, was at the John Sommers Gallery (UNM) in November 2011, and it garnered Ms. Genis summa cum laude honors from The UNM Department of Art and Art History (which she proudly added to her summa cum laude baccalaureate honors). She describes her current living situation as "life in a farmhouse" as she raises her 2 teenage sons alongside her husband of 20+ years, Shane, who is a CV-22 Osprey flight engineer in the U.S. Air Force.
Gallery Director – Melissa Inez Walker: Denise Bledsoe and Valency Genis are two of the most passionate, imaginative, and fun artists I have ever had the pleasure to work with. Everyone cannot help, but grin from ear to ear upon seeing their creatures. As a lover and collector of both artists works it only seemed natural to pair up these two women for a truly epic show.