Haven Gallery presents three simultaneous exhibitions: Chris Mars' "Quiet", Stephanie Law's " When the Sea Meets the Sky", and the "Little Big III" annual small works group show. As always. you can expect to see a remarkably diverse (yet thoroughly harmonious) array of artworks. If you are looking for special yet affordable pieces of artworks to give to the art lovers in your life, these are the three shows you wouldn't want to miss.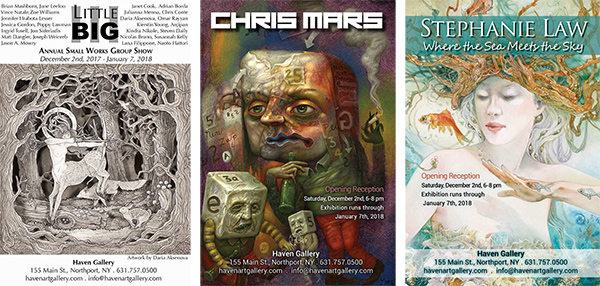 Opening Reception:
Saturday, December 2, 2017 | 6-8pm
Exhibition Dates:
December 2, 2017 – January 7, 2018
155 Main St., Suite 4
The Carriage House Square
Northport, NY 11768
Hours of Operation:
Wednesday – Sunday | 12pm– 6pm
For additional information and preview images, please contact Erica at [email protected]
Press Release:
Haven Gallery is pleased to present "Quiet", a solo exhibition of new work by Minnesota based artist Chris Mars. "Quiet" is Mars's first solo show with the gallery and will include a group of paintings that carry on his artistic journey of documenting through visual reverence, those most oppressed and out-casted in society. An artistic path beginning in his childhood, eternally inspired by his schizophrenic brother Joe, and both of their plights through years of institutionalization and maltreatment, Mars salubriously heals himself and those who have felt the outsider as he paints a place, a glorification and a home welcome to all.
The incorporation of illuminating palettes and angelic lighting casts a new and unforgettable perspective on his subjects highlighting the beauty and exceptional qualities found within them as people. We are drawn to each personality and attribute of his subjects and find emotional connections through the artists instinctual embracing of pain, strife and most of all, humanity. Universal sentiments that make up and connect each and every one of us, reminding us all that attraction is subjective, and standards and place irrelevant, as the prejudices and judgments they hold, ineffectual.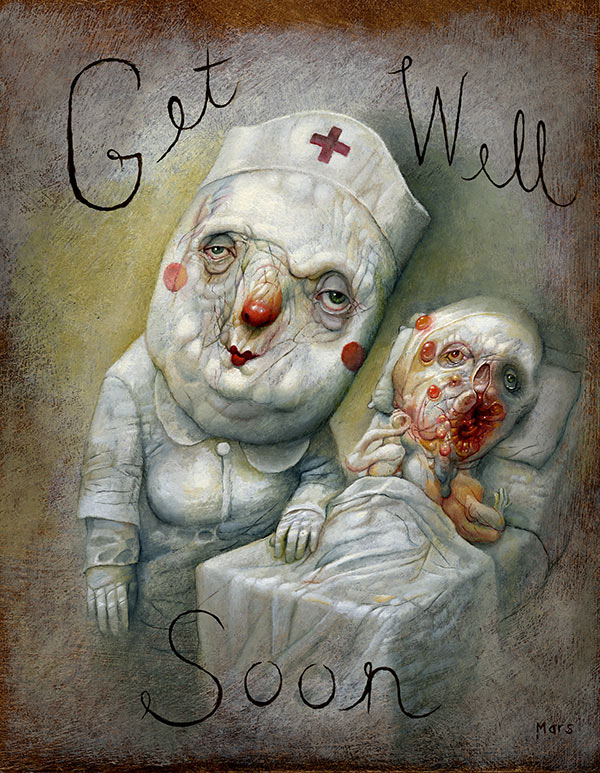 Mars champions the dark horse through an emotional use of composition, strong sense of narrative and bright palette, offering the viewer a representation of the perceivably unusual but beautiful person found within the confines of their shell. Many of Mars' figures find themselves transmogrifying with or are perceived monsters from pop culture, reminding us nostalgically of our tender ties to these sentimental stories and our abilities to look passed the physical form. Through these thoughtful techniques, a sense of familiarity and warmth is created, bridging the comforts of what is known with what may make some uncomfortable, to expose and celebrate the beauty in individuality and the unifying depths of the human soul.
Mars's subjects are not quiet, overlooked or turned away from. Despite their oftentimes suppressed natures, the unfortunate feeling of finding themselves and who they are silenced, Mars through his paintbrush canonizes them; Each figure, painted in such majesty that you cannot look passed them and you certainly will not stop thinking of them.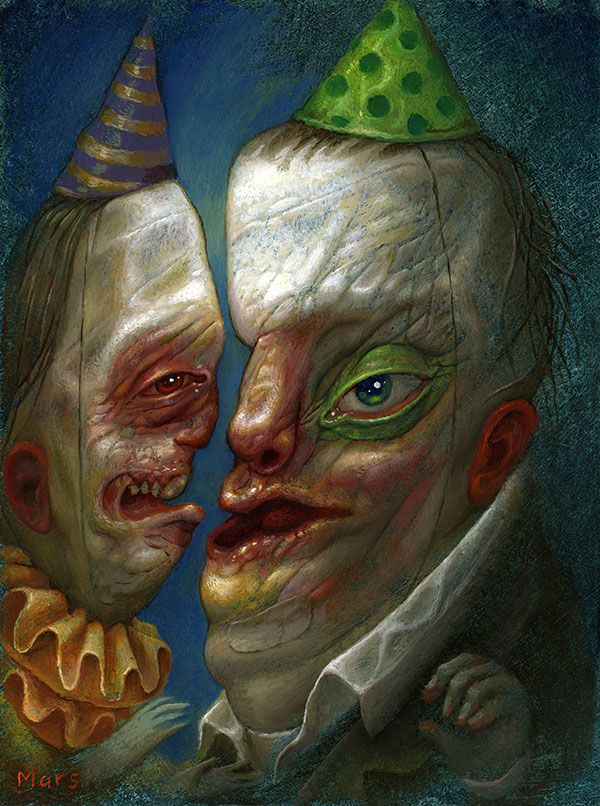 About Chris Mars
Chris Mars was born in Minneapolis, Minnesota in 1961, the youngest of seven children. When Mars was five years old, his eldest brother, Joe, was institutionalized for Schizophrenia. Memories of the archaic institution, society's prejudgment, medical anonymity and famial shame had a profound impact on the young Mars, setting him on a life path of creative expression seeking to "…free the oppressed; to champion the persecuted, and the submissive; to liberate through revelation the actualized Self in those proposed by some to have no self at all."
Mars's work has exhibited in museums worldwide including Halle St. Pierre (Paris), Casa Dell'Architettura/Acquario (Rome), Museum of Modern Art (New York), Los Angeles Municipal Art Gallery (CA), Laguna Art Museum (CA), Ruby Green Contemporary Art Space (TN), Grand Central Art Center (CA), Haas Fine Arts Center (WI), Art Center South Florida (Miami), Ft. Wayne Museum of Art (IN) and Louisville Visual Arts (KY), as well as American Visionary Art Museum (MD), Longview Museum of Fine Arts (TX), Museum of Fine Arts Florida State University (FL), Minnesota History Center (St. Paul), Mesa Contemporary Arts (AZ), The Tweed Museum of Art (MN), Weisman Art Museum (MN) and Minneapolis Institute of Art (MN), each of which hold Mars's work in the permanent collection.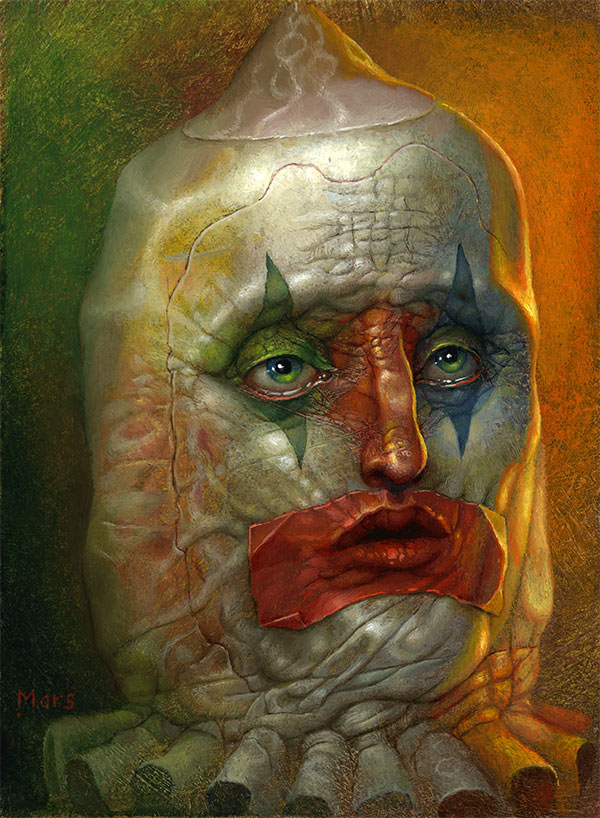 Additionally an accomplished filmmaker, Mars' work has screened at numerous prestigious festivals worldwide including Sundance, SXSW, Jerusalem International, Denver Starz, Palm Springs Shortfest and many more.
As founding member of the seminal Minneapolis band The Replacements, Mars has also been a Grammy nominee. Subsequent to his departure from the band, Mars released four acclaimed solo albums before dedicating himself full time to visual art. Now twenty-two years after his last release, Mars is releasing another album in November of 2017. All proceeds from "Note to Self" will be donated to Second Harvest Heartland, a Minnesota-based food shelf serving the upper Midwest.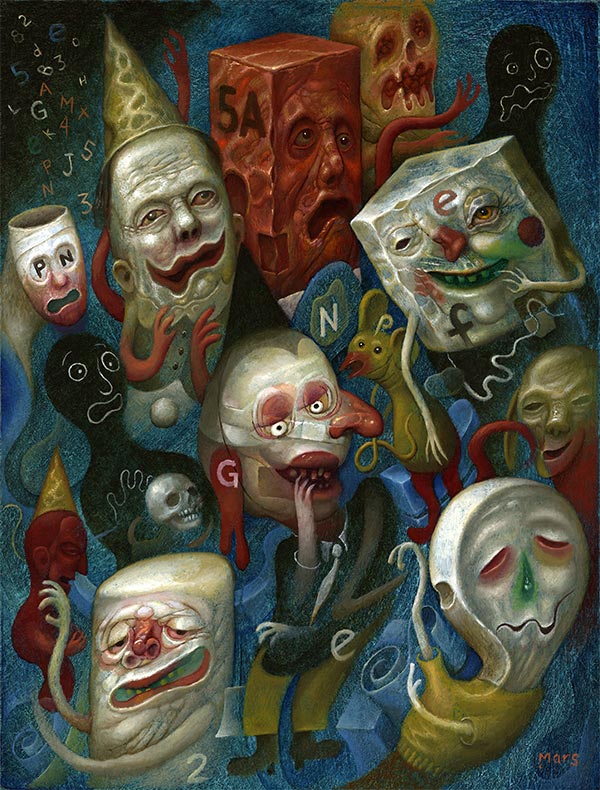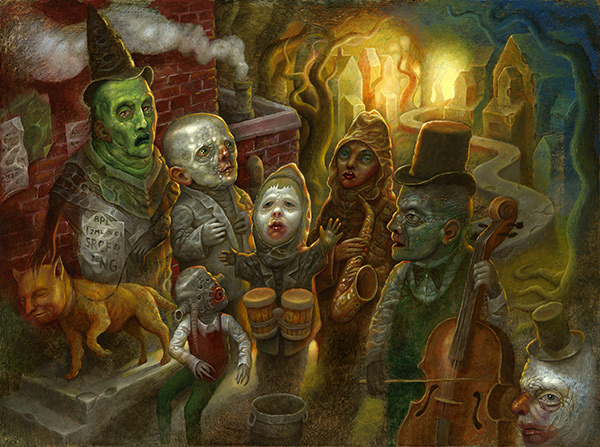 Press Release:
Haven Gallery is pleased to present "Where the Sea Meets the Sky", a solo exhibition of new work by California based artist Stephanie Law. "Where the Sea Meets the Sky" is Law's first solo show with the gallery and will include fourteen new paintings that comingle the enchanted, mythological worlds found both within and between the sky and the sea. A narrative and symbolic exploration of life is encapsulated in Law's worlds as she rhythmically paints with watercolors and dances amorphous patterns of gold leaf to ensconce Odyssean tales capturing the beginning, middle and coda of time and being.
Ocean is primordial, both in mythic traditions, and in the evolutionary sense. Many creation myths begin with the churning division of Sea and Sky. This first segmentation of opposing forces is the beginning of order in a chaotic universe, and the surface tension where those two come together or clash is what defines that separation.
Law's fabled worlds teem with animals and people as they breach known physics and traverse the sea, sky and land with a poetic grace and Arcadian harmony. An in-between realm is bestowed upon us in which all living things coexist harmoniously. We are transported a world that runs parallel to our own, a place of dreams laced with verisimilitude that bridge the gap between the past and present.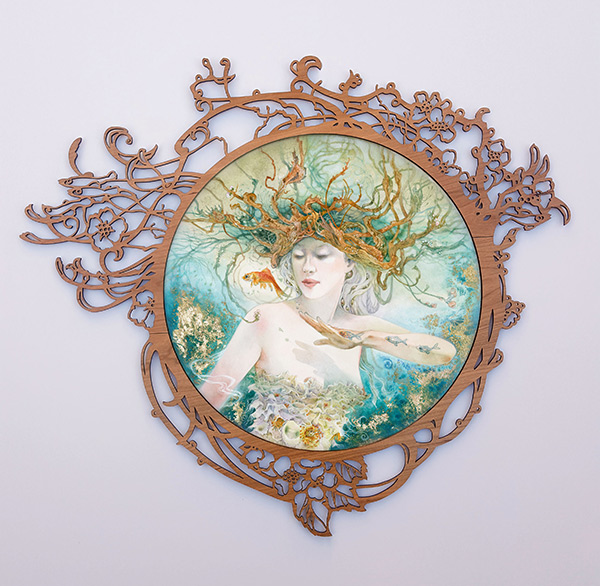 About Stephanie Law
Stephanie Law's work is an exploration of mythology mixed with her personal symbolism. Her art journeys through surreal otherworlds, populated by dreamlike figures, masked creatures, and winged shadows. The fantastical permeates through the visions with a promise that this is a world that underlies reality, when viewed with a desire for beauty and a shifted perception.
Archetypes, the basis for the universal appeal of mythological concepts, are one of the defining inspirations for her imagery. This is mingled with the movement of dance. Stephanie has been a dancer for almost two decades, and she uses that experience of how the human body moves and emotes to create a bridge into her artwork so that not only do the humans dance across the page, but the branches of her trees move with a sinuous grace, and the arrangement of inanimate elements has a choreographed rhythm and flow.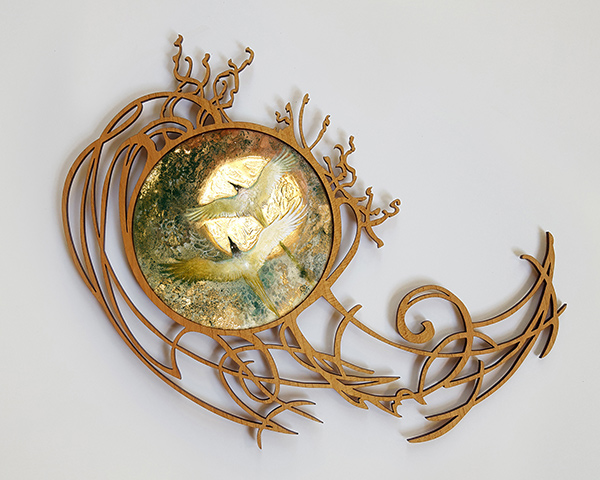 Growing up in California, Stephanie has been surrounded by the wealth of natural inspiration all around her. The twisting boughs of live oaks from the hills near her home insinuate themselves into her paintings. The chaos of Nature's wild growth, and conversely the beauty of decay, echo in the textures and fractal patterns of her work.
She currently showcases her personal work in group and solo exhibitions at galleries in New York, San Francisco, Nashville, and San Diego, while continuing to publish book collections of her art via Shadowscapes Press. The most recent volume is Descants and Cadences. Her work has also been included in the Spectrum annual of fantastic art in for several years, and at the Spectrum showcase in September 2014 at the Society of Illustrators in NY. Her botanical art has been showcased in internationally juried exhibitions at botanical gardens and arboretums. Recent work features insects, imaginative plants, and fae creatures, interwoven into a miniature world that is often overlooked, when size and physical permanence is equated with importance.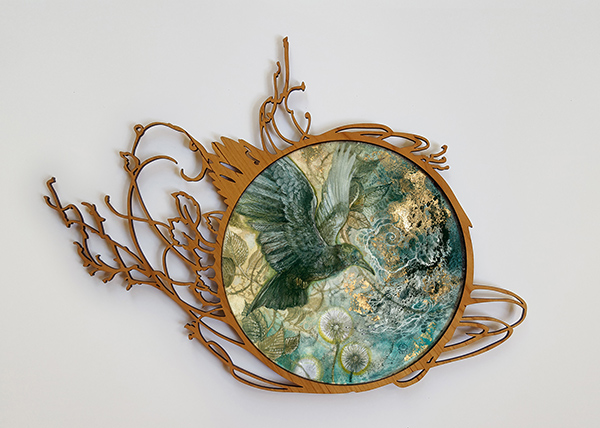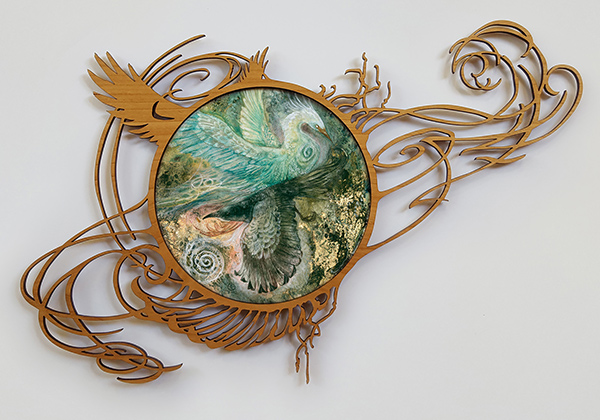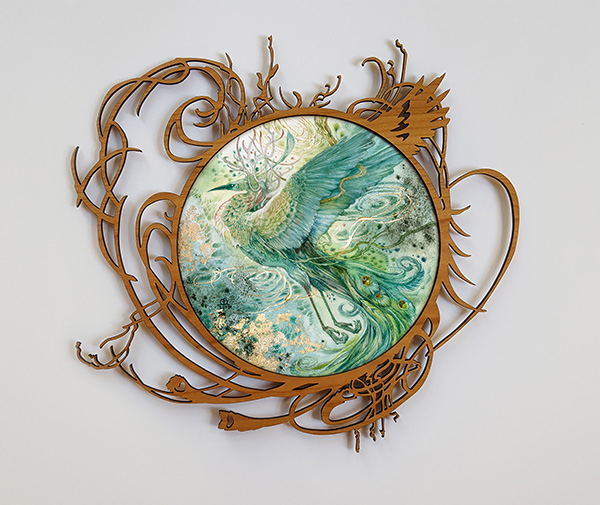 A collection of small works measuring 8×8 inches and smaller, just in time for the holidays!
Participating Artists:
Vince Natale, Janet Cook, Adrian Borda, Julianna Menna, Christopher Conte, Daria Aksenova, Omar Rayyan, Kierstin Young, Anjipan, Kindra Nikole, Steven Daily, Nicolas Bruno, Susannah Kelly, Lana Filippone, Naoto Hattori, Brian Mashburn, June Leeloo, Zoe Williams, Jennifer Hrabota-Lesser, Jessica Gordon, Poppy Lawman, Ingrid Tusell, Matt Dangler, Joseph Weinreb, Jason A. Mowry, and Jon Sideriadis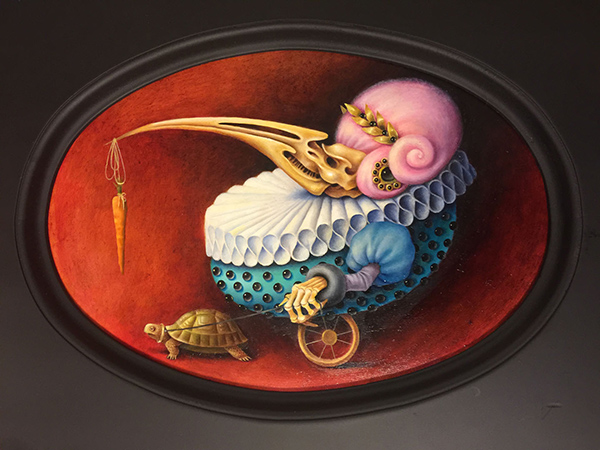 (Above) Julianna Menna, "Manipulator", oil on board, 5 x 8 inches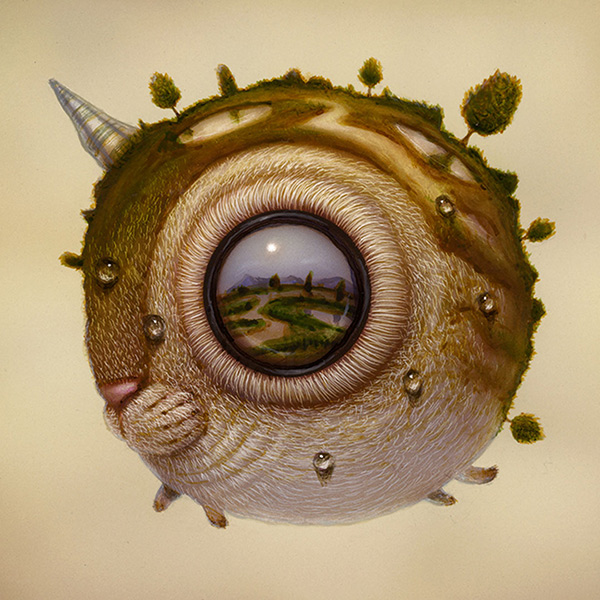 (Above) Naoto Hattori, "Dunamis", acrylic on board, 3.5 x 3.5 inches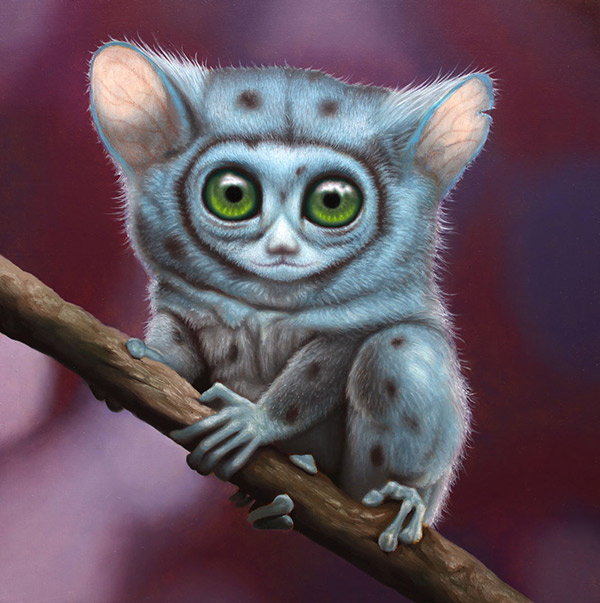 (Above) Matt Dangler, "Little Blue", oil on board, 8 x 8 inches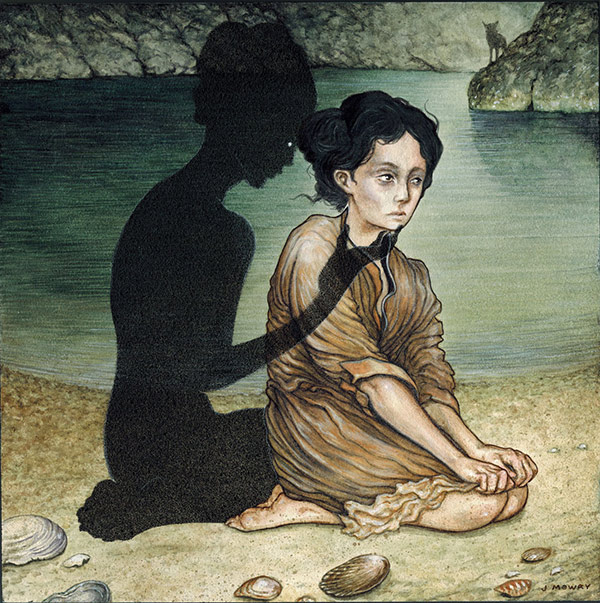 (Above) Jason Mowry, "The Shadow on The Shore", watercolor and gouache, 8 x 8 x 2 inches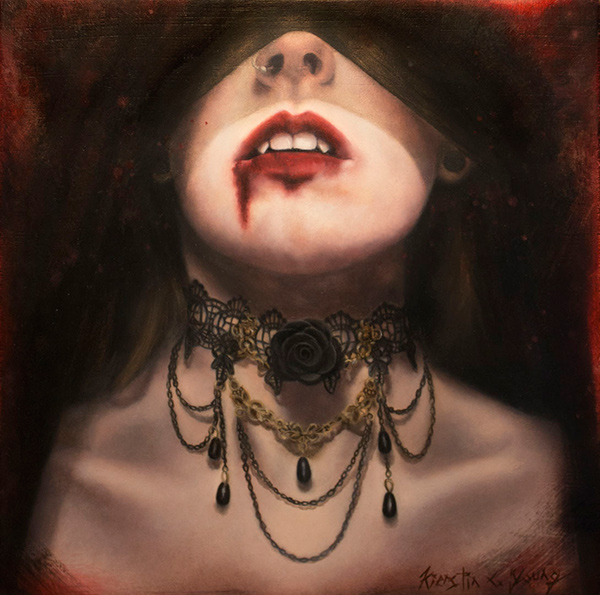 (Above) Kierstin Young, "Immortalem", oil on aluminum composite panel, 6 x 6 inches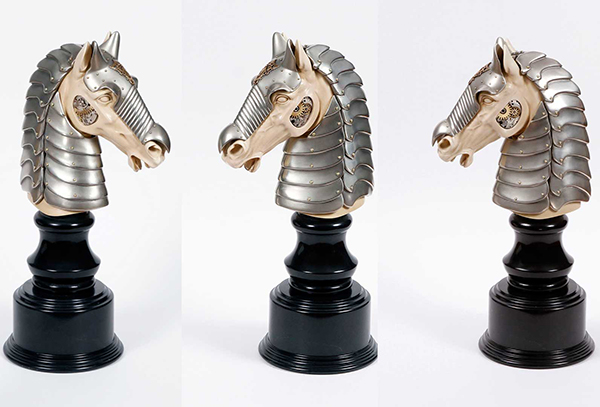 (Above) Christopher Conte, "Armored Horse", white bronze, brass, polyurethane and marble, 12 x 4.5 inches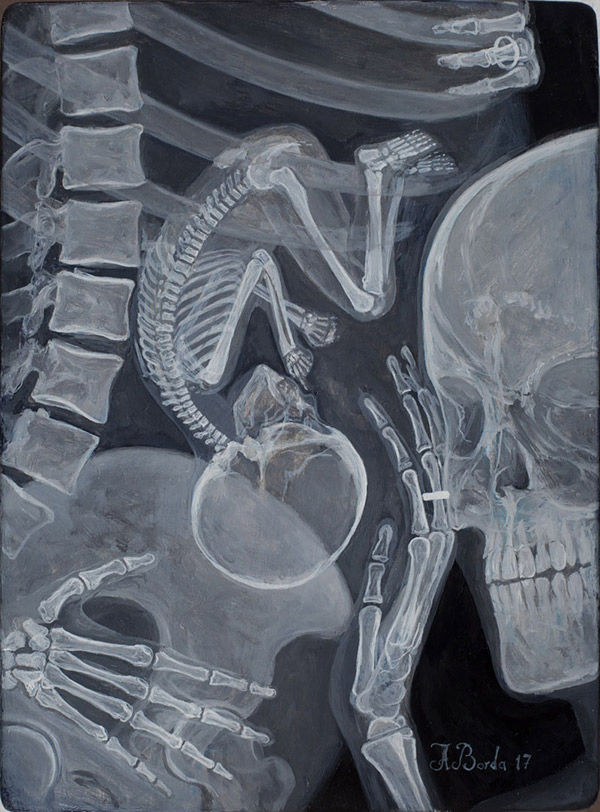 (Above) Adrian Borda, "Our Little Secret", oil on wood panel, 8 x 6 inches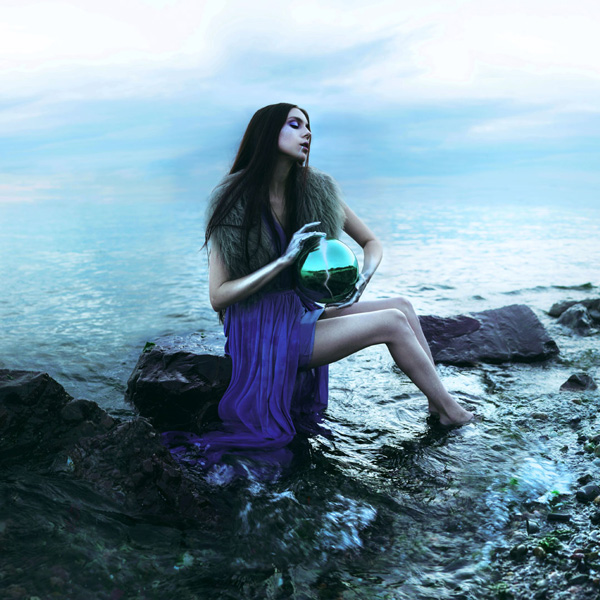 (Above) Kindra Nikole, "Vitellus", Giclee fine-art print mounted to wood panel, acrylic, resin, 1/1 unique, 6 x 6 inches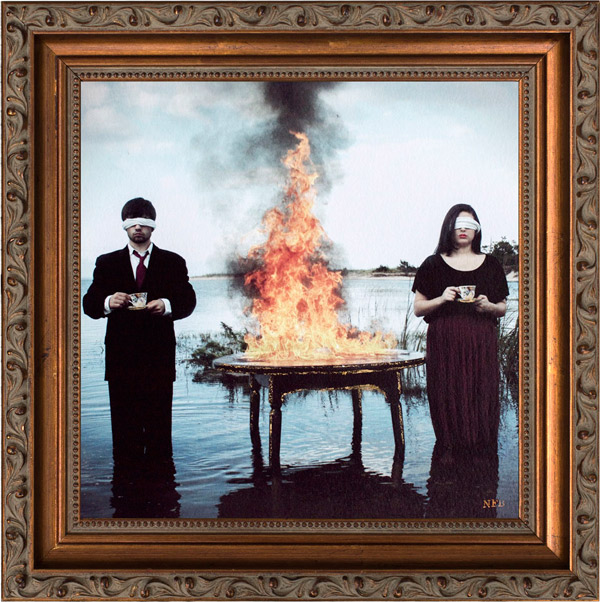 (Above) Nicolas Bruno, "Manifestant", digital photograph embellished with 24 karat gold leaf on Hahnemuhle photo rag satin, 9.25 x 9.25 inches
(Above) Daria Aksenova, "Once Bitten, Twice Shy", pen and ink on hand cut, suspended, layered paper, 6.12 x 6.12 inches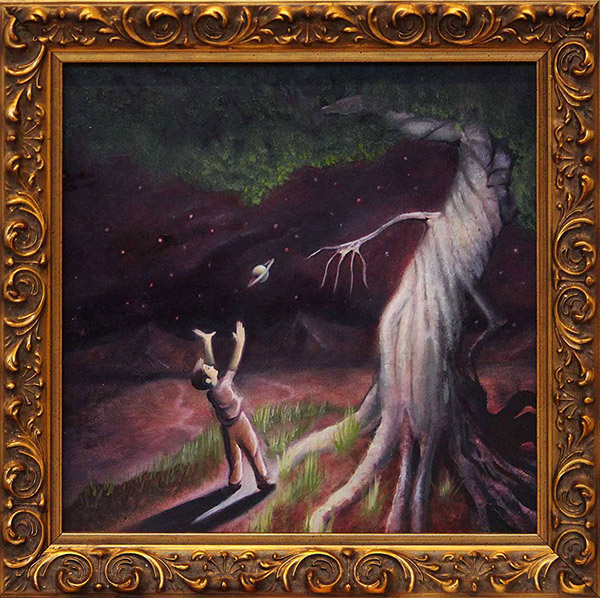 (Above) Joseph Weinreb, "The Giving Tree", oil on panel, 8 x 8 inches