Being exposed to diverse forms of visual and intellectual inspiration is what empowers any creative to achieve the necessary ah-ha moments that allow them to soar to great new heights. Those who regularly read Beautiful Bizarre Magazine's quarterly print publication, visit our website, or follow our social media accounts can always count on receiving a plethora of endlessly inspiring resources, from in-depth interviews with many of today's most notable creatives and free career-boosting information to carefully curated eye candy and guidance regarding how merely just entering competitions can take your creative goals to the next level.
Indeed, we all try hard to live our best creative lives, but doesn't it seem as though there are certain days (yeah, okay fine, weeks) when chugging along feels physically and emotionally impossible? When the very thought of cramming yet another handy factoid into our brain could very well push us over the edge? During such times of extreme duress, there is just one restorative measure – aside from junk food and even junkier tv shows – that cures all that ails us. Whisker anecdotes to the rescue! Today's much needed mental health break is brought to you by five artists whose fluffy snuggle bunnies reinforce the notion that home really is where the he(art) is.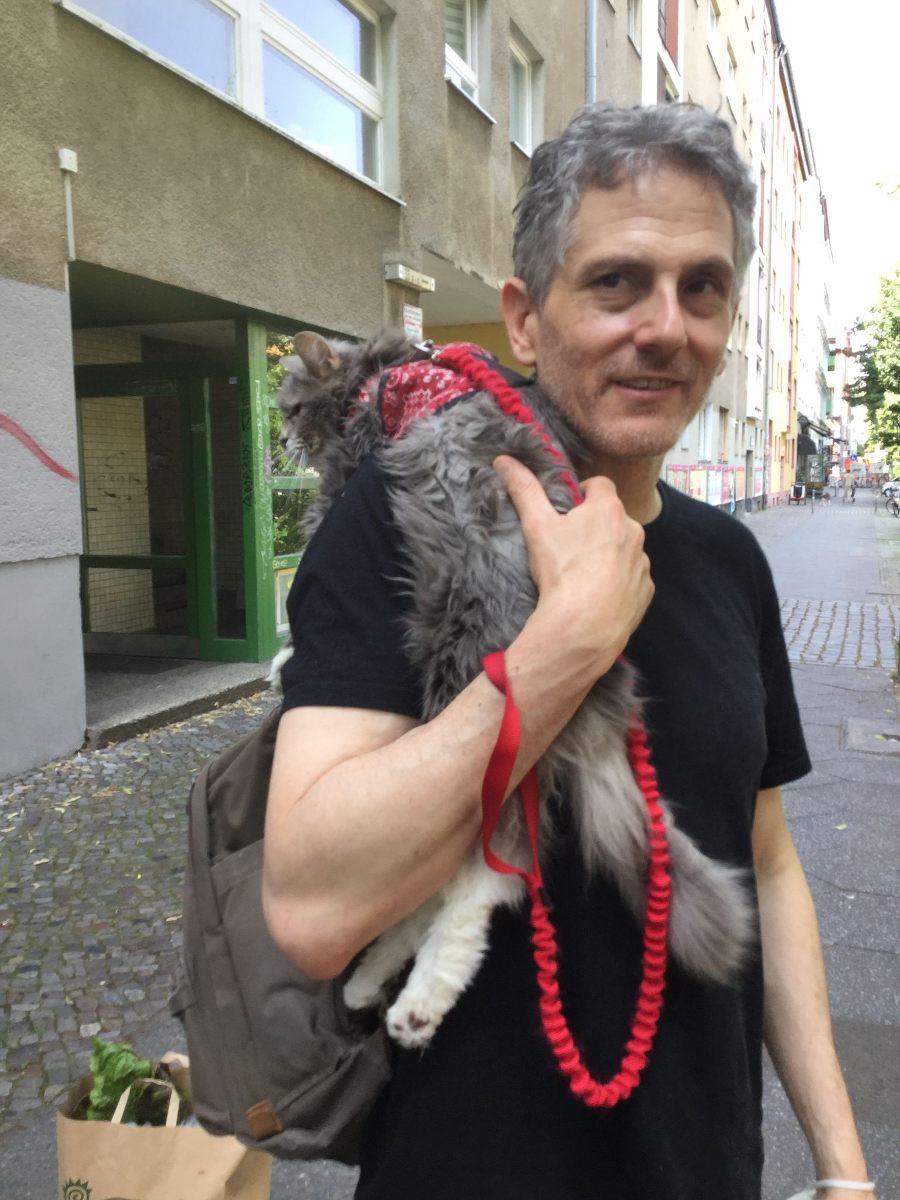 Many years ago, we began fostering cats, partially so my ill father would have some companionship. Phoenix – the first cat that we took in – is a Ragamuffin who was found in a parking lot, rail thin and starving. She hid for two weeks in my house, but then one day I awoke to find her sleeping on my arm, both legs draped over each side. She was so sweet and I grew very attached to her. A couple weeks later my father passed away, and then shortly after that, we had to hand Phoenix over to a woman who formally adopted her. Right from the start, it was evident that there wasn't a love match – the woman didn't even want to touch her – and Phee was crying out. When Phoenix doesn't like something, she protests for hours on end…quite loudly. Just two months later, the foster agency asked if we wanted her back, and what a happy reunion that was!
Phoenix, who is probably between 13 to 15 years old now, has moved across continents with us, taken boat rides and enjoyed walks with us. Sitting – whether on a lap, shoulder or head – seems to be her main goal in life. She is pretty much glued to my lap any time I work in front of my easel…she's like a cat appendage. She has a really docile and mellow temperament, which is probably why I've never had an issue with her stepping onto my palette or disturbing my paintings. I'm sure there is a little bit of Phee in every one of my paintings, or at least a few thin hairs – her fur is sooo soft, like a rabbit's. Believe it or not, I've even made fine detail brushes out of the whiskers that she naturally sheds. I've never been able to make a good handle for them – and they don't hold much paint – but I've used them on a dozen or so paintings. Let's not alert the fine folks at Winsor & Newton, though, otherwise they may decide to set up some cat farms!
Chris Leib: Website | Instagram | Facebook | Twitter
Rodney Thompson // Meshuggah, Debbie Sue and Ramona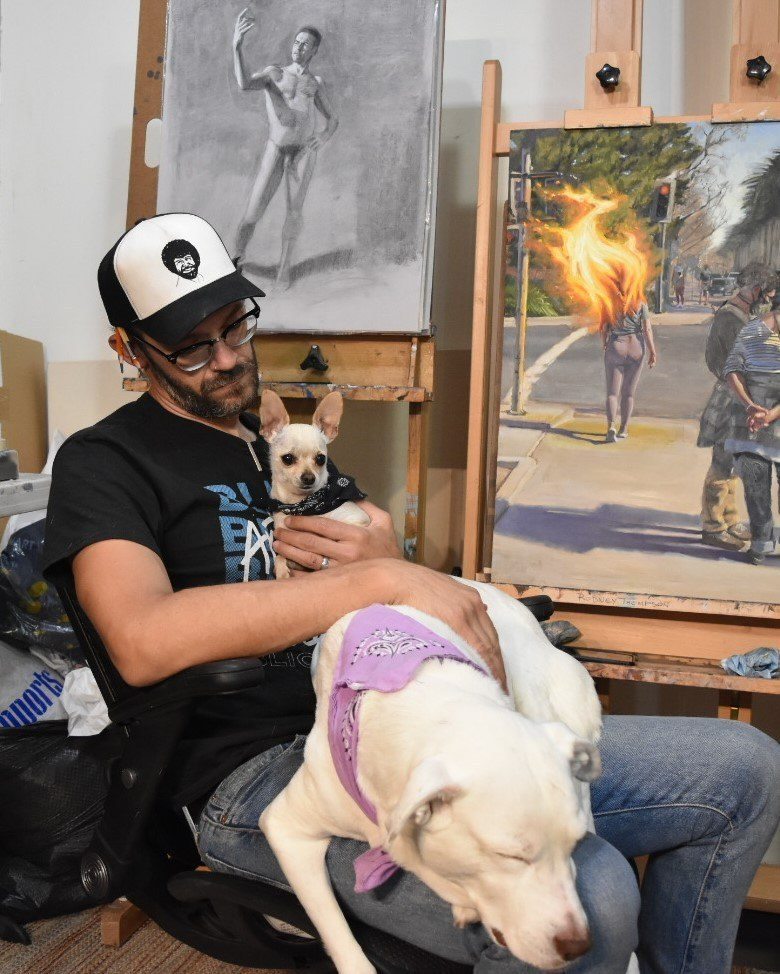 For almost as long as I've focused really seriously on my art career, I've had furry little companions by my side. My cat Meshuggah and dog Debbie Sue have been with me the longest amount of time, but several other fosters have come through my household over the years. My Chihuahua Ramona would often want to sit in my lap while I worked, sometimes at the same time as my cat. I decided to make her a PuppyBjörn so I could give her the attention that she craved while I was painting.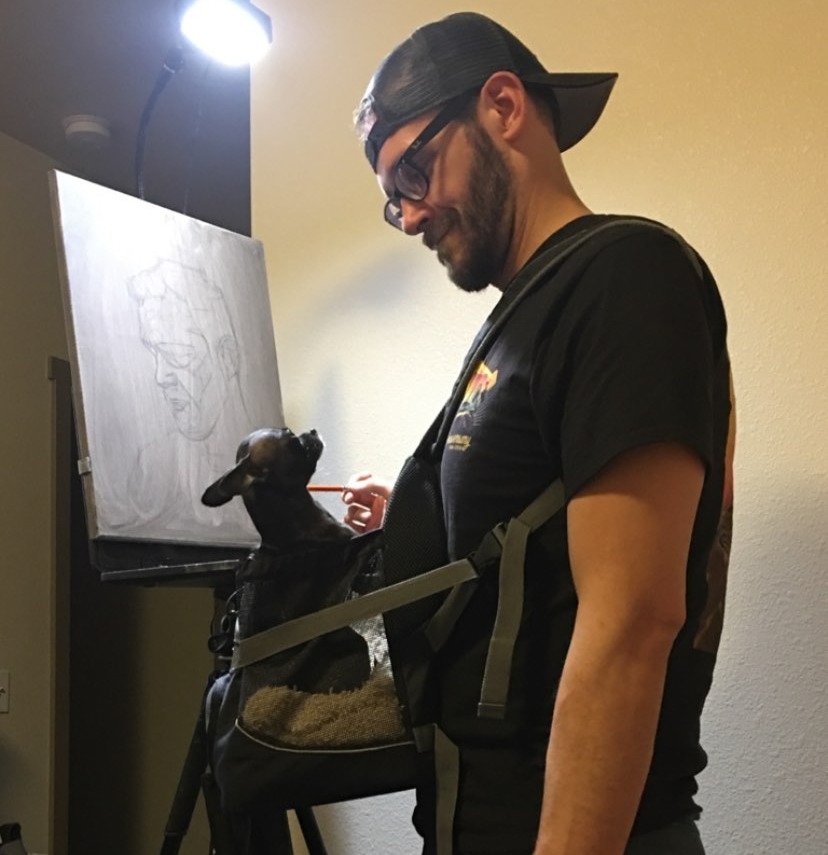 I used to take breaks to play my guitar. Now I take breaks to pet furry little things. Both are great options, but my pets love me unconditionally…except maybe my cat, who loves me in his own way (although I think I'm one missed breakfast away from being suffocated by him in my sleep). Still, I don't know what I'd do without them sitting beside me while I paint.
Rodney Thompson: Website | Instagram | Facebook | Twitter | Podcast
Rain Delmar // Robbie, Goblin and Tiger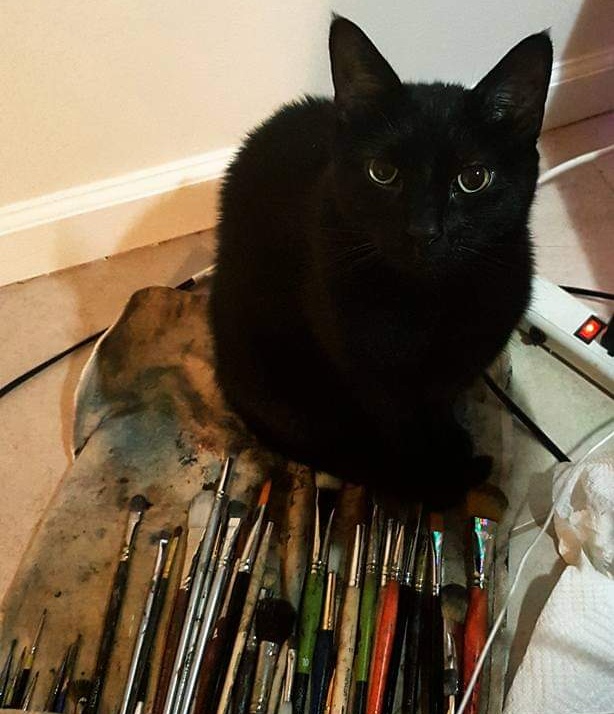 Animals are my favorite thing in the world. I can talk about them FUREVER! Painting with my cats has always been a hilarious experience, and of course they insist on supervising the process to make sure my latest painting is up to par. Robbie insists on sitting in my lap, while Tiger prefers mimicking a parrot on my shoulder. No artwork is complete without a pound of fur stuck between my meticulously laid glazes. At some point, I gave up trying to remove every single piece, which inspired me – in formal descriptions of the mediums that I use – to write 'oil, gold leaf and cat hair'.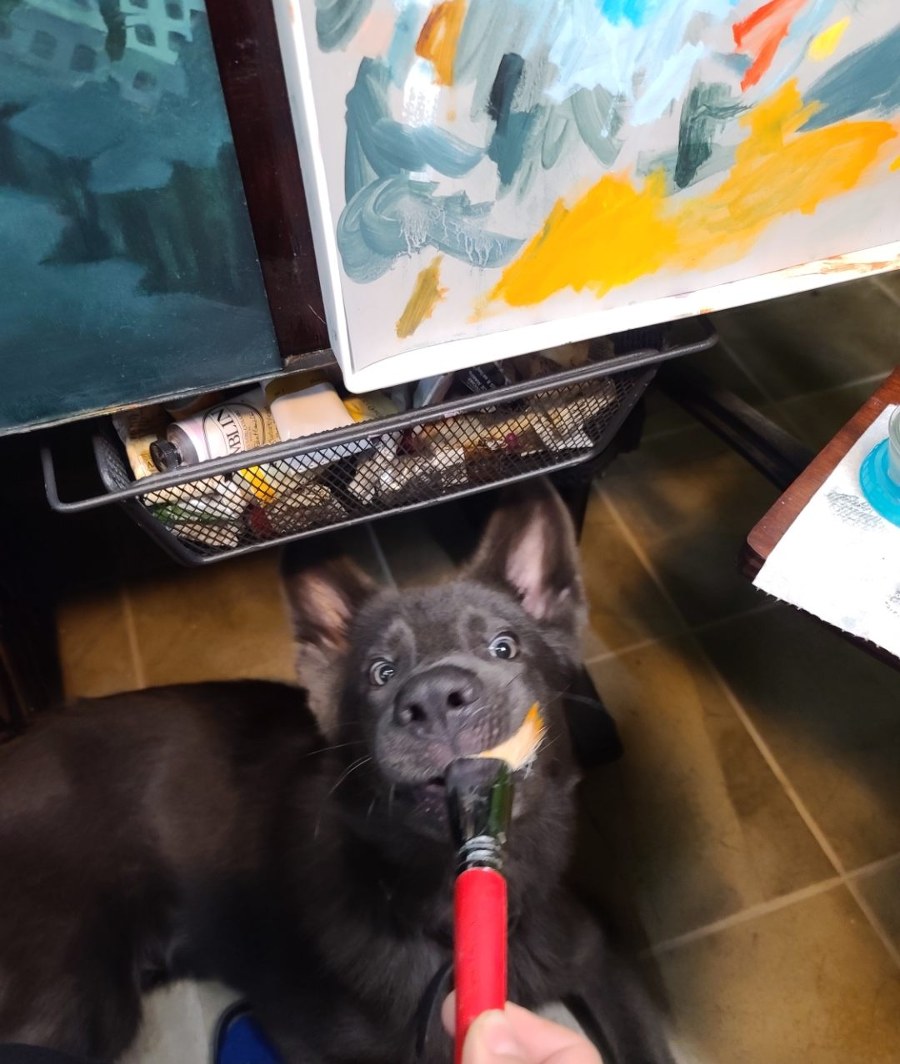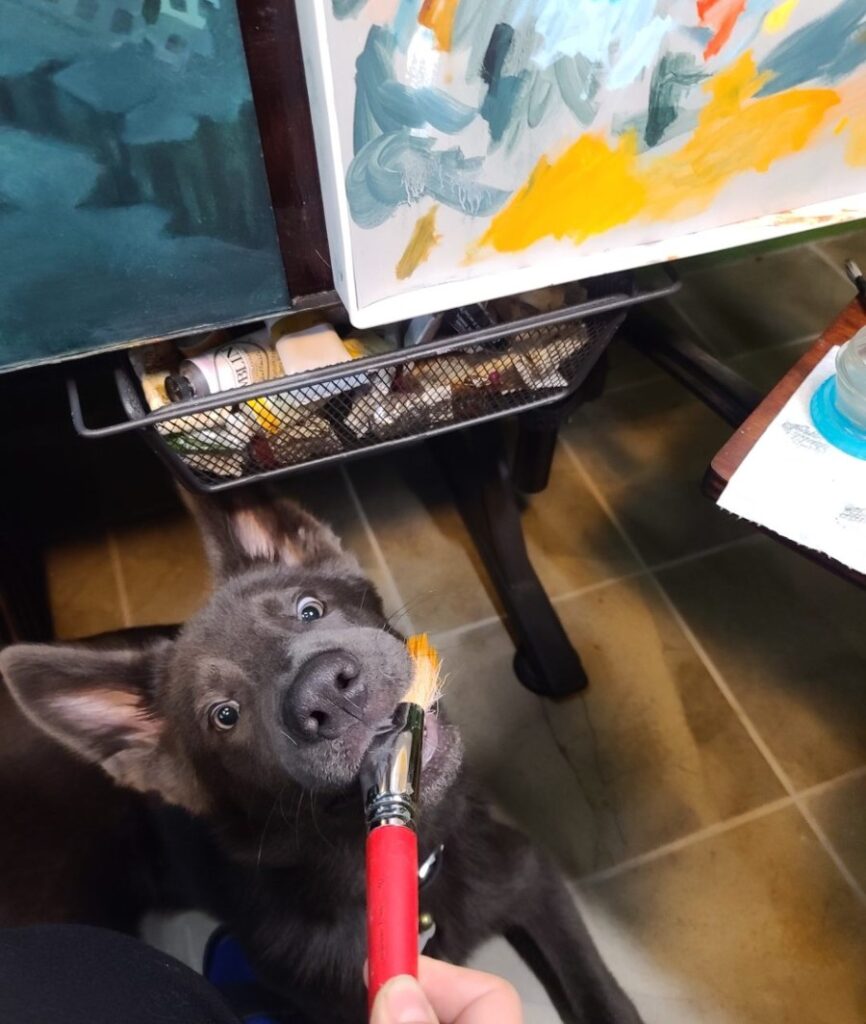 Nothing, however, prepared me for painting with a puppy. At 5 months old, Goblin continues to lay down the law regarding how the studio should be run. He reminds me to take breaks every 5 minutes, because love emergencies require immediate attention. He steals and chews my new brushes while I work, which I can only assume is his special durability test. When I tell him to 'go to crate', I can generally count on him to sit on top of it, instead. Technically he is not wrong. Touché Goblin, touché.
Rain Delmar: Website | Instagram | Facebook
For the last couple of years, my little Manhattan apartment has doubled as my studio, so I have to keep things super orderly and clean since I share that space with my pure white, longhaired Persian cat Bun Ra. Most of the time she gives me the cold shoulder, but not when it's time for me to paint! That's when she'll slither up against my legs and flop at my feet, pose on my drop cloth, or curl up nonchalantly in the square below my easel, which is directly underneath my wet canvas. I've found that the safest place to store my palette – with no chance of Bunny getting into it – is in the oven. It works out well since I don't bake. I finally retired my palette after the 5 years of paint spires grew so tall that they could no longer fit inside.
Bunny is allowed to do just about anything she wants in my apartment, but there is one piece of furniture that's off limits – a cabinet filled with my painting supplies (which is where I carefully lean my wet canvases facing the wall). I keep everything locked away and place tall objects like candle holders around the edge of that cabinet to dissuade her from jumping onto it. Sometimes, if she wants to be extra mischievous, she'll walk up to it, crouch down, flatten her ears, look up, and wag her butt like a cartoon cat ready to leap into the forbidden zone, all the while waiting for me to notice and tell her, 'No!' Then she scampers off and laughs about the great trick she just played on me.
Rose Freymuth-Frazier: Website | Instagram | Facebook | Twitter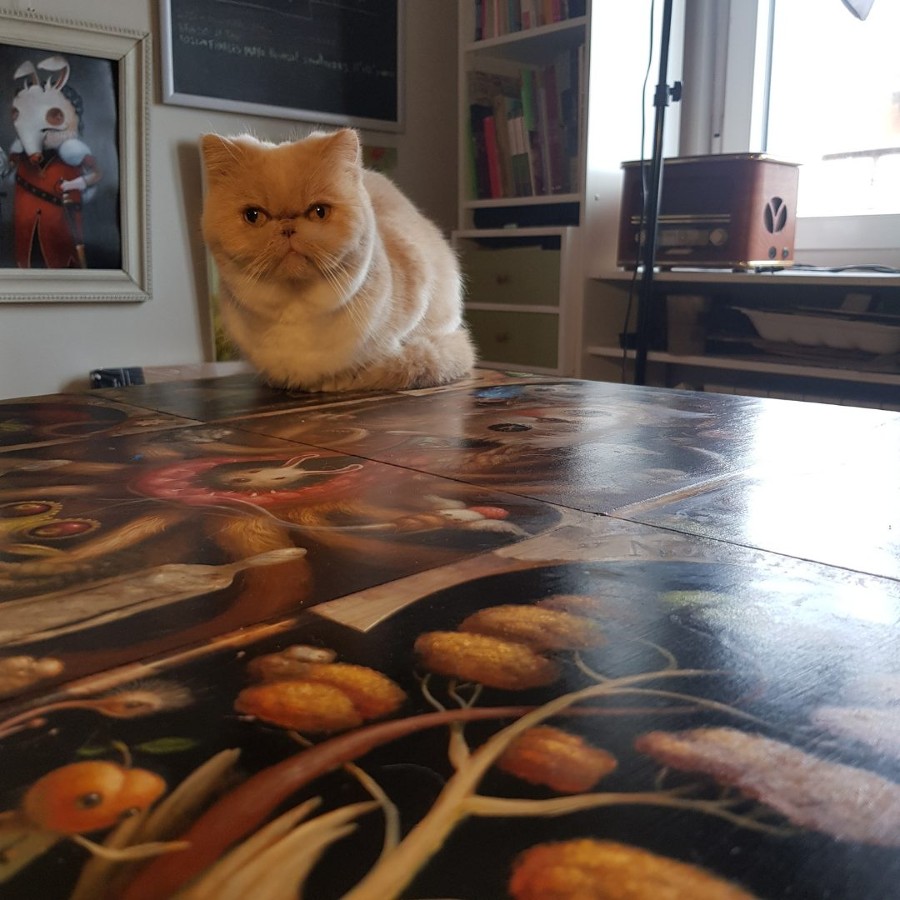 Lis is an exotic short-haired cat who was the smallest kitty in her litter. She was alone since all her brothers had been sold. Her eyes have deformed pupils and we fell in love with her instantly! Lis is now 10 years old, and the whole time we've shared our lives with her, she's been very very good – she's never done anything bad in the house or my studio.
I definitely believe that painting with cats nearby is possibly the closest thing to absolute happiness. I have a somewhat amusing story to share about Lis. One time, she appeared in the living room with a bluish muzzle. She put her big head in a glass that I use to rinse the paint off my brushes, which definitely inspired me – from that point forward – to always cover the glass. It's not necessarily the funniest story, but she looked pretty funny!
Jesús Aguado: Instagram
If you loved this article, please keep an eye open for part two featuring equally endearing, entirely fur-covered anecdotes from Tex Buss, Christina Ridgeway, Andrea Guzzetta, Sandra Yagi, and John Walker!