Two of my favourite artists are coming together for a show called 'Origins' this September at Parlor Gallery. Jean-Pierre Arboleda and Hannah Yata were inspired after reading John Allegro's "The Sacred Mushroom and the Cross". During our interview, Hannah and Jean talk in more detail about what drew them to create the show around the book, and if you know Hannah and Jean's works it's not hard to see how a connection was made to focus on John Allegro's concepts and ideas.
Both Hannah and Jean's works are incredibly moving and thoughtful. Although visually different in their styles, there is always a deeply apparent narrative, that nurtures and supports the living breathing world around us. It isn't as easy to turn away from the bright, beautiful vibrancy of Hannah's pieces or those adorable, big eyed creatures that Pierre brings to life. Although first drawn to the jaw dropping beauty of their works, on deeper inspection you find yourself addressing much more poignant issues, as heart breaking and tragic as these themes are, subtle concepts underpinning these stunning artworks, allows us an unreserved and less challenging experience.
There is always a brave hero at the centre of their pieces, either in an organic, psychedelic female form, or an appealing, sweet creature, playful and affectionate. This will undoubtedly be an incredible show, with significant messages. If you are looking to be moved by art don't miss out on seeing  "Origins", this September!
Saturday, September 16, 2017 | 7 – 11pm
Jean- Pierre Arboleda: Web | Facebook | IG
Hannah Yata : Web | Facebook | IG | Twitter

September 16, 2017 | 7 – 11 pm
717 Cookman Ave, #4 Asbury Park, NJ 07712
About the Show
In the first two-person show showcased by Jean-Pierre Arboleda and Hannah Yata, these artists delve into the past and explore the roots of Christianity, and by extension, that of religion. Inspired by the book "The Sacred Mushroom and the Cross" by John Allegro, "Origins" takes a look into how symbolism of the fertility cults and word play in the bible, point to a psychedelic past.
It goes back to the very beginning, with Eve eating the fruit of the tree of good and evil, to Jesus and the Holy Grail, to Easter and Christmas emulating strange imagery into a supposedly Christian tradition. The symbolism of the mushroom is buried in these stories. Allegro argues the secrets of the mushroom were hidden in the bible and personified because of the suppression of the ancient fertility/mushroom cults- so it's possible that without this suppression the tradition could have continued from word of mouth.  Our question is not only if the mushroom was human's way to understand and communicate with the divine, if animals don't have a practice as well. Scientifically, it has been well documented in several cases of mammals to actively seek out and ingest psychoactive substances. Therefore, woven in with our revival of these mushroom cults, is the idea of consciousness and the role of spiritual practice in not only ourselves but our fellow creatures.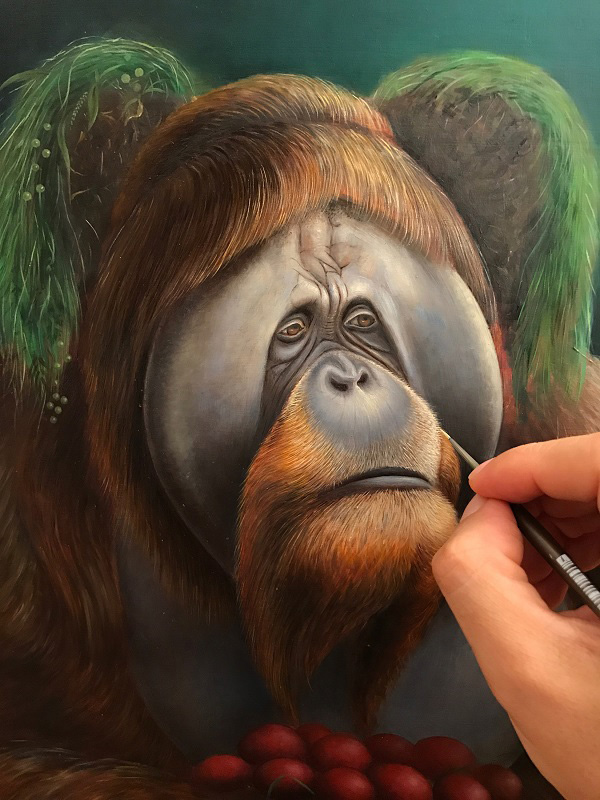 About the Artists
Jean-Pierre Arboleda and Hannah Yata are two artists living, working, and married together in Lords Valley, Pennsylvania. Animal and nature lovers, they moved to Pennsylvania with their two bunnies from New York to work full time creating art. Jean-Pierre's work focuses mainly on primates and their relationship to humans, while Hannah's work focuses primarily on the archetype of the feminine and how it relates to ideas of nature.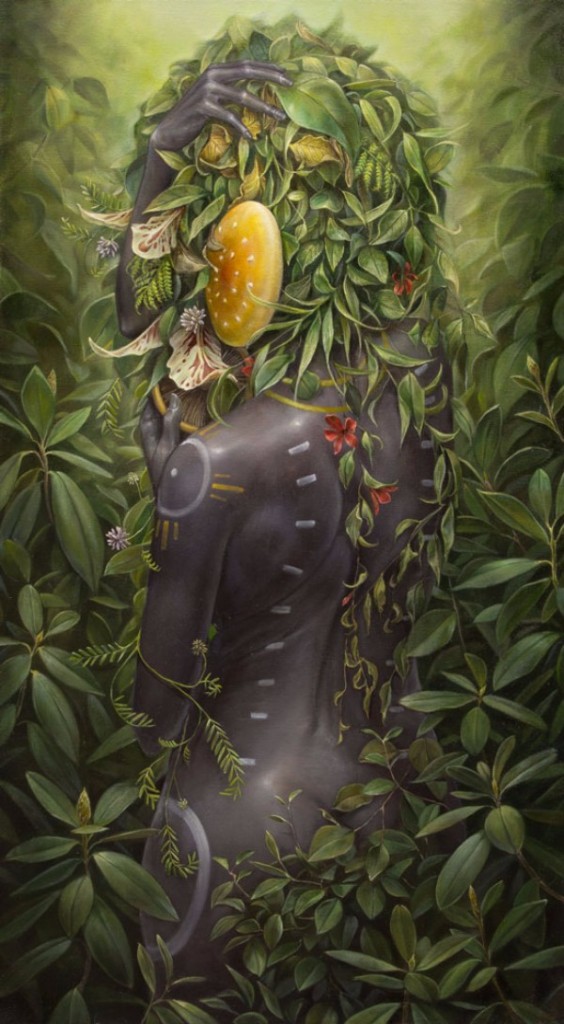 I am so excited for your show with Jean Pierre this September, I guess I can start by asking how you both got started in the art world and little about the upcoming show?
JPA: After I graduated from my Masters in 2006, I began to develop a body of work based on drawings of animals. I was deeply attracted to the form of lizards and frogs. In time, my fascination led me to explore different types of species and how they are involved in their environment and the spirit/characteristics of the animals.
HY: I graduated in 2012 and moved up to New York City soon afterward. I began with more feminist ideas interweaved with environmental concerns. Jean and I met working for the same artist and quickly bonded over each other's artwork.
The show we have coming up together is going to be called "Origins-"It was inspired by reading John Allegro's "The Sacred Mushroom and the Cross." Basically about the origins of religion and the idea that ancient peoples used to believe they could have access to the divine or enlightenment through ingesting psychedelics: particularly amanita muscaria. A lot of symbolism surrounding these ancient mushroom eating fertility cults was adopted by Christianity. So, with this show, the focus was to expose and celebrate our pagan roots as it relates to the mushroom but also to bring to light how animals are involved in their own rituals and practices as it relates to psychedelics.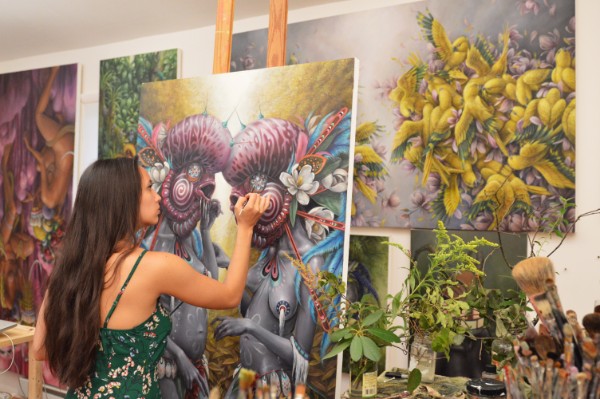 Hannah, your work is surreal and beautiful and incredibly moving, when it's time to start a new piece, how do you approach the narrative and where do you find your inspirations?
Thank you! I find my inspirations in books, ideas, music, or taking a walk in the woods. Most of the time, it's a word or phrase that triggers an image or idea and I like to hold it and let it marinate and grow in my mind. The narrative tends to blossom while painting- many times my work can take many months to over a year to complete. During this period, the poetry of image takes place and this takes a rough idea and begins to orchestrate the layering of imagery and symbolism.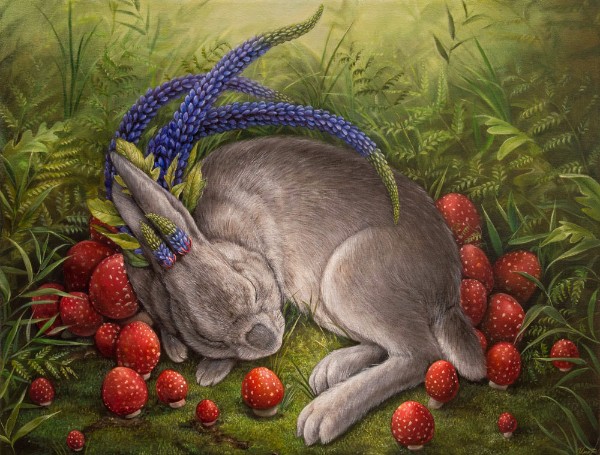 Jean, there is always a poignant message in your pieces, but they still always manage to be adorable and engaging; can you speak to us about the meaning behind your works and the importance of sending particular messages via your unique style?
I think the more I study different species I start to see how unique they all are and I try to project some of their habits and nuances into my work but in a humanistic way. I try to build a narrative or confront the viewer with my creatures as conscious and bring out the spirit of the animal. Hopefully, to understand the relationship of the animals in a more humane way, we can begin to relate to them and see our impact when it comes to their homes, habitat, and future.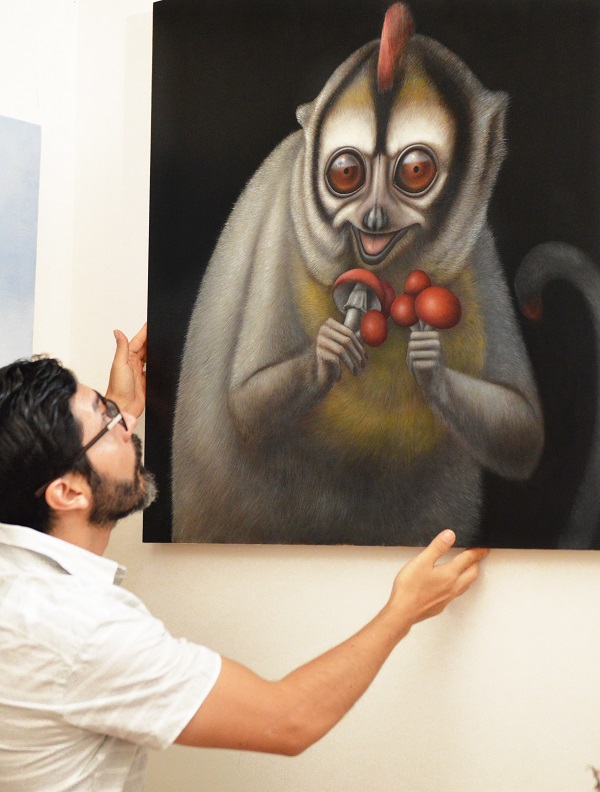 I would love for you to both share what you love about the others work? Do you both work in the studio and what is life like with 2 popular artists and some bunnies living together!
JPA: I must say I'm fan #1 of Hannah's work! I love Hannah's way of composing her work and her unique ideas. Her work always captures my attention and the way she has these twists in her compositions: a strong message with a sense of humor…  AND of course her impeccable technique.
Studio life is amazing! Right now living in the forest with bunnies is the most peaceful, relaxed period of my life.
HY: I love Jean's sweetness in his work. I think he has a pure (but funny) soul that can't help but come out in his paintings. I think all of his animals reflect in one way or another. The way he paints is absolutely amazing too- I always get sucked into his animal's eyes!
Yes, we both work in the studio together. It's always a party but we are also very serious: sometimes it's hard to be serious when you have your best friend around. Painting in the studio, we work from morning to late night. The bunnies join us in the morning and sleep most of the day. Usually, by the time we are exhausted they will come out to play so I'd say it works out pretty well!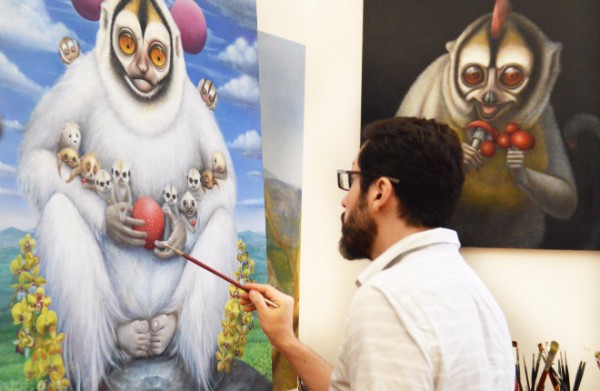 I know you are both passionate about environmental degradation and many other important social subjects, apart from addressing these issues in your work , is there anything outside of that you are involved or engaged with?
Yeah, I think we would like to do more in terms of being to help more directly with helping animals like starting a sanctuary if we were able to have a little more space or time on our hands. Right now, I think we work so much that it's hard to have time for anything else.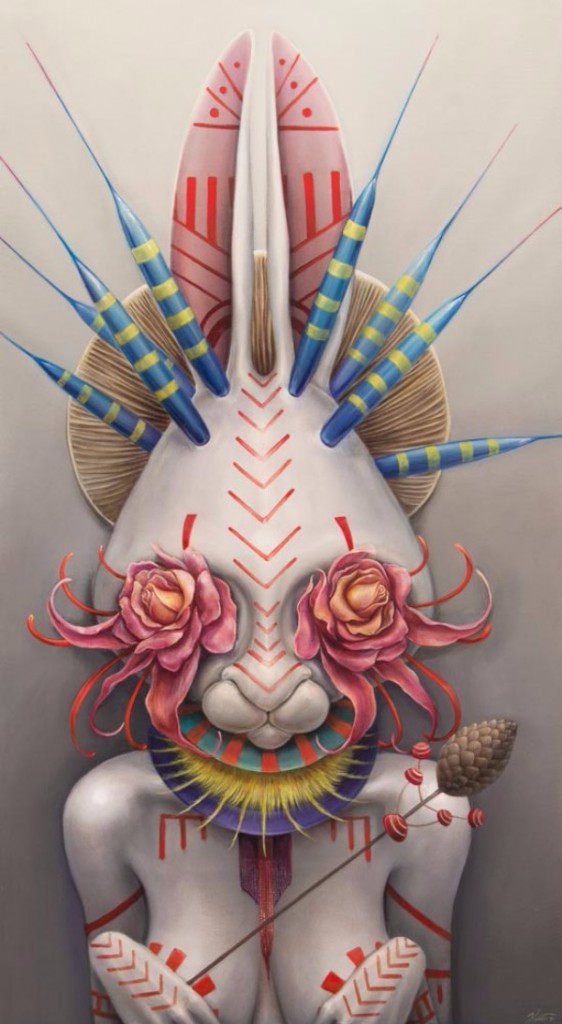 What's on the horizon for both of you?
JPA:  As you know, we have the show together coming up September 16th. I've also got a few paintings going to The Biennale of Illustration of Graphic Design in Germany in October and also going to have a piece in a show at the Mesa Contemporary Art Museum in Arizona.
HY: Besides this show with Jean Pierre, I have a sprinkling of group shows. Mostly, at this point, I'm working on a solo in April 2018.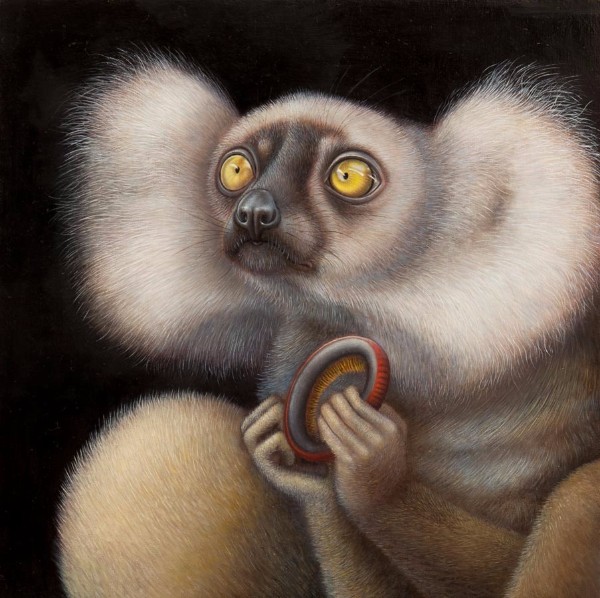 10 Quick Questions! GO
If you were an animal, what would you be?
JPA: Gorilla!
HY: Probably a rabbit
If you had the power to change one thing happening on the Earth right now, what would you change?
JPA: Stop deforestation.
HY: Giving the earth legal/moral rights as a conscious being.
Favorite Destination?
JPA: Home!
HY: Yasuni!
What has been your most enjoyable moment to date?
JPA: Getting our new house!
HY: (I have to second that.)
Favorite way to relax?
JPA: Watching a movie.
HY: Taking a bath.
Who was your childhood hero?
JPA: Spiderman!
HY: Mattimeo (from Redwall)
Favourite bed time story?
JPA: I didn't have bedtime stories haha!
HY: Stellaluna.
What is your favourite album?
JPA: Ten from Pearljam.
HY: How to Be a Human Being from Glass Animals.
What is your most precious material object ?
JPA: A little frog Hannah got me from Japan.
HY: A stuffed bunny I've had since I was a little girl from my mom.
What is your favourite quote or passage?
JPA: "If people knew how hard I had to work to gain my mastery I would not seem so wonderful at all." -Michelangelo
HY: "It has become appallingly obvious our technology has exceeded our humanity." -Einstein