Derek Gores is an internationally acclaimed artist with incredible skills and an eye for the unique. His work has been showcased across the world, but don't let that fool you – this friendly man is also a collaborator of note and has a warm, organic centre that's hard to miss.
Born in New York in 1971, Derek's canvases have been exhibited across the United States and beyond, and in 2010 he was named 'one of the 40 important artists of the New Contemporary Movement', exhibiting with Thinkspace Gallery in Los Angeles, 19Karen in Australia, Parlor Gallery in Asbury Park, White Porch in Provincetown/Miami, and more. His clients include Heineken, E! Entertainment, Cosmopolitan Hotel Las Vegas, and the National Football League.
"I like my pictures to barely come together with teasing little details. Sort of like how the mind can't help but wander, even when trying to focus on one thing. In the collages, some of the little bits I use are deliberate, but in most I'm trusting randomness to help build an end result more interesting than I could have planned. One friend calls it a 'Zen Narrative.'"
I was privileged to catch up with Derek Gores just after he returned from his honeymoon to talk about his process, his influences, his 'study of Fierce' and why feminism plays such a large role in his work.
Web  | Facebook | Instagram | Twitter
To begin with, let's talk about your process for bringing an idea from concept to reality. What do you usually do, what are your inspirations, etc. (I'm assuming the process is slightly different for commissioned works, so perhaps you can speak to both?) You often speak about teasing an image into existence, using randomness to bring mystery and childlike newness to a collage. Tell me how you find the perfect balance between the imagery you're creating, and allowing your piece to come to life and speak for itself?  Where do you find/source your materials for each piece, how do you choose what type of material is right to use?
The whole process for me is an exercise in being on the edge of control. I'm able to direct my hands to make pretty much what my brain wants. But I want inspiration the whole way through a piece of art, so I make it hard or fresh by making it mostly an improv. I get a spark for a direction from maybe a colour, or a mood, maybe a space or a random hint at a story. I'll usually start with a photo shoot with a model, and we play with light and strong poses and unlikely hints of a story. The photo will be my reference, the shapes I'll need for the picture to be legible. Then I rebuild the reference using the magazine scraps, and I do it very quickly. This brings in shards of unexpected colour, and unplanned images, text, partial writings. I chase what the story might be.  I don't hunt for specific pieces with meaning pre-arranged. I sift through magazines and other elements intuitively, whether song lyrics or hand written notes, or even schematics from toys I had as a kid. I like the mix to be somewhat random so I'm surprised at the combination. I use things that cross my path that day, as a bit of a time capsule for myself. It also adds a spatial play, where you see one thing from far away, and then it melts into other spaces when you get close.
What's a typical day in the life of Derek Gores?
BORING: Hopefully a run on a trail somewhere early, maybe kick a ball. Get kids off to school. Make an omelet, head to the studio. Ideally work on some pieces in the morning. Afternoons I stay open to being wooed into collaboration with the local coffee shop, boutique, or plot something cool with a gallery far, far away. I work with a few designers on crazy hotel installations too. Evenings are usually family fun and a pinch of internet play.
Tell me about your artistic influences, Klimt, Schiele, Kline, Goldberg, etc. What is it about these and other artists that draw you in, what compels you to create your contemporary collages in this vein, and how did you find your calling in this medium?
As a teen I was a pencil wielding photorealist, a 'hair and feather guy', until Rhode Island School of Design helped me see the logical end of that approach and I veered into more daring places, and eventually came back to reconcile imagery (figure in space usually) and abstraction, and I still play in that world today.   Klimt and Schiele were my early inspirations on depicting women, two different obsessive approaches. Klimt is a post-photography response in art, abstracting shapes into flat graphic design play. Schiele showed me the raw buzz of living lines and certainly an energy between the artist and subject as well. Franz Kline introduced me to angular, direct, minimalist abstract power. Shape alone can create David vs. Goliath battles. Fashion photography is still built on the influence of those three, I believe. No coincidence I use mostly fashion photography as my raw materials.
Rube Goldberg is an example of play and humour in art. I like some absurdity as an antidote to some of the epic. And I'm as influenced by musicians as well – people who bring some discord and chaos, expand the genres and the sheer vocabulary of textures and toys that can be played with. Brian Eno, Neil Young, Grimes. I love a yearning and an epic aspect ala Springsteen and the Waterboys. I also seem to like it all held together with a positive harmony, ala Pink Floyd. A quote that guides me is by Eddie Van Halen: "If it sounds good, it is good." I apply the visual version to art.
With those elements in my bones, I love collage for what it doesn't let me do. The ripped pieces I pick up are clumsy and noisy. I can use old intuition to finesse just enough of an image together, and it comes together in your head, just barely.
I've read a few of your previous interviews and coverage online – there are points where you speak about feminism and the portrayal of women from a point of strength, honesty, vulnerability, etc. Why is this important to you, and what do you hope your audience takes from these themes?
The reasons have grown over time, but I make what is mysterious and compelling to me. While the female subject isn't new in art, I'm very happy at the time I get to live in. Feminism is strong and loud now, and actually, what drew me to beautiful.bizarre is the female leadership. The female view on strength and sexuality. Some say sexuality/nudity, and feminism don't belong together.  I find this dialogue fascinating. In my art, the woman is always in charge of the art and a partner in the moment. I've considered it my 'study of Fierce."
Fierce is strong, fierce is feminist, fierce is full self-expression. In all my art and world view, I'm not into dictatorship or misogyny. Even when making art by myself, I think of it as collaborating with the universe. When I work with a subject who poses for my art, it is critical for me that she is in it with me. And even when the art comes from my head, I'm honouring that sort of freely expressive person as well. I feed that by following kick ass women. Grimes, Emika, Gwen Stefani. Blogs like Miss Representation.
When I was younger I liked showing action in my art. Now I seem to like a stillness just before or after something. I like to look into the eyes of the subject in the art and feel a range of overlapping feelings. Is this a beginning, or an end? Are we strong, or exhausted? What's next, just out of the picture frame?
Your work has obviously travelled across the world, and you've been hailed as one of the top artists of the 'New Contemporary Movement'. What does this label mean to you, if anything? How do you stay grounded, creative and inspired despite your renown and (I assume) very busy schedule?
Oh it is easy to stay grounded. Each piece looks awful at some point! Being part of the family of The New Contemporary Movement is an honor and it is useful to peek around and see other work being done and more veins it takes on. Team spirit and momentum and attention to a bigger thing and all that. I like that it seems to be inspired by elements we all grew up on – I trust 'kid stuff' – graffiti and video games and DIY and also a fresh approach to community leadership, less generic sheep and more hands on character. In this art I see more nature, and more urban life rather than suburban sprawl and waste. And I see more Love!
Tell me about the Derek Gores Gallery. What are the artistic elements you look for when curating pieces for your exhibition space?
I live on the Space Coast of Florida, the unique spot on the planet where you could go to the moon or to the beach, as a friend likes to say. It is my studio and gallery space, in my home town of Melbourne, in the Eau Gallie Arts District (EGAD!). With some cohorts, we're pumping up the quirky culture.  I bring some known ringers to the area, like Sharktoof, Andrew Spear and Dave Thomas, but also lots of playing with the locals. Painters, tattoo artists, poets, improv, dancers…and people who don't consider themselves artists but they do something creative. I curate shows that pair art with other genres: Tech, fashion, dance, even start-ups. Partly to re-establish and remind that art is essential in all of life, as well as being the key differentiating point for successful economies (the iPod/iPhone craze for example, that was a smash because of its human centered design).  Also purely just to create with my diverse friends as it all keeps my head going new places.
What are the top three lessons you've learned while navigating the art world in the 21st century? Tips you'd like to give young artists?
Make the art you are compelled to make. As adapted from the book "Steal Like an Artist", don't focus. Trust all those side passions you have, and bring them all into the art and as potent worlds for possible collectors/collaborators.
Galleries are just people too. Find the ones you click with, and have fun making an experience. The wall, the room, the neighbourhood is a piece of art.
Do much more than wait for galleries. Concoct your own shows/studio tours/collaborations/stories/happenings.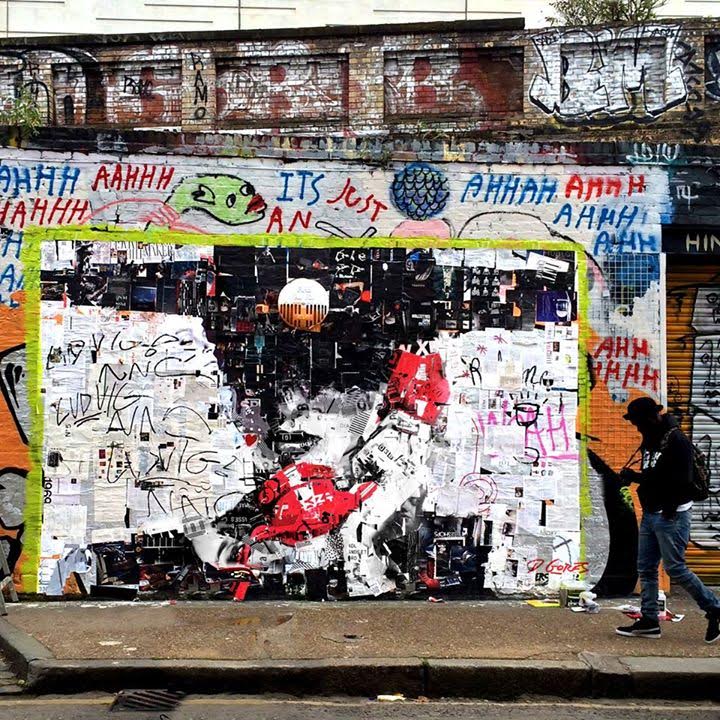 A street mural in London during a show at Thinkspace/Stolen Space
You've had quite a list of commission clients too – Heineken, Cosmopolitan Hotel Las Vegas, E! Entertainment, Prada, Madonna, the National Football League. What is that process like?
I have to be really picky. Commissions take a whole other part of the brain! I've learned I have to love the subject and of course I still want to be intuitive and keep my flow. I do a small handful of commissions each year. I enjoy the research and I'm able to use meaningful details as my scraps – old ads, data, fan photos etc… when art can help make emotional connections for groups of people,  that is advertising gold.
What is the latest work you've been doing? Any new series in the works/completed? 
In collage, I've been digging a series of small butterflies. They let me explore a craving for pieces created with minimal touches, sometimes only around 15-20 pieces of paper. I still sneak the strong woman in those.   Also, this year I've come back to wet charcoal drawing – I use water to make the drawings slippery and fast. Those include a series of lingerie studies – the garment without the figure, done on gold panel. Strong and elegant and both delicate and raw. Very fun and popular so far.
The rest of the year is packed… Showing at beautiful.bizarre's curated exhibition 'Femme to Femme Fatale' at Modern Eden Gallery in San Francisco September 17 – October 8. And much work for several Thinkspace Gallery shows including SCOPE Miami during Art Basel. Also a spiffy hotel commission during Art Basel Miami. Stay tuned.
Plus ongoing exhibits with 19Karen Gallery in Australia, White Porch Gallery in Miami, Art Rebellion in London, CASS Gallery in Tampa, Moen Mason Gallery Tucson, and some fun planned with Parlor Gallery in Asbury Park. I also have some new print editions coming… including a few new metallic tricks to share. To get on my mailing list, send an email to [email protected] or join on my website, derekgores.com for the latest / earliest word.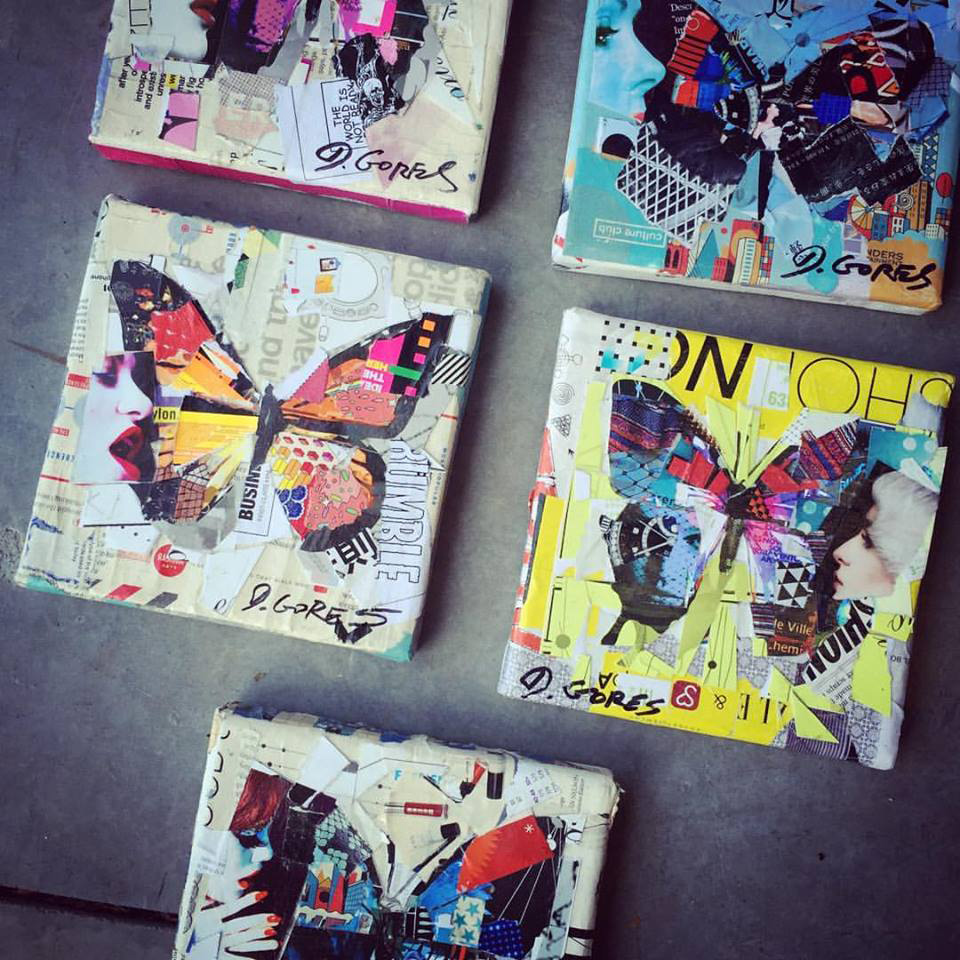 Part of the butterfly series for the Charlestown Gallery in August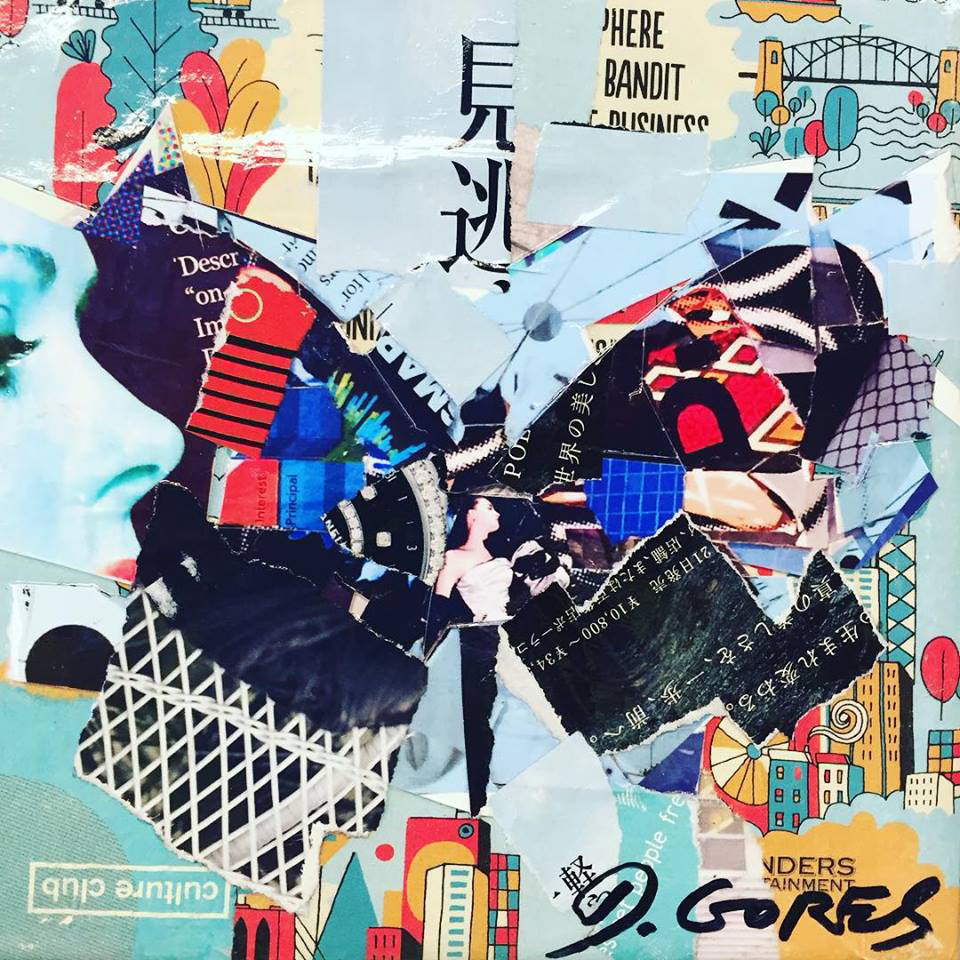 Butterfly close-up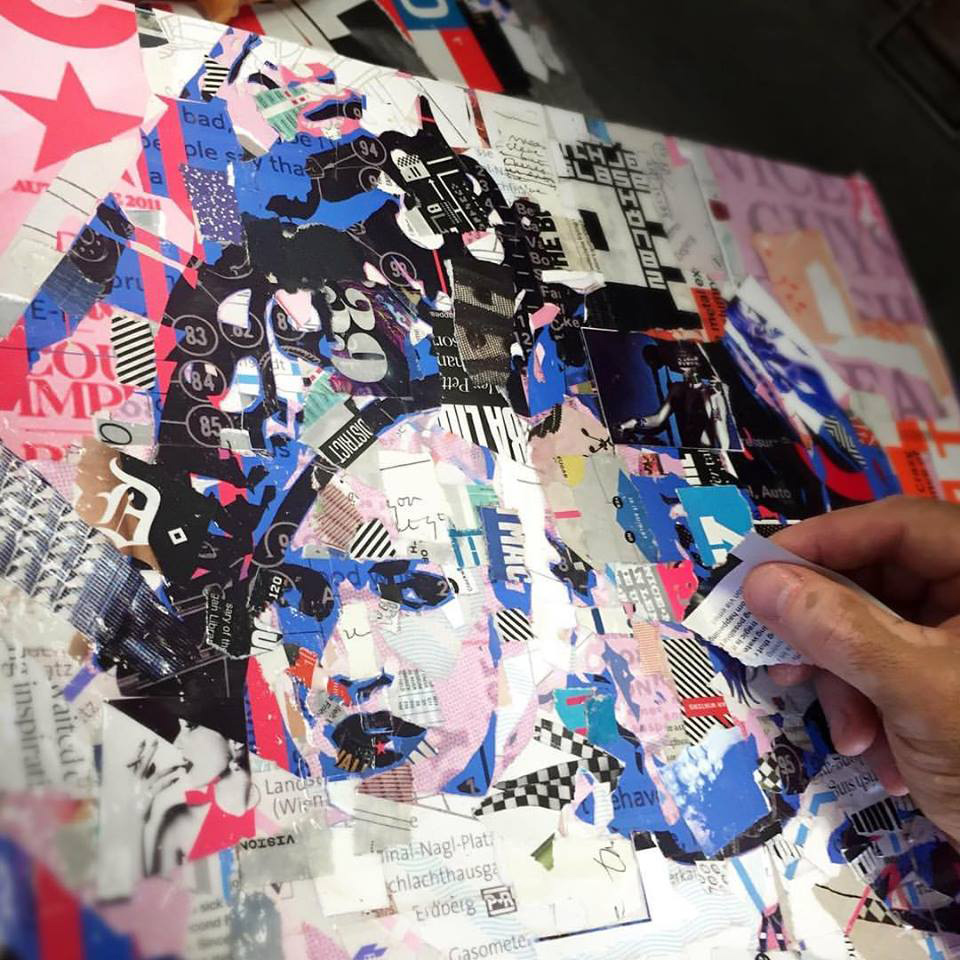 Derek Gores working on a piece for the beautiful.bizarre curated exhibition, Femme to Femme Fatale exhibition
Scraps for finishing touches for beautiful.bizarre's Femme to Femme Fatale exhibition at Modern Eden
Detail work in progress for Femme to Femme Fatale
You'll be at Aqua Art Miami during Art Basel Week in December. What are you most looking forward to?
I love the city… what a blend of cultures, clearly with a South American bent… and all that sun. I'm thrilled to return to Aqua Miami this December, this time for a solo exhibit. 'Fierce Majeure' just might be the title.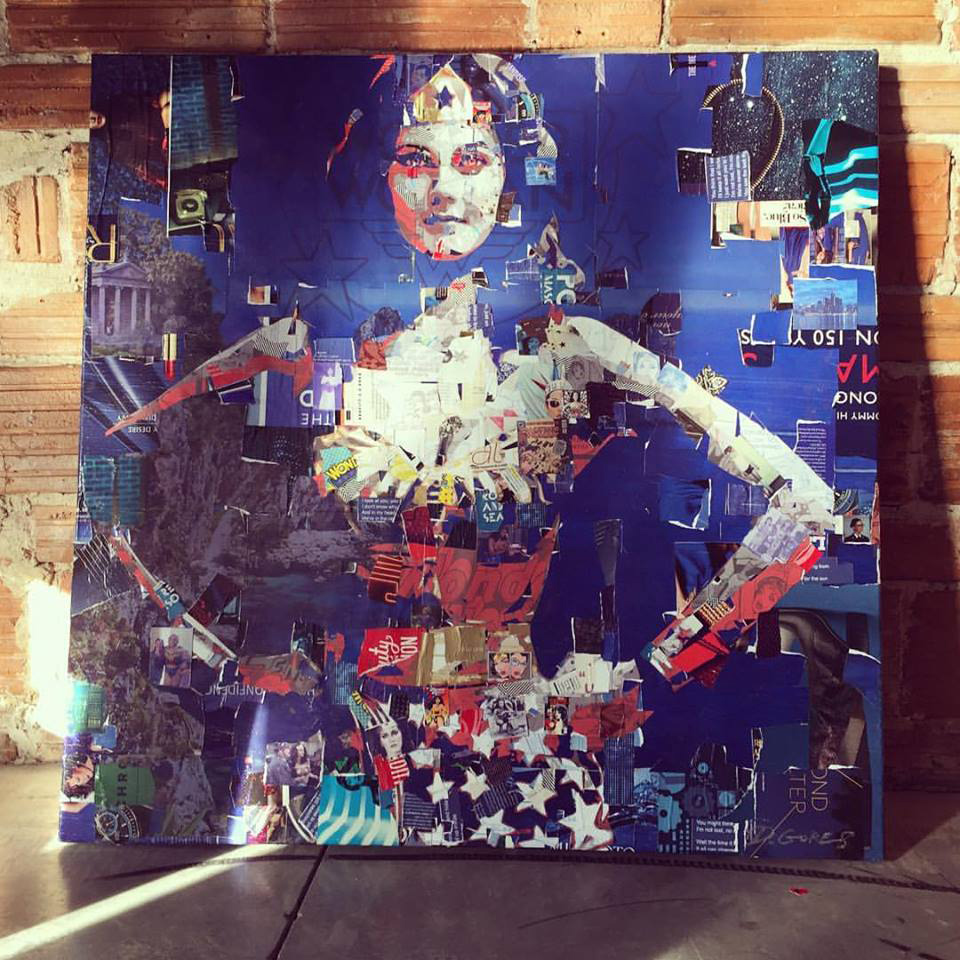 Derek Gores recently completed work on Wonder Woman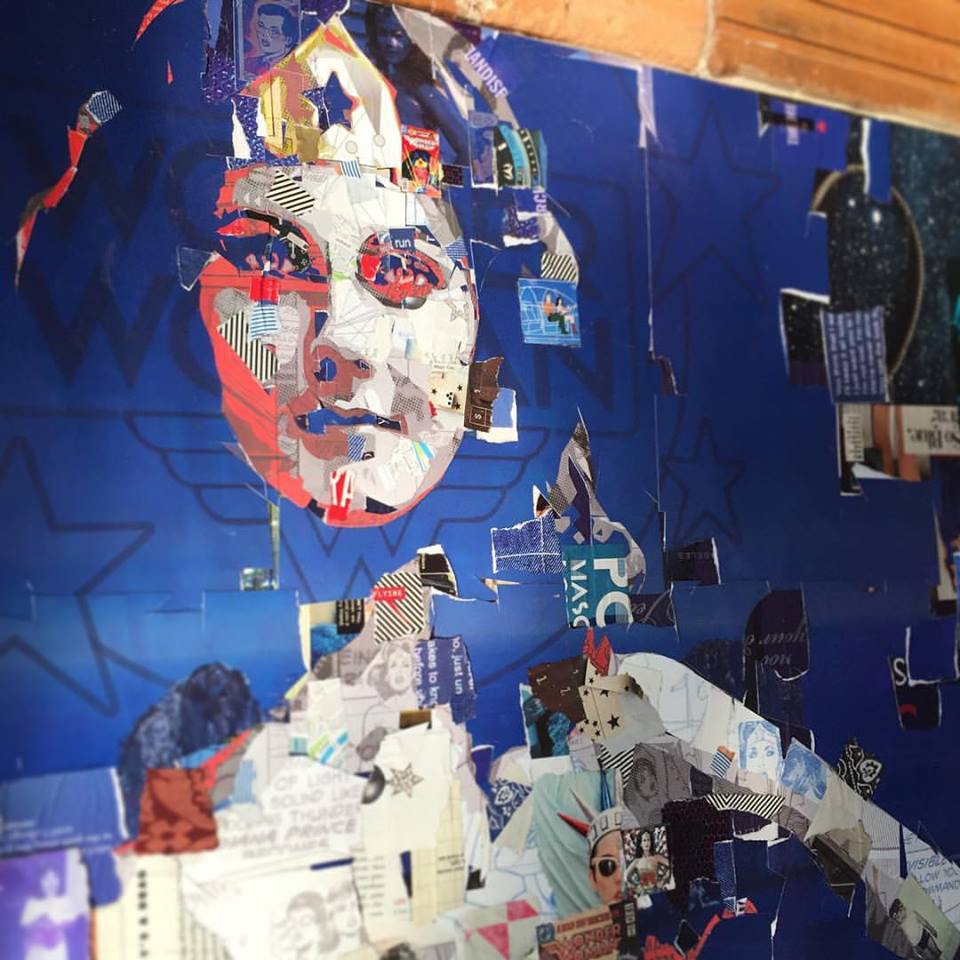 A close-up of Wonder Woman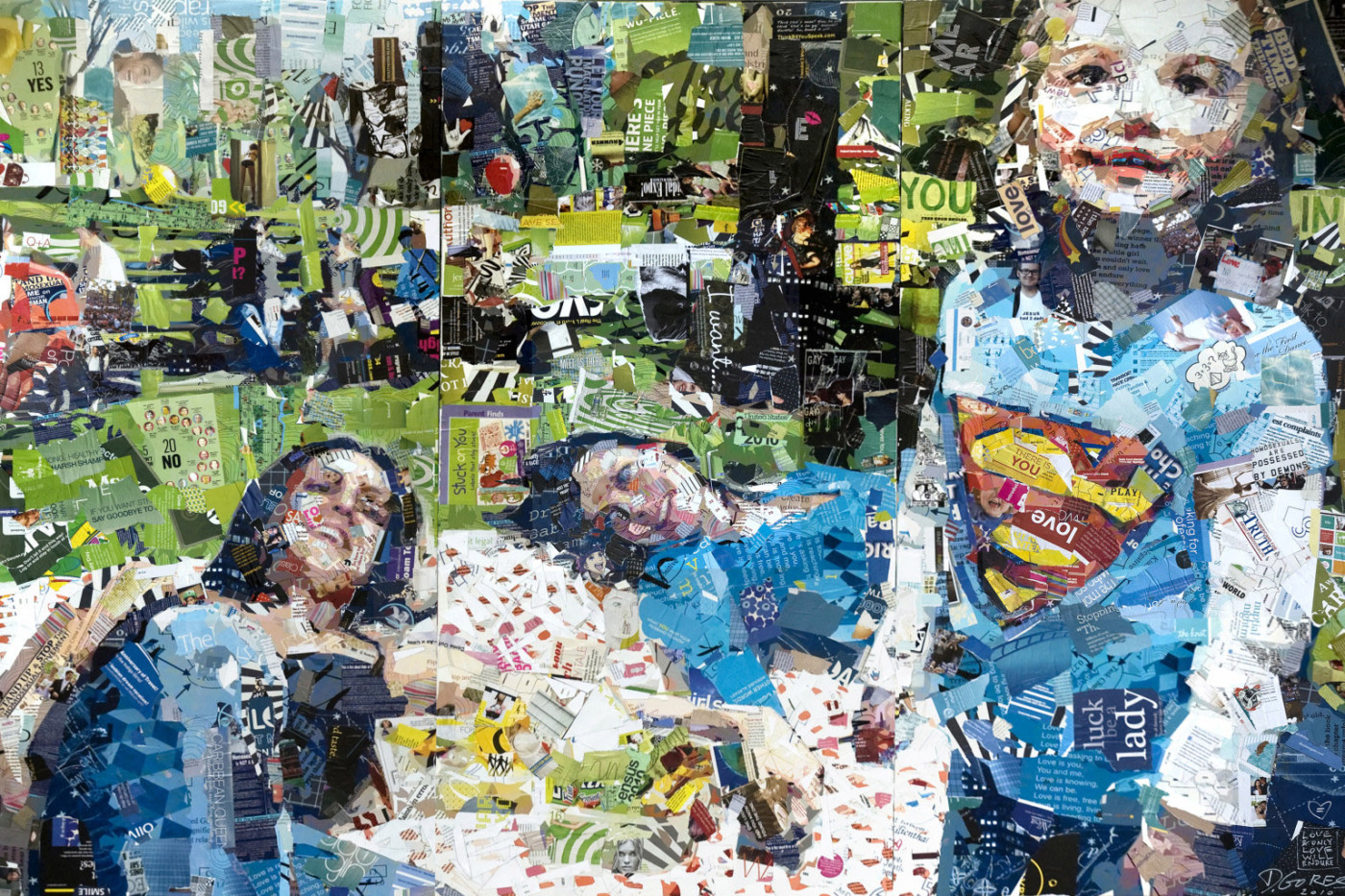 Love and Only Love Will Endure, a collage made entirely out of hate speech