Welcome to Luneville (pronounced Looneyville). Tucked away in a small upstate New York town lives the artist Mark Garro. Entering his space is like taking a trip to another realm, which truly mirrors the artwork he creates. Seamlessly mixing surreal elements with realism, he develops extraordinary imagery. Mark's studio is filled with props he has constructed over the years and art work he has made throughout his life.
Mark Garro's DNA is comprised of art as he is a third-generation artist. He was born in 1962, which was a peak year of radiation in Earth's atmosphere. Growing up during the Atomic Age greatly influenced his work, which is reflected through the incorporation of atomic bombs, missiles and many other  details. He has worked on over 200 paintings over the last 13 years, and continues to push himself as an artist every single day.
Keep reading to find out more about Mark Garro and his artwork.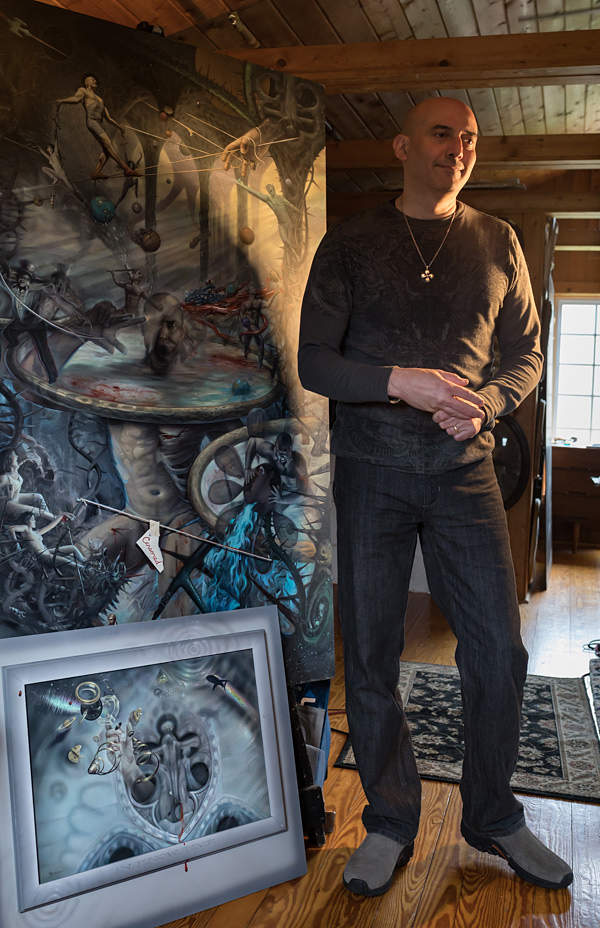 Mark Garro in front of "Cirque'du Hell", 2004, part of his large-scale triptych that depicts Heaven, Purgatory and Hell.
After a career in the illustrating world, what made you take the leap into the fine art world?
My transition to fine art directly coincides with the invention of Adobe Illustrator around 1997 , the digital revolution blew up the illustration world and changed it forever. I painted my last book cover in 2002; the art director manipulated my painting digitally and published it without letting me know and that was it for me. I didn't know at the time, but surrealism was resurging and pop surrealism was taking hold partly because of all the displaced  illustrators who painted and who didn't want to work digitally. I had always painted my personal work whenever I had down time from illustration, so I hit the ground running as far as expressing myself and having a painting voice that I could show to galleries.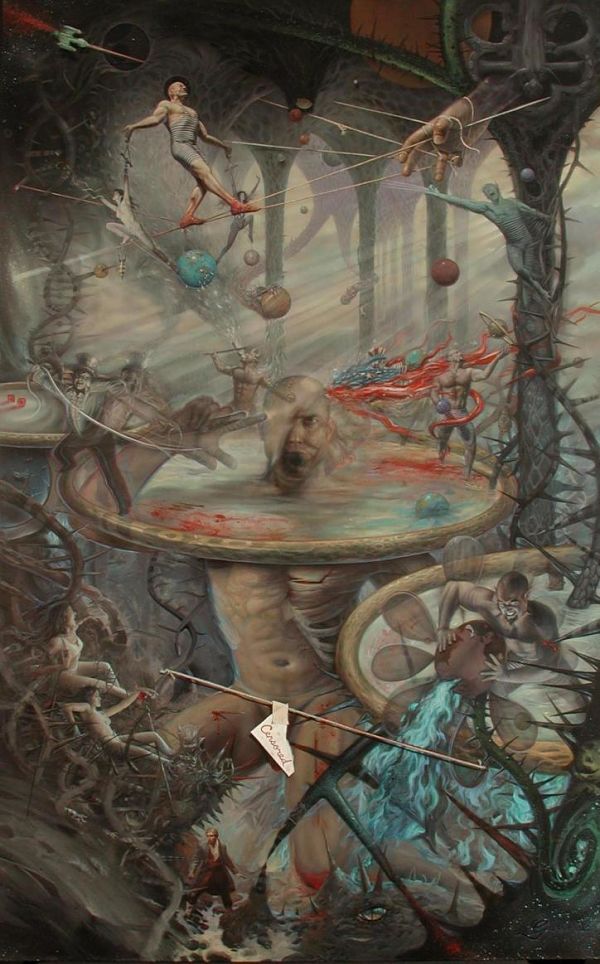 "Cirque'du Hell", 2004
Every idea Mark has as an artist is acknowledged, written down and kept safe in one way or another. In fact, everything he creates is honored almost as a symbol of his journey as an artist. Pictured below is a flip book Mark made when he was eight years old.   This is the first time he used the "Above and Below" motif that has become so prevalent in his work.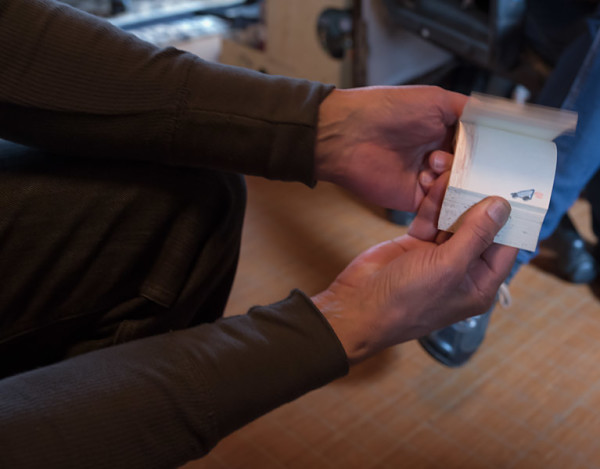 "The traditional saying, 'AS Above, so Below' I always thought should really be, 'As above, not so below'. The older I get, the more I realize that not only are things sometimes not like they seem, but they are mostly not as they seem. Something insidious seems to always lurk just below the surface; sometimes good lies just below the evil but usually evil lurks just below the good. If you scratch the surface of most any situation, what leaks out may surprise you.

As far as inspiration, I'm always trying to tell a story. My paintings are narrative and allegorical. I use detail and high technique to get across my story. Current events are sometimes expressed, but my whole life experience is reflected in my work. The year I was born (1962), was a peak year in the amount of atmospheric radiation produced by nuclear weapons testing. I live in a very rural area so nature and the environment are big influences in how I express myself."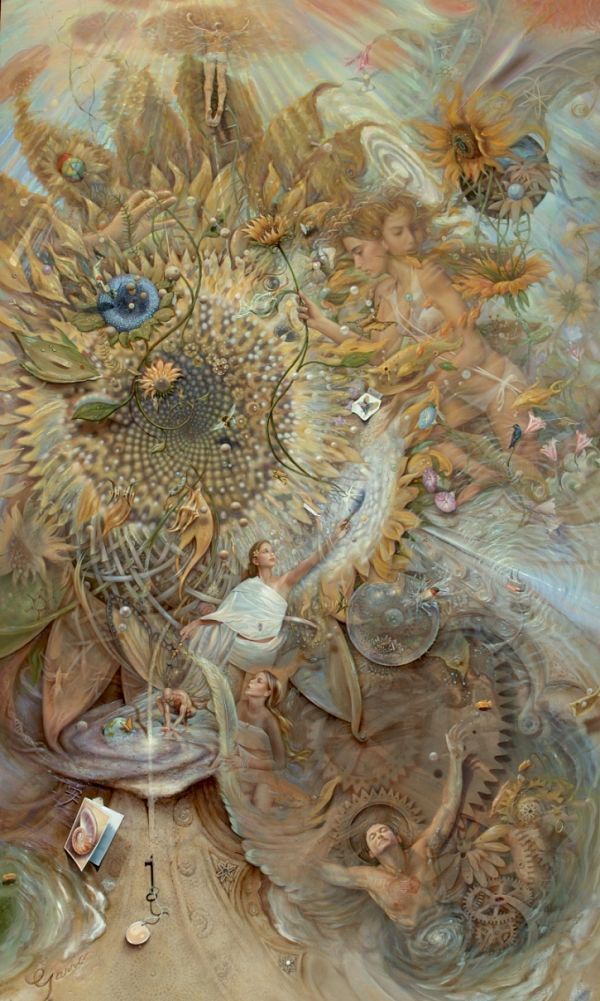 "The Somewhat Mechanical Organical Heaven Dynamical" or "Heaven Dynamic", 2006
Mark Garro's artwork is meant to be digested and analyzed. He describes himself as "a miniaturist who likes to work big".  Monumental amount of detail is presented in each painting. Tiny clues create pathways that allow the viewer  to navigate the work. This is especially true with his large-scale triptych series, "Heaven, Purgatory and Hell". When entering his home, I was immediately in awe to see "Heaven"  hanging on his dining room wall. The immense size of the painting, 84" x 48", swallowed my complete attention and I was lost in all of the intricate details. The large-scale painting begins to be digested on smaller and smaller levels.
Mark highly recommends seeing his work in person. After visiting his studio I found his artwork really is an entry way into his mind. He has an insatiable interest in all facets of making art and anything that interests him for that matter. Breaking down the smallest component of how things work to understand them on a larger scale.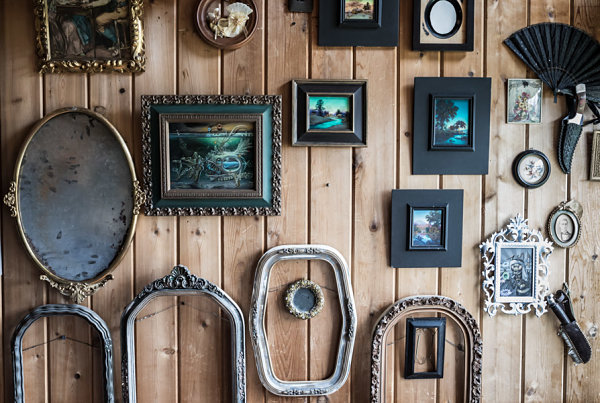 One of the walls in Mark's studio is adorned with frames and his miniature Maxfield Parrish paintings that he recreates. The process of recreating these paintings helps Mark understand color on new levels as he is always on a mission to learn and understand as much as he possibly can.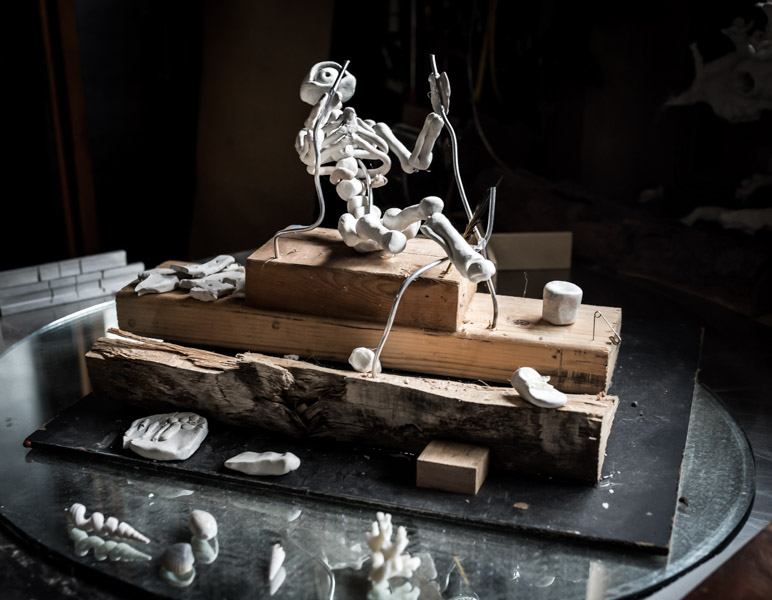 Mark uses handmade props to help make the surreal seem as realistic as possible.  Examples of this are seen above ("The Pupil, prophet seer and student of the Cosmos"), and below for his paintings: "Landline" and "Children of a Lesser Godzilla".  This dedication is a testament to Mark's commitment to his artwork.
"The skeleton man is called " The Pupil, prophet seer and student of the Cosmos" he originally appeared in a painting called "Fatman" (2009) for the second group show I participated in at Copro gallery (Saturnalia). It depicts a snowman in an apocalyptic snowscape, whose cyclops skeleton was visible through the snow. Then he started popping up more often as an observer, participator or main character of my paintings. Most of my paintings feature realistic women as Cosmological Cogs within the workings of the Universe, so I thought he would be the perfect supplement to that."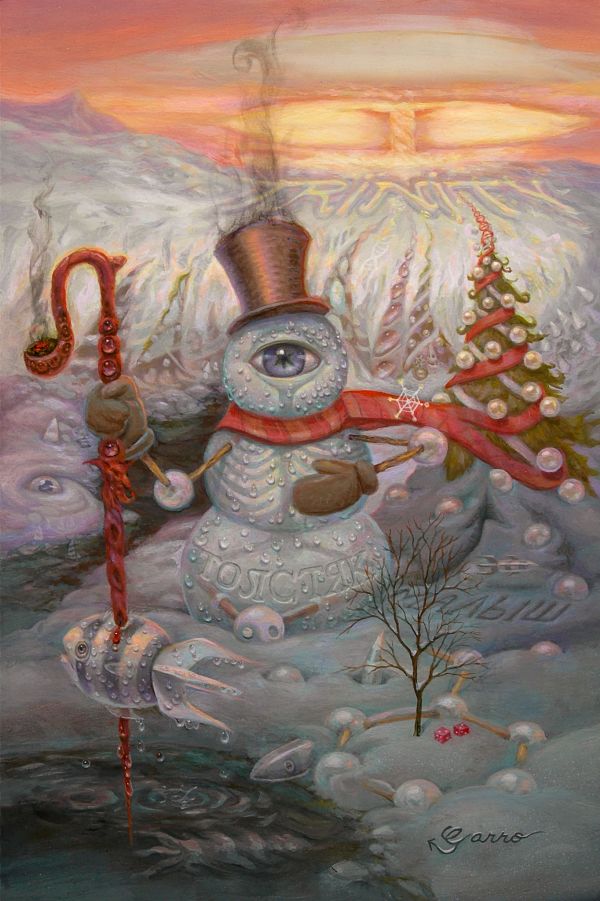 "Fatman" 2009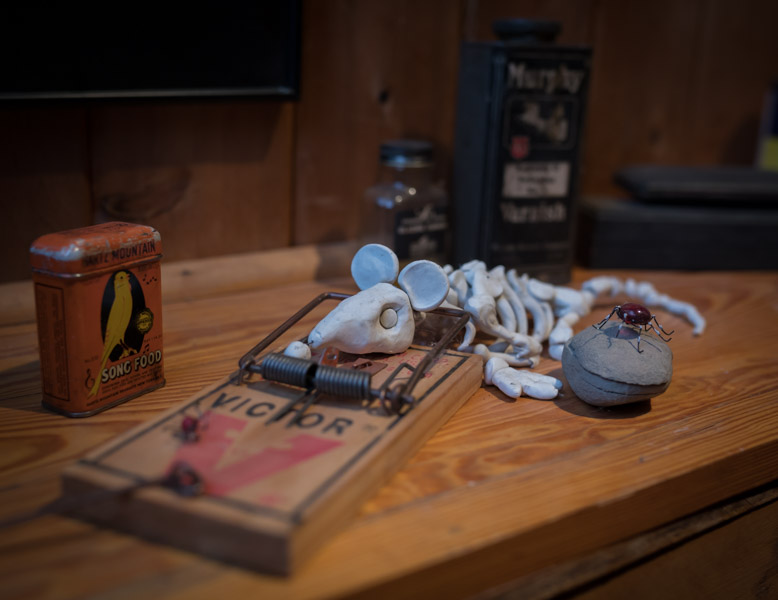 The mouse skeleton was used as a reference for part of the painting "Ganeshafixion" from Mark's "Corpus Collasum" solo show at Copro around 2015.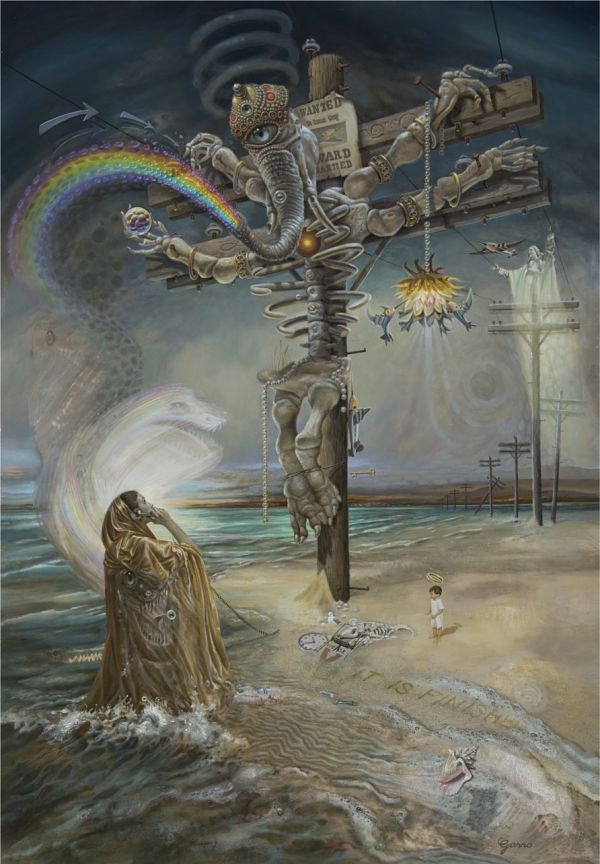 "Landline", 2015
Manufacturing the elements of his work with tangible items helps render a heightened sense of realism in his painting.  As seen below is a prop made for "Children of a Lesser Godzilla".  He states this is his "most recent finished piece. It's a reflection on how we treat our environment and how that whole disaster was kind of just swept under the carpet, while it has poisoned the ocean for 10 years. As above, NOT so below."
Fukushima being the disaster he is referring to. Near the bottom of this painting the word "Fukushima" is displayed in the sand with a small wave washing it away.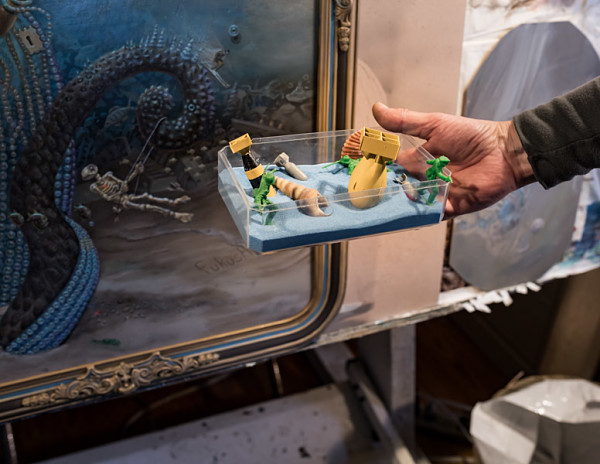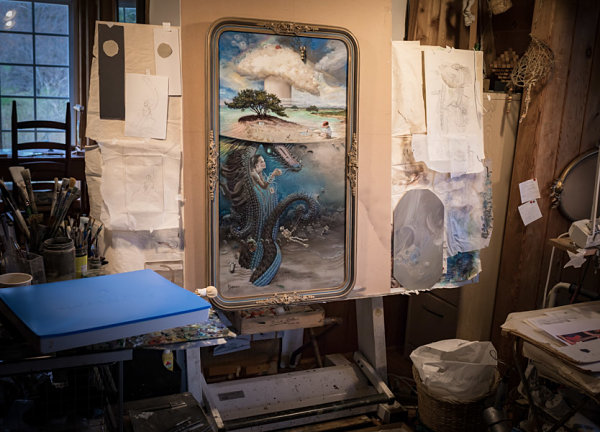 "Children of a Lesser Godzilla"
" The shape of things repeat what physics dictate
Don't bother to set up shop or even propagate
Throw away the key to the belly of the beast
Gather 'round one and all for a spoiled dubious feast"
Many of your paintings are accompanied by poems. Do the written passages inspire the paintings or do the paintings inspire the words?
As for my poems, they always follow the completion of a painting, never before. It's an opportunity for me to reflect and ponder what the hell just painted because my paintings often evolve away from the original intent and I don't fight the process. If it tells me (the painting) to take a different direction while working on it, I take it. The best parts usually happen in the final 20 percent of finishing. Pay attention to the voice of the Universe and it will take you down wonderful unintended paths. Painting is the ultimate jigsaw puzzle. Arranging and organizing countless elements, factors and variables in a cohesive way that can communicate in a visually interesting way. This is what occupies the vast majority of my life as a painter and I need this dynamic to feel normal as an Earthling.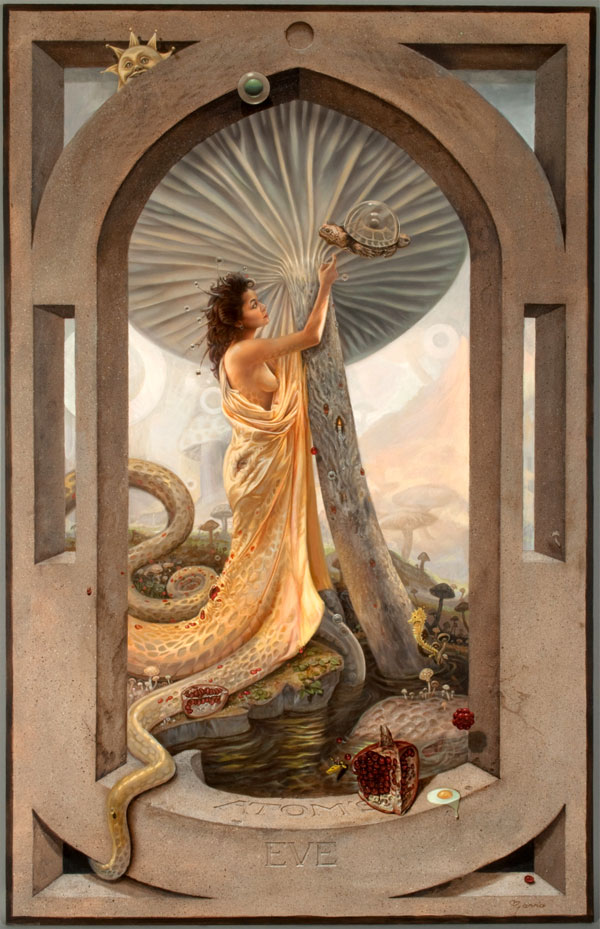 "Atoms Eve", 2012
I notice that you use Trompe l'oeil in your work, and was curious the meaning it holds?
I was lucky to have one of the best Trompe l'oeil painters  in the world as a teacher. Kathy Calderwood at Syracuse University. Through her, I was able to see what was possible with acrylic paints and what illusions could be achieved. Presently, I use Trompe l'oeil elements in my paintings as a means to use symbolism in interesting ways. I also employ it as a means to rivet the viewer and draw them closer toward my work. Once closer and engaged, they can then appreciate the miniature details I pack my work with. It also drives home the importance of seeing the work in person. Reproductions kill the illusion of fooling the eye.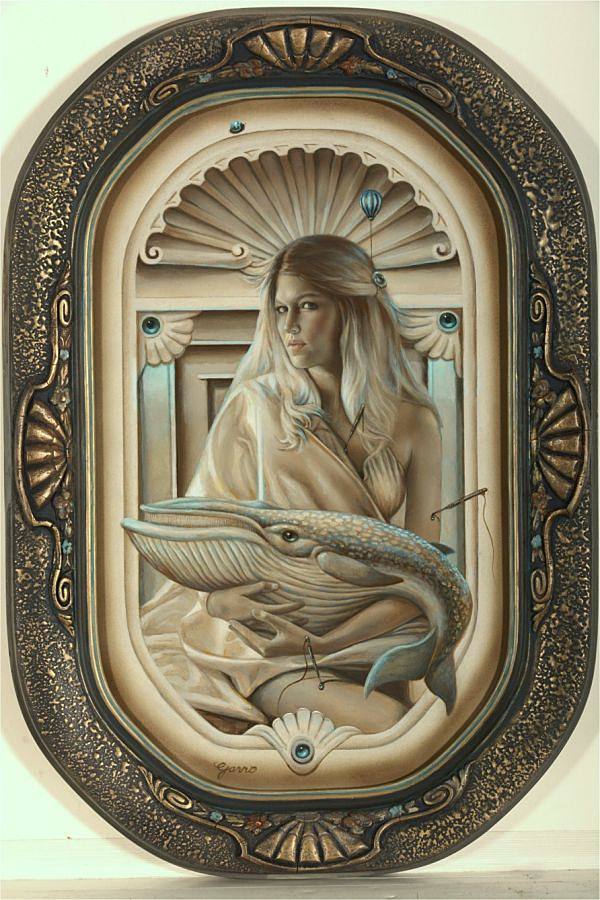 "Blue", 2015
I know music has been a big part of your life, how do you think music influences your artwork?
Music has always been part of my life and I've played sax since age 9. I started including the sax in my work in college because it is such a cool and interesting looking object. Now, how music positively affects my brain has become so important to my painting process, I don't think I could ever stop playing. I believe that it keeps my brain fresh, exercising it in a way that painting can't thus preventing creative burnout. I need music and painting in order to stay on an even keel and feel normal.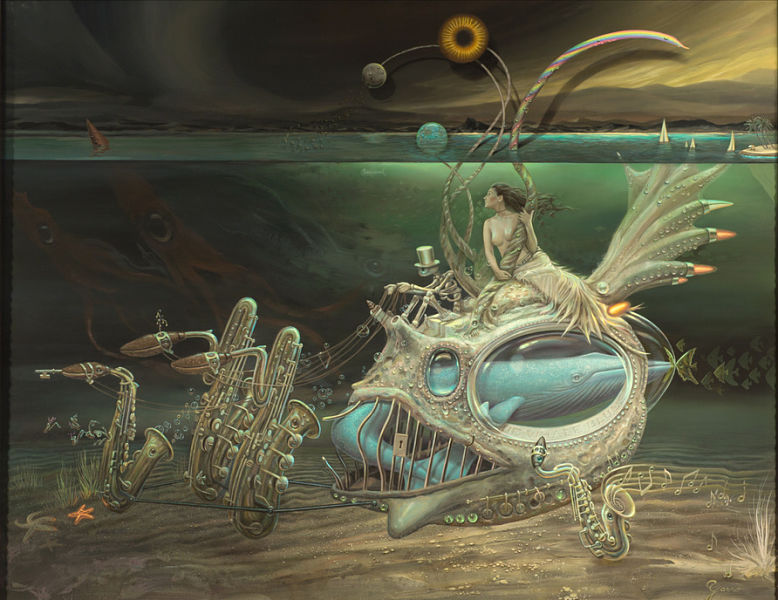 "Blue Wail  Blues", 2018
"Rock is Dead", 2018
Mark is a dedicated artist; always on a quest of understanding. It was inspirational to see the space where he creates. If the opportunity arises to see one of Mark's pieces in person, I would not hesitate! Here is a final quote from Mark's "ruminations".
"The visual language of painting is endlessly fascinating. It is the ultimate jigsaw puzzle. Fitting together the intangible variables of color, composition, concept, cohesively as to appear 'complete' can make any artist crazy. The ultimate satisfaction comes from doing your homework and with a lot of illogical persistence seeing it all come together."
Mark Garro Social Media Accounts
Website | Facebook | Instagram
Related Articles
Roadside Attractions III by Cris Velasco & Mark Garro's Blues of the World
Anne Juul Christophersen: Forgotten Connections of Childhood Dreams