It's hard not to be enraptured by the paintings of Danish artist Anne Juul Christophersen. I've tried hard to pinpoint what exactly it is about her works which draw me to them so clearly: is it the whimsical freedom represented through her characters' adventures? The soft brush strokes, which seem to make her paintings glow? Or perhaps it's the feeling that each painting is like a distant memory – the echoes of a dream forgotten in the morning light.
It was interesting to learn that I'm not alone: "So many people are deeply attached to my paintings and the stories within them." Muses Anne. "I've met people who have started crying, looking at my paintings. I've received beautiful poems about [them]. I've even met a tall, grown man, pointing at the little girl saying, 'She is just like me'. That's just beautiful."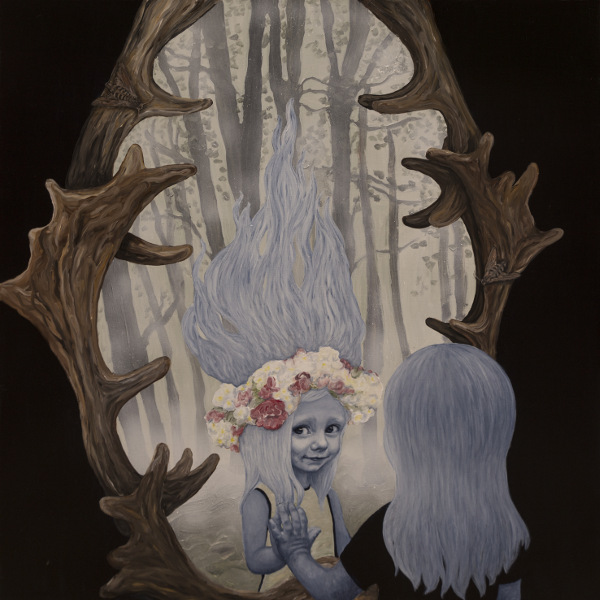 And At Once Everything Was Clear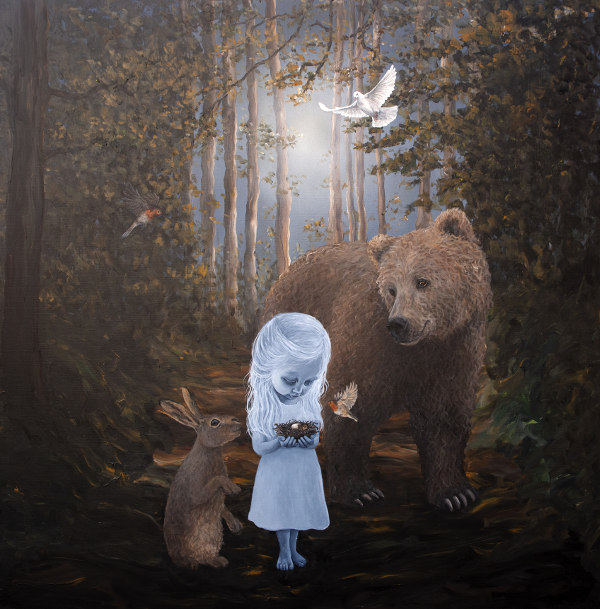 There are only two ways to live your life: as though nothing is a miracle, or as though everything is a miracle
Anne Juul Christophersen taking you to another dimension
If you're not familiar with Anne Juul Christophersen's paintings, they are hard to summarise under a particular genre. To me, this is part of their charm. Part fantasy, part surrealism, part fine art, Anne's paintings take you to another dimension where you can forget any troubles in your day to day life. Labels aside, the beauty of her works shine through the characters which she depicts – most often, through the experiences of a young, blonde girl and her animal friends. Anne swears that the girl isn't herself though.
"The entire painting is me, not just one of the characters" she explains, "I have always been fascinated by painting people. Along the way my focus became more and more on painting children, because they are strong symbols for innocence, purity, fantasy, new beginnings and fragility. That just fits perfectly with what I want with my paintings.

Suddenly one day while I was painting, this girl came walking towards me – on the canvas – crossing a bridge from a forest. It was a very strong experience, because right there and then, my artistic universe fell into place within me.

Being a child of mother nature, it was only natural that she found companionship in friends from nature. She is very Nordic and without having chosen it consciously, she is definitely related to elves and fairies – and she is somewhat connected to northern mythology."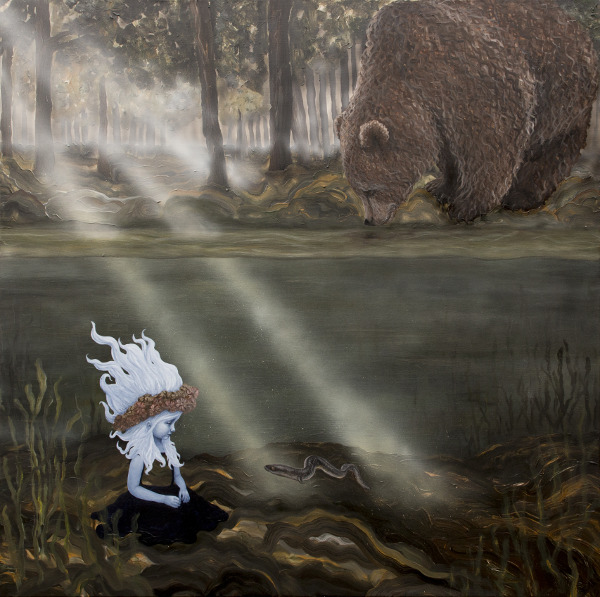 When the Weather is Good Enough For a Trip To the Bottom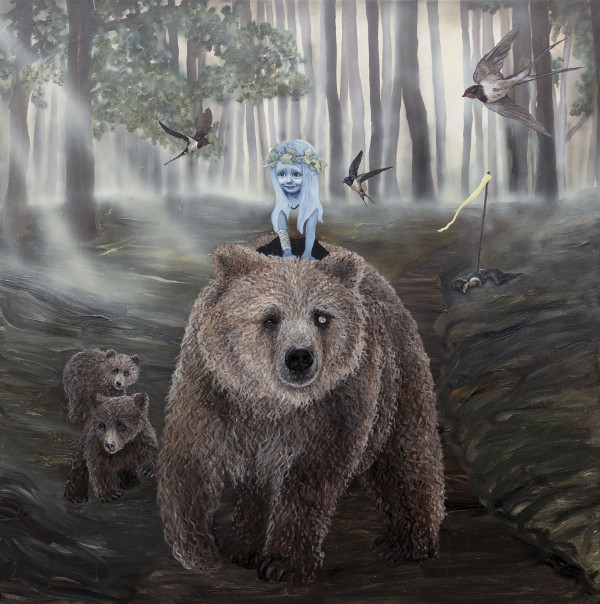 Bittersweet Victory
Connecting with nature
The strong symbols of nature within her works represent Anne's own connection to this influential element. Living in a rural part of Denmark, Anne and her husband are surrounded by a wilderness which many no longer experience by living in the cities. Yet her familiarity with nature started long before this: "As a kid, I lived far out in the country and we did so many things that would make any parent today faint. We would sit high up – several meters – on a heavy load of hay as it was being driven home from the field. We would play in the forest. We would swim in deep lakes, go horseback riding and sometimes chill out, sitting back to back with a large cow, resting on the field. And we weren't afraid. We were just a part of it all – we were connected with the nature surrounding us."
Anne Juul Christophersen's own memories of adventure are beautifully captured through her artworks, and what makes her acrylic paintings even more alluring to me are the way they don't portray the marvel of nature in a traditionally 'sunshine and rainbows' way. Often, her forest backgrounds fade into darkness as they envelope the little girl and her friends. Sunbeams streak through thick mist, and gnarly ancient trees intertwine far beyond the paintings, pulling you further into each scene.
The light in the darkness
To me, nature doesn't have "scary places". Nature just is. It is neither good nor bad. It is… nature.
I asked Anne if she was trying to show a different side to the dark woodlands through her paintings, a side less scary than the typical interpretation of such places: "It's funny that you ask me that," she laughs, "because I never think of it that way – that my characters are in scary places. To me, nature doesn't have "scary places". Nature just is. It is neither good nor bad. It is… nature." She reminded me of her own childhood adventures: "It's exactly like that in my paintings. No one is really afraid, because it all fits and belongs together."
And perhaps it is Anne's perception of nature, which connects with us so deeply, amalgamating lesser-explored elements of the wilderness within an equally positive light. Humanity, no matter how advanced we become technologically, still has an intrinsic link to the natural world which many of us fail to nurture within the modern way of living. "I definitely agree with you that many humans need to reconnect with nature and that is very difficult, when we have such a strong urge to live so closely together in large cities." Says Anne, "The alienation from nature, which we are all part of, hurts inside us. I sense that my paintings somehow contribute to relieve that pain."
Dream Fisher
Creativity developed over time
Given Anne's ability to nurture this connection we have to her world on canvas, it's interesting to learn that Anne's childhood wasn't spent painting. "Creativity was a very natural thing in my childhood home, as my mother and my grandfather both painted as a hobby. My father was an architect, so we always had paper and drawing tools in the house. As a child, I could sit by myself and draw for hours and hours, while fairytales magically appeared on the paper in front of me. I was completely captivated. On the paper, everything could happen. It was magical.
[Yet] I didn't begin painting before my twenties. Up until then I think, I was too humble to pick up the brushes. When I, as a kid, watched my mother painting, I was always very impressed – and I wasn't very confident that I would ever be able to do that. As a twenty-something I graduated as an art teacher and that got me started as a painter. Soon after that, I started exhibiting my paintings as well."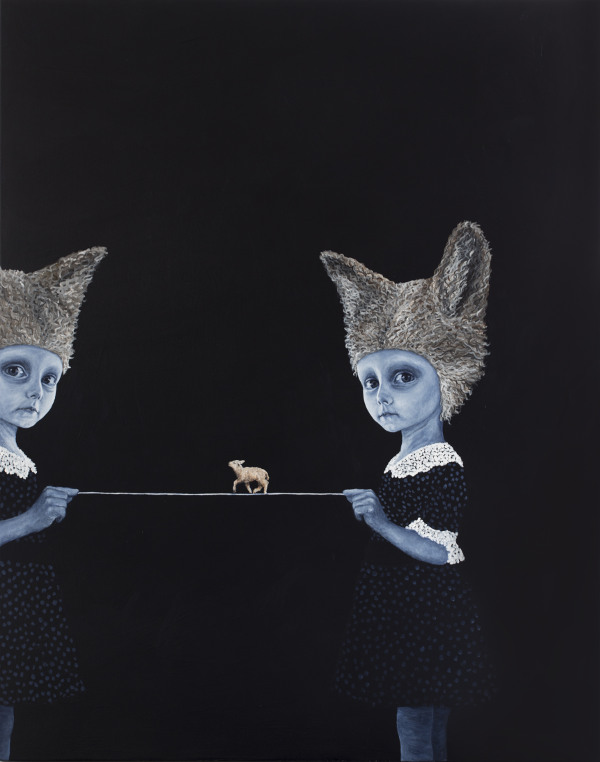 No Worries – We've Got You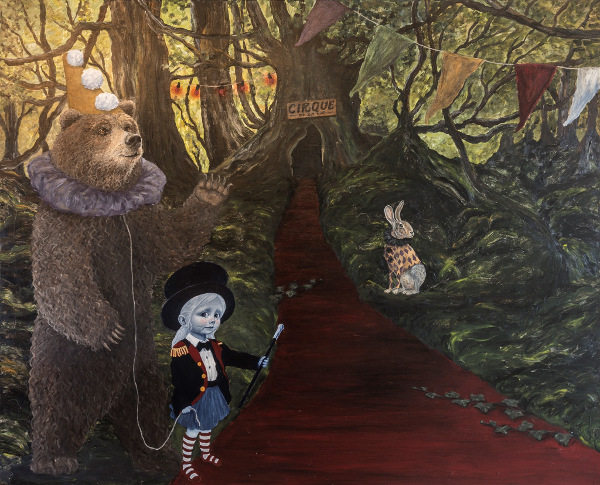 Cirque de la Vie – Enter At Your Own Risk
Work in progress shot
Exhibitions
These days, Anne's paintings will sell almost immediately upon release, and her work is shown internationally through art fairs and her partnerships with Galería Krabbe in Spain and Bruno Dahl Gallery in Denmark. But what about upcoming solo exhibitions? Well, for those that can make it to Denmark, Anne will be unveiling her solo show "Connected" at Galerie Wolfsen in Spring 2020.
"I have set some very strict dogmas for the exhibition.

Dogma #1: There must be 12 paintings

Dogma #2: Each painting must be 150 x 150 cm

I have a few more dogmas, but they´re yet to be revealed. The exhibition will be a tribute to nature´s cycle and my studies on the earlier days´ religions and their ways of living in pact with nature." Anne shares. "In relation to the exhibition, I will be releasing a book […] about the exhibition and about the many thoughts I´m having along the way [connected to] my process. It will be a book with explanatory texts, poems and maybe even a fairytale."
To see more of Anne's work and find out more about her, head over to her website, or follow Anne on Instagram and Facebook.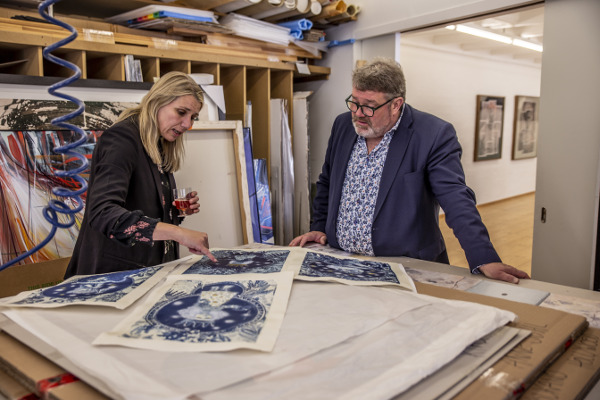 Anne Juul Christophersen with Galerie Wolfsen owner Kent Wolfsen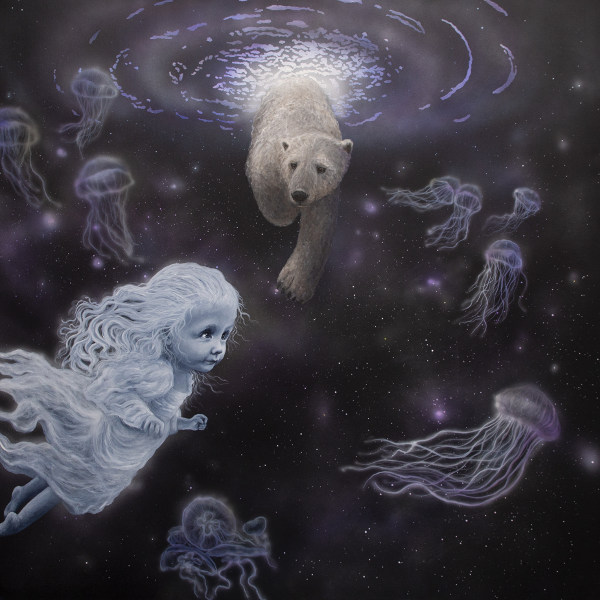 Who is closest to the shore when you swim in the sea of infinity?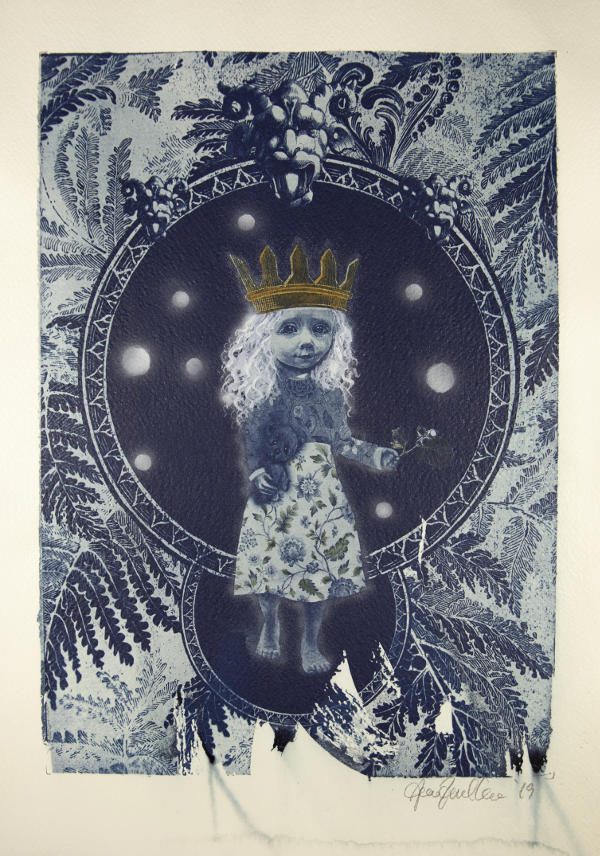 Cyanotype 1
Cyanotype 2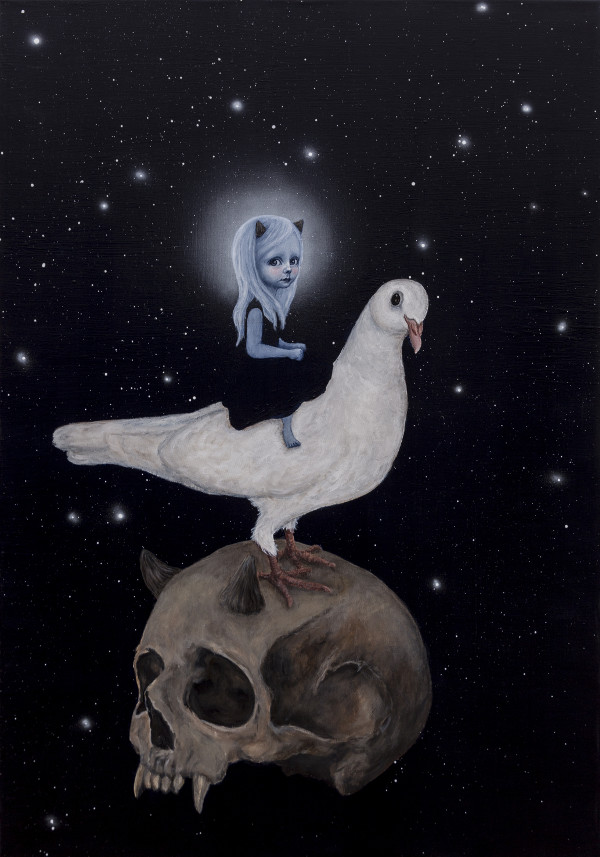 A Nightmare of a Dream II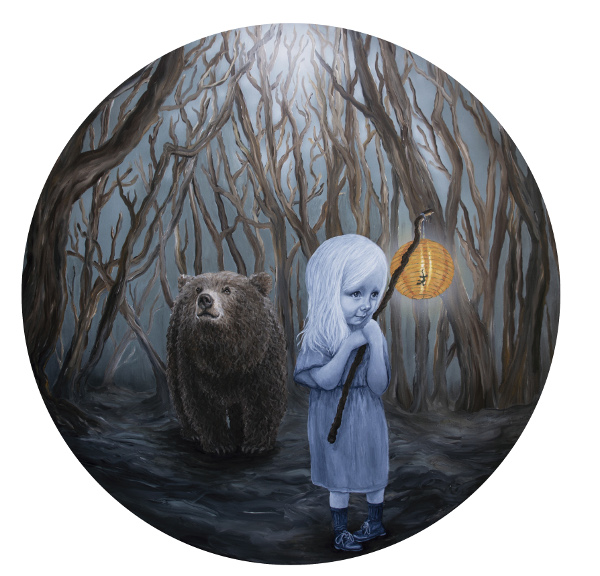 Yes, I'm certain this is the right way – almost…