Distinctly beautiful and expressive, the delicate stitches of embroidery move together like a dance- weaving a narrative that creates a truly stunning piece of art. If you love this beautiful medium as much as we do, then get inspired and join Modern Eden Gallery for Microcosm with Jessica So Ren Tang this Saturday, October 12th.
Press: Modern Eden Gallery presents Microcosm, a collection of top contemporary artists working in textiles and embroidery, presented along with a series of new works from San Francisco-based artist Jessica So Ren Tang. The artist's newest series of hand-embroidered paintings continue her ongoing exploration of object and figure through a cross-cultural lens. The works, delicate and yet explicitly commanding of our attention, explore the intersection of nature and self-identity, as the artist, with graceful attention to detail (and intrepid cleverness) stitches together a personified subject with a storytelling object.
"Embroidery is versatile in mimicking the original object in shape and design but still distinct enough to be recognized as something else. The stitches are soft but substantial, more tangible."- Jessica So Ren Tang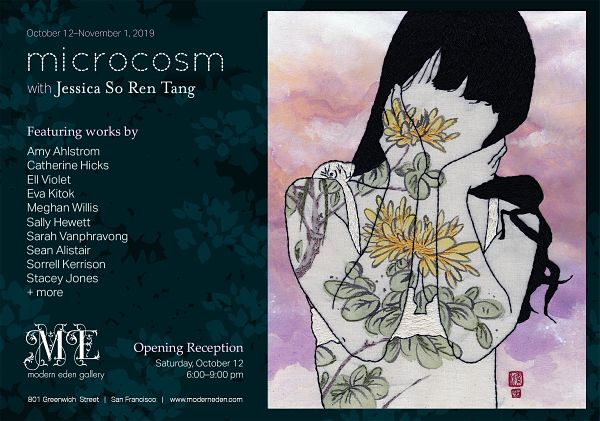 Microcosm with Jessica So Ren Tang
Opening Reception:
October 12, 2019 | 6–9:00 pm
Exhibition Dates:
October 12–November 1, 2019
In addition to this new series from Jessica So Ren Tang, Microcosm features new works by top contemporary embroidery and textile artists. Curated both locally and internationally, this unique group of creatives are pushing a traditional medium in exciting new directions, with creative and technical skill, and by leveraging platforms like Instagram to support an ongoing and participatory narrative around their work.
Featuring works by Sarah Vanphravong, Amy Ahlstrom, Meghan Willis, Eva Kitok, Catherine Hicks, Sean Alistair, Stacey Jones, Sorrell Kerrison, Ell Violet, Sally Hewett, and more.
We hope you can join us for a reception with Jessica So Ren Tang and select group show artists on Saturday, October 12 in San Francisco. The event will take place at the gallery, located at 801 Greenwich Street. Gallery admission is free and we are open to the public. Complimentary refreshments will be served.
801 Greenwich Street @ Mason and Columbus | San Francisco, CA
For press inquiries or sales, please contact Gallery Director Kim Larson [email protected]
General Information: Please email [email protected]
Modern Eden Social Media Accounts
Website | Facebook | Twitter | Instagram
Related Articles