Australian artist Emma Leonard paints a dreamy cast of women in her collections. She depicts the female form as both ephemeral yet timeless, fragile yet strong, like photographed flowers. With gossamer hems and wispy threads, the women in her artworks exist in pink-drenched afternoons. They carry themselves with a beautiful wildness and unbridled femininity as powers of the natural realm. These girls may be made of lullabies and starry-eyed wishes, but they also carry a resonating strength that bewitches the audience at one glance.
Take a wander through their garden nurseries and get lost along the way.

Interview with Emma Leonard
A brief history of your entry into the world of art. Why did you become involved in art and how long have you been engaged in professional art?
For as long as I can remember, I have always had a passion for art and creating. I began a degree in Visual Arts straight out of high school but I was also an actor at the time and when work in that field became available I abandoned my course. In my mid-twenties I found my way back to art and returned to study with a course in illustration and have pursued it as a career for about 10 years now.
I've noticed you have been experimenting with more digital forms. Why this change and what are the benefits and/or detriments to digital art over traditional art?
Getting an IPad Pro has really transformed my work over the past couple of years but particularly over the last 12 months. I started out just using it for live fashion illustration bookings as it allowed me to work very quickly, but around this time I had also found that commissions in my traditional ink/watercolour style had slowed so on the advice of my agent I spent some time working on a new digital style in Procreate that had a more contemporary feel and also reflected what is going on in the fashion illustration industry right now. Benefits of this shift mean I can work a little quicker, revisions are usually easier to make and I'm not chained to my desk, I can work anywhere. I do find it nerve-racking to rely so much on technology though!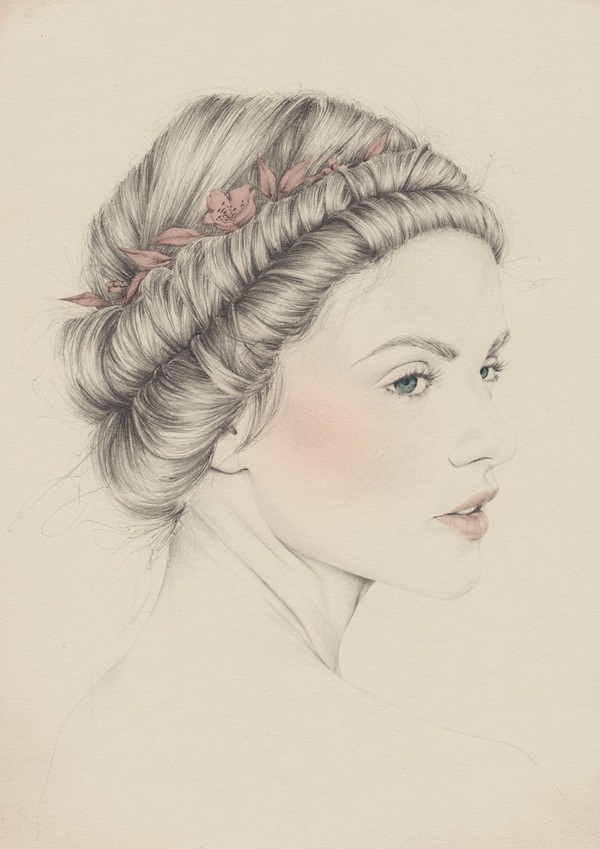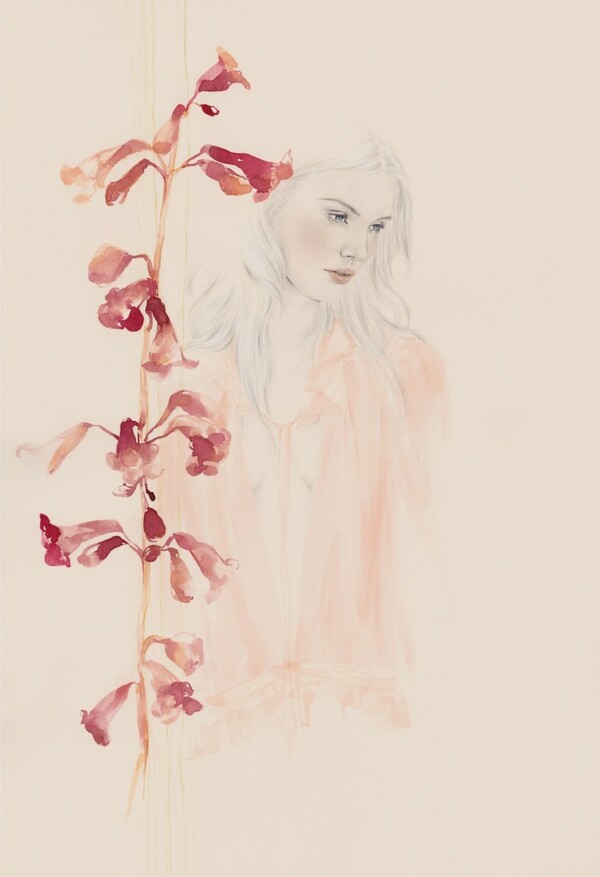 Emma Leonard creates her artworks using a plethora of mediums. She is a modern painter, engaging in realistic yet stylistic paintings. Sometimes she uses watercolour, sometimes oil and more recently she has divulged into the world of digital illustration. However, no matter what medium Emma chooses, she still wields the brush with a dainty hand and adds subtle but intricate detail. Her aesthetic colour palette complements this as she mainly uses creamy pastels and earthy blushes. This colourisation is what gives Emma's paintings such an otherworldly feel, a wistful quality. And there's a certain Australian charm to her works, from native flora to local fashion. Her use of flowers like Australian banksias and inclusion of bones and red tones is reflective of the wild Australian landscape. It's a magnetic combination, creating art that inspires peaceful daydreaming.
As an Australian art magazine, we are interested to know if the Australian landscape, culture or art has shaped your own work in any way? For example, you seem to sometimes take inspiration from Australian flowers.
Australian flora is a constant inspiration for me. I don't think I'll ever tire of it and I love that our natives are so uniquely Australian. Tough and sturdy but always beautiful. My favourites are the flannel flower and eucalyptus caesia.
What do you believe are the themes you frequently return to in paintings? (Love? Beauty? Fear? Romance? Magic? Confidence?)
I think I always return to themes of beauty and nature. I love that they can both be so mysterious and ethereal, both strong and soft at the same time.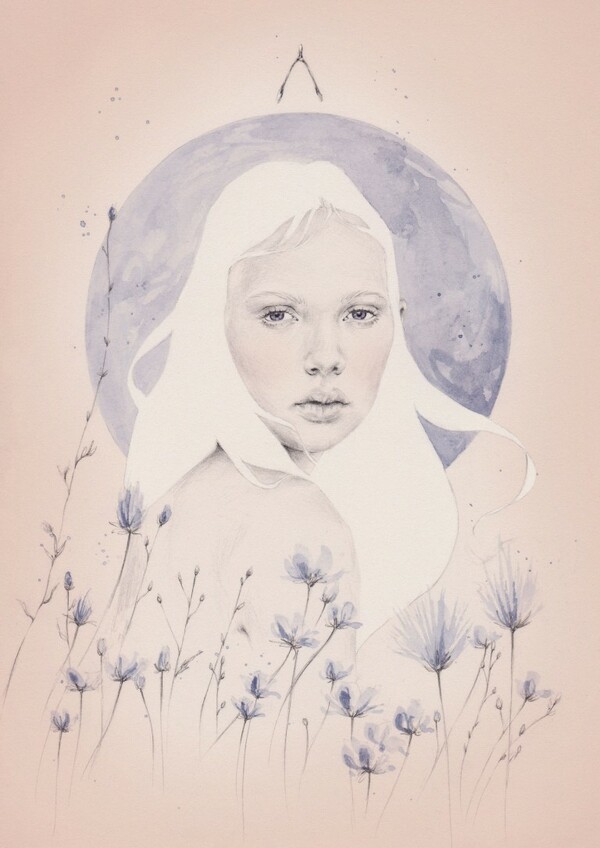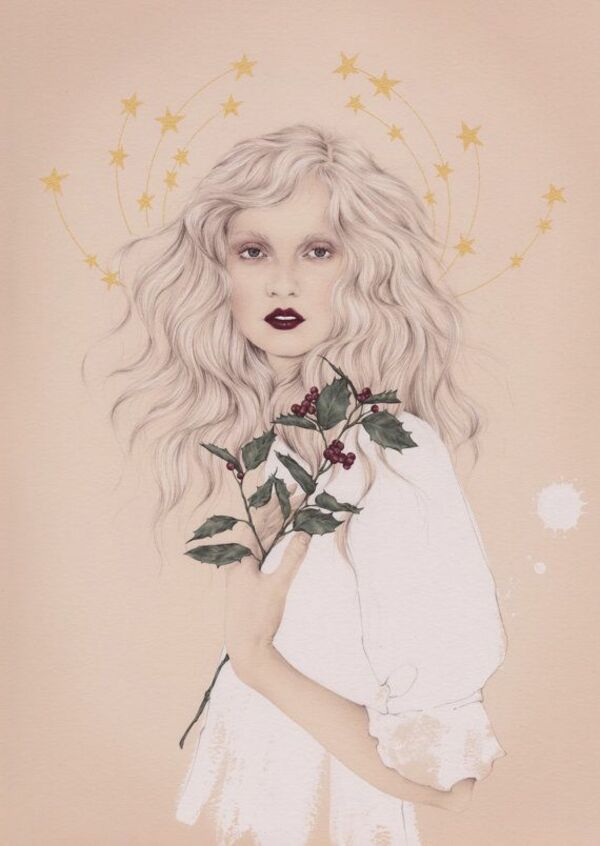 There's also a whimsy to Emma's paintings. Some of her works depict mystic women, enchanting with their showroom eyes. They are beautiful creatures of fairy tale woods, taming animals and growing wildflowers with a single stroke of their soft touch. Emma frequently features the moon as well. In paintings below, Emma features women in affinity with the moonlight. It's a divine connection that transforms the women into incarnations of the lunar goddess. They seem to harbour secrets and revelations. This spiritual imagery is furthered by symbols such as feathers, flowers, keys and bones. The feminine form becomes a sort of dreamy diety, connected to the life, death and mystery of the natural cycle.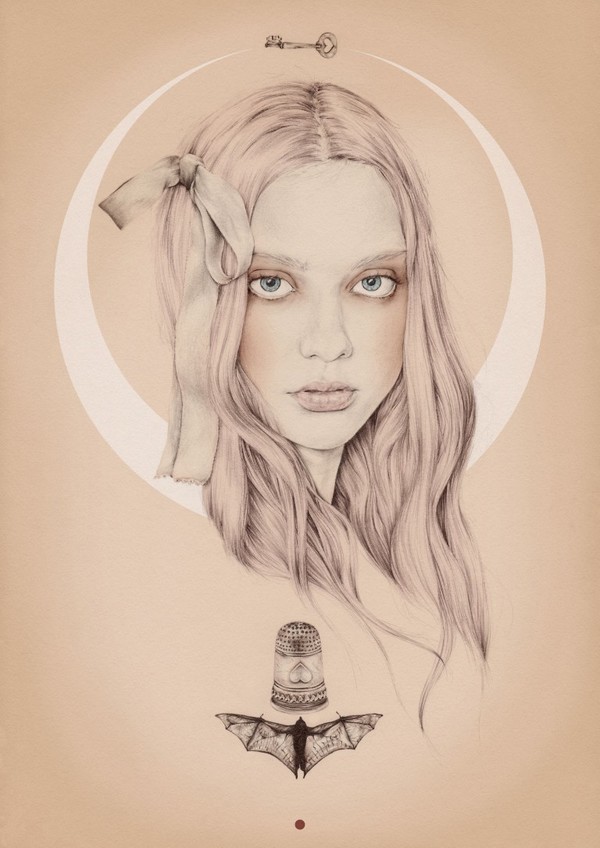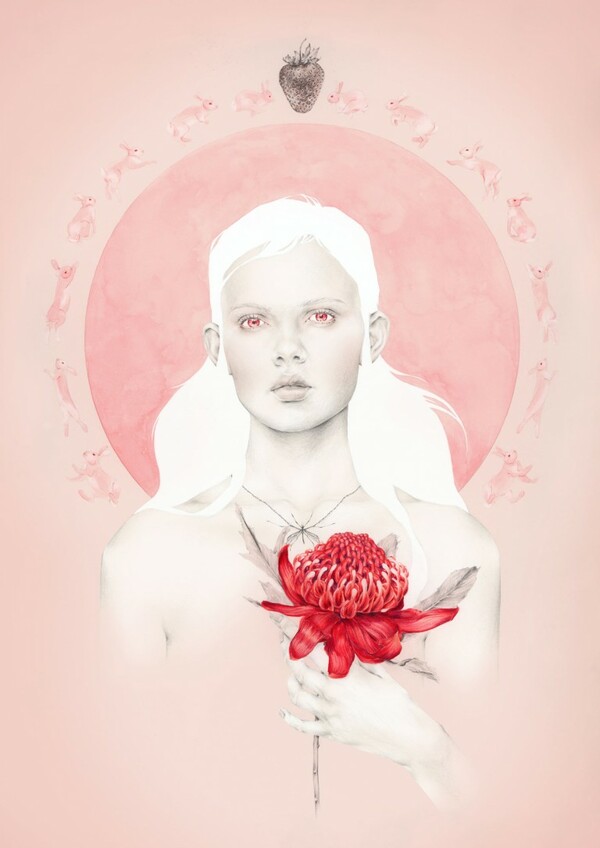 Emma expresses her passion for fashion and beauty frequently in her art. She likes to feature fashionable women, using clothing as a way to express confidence and individuality. These paintings are valuable reflections of feminine beauty and fearless spirit. And the clothing is often prettily presented as floaty, silky garments. Moreover, women don't simply become mannequins for fashion, they embody the clothes they wear and become one with flowery prints they shoulder. Emma Leonard's illustrations are bold and lovingly detailed, which is exactly what fashion should be all about.
Has fashion always been an artistic inspiration to you?
Yes, absolutely! I love exploring the way clothes move, interpreting their different textures and capturing the way light and shadow falls on fabric.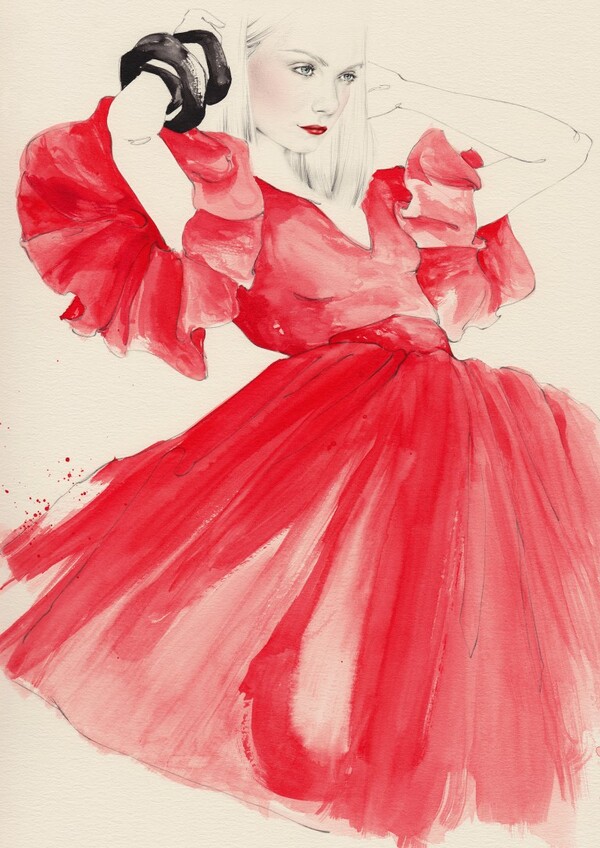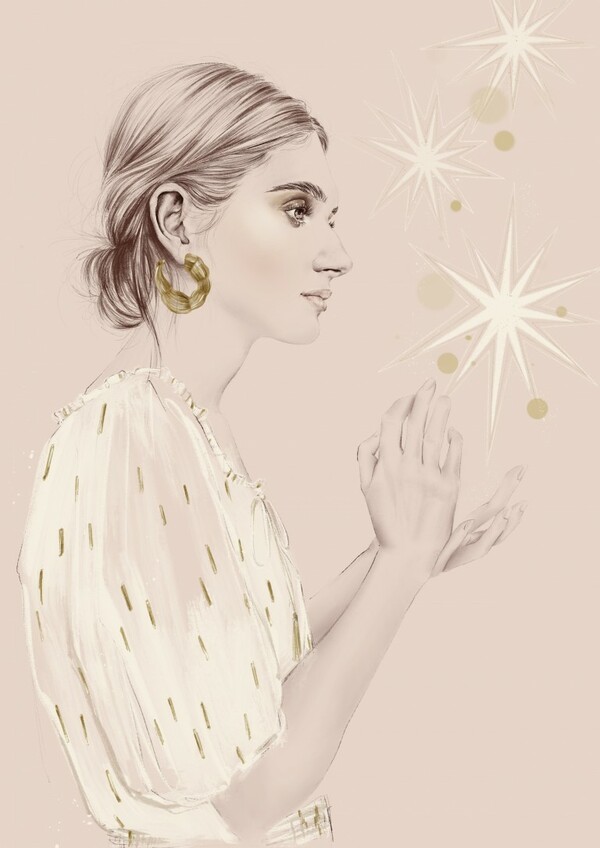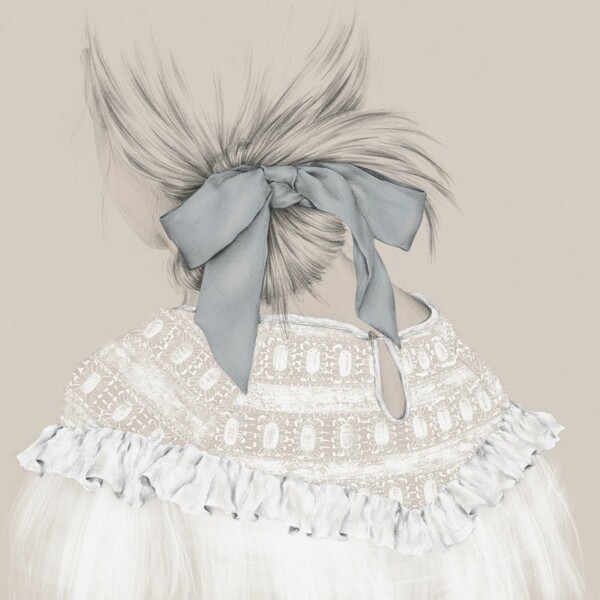 Some of Emma's more intimate artworks exude feminine pride. In one collection, she often uses sensual pinks and dark violets to paint the naked bodies of women. The watercolour brush gives works a soft aura. Emma washes the strokes across the paper without restraint. She captures the bleeding of light with a realistic flair.  There's also a distinctive grace to these women, embracing their vulnerabilities. This is their power. Some of these pieces are more abstract, where Emma creates a collage of petals, eyes and untamed land. It's a romantic dreamscape. It's a perfumed world inviting us to become lost in a drowsy musical trance.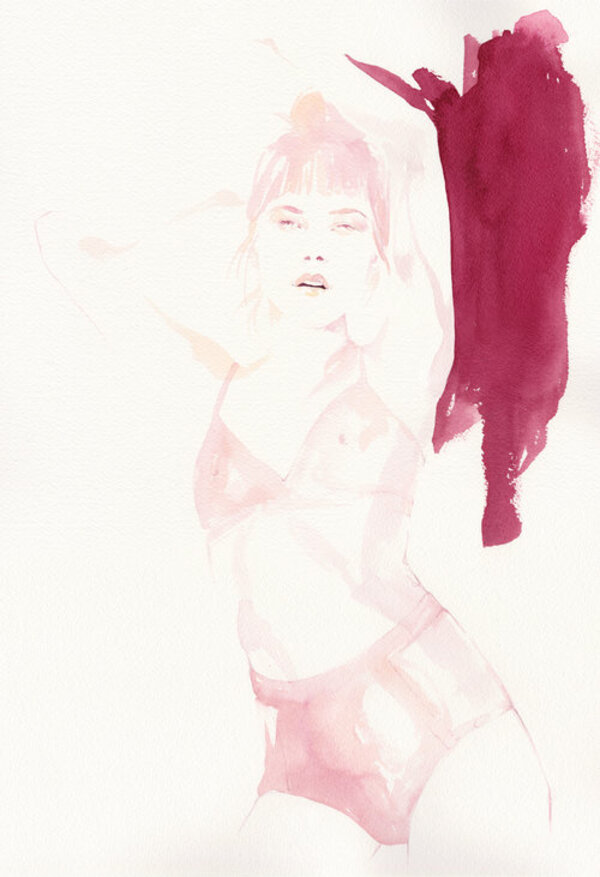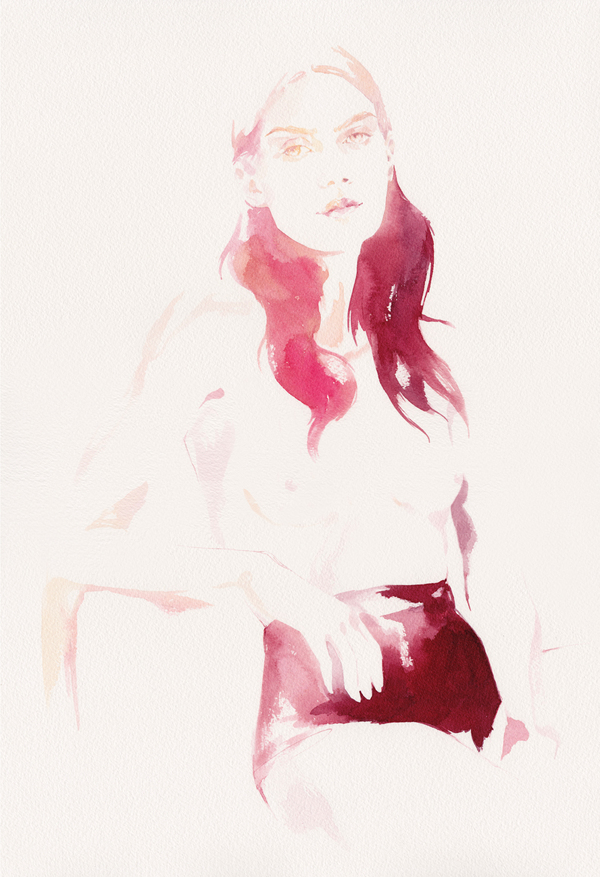 Emma Leonard is an Australian treasure. She appears to paint effortlessly to create equally unrestrained works of art. There's a peace in her paintings. We can feel the love of the artist poured into the paint that has gently flowed across the canvas. In Emma's painterly world, women become champions of their femininity and their spiritually-charged sovereignty. Her paintings must be love spells for they keep us musing about picking flowers on summer days and watching the moonlit eclipse on winter nights.
What's next for Emma Leonard; do you have any upcoming projects?
I can't give too much away (confidentiality agreements!!) but I have been working on a really exciting body of large scale pieces to be installed in a public space. Recently I have also devoted a lot of time learning to paint in oils, exploring still life instead of my usual focus on portraits.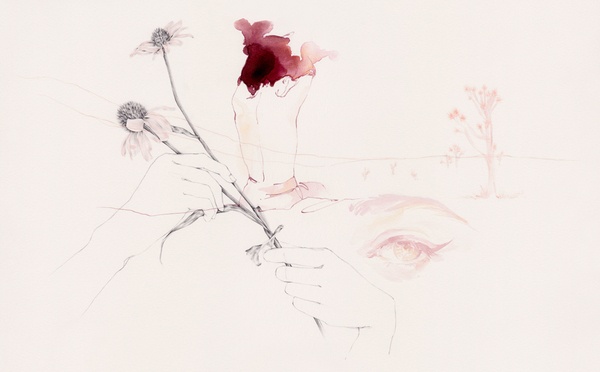 Emma Leonard Social Media Accounts
Website | Instagram | Facebook 
Related Articles