While the feminist movement is very active around the globe today, Maryam Gohar follows the age-old expression that "a picture is worth a thousand words". Her textured strokes of pencil and swatches of watercolor bathe these erotic scenes with both rebelliousness and pride. To understand and appreciate her art, one must understand her background. As an artist in Iran, Maryam lives in a culture that does not accept women as free agents. Even the name Maryam Gohar is a pseudonym to both protect the artist's identity, and pay homage to her grandmother. Her artwork acts as a mouthpiece to her inner sensuality, broadcasting support for all women.
The feminist-positive artwork of Maryam Gohar seems to calmly declare "I am not invisible" as it depicts femininity in all its forms. Her subjects' bodies are naked and proud, touting their rebellious nature. In her sketchbooks, the Iranian-artist masterfully mixes art of Japanese and Persian styles. Her backgrounds encapsulate both traditional Japanese erotic block prints, called "Shunga" and traditional Persian paintings. The backgrounds bleed into her figures resembling tattoos etched into skin. The women are shrouded in the eroticism and history of male patriarchy, though they defy every nuance in their nakedness.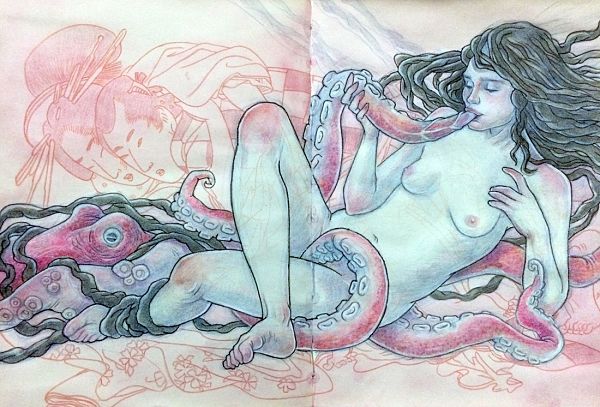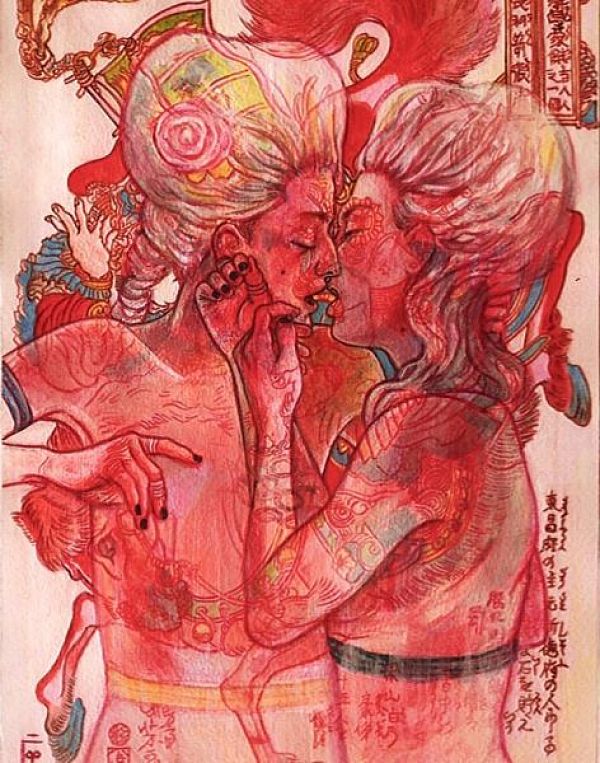 In some instances, her figures in the foreground interact with the ones in the background to add to the complexity of the artwork. This layered effect keeps the viewers from focusing on only one perspective of her work. The precise penciled portraits create exquisitely detailed figures that are a happy change from the "social-media-produced" women. These women lack filters, metaphorically and literally as they breastfeed, wear their menstrual blood and hold their penis as a trophy.
Maryam's artwork takes inspiration from Persian coffeehouse paintings and she dives wholeheartedly into painting with watercolors and mixing media. She uses transfer-paper to layer her paintings. Then, she meticulously traces through the layers of her figures to bring the background forward. Her color choices are ripe with reds and blues offering a delicate balance of contrast and composition. This plays extremely well to push her foreground figures apart from the backgrounds they can never escape.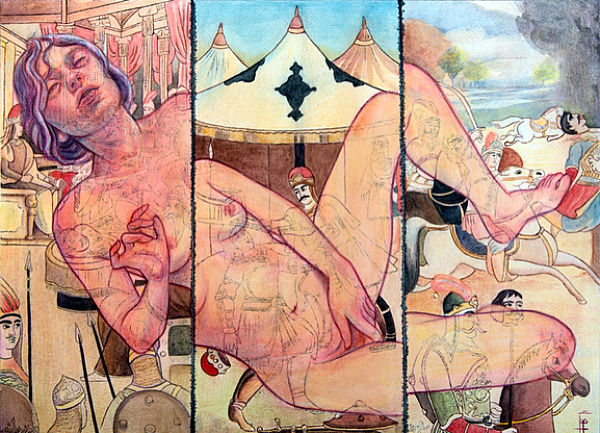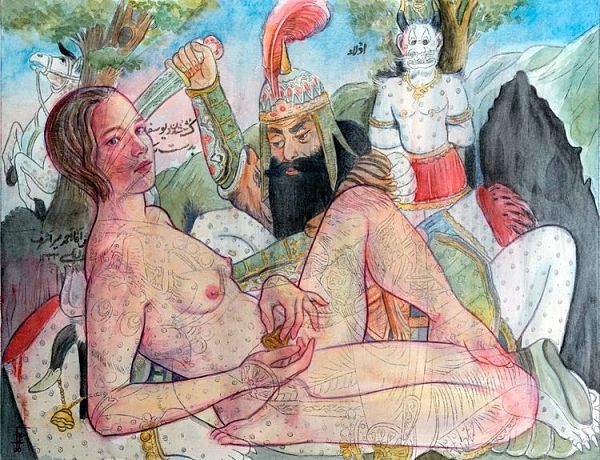 As has been tradition, Maryam has not been mentioned without acknowledging her mentor and friend Rebecca Leveille, who was featured in Beautiful Bizarre in May of 2018. This time however, the spotlight shines on Maryam who will continue to rouse the feminine spirit. Visit her website to view more work and purchase her original work here.