Born and raised in Miami, painter and muralist Tatiana Suarez, or Tati, paints life into legend. With a Brazilian mother and artist father from El Salvador, Tati's influences are a multicultural mix of past (stories passed down by family) and present (stories from her hometown Miami). The ethereal realm she grew up reading and hearing about finds life beyond the pages of legends past, emerging anew to live in cities, and hearts, worldwide.
Tati's tropical palette and verdant, layered symbolism point to the central theme/character harmonious in her artwork: Nature. From exotic rainforests and swampy escapades, to salty adventures with wavy-haired mermaids, elements of the natural – while not always from 'our world' – prevails throughout Tati's artistic multiverse.
She takes us on a sensory journey into the Amazon to discover a sultry world alive with flora and fauna characteristic to a rainforest, including parrots, snakes, bees, water lilies and lotus flowers. Highly symbolic, these aquatic plants resemble birth and regrowth and the ability to grow in murky conditions; the lotus is believed to have given birth to the sun, and water lilies represent optimism, rebirth, good fortune, enlightenment and peace.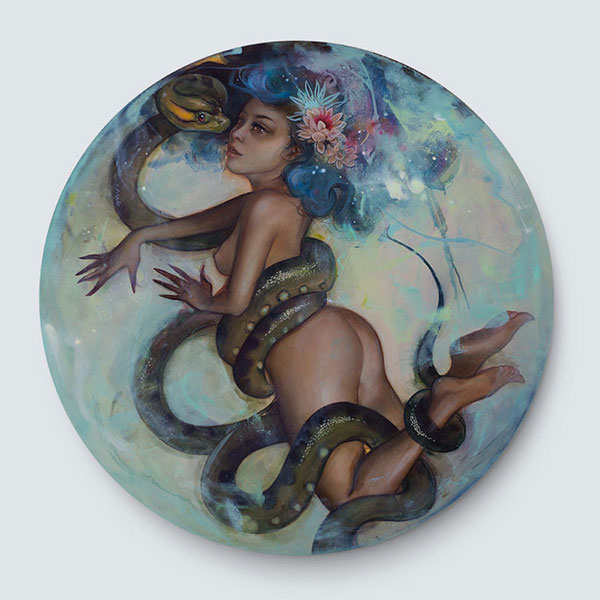 'Breathless' – oil on wood
Her charming visual narratives comprise striking (dark and sensual, even) doe-eyed female leads oft set against a more sinister backdrop nuanced in Brazilian and Salvadoran folklore. When paging through the history books, we learn about a mythological serpent from Brazilian mythology called Boitatá, which bears a likeness to the snakes in Suarez's 'Breathless' (pictured above), and other pieces in her collection.
'Virginia' (pictured below) echoes familiarity with another prominent figure from Brazilian mythology called Iara; a creature who, depending on the context, appears as a mermaid, water nymph or siren. 'Iara' stems from Old Tupi (extinct Tupian language once spoken by the native Tupi people of Brazil) and loosely translates to 'lady of the lake' (or 'water queen').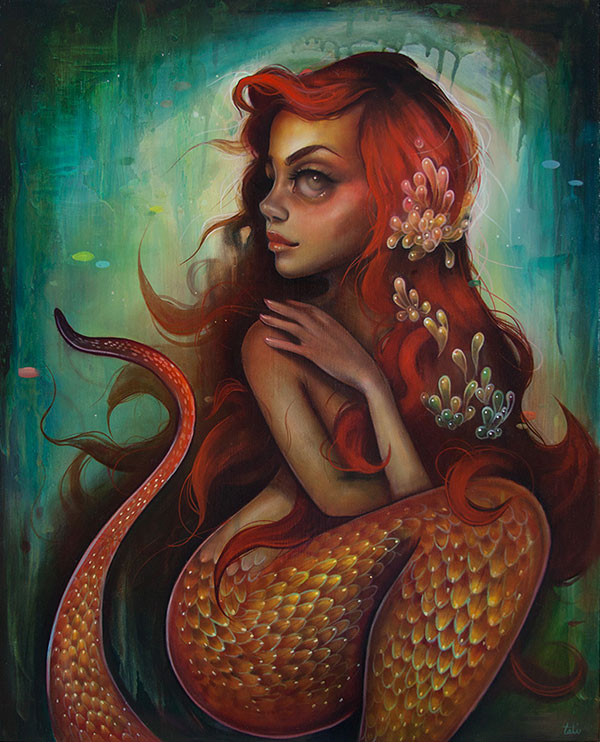 'Virginia' – oil on wood
Like 'Virginia' (pictured above), the hypnotic female characters who rein Tati's artistic multiverse lock our gaze with their hyper-real eyes and clutch at our attention with their nymph-like hands. While we see the tropical rainforest feature heavily in her paintings, the ocean bears more influence in her murals – many of which present a palette akin to summertime in South Beach, Florida.
With global urban development on the rise, we make extra room for murals from creative visionaries like Tati Suarez. She paints in tones of 'la vie est belle' (the French expression for 'life is beautiful'), bringing beauty to cities' concrete spaces. As part of the Downtown Hollywood Mural Project in 2017, Tati gave a magical-ocean makeover to 2020 Harrison Street, painting seven larger-than-life neon mermaids on the wall.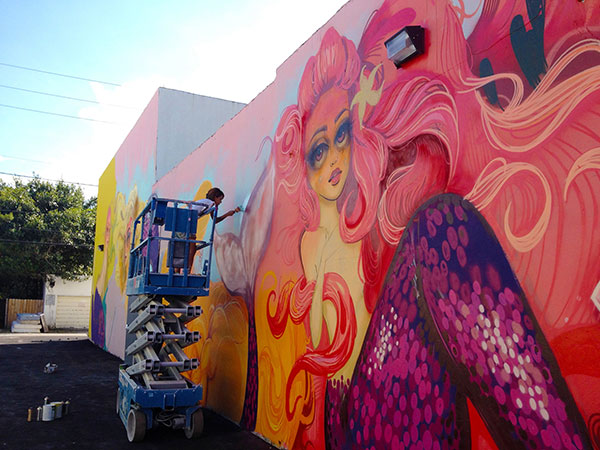 The Downtown Hollywood Mural Project, 2017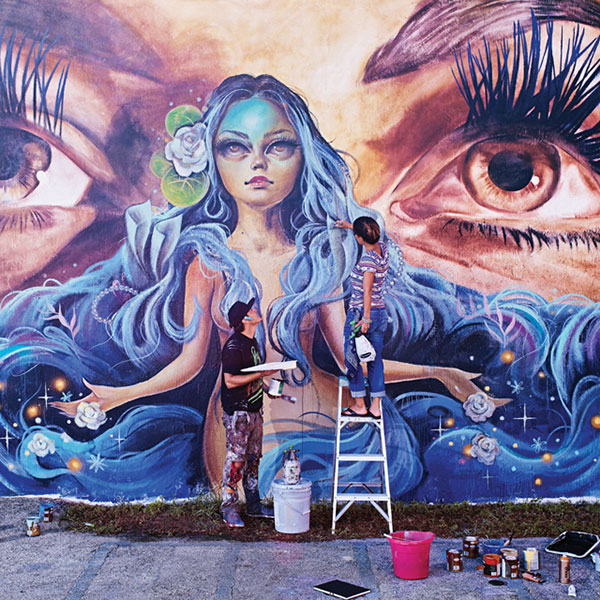 'Olukai', Hina – Collaboration with Kamea Hadar for Olukai, Florida, 2014
Apart from the sea creatures and mermaids, we find salty suggestions in the titles of her work. One piece, her first silkscreen, takes the name 'Sea Gal' (2011), while another is titled 'OluKai', which translates loosely to 'Comfort' (Olu) and 'Ocean' (Kai). While her character's signature eyes are consistent in her studio and outdoor work, her method is different. The privacy and scope for exploration at home and in studio feeds her organic approach to the studio work, which involves working off a reference photograph and sketching directly on the panel.
Tatiana's approach to large-scale outdoor murals requires careful planning (colour and composition) and includes techniques designed for working under time pressure in the public eye, such as making a grid and drawings for mock ups.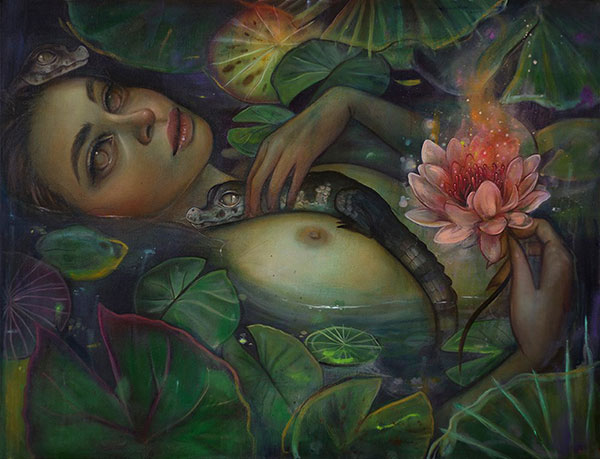 Tatiana Suarez's solo show Nymphaea took place at Spoke Art Gallery in 2018
Studying BFA Graphic Design/Illustration at the University of Miami, 2005, her first solo show titled Subjective Charm came a few years later in 2009 at Antikulture in Miami. The inspiration for her solo exhibition with Spoke Art Gallery in 2018 comes from a species of water lilies known as nymphaea (also the name of the show) which bloom at night. And much like the symbolism in the lotus flowers, these nymphaea symbolise life and beauty prevailing amid dark and murky conditions.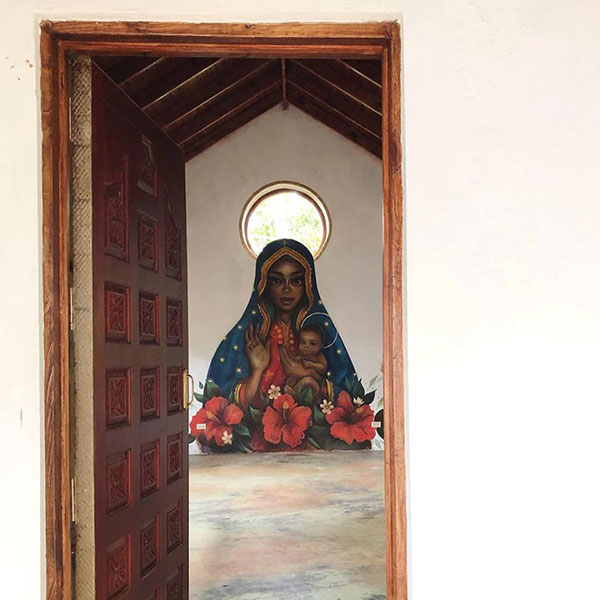 'Angels and Madonna with child',  Jamaica
Taking a hiatus while pregnant, Tati is back in full force. About her recent trip to Jamaica where she painted her 'Angels and Madonna with child' mural, she says on social media:
"[I'm] truly honored to have been invited to paint in the mystical mountains of Jamaica—inside this beautiful chapel on top of Mount Zion and directly across from where Bob Marley and his mother lay to rest. Angels and Madonna with child [is] inspired by the Ethiopian art that adorn Momma Marley's mausoleum. Magical and unreal. Bob's spirit was felt all throughout."
Recent projects and shows also include participating in the Wet Paint Tokyo show at @basementginza0629 in March, Japan; painting 'Flor do desejo' for the Seeing Red show curated by @booooooom at @thinkspace_art, and 'O Sapo que Cura' for the Psychedelia group show at @coreyhelfordgallery.
History, culture, and storytelling feature abundantly in her journey; her characters rising up in all corners of the world, from Jamaica to Tokyo, charging passers-by with their magic and power.
Be it canvas or city, Tati paints wonder into our everyday, allowing stories, legend and heritage to live on.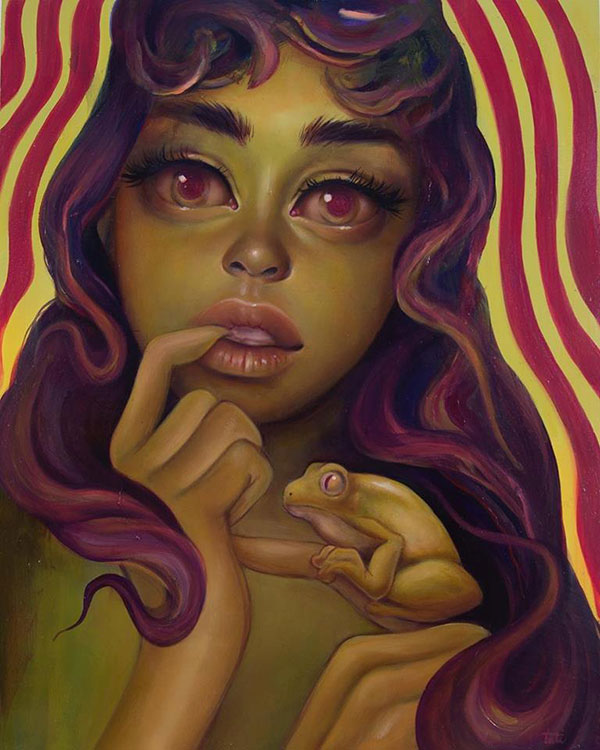 'O Sapo que Cura', Psychedelia group show, 2019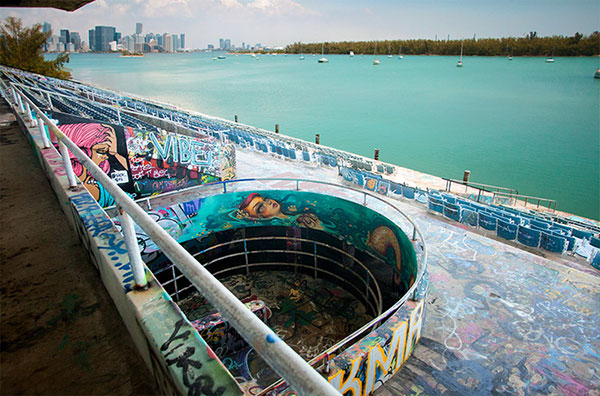 Miami Marine Stadium, Florida, 2014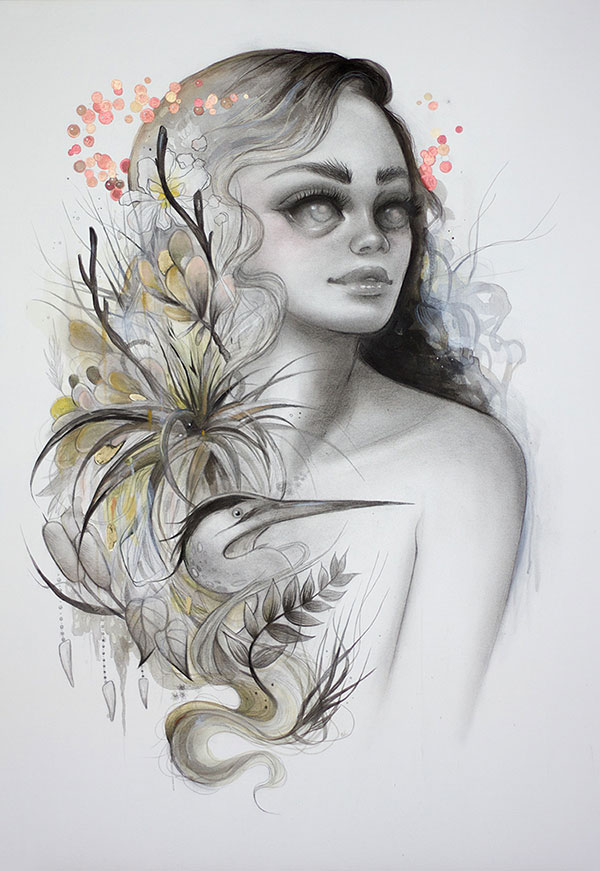 'Swamp' – mixed media on arches paper, 2014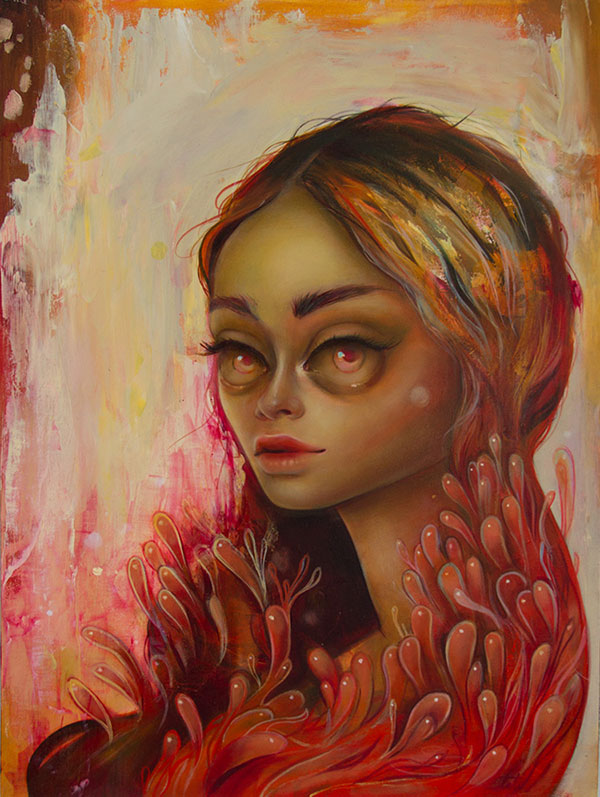 'Sebae' – oil on wood, 2014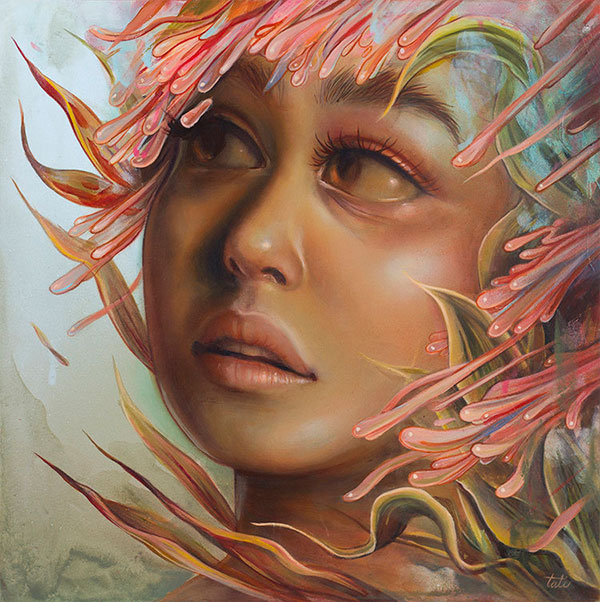 'Pink Matter' – oil on board, 2017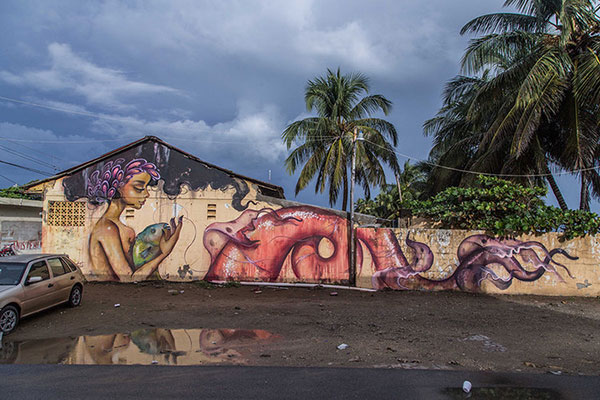 'Pez Loro' – painted for ArteSano mural project in Nagua, 2015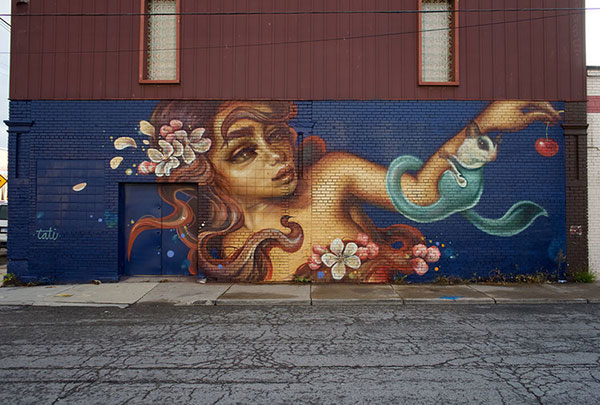 'MITM' – Mural painted in Detroit's Eastern Market for Murals in the Market, 2017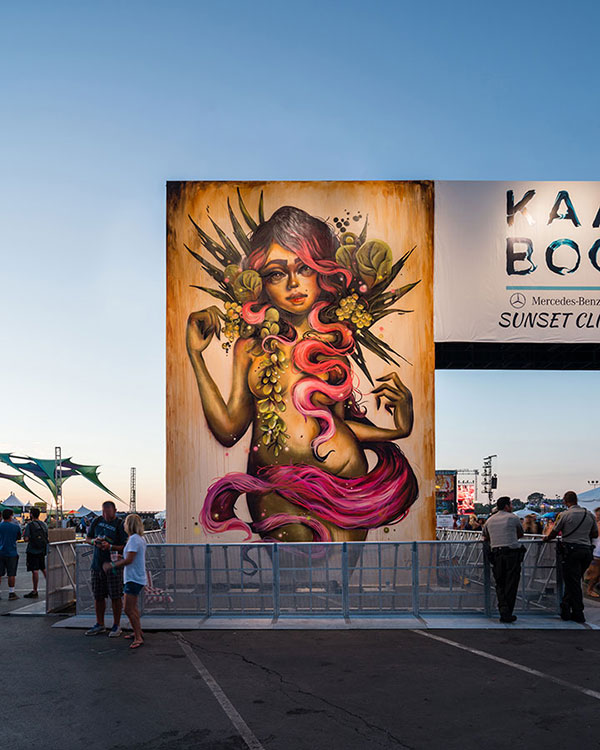 'Kaaboo Del Mar', KAABOO Del Mar Music Festival, 2015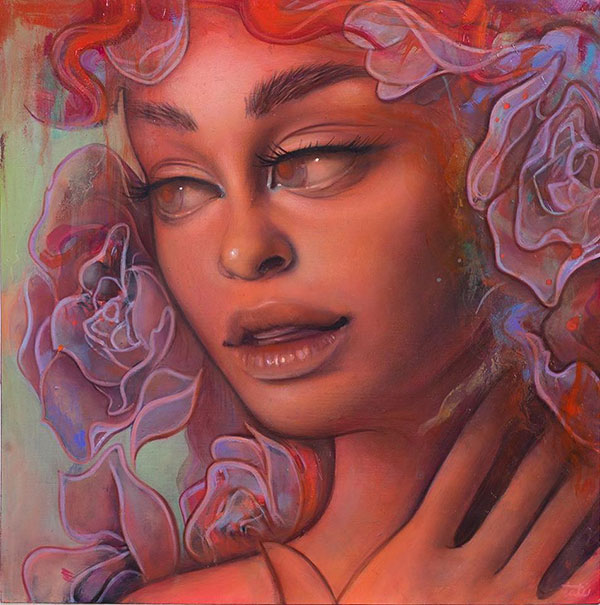 'Flor do desejo' for the Seeing Red show, 2019
'Rainforests of the Sea', 2013