You know how much Beautiful Bizarre Magazine loves both wearable art and Australian artists. So, obviously, when we stumbled upon the work of Melbourne-based designer Natalie Hutton (Claudia Savage) we were craving to learn more. We discussed with her about the work, aesthetics and ethos behind her couture label Claudia Savage, which mixes dark elegance with refined edginess.
Enjoy our exclusive interview with Natalie Hutton of Claudia Savage!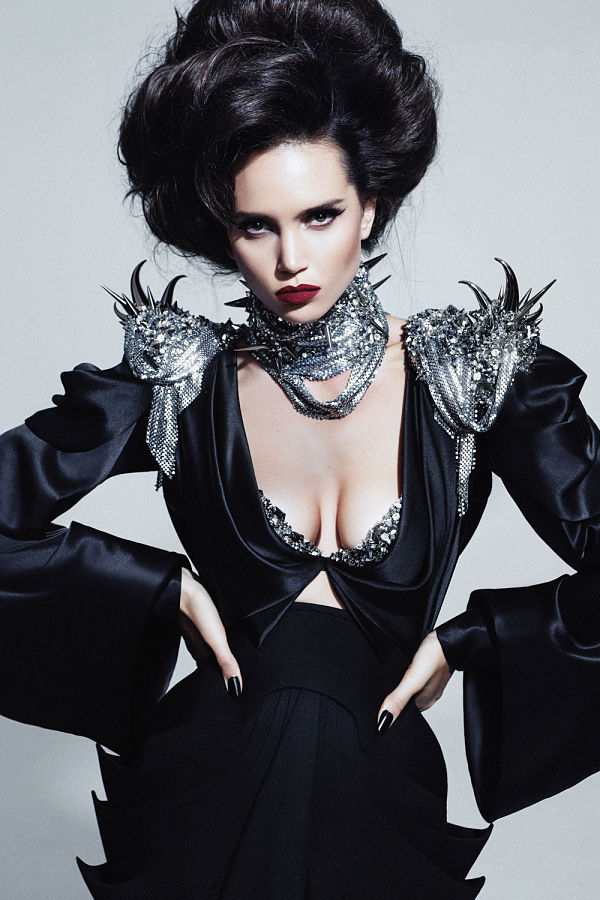 Can you tell us more about the birth of Claudia Savage; how did you come up with the name, the style and the overall project?
Claudia Savage didn't have a distinct beginning; it was a mix of events over a period of years that finds me creating what I do now. I had always been interested in creating extravagant costumes for dolls as a child and became that friend who could make dresses and corsets for formals. Despite finding the process enjoyable, I'd always wanted to be an artist of the illustrative/painting variety so it was never a serious endeavour, just something I could do.
I graduated as the top performing Textile student in Victoria for that year and my Graphics project was chosen as part of the Top Arts NGV Exhibition. However, my art folio had been a struggle, to say the least. I had a fascination with the human body, sexuality and gender identities, which I wanted to explore as my folio project but the concept was not received well by my art teacher who at one point screamed at me, "Your art work is pornographic and disgusting!" from a staffroom after I dropped off a few piece for an exhibition (which hilariously, won first prize). But despite the achievements, the relentless fight to produce my project followed by a fire that destroyed the art room taking what work I had created with it left me unable to take my fine artist pursuits any further.
Behold! An involuntary year off from study and a minor (huge) emotional meltdown. I couldn't bring myself to paint or draw creatively anymore, the thought exhausted me. So after forcing myself out of my three month long fetal position, I tried to make a plan on how I could still get the things in my head out with minimal fine art related practice. That thought process went something like, "Well, what else are you good at? Sewing. Okay, try that." It was a perfect lie to myself that let me be an artist while letting me pretend it "wasn't really art" instead it was representations of something with a purpose outside my desire to create things, that it was legitimised by the scope of avenues in the clothing industry like pattern making, quality control or just the huge corporate machine that is mainstream fashion.
To be legitimate, I felt I needed a name because Natalie Hutton was an artist and I hated her – it needed to be something better than me so "Claudia" was chosen because I like the (bear with me on this) shape of the sound the word has. I then needed another shape to contrast it, something sharp to balance the roundness of Claudia the word so "Savage" it was! I subsequently built a folio and applied to study Textiles at RMIT and was accepted on an early offer.
Style wise, at that time there was no goal as I'd never specifically sat down to design and to this day I don't have a specific answer as what I create isn't about dictating a style but interpreting things I see in my head which in itself, has its own style and evolution as my musical influences change. When asked "what do you design?" I typically resort to whipping out my phone and offering it up for viewing as the average asker has no context for wearable art and to say bridal or corsetry conjures up polarised imagery, which I also don't belong too. I like to let the pieces explain themselves and in turn have the viewer tell me what they see in the works.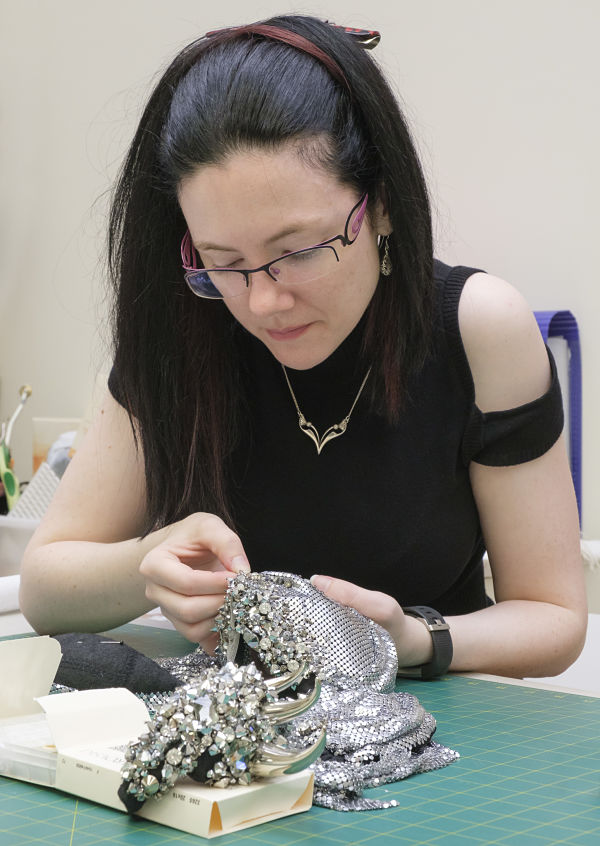 Now, introduce yourself… what is your artistic background and your experience as a designer?
First and foremost, I consider myself an artist of the pencil wielding variety, it's my first love and despite only doing it in my non-existent free time (I did actually start drawing for fun and commission again after a 10 year hiatus) it makes my happier than anything. It's been a handy skill to have as it allows me to very accurately explain designs and concepts visually and the added bonus of that is the ability to begin the construction aspects of my work without actively testing things out in a physical space – extra handy when working with clients.
As far as my construction experience goes, I've been predominantly exposed to bridal and evening wear via various labels that I've spent time working for either as a machinist, pattern maker or production manager, which in the small business scale saw me working as a designer, head patternmaker and managing a small team of machinists. I also spent a period of time working for the design house, which made the costumes for the Australian TV series Dancing With The Stars which gave me my experience in stretch fabrics and performance wear.
The majority of my experience has come from experimentation and extrapolation of simple techniques into complicated ideas, add to that a perfectionism streak and I will keep going at an idea until it is exactly as I see in my head which for anyone whose self-worth is connected to what they create and simultaneously can't stand failure but is not too afraid to try, you've got to be really good at figuring things out to avoid creative implosion.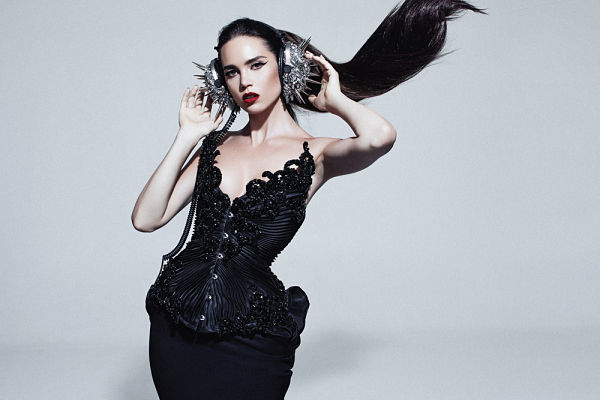 What are the influences, references and sources of inspiration you have in mind when creating your designs?
Music is where I derive all my inspiration from. Unfortunately there's no way to be able to explaining the process without sounding like a totally nutter so prepare to raise an eyebrow of "Ooookay"…
When I listen to music I 'see' shapes. They have no specific colour and they exist in a manner that is both in my mind's eye but also surrounding me – their position and strength can be effected by how familiar I am with the music, songs I've never heard before can sometimes be an overload of this experience and I'm unable to translate what I'm experiencing into distinct shapes until I've moved past what probably looks a combination of religious experience and panic attack. The shapes are fluid and often have a weight to them, which isn't a physical sensation in the sense that I don't feel like I'm carrying something but the way they move to the sound gives them distinct differences that could be interpreted through the weights and movements of fabric, which is what I choose to do.
I don't see complete designs unless I let my imagination take over and manipulate the imagery, which may involve taking shapes and playing around with them within other soundscapes (songs) or putting them down on paper and seeing how they might sit within a human figure context. Similarly, I will wrap them onto the human form and walk them around in my mind – his process may immediately lead to a design or they may sit in a processing state for many years before becoming something or cast aside.
I can also work in a more traditional manner of being presented with or creating a brief and working within its parameters to create work but I will almost always place these works within a musical head space to see how they might move and if I can achieve something better or even just to confirm that, yes, this piece is still something I would be happy to put the Claudia Savage name too.
How would you explain the coming back of the corset in our contemporary world and what place does it have now, both for women and for you?
The corset is a means to both artistic and functional ends. Functionally, I use it to balance out the extreme shapes I work with; many of my pieces are detail-heavy in the shoulders and hips and if I was to neglect to sculpt the waist I'd end up with a blocky form which would in turn downplay the sounding design lines. It is also a way of holding pieces on to the body. With my Echoplex Gown, which weighed around 15kgs from the waist down, a simple zipped bodice in which all the weight was held by the shoulder straps would have been poor construction and aesthetically mismatched – without the extreme curves through the body the sculptural elements of the lower gown would have appeared to be thrown on to a decidedly average gown bodice, it needed the balance the corset provided.
I don't particularly see a return of the corset so much as an evolution of its functions within fashion and society. These days corsets are (when made well!) an expensive garment and so the modern context sees them owned/created as a statement piece where it's primary purpose is to be seen, and admired. Artists such as Dita Von Teese and Violet Chachki are excellent examples of corsetry in this context. I cannot see a time in which it will become as pervasive as it was in the history of clothing. It simply doesn't fit into how we live our lives today unless you are a truly dedicated wearer, which takes both a considerable financial and time investment – they just aren't the quickest thing to throw on in your busy morning!
But recently I have seen a rise in clients seeking corsetry for figure feminisation, the hourglass shape they can provide still remains a very strong and quickly identifiable cultural cue of femininity. With increasing appreciation regarding gender identity and the role clothing can/does play in this sphere, I would not be surprised to see an increase in its shape wear functions. Though it is worth mentioning that clothing in and of itself does not define a gender but that is a while other conversation!
In short, I don't see the corset shrinking away any time soon; it has plenty of space to continue to evolve.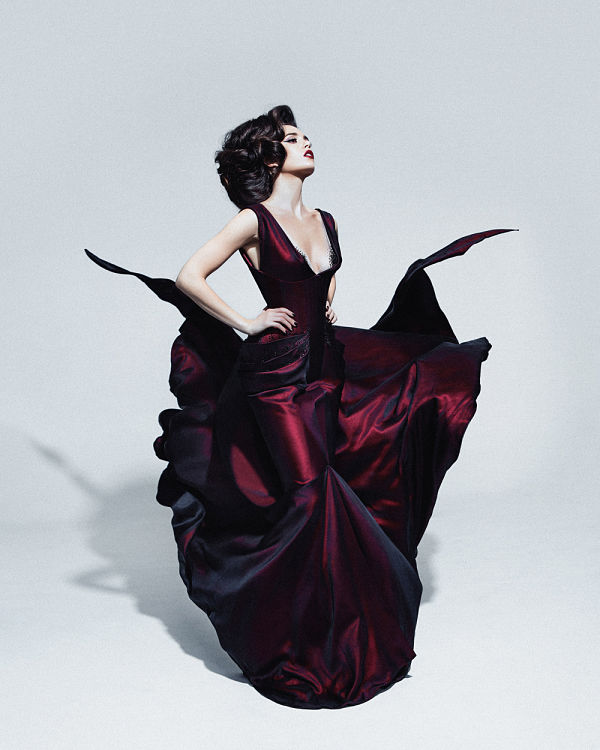 All your pieces are extremely detailed; how do you proceed to create them, from the first sketch to the final creation?
It's all blood magic and a lot of swearing (the swearing part is often true). It's a long process; most of my designs are largely constructed in my head before they end up broken down into technical sketches focusing on individual parts, which I then take into the pattern making process. I use a combination of flat pattern work and draping which I've always found a quicker way to get the exact design lines and shapes for the more sculptural elements out of my head.
While that's all happening I'm researching materials for structure, aesthetics and looking into trims and finishings to get as much of that on its way to me so that I can begin the cutting process. The researching phase is deceptively simple sounding but this process can take months on its own – discussion with suppliers, sampling, shipping times and just trying to figure out exactly what it is you should be researching when you brain gives you something you're not even sure exists but you have to try and figure out how to Google it!
Not being a traditional production house the cutting and construction process for me is about cutting as required and then constructing sections so that I can still confirm doubts or perform experiments that I'm unable to fully predict the outcomes of in my head and thus save myself a lot of money if I've predicted the behaviour of something or find that what I saw in my head doesn't actually translate well.
Much of my construction techniques require a lot of hand work, which is where the time factor comes in, I have a number of pieces I've worked on over a period of years much like they were oil paintings that needed to stand. Each on is different and poses its own challenges and required a new round of research and experimentation each time.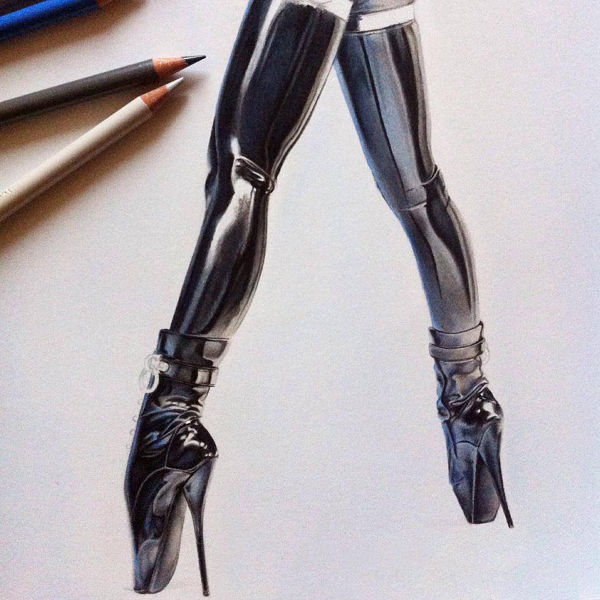 What are the materials you enjoy working with? And what are the ones you'd like to experiment with in the future?
I enjoy natural fibres such as silks and wools but I'm open to all materials if they will provide me with the fall, movement or texture I see in my head. As can been seen in my Liquid Metal Gown, which is made of over 10,000 hand painted aluminum scales – I wanted something that had a rippling yet rhythmic flick to it as it was walked in to mimic the shape of the digital distortion in music.
I would like to experiment with more technology in future, laser cutting is something I'd like to delve into, 3D printing of fabrics interests me also so I'm sure I'll find a place for these in my work eventually.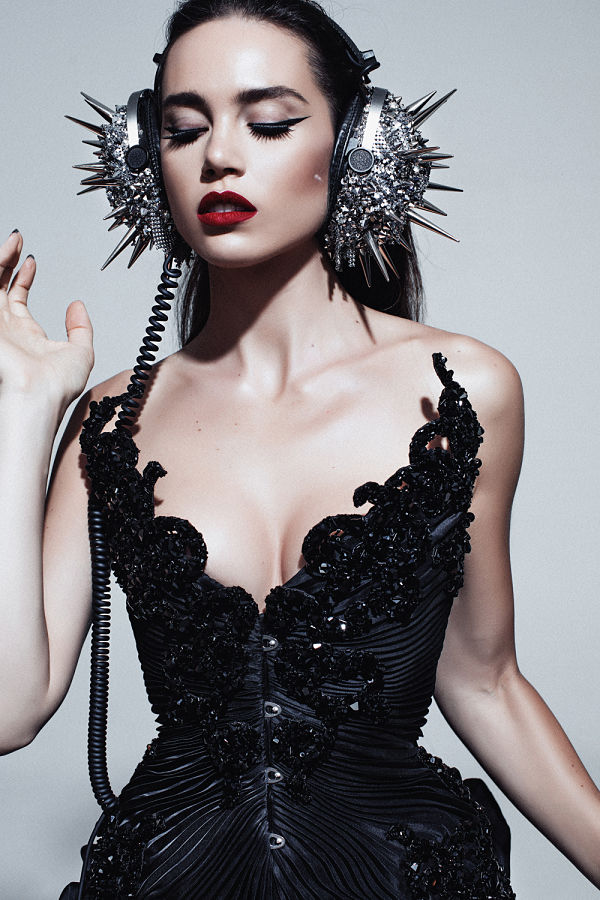 Which specific persons would you dream to dress? And would you enjoy collaborating with other designers and artists?
I don't try and dictate what people should be wearing – this is purely the imagery and shapes that falls out of my head. So it speaks more about who I am far more than what I want other people to be. Aggression, defiance, or femininity may be the result, but the intent was simply to create something which I think is beautiful. The dichotomy created is the audience perceiving contrast, not my intent to empower or feminise. I also wouldn't want my work to be exclusionary; I will and do dress anyone who wishes a couture corset or gown – regardless of gender.
I've not had specific dressing goals as I wouldn't want to be so presumptuous that these people would want to wear my work, plus if I was to dress and idol I'd need to find out what Trent Reznor wants (I mean it's probably black and I can definitely work with that but not sure I'm his style of designer).
I have been repeatedly told by fans of my work that they can see the likes of Lady Gaga or Dita Von Teese in one of my pieces and I would be more than happy for either of those artists to wear one of my pieces but it's the eternal fight of trying to have your work in the right place at the right time or knowing that person who knows a person who knows these people and for that reason I curse my introversion! But maybe one day it will happen…
I'd love to work with Natacha Marro, an amazing London based footwear designer. The shapes within her designs are perfection and having owned 3 pairs over 10 years I know they to be the highest quality shoes and so comfortable!
What do you think about the rise of couture and wearable art in contemporary art?
Contemporary social and technological trends have always shaped creatives. It is now possible for the artists' studio to be carried in the pockets of fans; this has revealed what was once solely behind closed doors, known only to those who would actively sought it. When creatives exist in the grey area at the peripheries of mainstream genres, the digital realm allows for connections between audience and artists whose works were previously extremely niche – and often inaccessible – in the 'real world'.
Wearable art is a unique artistic practice space; it straddles a line of functionality and creativity meaning it can exist within a lot of other art genres including photography, movies, music videos, celebrity and galleries. It takes clothing – something all people can identify with – and pushes the boundaries of construction, silhouettes, technology and social expectations. It also possesses the ability to tap into the peripheries of Slow Fashion, which is becoming increasingly prevalent and important in the clothing industries which I hope will ultimately be great for many independent artists and designers and the planet.
Whether in fashion or art, it is vital to create works that are contemporarily relevant and accessible – this is the true strength of wearable art.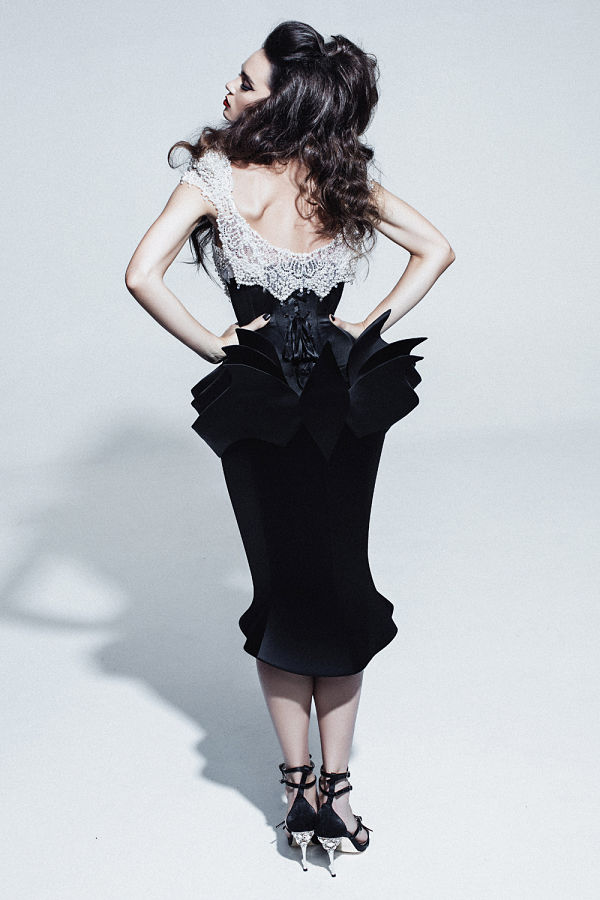 How do you see the future of Claudia Savage (as well as your own)?
Galactic Empire! Or something close to it.
Claudia Savage is a one woman show but I am finally ready to expand beyond wearable art pieces and custom works. It has taken many years to get to this point, largely because I needed to prove to myself that, yes I can design, yes I can pattern make, and yes I can construct to an exceptionally high standard. I needed to do this for a combination of reasons, firstly so that I feel I can defend myself and my work against the idea that you're only a real artist if you do it all yourself and that if I'm not doing it all myself that I can at least say that I could – why?
Because I have an awful brain and it would plague me with imposter syndrome and also because despite the work and the awards I have one I am still asked if I'm "still doing that sewing thing?" and it's hard to repeatedly stand on the defensive of a creative pursuit when your method of creation is unusual, art is often misunderstood and women with sewing machines apparently have a hobby not a career.
But there comes a time where you reach a state of "f*ck it" and I'm there, I want to expand my business in a manner that will allow my larger artistic pieces to be supported by works that are accessible to a wider audience, I'd like to be walking down the street and happen to see someone wearing something I made.
The heart of my work will always live in wearable art, no other medium provides the combination of sculpture and motion quite like it and I have so many ideas and projects left to explore.