Delight in the delicate. Infused by pastels and dreamlike narratives, the paintings of Tracy Lewis impart a whimsical longing that seems to take us on a journey through pensive pinks and blossoming botanical elements. With visions of nature, decay and beauty on the forefront, the imagination of Tracy Lewis thrives with each watery stroke of her paintbrush.
Please join Modern Eden Gallery this Saturday, September 14th for the opening of her solo exhibition, 'Full Bloom'.
"I paint primarily in transparent watercolor, layering luminous glazes of pure hue to give everything a candy coat of Easter-like color."  – Tracy Lewis
Press: Modern Eden Gallery presents a special solo exhibition from Northern California artist Tracy Lewis. The artist has lived in the Sierra Nevada foothills for nearly 20 years, firmly planting nature at the center of her life and art. An integral part of the artist's creative process, her environment influences her imagery through the metamorphosis of the seasons, the cycles of life and death. Over the years the artist has developed a signature style, her watercolor paintings teaming with fluid life and interwoven lines, yet firmly rooted in the figurative, representational and personified aspects of nature.
From the artist: "My new series of paintings, "Full Bloom," explores the duality of chaos and order in nature – the lush abundance and beauty of life, and the inevitability of its all too imminent decay. I've found myself at a place in my life where I often feel a sense of underlying panic at how much in my life is always changing, and how fast it's all going by. In the busyness of everyday life, it can be easy to miss the moments where life transitions from one phase to another.
At the same time, I have come to a place where I feel a deeper gratitude than ever how just how amazing it all is, from the riotous growth and bloom, to the withering end. I'm seeing loved ones slowing down, wilting, and I am painfully aware of the short time we have together. In many ways, I feel that this is the season in my life that brings my spiritual awakening, born of both an awareness of the frenzied and ephemeral nature of time, and gratitude for all of these fleeting moments.
There is something achingly beautiful about the duality of growth and decay in nature. In my paintings, I try to elevate symbols of both to the same level. Skulls and bones, relics of death, are no less sublime than the lush vibrancy of new growth and blooming flowers. I feel a strong connection to nature and all of the living things, great and small, which inhabit it. I let them be my muses in this series, the knowing, wild spirits reminding me to take the time to slow down and appreciate all the little things."

Opening Reception:
September 14, 2019 | 6:00–9:00 pm
Exhibition Dates:
September 14–October 4, 2019
Tracy Lewis will be in attendance and complimentary refreshments will be served.
Modern Eden Gallery
801 Greenwich Street @ Mason and Columbus | San Francisco, CA
For press inquiries or sales, please contact Gallery Director Kim Larson [email protected]
General Information: Please email [email protected]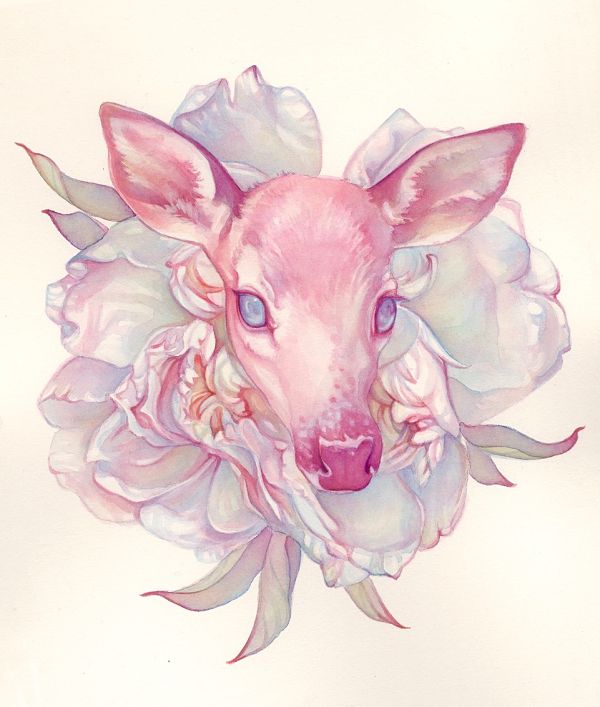 Modern Eden Social Media Accounts
Website | Facebook | Twitter | Instagram
Related Articles
Beautiful Bizarre Magazine Curated Exhibition 'Ephemeral' @ Modern Eden Gallery