Step into the world of Lori Nelson… where magical oddities enchant every corridor and dreamlike moments let your imagination flutter like the wings of a two-headed butterfly. In vibrant style, her rosy-cheeked subjects portray an eerie innocence that beckons your attention.
Please join Modern Eden Gallery this Saturday, July 13th for the opening of her solo exhibition, 'Secret Self'.
Press: Lori Nelson is a Brooklyn and Catskills-based painter whose narrative work incorporates aspects of traditional portraiture, Magic Realism, and vintage storybook illustration. In her ongoing "Cryptotween" series she explores the vulnerability and essence of what it means to be young and monstrous. Nature and technology also play prominently in her paintings as do the "homey" aspects of her homespun childhood built around self-reliance in a religious household in the West.
Nelson has exhibited her work internationally and has been widely covered in a variety of media including Vice, Hi-Fructose, Juxtapoz, Beautiful Bizarre, and Flavorwire. For nine consecutive years, Nelson has worked in different capacities with 4heads, the New York City nonprofit organization that produces the annual Governors Island Art Fair. Among her duties, Nelson has served as the director of the Artist in Residence program and director of the art fair's small-works pop-up shop.
From Lori Nelson:
For the past five years, I have been exploring the awkwardness of young human existence through my "Cryptotweens" paintings where the strangeness of being has mostly been portrayed in cryptid-inflected tweens and teens sporting scales or fur. Lately though, in an iteration of this series called "Secret Self", I portray most of the Cryptotweens as actual "normal" humans whose strangeness is exhibited in extraordinary talents like levitation or hidden characteristics like a spiky, charcoal heart.

I'm finding that the interior monster or superpower is just as striking as the visible version, if not more so for its unpredictability and unknown shadow. "Secret Self" is an invitation to bring the hidden aspects of humanity forward, advancing the notion that we are all actually awkward, magical tween monsters on the inside.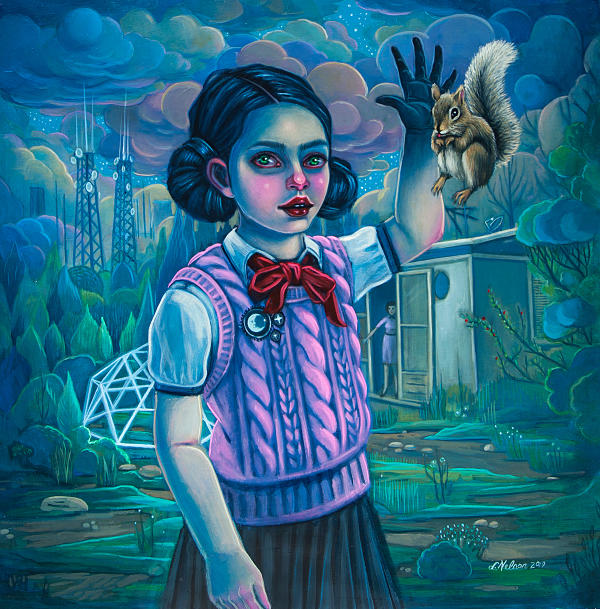 Lori Nelson: 'Secret Self'
Opening Reception:
July 13, 2019, 6:00 pm–9:00 pm
Exhibition Dates:
July 13–August 3, 2019
Lori Nelson Social Media Accounts
Website | Twitter | Facebook | Instagram
Related Articles
Discover Modern Eden Gallery's Exhibitions
Read more articles by Online Editor Bella Harris
Lori Nelson TAKES OVER Beautiful Bizarre Magazine