Opening this weekend! Join Haven Gallery in celebration as they proudly present Stan Manoukian, "The Kingdom", Gustavo Rimada, "El Jardin", and Jennifer Hrabota Lesser, "In Her Light". Take a moment and delight in the wonderment of tiny forest creatures, the vibrancy of art history and contemporary tattoo aesthetics, and the sublime narrative of mythology and fairy tale… letting each capture your imagination.
With three beautiful exhibitions on the roster, it's hard not to stare as these distinct artists impart their creative expressions and surreal visions for an opening night you don't want to miss.
Haven Gallery Presents:
Stan Manoukian, "The Kingdom", Gustavo Rimada, "El Jardin", Jennifer Hrabota Lesser, "In Her Light"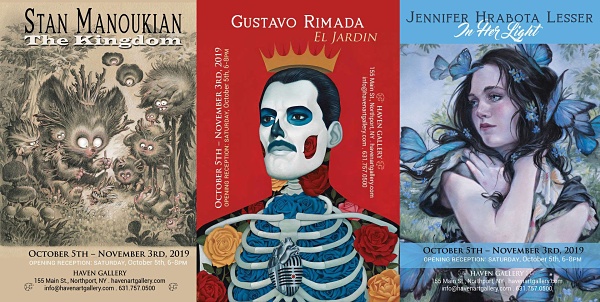 Opening Reception:
October 5, 2019 | 6-8 pm
Exhibition Dates:
October 5 – November 3, 2019
Haven Gallery
155 Main St., | The Carriage House Square
Northport, NY 11768
For additional information and images, please contact Erica Berkowitz at info@havenartgallery.com
Haven Gallery is pleased to present "The Kingdom", a collection of new drawings from French illustrator Stan Manoukian. "The Kingdom" is Manoukian's first solo show at the gallery and will feature the artists quintessential monsters and creatures of the forest, exemplarily drawn and surrealistically conceived. Manoukian uses intricate line work to create a myriad of characters and narratives that tickle the imagination. His sense of story and mood is accentuated by an extensive exploration of medium as light is shaped to create depth and form. A variety of moods and expressions are propagated throughout each drawing to humanize his surreal beings; yet a hyperbolic approach to their features lend them closer to the imaginative, whimsical entities birthed from ones childhood. Manoukian's playful works invite us to visit our youthful memories of time spent outdoors. An emphasis on the flourishing of nature uncovers all the fanciful critters that live and play beneath the fecund growth and cyclical seasons.
About Stan Manoukian:
"Stan Manoukian is a French graphic artist born in 1969 in Paris. He has had a passion for drawing since his childhood and most of his inspiration comes from retro sci-fi, classic monster movies, as well as the novels of authors such as Edgar Allan Poe, Lovecraft, Mary Shelley and Jules Verne.
In 1988, after he graduated from the Estienne Art School, he started to work in France and the United States as a cartoonist, designer and storyboarder for the movie industry and in advertising.
In 2007, Manoukian issued himself an artistic challenge: draw one monster a day for one year. This larger scale initiative gave birth to the book called Diary of Inhuman Species, published by Ankama the following year.  Since then, the exploration of his phantasmagoric world pushes him towards bigger and more ambitious projects, testing diverse techniques in both drawing and sculpture.
He belongs to the worldwide generation of post lowbrow artists. With his increasingly detailed content, abounding with dreamlike creatures, his work harkens to the romantic paintings from the nineteenth century. His menagerie is composed of creatures both extraterrestrial and from the deepest abysses on Earth, thereby transporting the viewer to a fantastic and surrealistic world, where nature is omnipresent. Heir of Gustave Doré, Franklin Booth, and Bernie Wrightson, Stan Manoukian refines a unique visual scripture through hatching and dimming, which employs ink or graphite to mimic an engraving.  Currently, his works are internationally recognized and have been displayed in several exhibitions and books in the USA, Japan, Australia, France and Europe."
"Firefly", graphite & acrylics, 12.5 x 10.5 inches
"Rainy Night", graphite & acrylics, 12 x 10.5 inches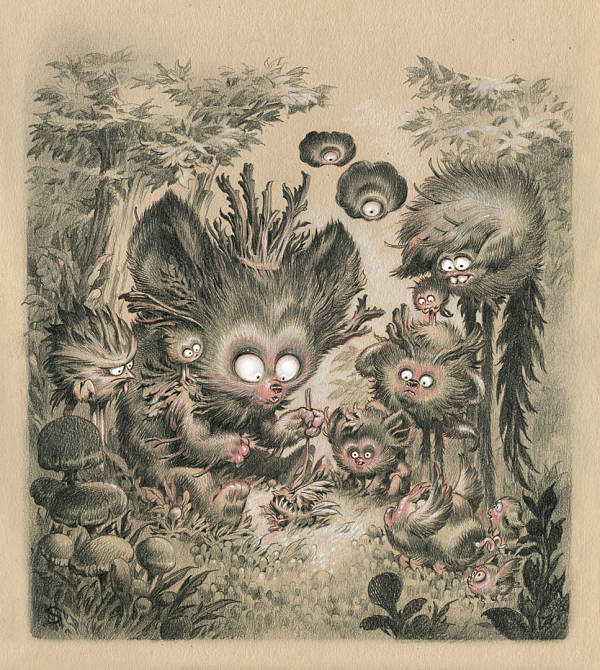 "The Kingdom", graphite & acrylics, 11.5 x 13.5 inches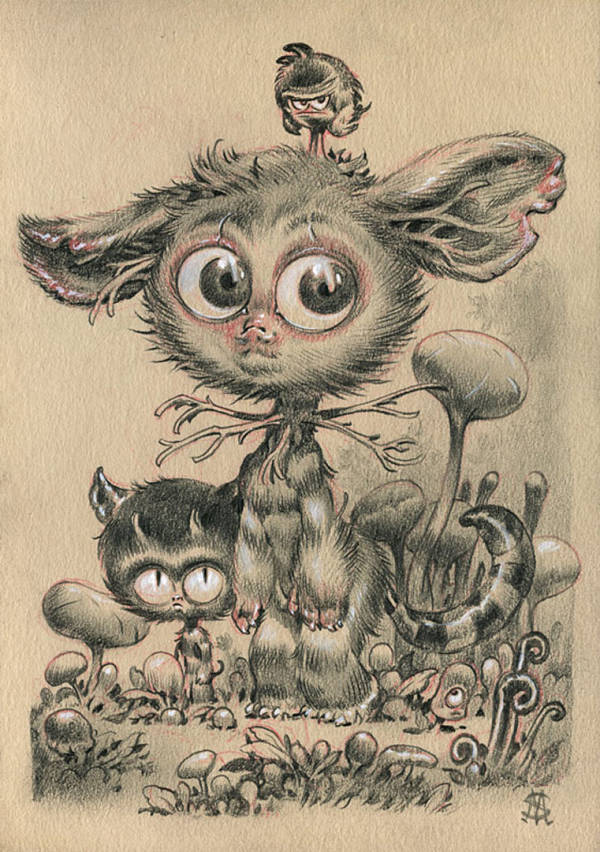 "Three Friends", graphite, 6 x 8.5 inches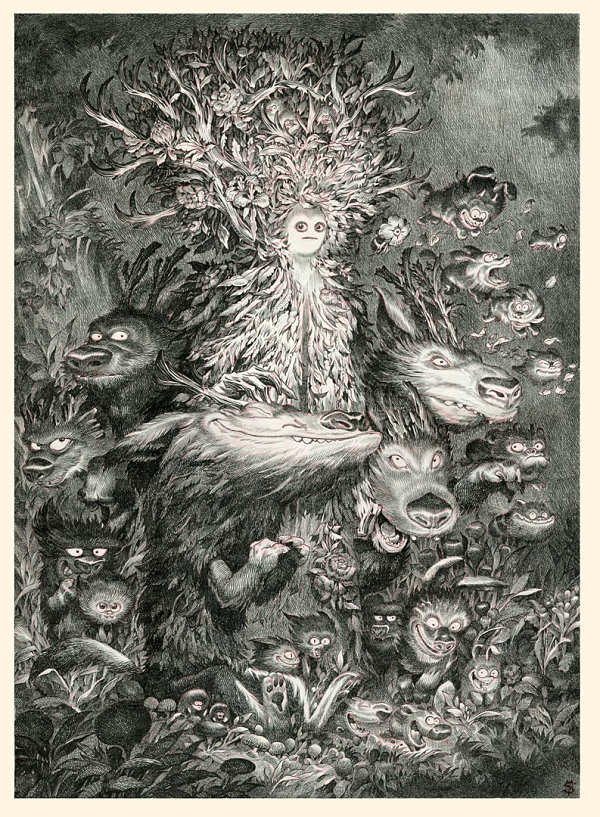 "The Wolves Pack", ink, 16 x 23 inches
Haven Gallery is pleased to introduce "El Jardin", a solo show of acrylic paintings by California based Gustavo Rimada. El Jardin is Rimada's second solo show at the gallery and will feature fourteen vividly colored and highly detailed artworks. Characterized by graphic aesthetics, Rimada often works with bold color palettes and stylized subjects. His paintings intermingle Mexican visuals, art history and contemporary tattoo culture. Mexican born, but California based, this coupling melds the bridge between his ancestral heritage and his current life in the United States. Oftentimes, Rimada can be found portraying his subjects as both historic and cultural icons laced with symbolic and organic elements such as flowers, skeletons and butterflies. A dynamic dance of history, color and representation that beautifully represents the blending and celebration of two cultures becoming one.
About Gustavo Rimada:
"I was born in Torreon, Mexico, I am the youngest of four. By the age of seven my parents decided to move to California. My memories of Mexico are few, but of those I do remember I was constantly drawing. Whenever, wherever. My mother reminded me of my gift all the time as I grew up. Always encouraging me. She knew before I did what my true passion would become.
I was raised in Indio, California. Growing up I took art classes in school and after graduating from high school, I decided (with the encouragement of family) to move to Santa Monica and attend The Art Institute where I chose to study Computer Animation. While in school 9/11 happened and after that it left me feeling inadequate in my life. I needed something more, my heart wasn't into art nor school anymore. While walking past an Army Recruitment Office and without any hesitation I went in and sat down. A few hours later I was signed up and to be leaving for boot camp within weeks. I spent three years in the US Army.
It has now been 9 years in this profession. Art has given me so much knowledge of maturity and growth, and I will continue to pursue it with my whole being. It is my air and my life. I would say that in every piece I create I learn something new in what ever the context of the painting brings. Each detail, each decision of color, it has become an education all in its own. Through the years I have had the greatest pleasure working with several galleries all over the country. Another highlight of my career was creating a piece for the San Diego Museum of Art that hung along with some of the finest artists. That was a dream come true.
I am definitely passionate with my painting, and honestly, I love what I do. Wouldn't trade it for anything. I truly eat, breath and sleep art. " – Gustavo Rimada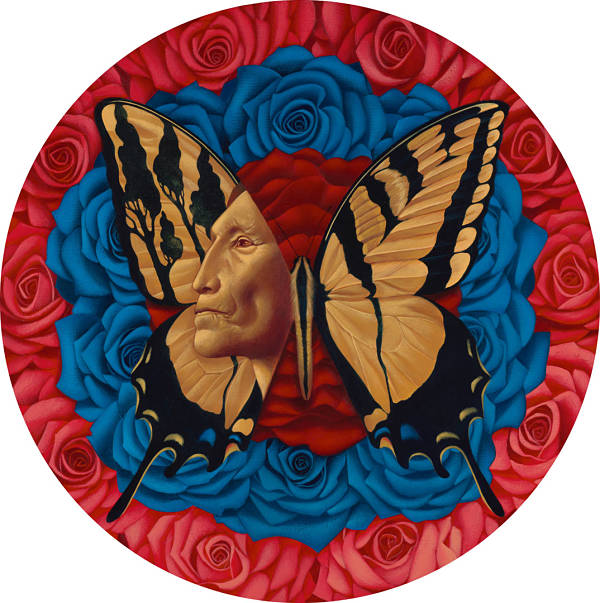 "Ancestor", acrylic on round wood panel, 12 x 12 inches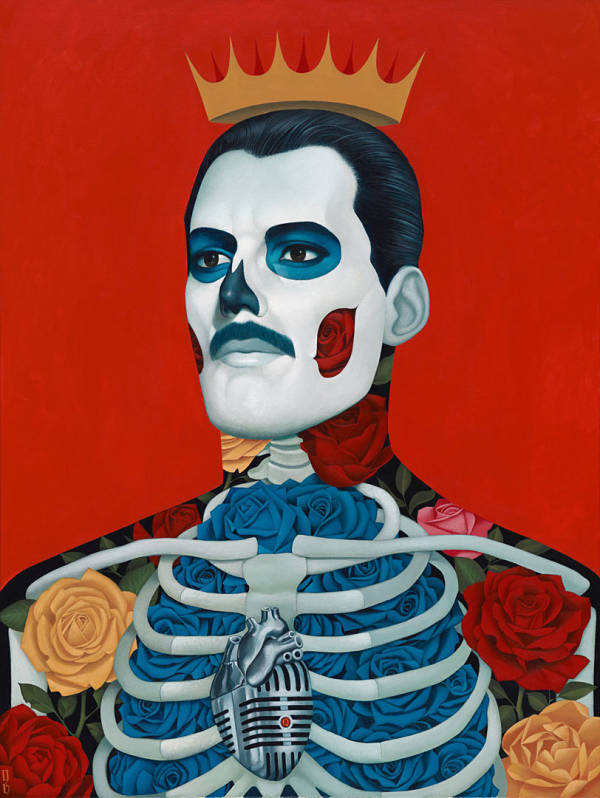 "Mercury", acrylic on canvas, 40 x 30 inches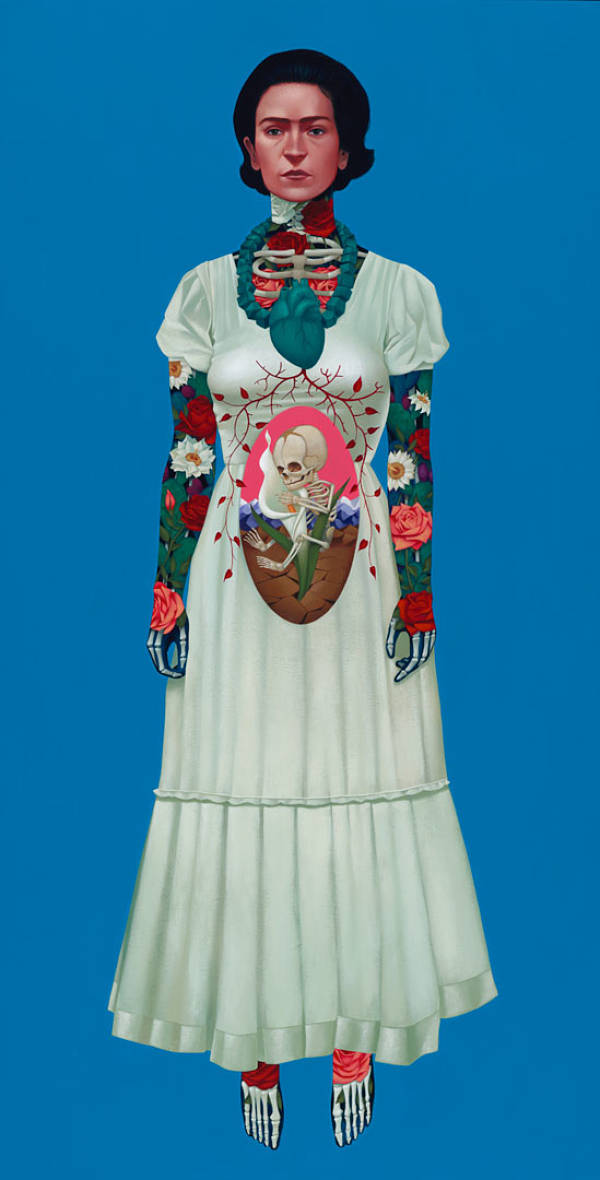 "Rebirth", acrylic on wood panel, 49 x 25 inches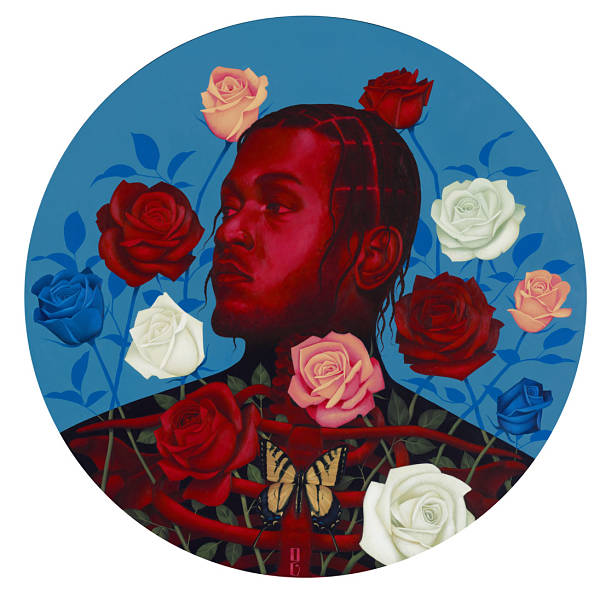 "To pimp a butterfly", acrylic on circle wood panel, 24 x 24 inches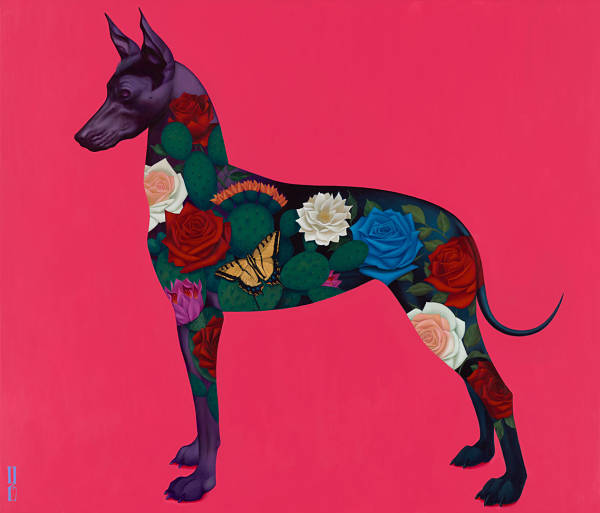 "Xolo", acrylic on wood panel, 36 x 42 inches
Haven Gallery is pleased to present, "In Her Light", a solo show by Rhode Island based artist Jennifer Hrabota Lesser. "In Her Light" will be Hrabota Lesser's first solo show at the Haven Gallery and will consist of a series of oil paintings inspired by mythology, fables and art history. A strong female presence is often depicted in nature with butterfly and floral motifs. Each sitter has a strong connection to the environment. Jennifer Hrabota Lesser's work invites the viewer to explore the relationship between figure and landscape.
About Jennifer Hrabota Lesser:
"Jennifer Hrabota Lesser is an artist based in Providence, RI. Her work references fables, mythology, social and religious constructs. Her subjects are often embattled , finding or losing their own power. They deal with what the unconscious conveys beyond the armor of the exterior, and the need to cover up the unseemly with something beautiful. Her work is influenced by the story-telling art of golden age illustrators as well as the current pop-surrealist painters. She has a BFA from Rhode Island School of Design."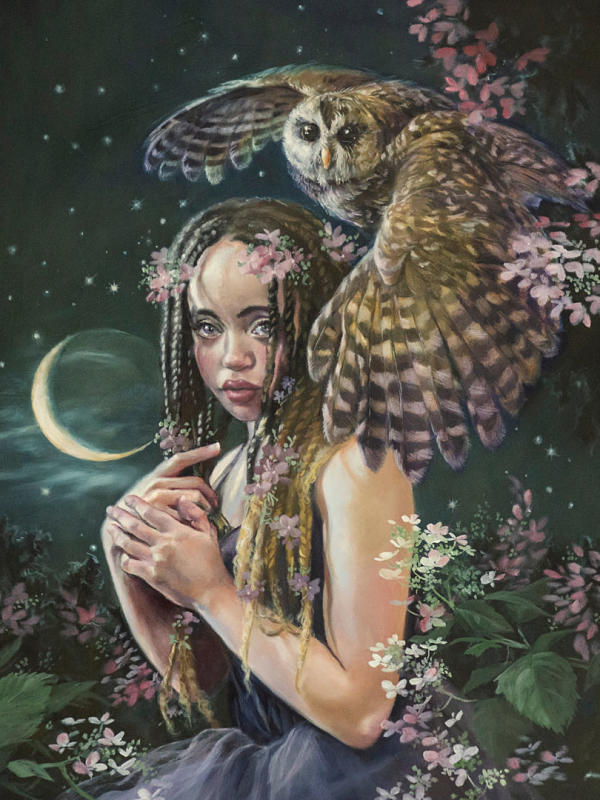 "Daughter of the Moon", oil, 16 x 12 inches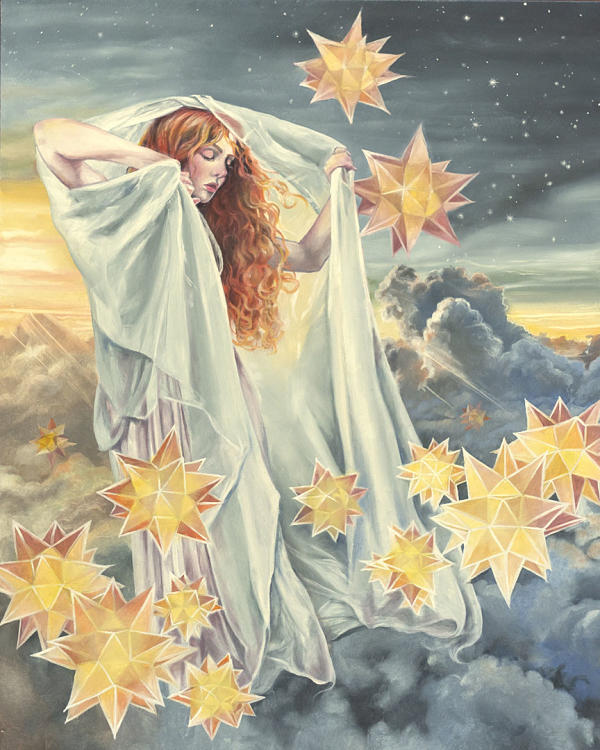 "Eos", oil, 20 x 16 inches
"Wylczyca", oil on board, 11 x 14 inches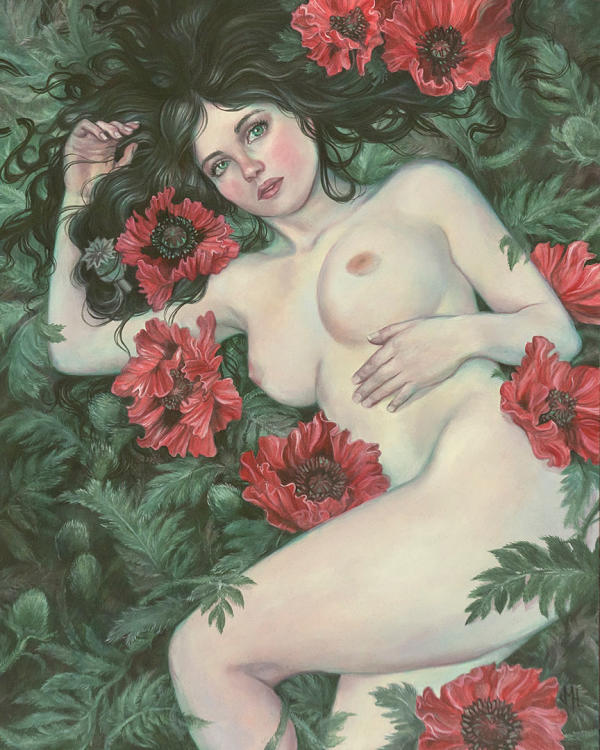 "Poppy Dream", oil on board, 20 x 16 inches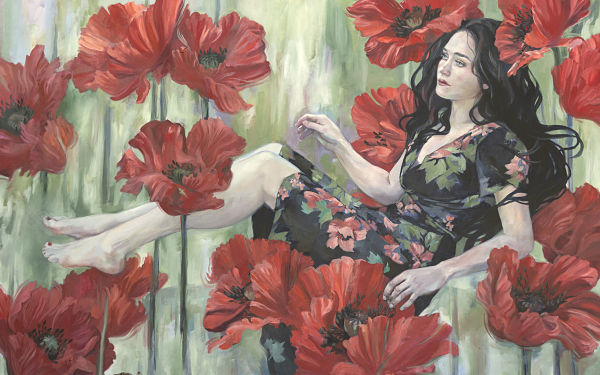 "Untethered", oil on board, 30 x 48 inches
Haven Gallery Social Media Accounts
Website | Instagram | Twitter | Facebook
Related Articles
Nadezda: Pins & Petals + Brian Mashburn: Dog and Pony @ Haven Gallery
Olga Esther & Annie Stegg Gerard Exhibitions @ Haven Gallery