Alexis Kandra is an artist based in New York City. Her passion for animals as the main subject is clearly shown in her paintings and her work is meant to draw the viewer into another parallel universe through her surreal composition. Alexis is also a charitable artist- who along with her gallery show right now at Lucas Lucas- is giving 10% of the proceeds to the NRDC. Her love for animals and protecting them is immense.
Her current exhibition, "Life on Spaceship Earth" is on view at Lucas Lucas Gallery in Brooklyn, NY, runs until November 3rd, 2019 [note: this article originally stated 27th October but the exhibition has since been extended]. For more details, contact the gallery on +1 917 399 8229 or email [email protected].
Enjoy our interview with Alexis Kandra!
Alexis, your mixed media work appears to blend animals with a mathematical or scientific like aesthetic. The circular and geometric nature works beautifully as a sort of whimsical backdrop to your wonderful depictions of a variety of animals. At what point did you create a body of work that made sense to your personal ethics? The 'aha' moment – at what point did you see the series come to life?"
I make work that combines my love of animals, biodiversity, and how we perceive the world around us. My paintings are continuing to evolve, and I've had a few 'aha' moments along the way.
One is the 'aha' moment I had when I decided to use animals as my subject matter. I was in college at Tyler School of Art in Philadelphia, jumping between in all kinds of styles and subjects. Nothing really stuck until I had a conversation with my professor Susan Moore (@msusan_moore). She told me I should paint something that I truly love, so that I would never be tired of it and could paint that subject for many years. I was often visiting the Academy of Natural Sciences in Philly, and I realized that my whole life I have loved animals. I began making paintings inspired by the dioramas in the museum, and have painted animals ever since.
Another 'aha' moment came after I moved to New York City. I was adapting to making smaller scale work in the constraints of an NYC apartment. I always loved immersive artwork that takes up the viewer's whole field of vision and transports them to another world, like the dioramas in the museum. To get this feeling in a small scale painting, I started arranging my animals in round portal-like shapes, and using a repeating grid in the surrounding area to imply infinite space. The 'aha' moment came the very first time I warped the grid. This is captured in my painting "From Above", the very first painting where this warping took on a life of its own. The grid became another dimension, moving with the animals as they interacted with it. A whole new realm of possibilities opened up with these layers of dimensions, and I saw the series come to life.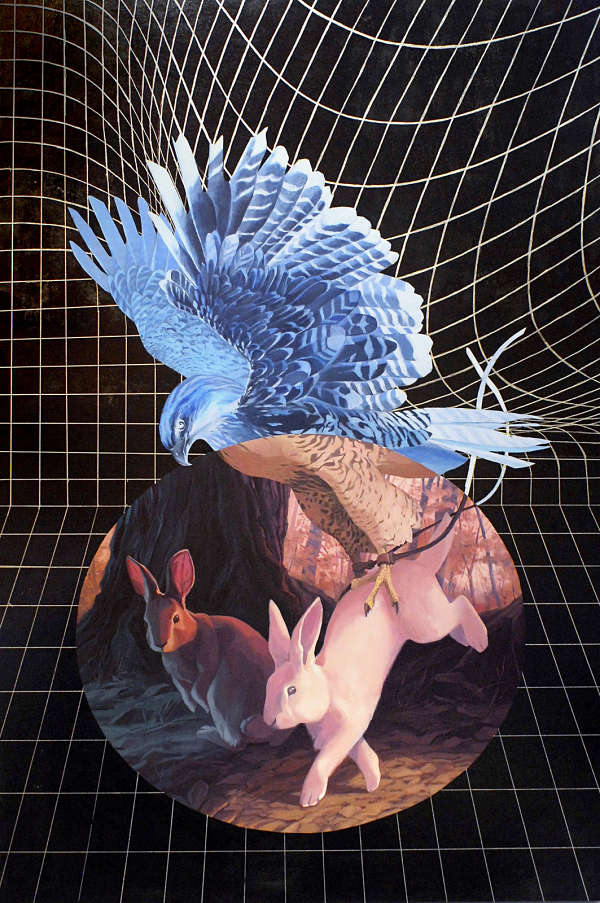 From Above, oil and metal leaf on panel, 36" X 24", 2015
What about your love for animals drives you to use them as your main subject matter? Might I assume you have a passion for science as well?
I have always had a passion for art and science, and the two combine in my love of animals. I love the variety and beauty of animals. Science is always uncovering new information about how animals live, and even finding new animals that no one has studied before. There are so many different species, I could never paint them all. They are a never ending trove of beauty and wonder.
I see my paintings as part of the larger history of painting animals. Humans have made paintings and sculptures of animals since we first started making art. Sometimes animals are symbols or characters. Other times they are celebrated for their beauty or mystery. In our modern day, animals have taken on new meanings. As species are lost in our lifetimes, it's almost impossible to separate the idea of wild animals from the fight to conserve them. My paintings are inspired by this history and inspired by the scientific drive to study and preserve wildlife for future generations.
The Canopy, oil and metal leaf on panel, 48" X 36", 2016
The First Horse, oil and metal leaf on panel, 18" X 24", 2019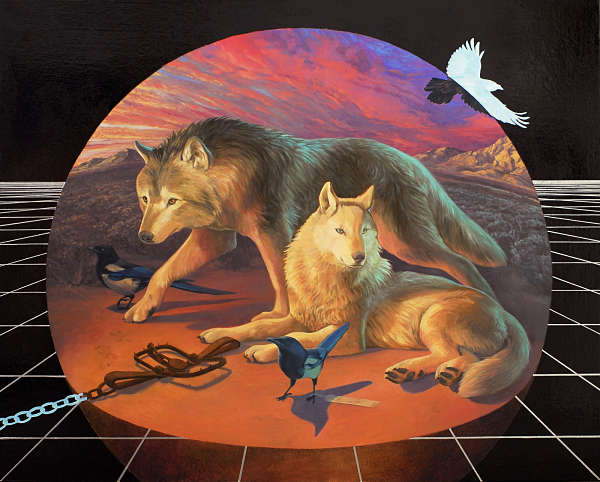 Lobo and Blanca, oil and metal leaf on panel, 24" X 30", 2017, currently available at Antler Gallery (@antlerpdx)
Was there ever a particular piece you created that you found difficult to part with? If so, what was it and why?
My piece "The Mountain" is one that I miss. My mind just keeps going back to this painting and the feeling of calm it gives me. It reminds me of a snow-globe, a crystal sphere with a quiet moment resting inside. I'm always happy when a piece goes to a new loving home, but this is one I'd love to visit.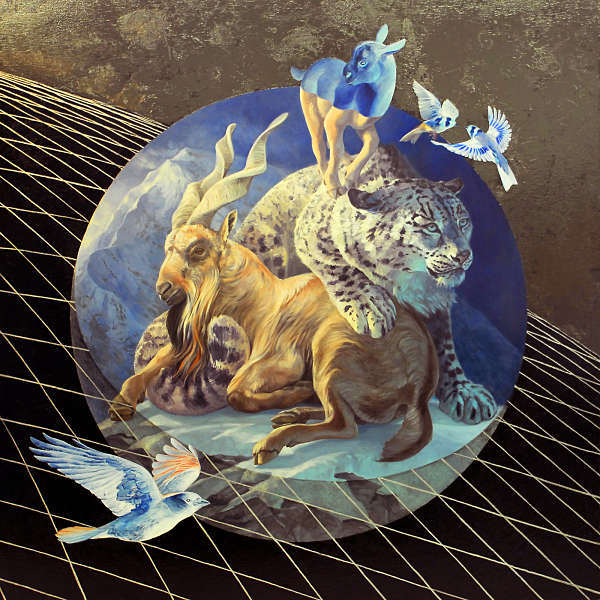 The Mountain, oil and metal leaf on wood panel, 36" X 36", 2017
You solo exhibition "Life on Spaceship Earth" with Lucas Lucas is currently on view, and has just been extended to run until Sunday 27th October 2019 – how does this series differ from other work you have done in the past?
"Life on Spaceship Earth" has a focus on endangered animals. For this show, I am creating a natural history museum framework for the paintings. I am designing wall text for each piece that resembles the wall text beside a natural history diorama. Each one has information about the animals, their conservation status, and some of the ideas behind the paintings. My work often has surreal elements, but this show gives me the opportunity to share real information about the state of these animals on our planet today. I have never done this before, and it's very meaningful to me in this time of increased awareness of we humans are impacting the planet's ecosystems.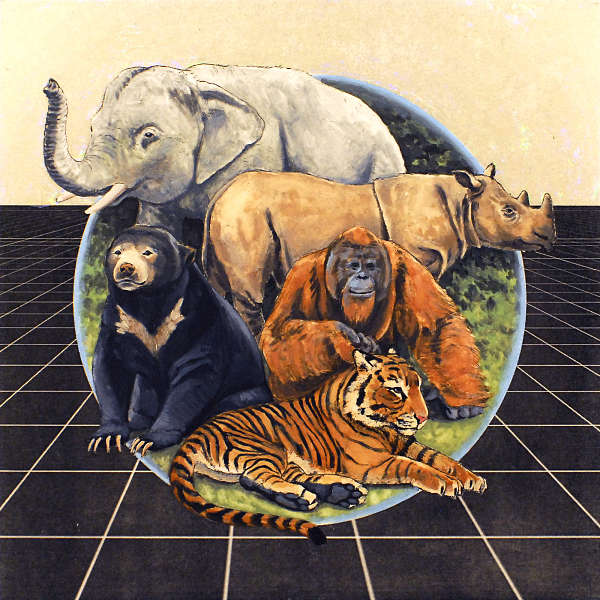 Borneo and Sumatra, oil, xerox transfer, and holographic foil on paper, 8" X 8", 2019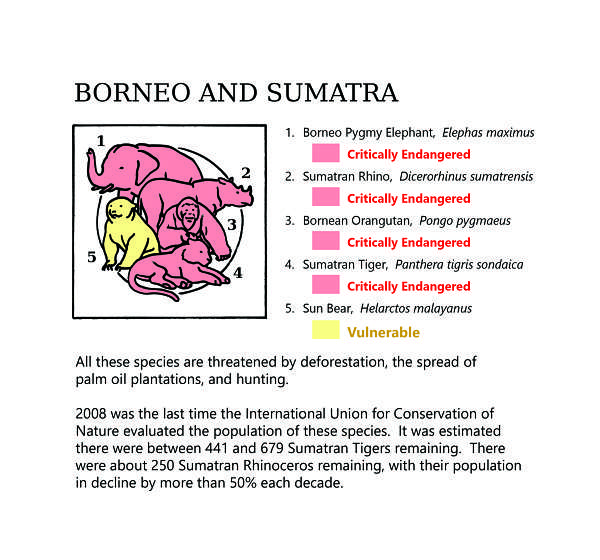 Wall Text for Borneo and Sumatra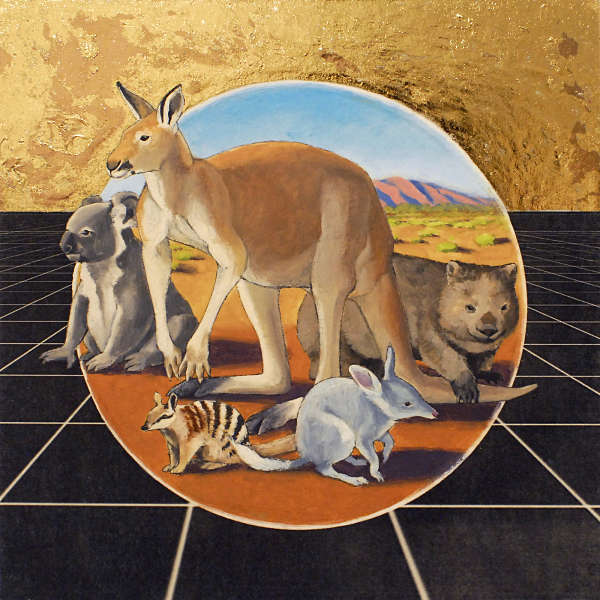 Australian Outback, oil, xerox transfer, and metal leaf on paper, 8" X 8", 2019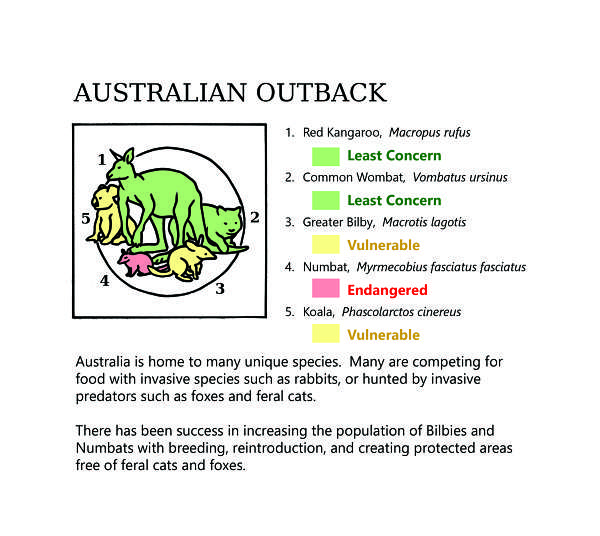 Wall Text for Australian Outback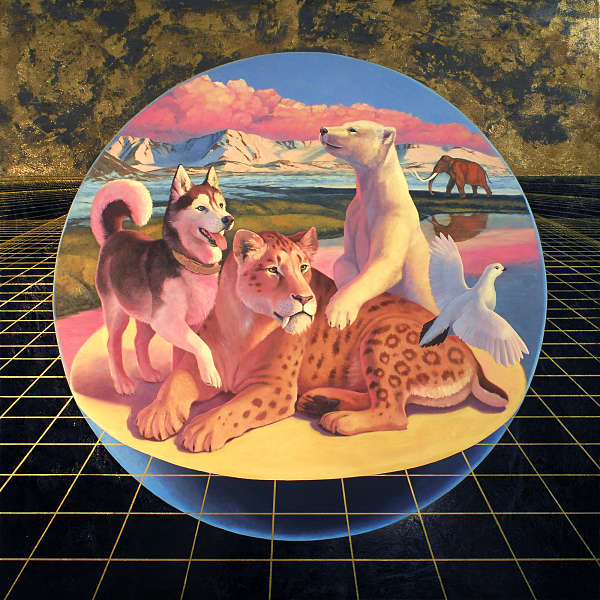 Permafrost, oil and metal leaf on panel, 48" X 48", 2019
Do you ever wish there was an alternate universe where humans treated the planet differently?
I definitely wish there was an alternate universe where humans treated the planet differently. In some ways, my paintings are an escape to an alternate universe. I arrange different animals peacefully together that wouldn't normally be found so close, predator and prey, living and extinct. This is inspired by scientific illustrations and Edward Hicks' "Peaceable Kingdom" paintings. In my universe, all the animals from our planet are preserved together, frozen in time, floating through space. My paintings use the surreal beauty of an imagined world to draw attention to these species in ours. I hope that curiosity and appreciation for these animals will inspire other people to protect our planet.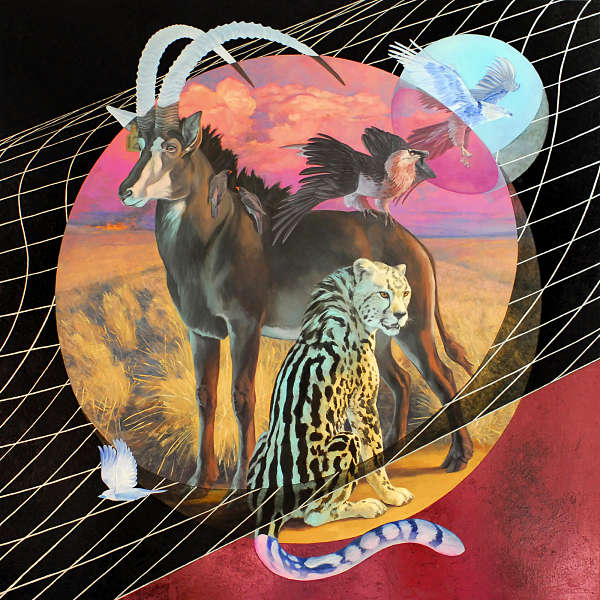 The King, oil and metal leaf on panel, 48" X 48", 2017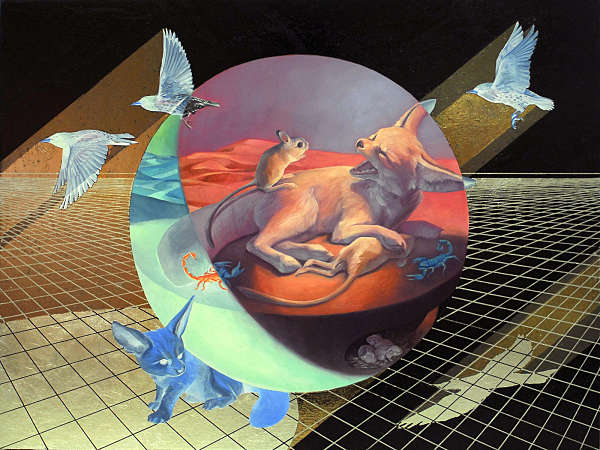 Life in the Desert, oil and metal leaf on panel, 18" X 24", 2017
Is there something you can tell me that you have never told another journalist before with regards to your work?
I wanted to answer this question with something about my emotions towards animal species going extinct due to human activity. I've never been able to tell anyone how I feel about this, and I realize now it's because I can't even put it into words. I can say that my emotions fluctuate between sadness and acceptance of the inevitable. I want to create paintings that have a sense of hope, but sometimes it can be hard to find that hope. So I look for things that give me joy, like learning new facts about an animal, helping the local wildlife rehab center, or watching birds in Central Park. I can share this sense of joy in my paintings, and hopefully inspire others.
What is next for you?
Next, I'm going to experiment with layering panels and painting on the sculptural form. I started making shaped panels using a jigsaw. Some allow the image to extend outside the rectangular edge. Others are just the animals removed from the rectangular panel completely. Next, I want to start cutting negative shapes into middle of the panels, and layering shaped panels on top of each other. I'm really excited to start playing more with these sculptural elements!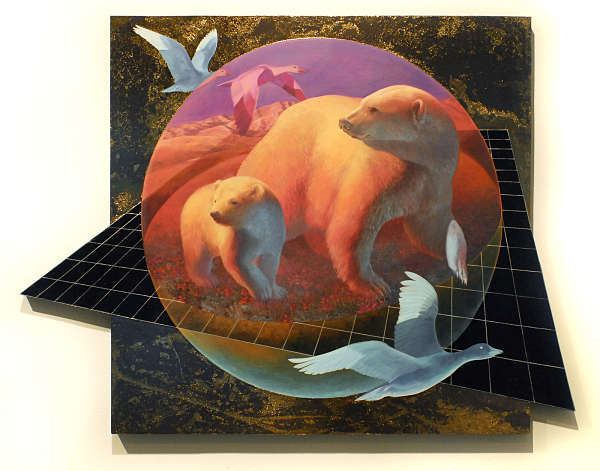 Migration, oil and metal leaf on shaped panel, 36" X 48", 2018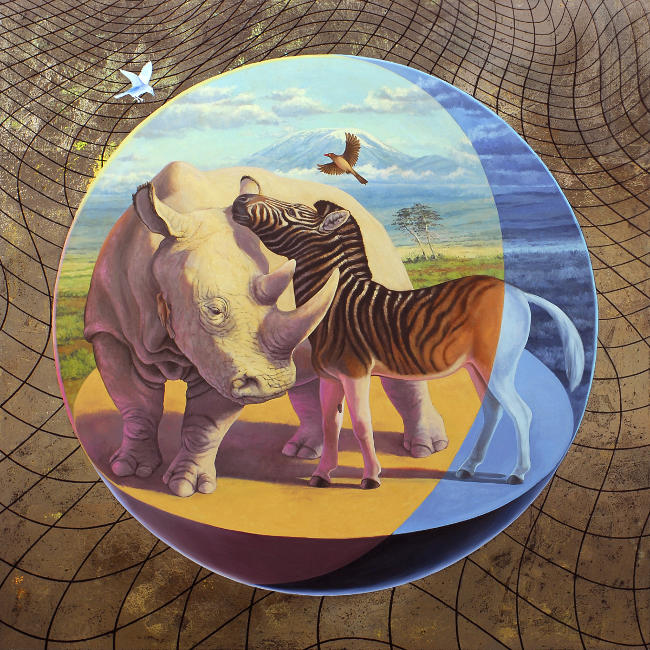 The Quagga's Secret, oil and metal leaf on shaped panel
Alexis Kandra Social Media Accounts
Website | Facebook | Twitter | Instagram
Related Articles
Interview: Kane Kokaris and an Intriguing Universe of Animals